The Best Camping at White Sands National Park
Are you interested in camping at White Sands National Park with your RV or trailer in tow? There are a few things you need to know before you set out on your voyage to visit the white desert. Here's everything you need to know about White Sands and the surrounding area to make your next RV trip to the Land of Enchantment a great one.
Why Visit White Sands?
White Sands National Park (yay for its new designation!) is located near Alamogordo, New Mexico, just over the Organ Mountains east of Las Cruces. When you arrive at White Sands, you'll soon realize that you're in the middle of nowhere. On either side of this national park, you'll find empty land and a military base where missiles are tested.
The surrounding area isn't what makes White Sands a spectacular place, though. White Sands is truly unique because of the sand that's found there. Made of gypsum, the sand doesn't get hot like most dunes. You can find tourists, lizards, and the like romping, rolling, and sliding down the dunes despite 90+ degree weather in the summer.
What to Do at White Sands National Park
Though White Sands is relatively remote, there are plenty of things to keep you occupied. One of our favorite things to do when we visit is a backcountry camp. There are only ten permits available each day to camp out between the dunes, but the experience is unlike any other. Beautiful sunsets spread out around the mountains and above white, crystal-like dunes. To us, White Sands is the reason why New Mexico's slogan is "The Land of Enchantment" because you'll feel the magic in just one night under the stars.
If you're not interested in camping, there are other things you can do, too.
Grab the kids, rent sand sleds, and spend an afternoon picnicking and riding dunes.
Take a sunset bike ride with the park rangers.
Witness a full moon and stargaze during the ranger-led Full Moon hikes!
Take a tour of Lake Lucero to see how White Sands was made.
Ride your bike around the Dune Drive to see White Sands from every angle.
Where to Stay Near White Sands
If you decide you don't want to camp in the backcountry at White Sands, you'll have to find another place to stay the night as the park is only open to backcountry overnight guests when the gates close for the evening. The good news is that there are plenty of places to take your RV and settle in for the night, just up and down the road from the park.
Here are a few of the places to check out when you need a place to set up your RV for the night: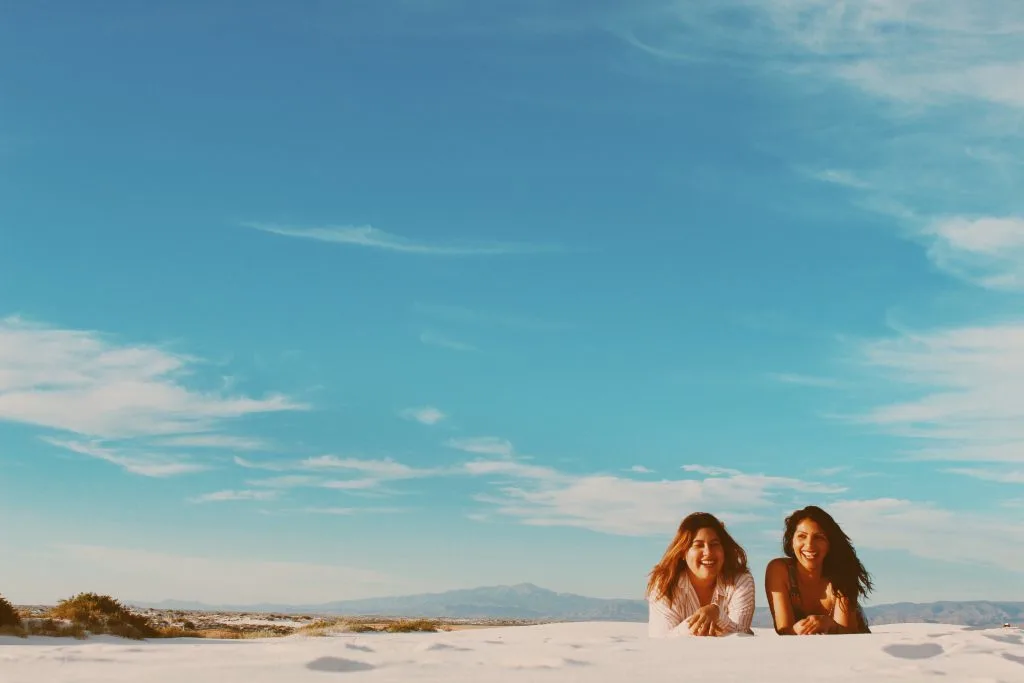 Other Tips for Visiting White Sands
Check the White Sands Missile Calendar
When you start planning your trip to White Sands, you'll want to check the calendar on their website to make sure you're not planning to visit on a day when missile testing is expected. During missile tests, the highway to and from White Sands will be closed down for hours and sometimes even the entire day.
Backcountry Camping
If you want to backcountry camp, especially now that White Sands is designated as a national park, you'll want to get to the Visitors Center as early as you can. With only ten permits available, you'll want to grab a permit early in the day and set up your tent early in the morning or later in the evening to avoid the heat of the day. You'll also want to pack for both chilly and warm weather as the nights in the desert are much colder than the days.
Pets
Pets are allowed inside the park, but must always remain on a leash. Be sure to stop by the Visitors Center to pick up a Bark Ranger collar tag to remember the trip by, too!
Food & Water
When I say there's nothing within 20 miles of the park, I mean it. Be sure to pack in more than enough food and water to get you by for your trip to White Sands, especially if you choose to backcountry camp. The sand might not get hot, but you'll be exposed to the sun all day without shade here!
You Can't Miss White Sands
If you decide to visit White Sands National Park, you won't be sorry. There's so much to see and do in the area that you'll find that there will always be a reason to stop by White Sands and explore.
For us, White Sands is a must to stop and see any time we're in the area because it's so different from anything else you'll see on cross-country road trips. The wildlife, views, and sunsets are just a few of the reasons we come back time and again.
On Your Way To White Sands, Take Advantage of Ample Free Camping
To be honest with you, we hate paying for camping. There are so many free campsites in America (with complete privacy). You should give it a try! As a matter of fact, these free campsites are yours.
Every time you pay federal taxes, you're contributing to these lands.
Here's our list of the 20 Best Free Campsites in the USA.
Become a FREE CAMPING INSIDER and join the 100,000 campers that love to score the best site! Simply enter your email below.