GMC Motorhomes: The History of a Classic American RV
In the early 1970s, the three major auto manufacturers in the US found themselves amid a new revolution. Customers were interested in new and creative car designs, rather than just useful utilitarian vehicles.
This gave GMC some room to play around with design ideas for motorhomes, as well.
Their eventual solution set a new standard for drivability and was simply named the "GMC Motorhome."
History of the GMC Motorhome
Considered a collectible today, the GMC motorhome has a colorful past.
With front-wheel drive capabilities and built on a custom chassis, this innovative vehicle was the stimulus for increased competition within the RV industry.
But it didn't come about quickly.
Up until this point, motorhomes had been built on truck chassis, as assembly plants were already tooled for this. These lumbering vehicles looked and handled like large, awkward boxes on wheels. GMC engineers began to dream of an RV that handled well on roads, was more streamlined and pleasing to the eye, and could be used in various scenarios.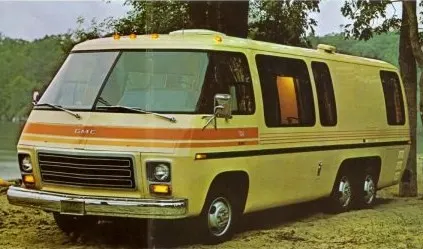 Thus began production of two different sizes of the GMC Motorhome: 23′ and 26′ models.
Even interior designs were re-imagined, with vibrant bright colors and space-saving modern furniture.
Well-known companies like Coca Cola, were represented in a signature vehicle with a "Coca Cola" red stripe on the exterior body and a refrigerator that resembled a soda dispenser! The manufacturer offered 15 different floor plans, and a huge marketing effort was put in place, with videos at dealerships and public showings across the country.
Timing Wasn't Ideal for the GMC Motorhome (But, They Made it Work)
What was unforeseen, however, was the effect of a gasoline shortage just as the GMC Motorhome hit the market. It slowed sales and even stopped production for a bit, but eventually, this new brand of RV caught on.
With many models named for national parks, the motorhome became a popular addition to campgrounds everywhere. Many of the RV builds were utilized as ambulances and utility vehicles, as well.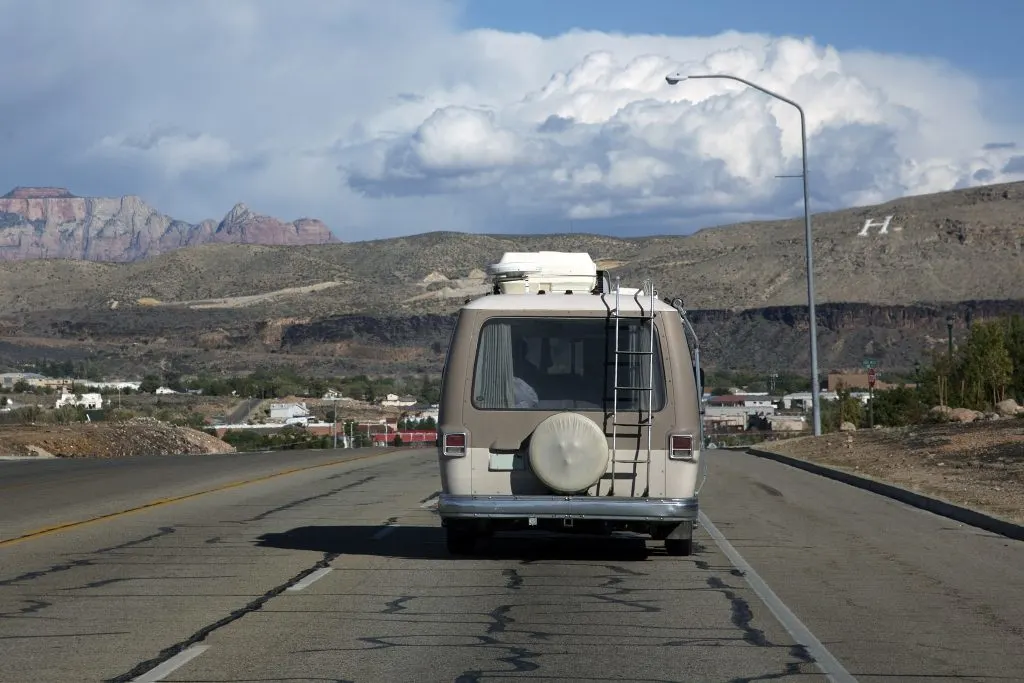 The Demise of the GMC Motorhome
It appears that the death of the GMC Motorhome came, not at the hands of the recreational vehicle industry, but by the popularity of trucks.
By 1978, General Motors had seen an influx of interest in pickup sales. Their Pontiac, Michigan plant decided to retool to follow that trend. This move put an end to the creation of their much-heralded motorhome in record time.
Design & Functionality
When other manufacturers were using readily available truck chassis, GMC turned the design process on its head by creating a custom chassis for its newly envisioned motorhome.
Starting with a front-wheel drive power package taken from designs of an Oldsmobile Toronado, the lack of driveshaft and rear differential provided more interior space, lowering the floor to just 14″ above the road.
The exterior body was created with curves on the sides and an indented "nose," streamlining it and giving a more favorable impression of modern automotive design. Drivers found the front-wheel-drive capabilities made the RV handle more like a sports car.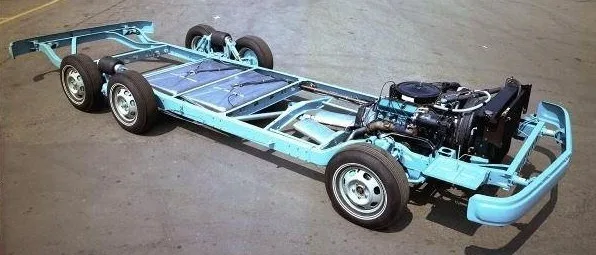 One of the most significant design features was actually where the motorhomes were built. Instead of putting the motorized parts on a ready-made chassis, then shipping the entire configuration out to another plant to fit the "box" onto the chassis, General Motors built the body upstairs, the custom chassis downstairs, and assembled the motorhome all within the same plant.
They did have all interior components built locally.
How Many GMC Motorhomes Were Made?
Over five years, from 1973 to 1978, 12,921 GMC Motorhomes were produced at the Pontiac plant.
But today, nearly 50 years later, it is estimated that approximately 8,500 are still on the road. Many units have been restored to mint condition. In fact, the Family Motorcoach Association has over 20 chapters within its membership dedicated to GMC Motorhome owners.
This streamlined, game-changing RV is held in high esteem, well-loved by many. So when you see one on the road (and you will!), give it due respect as the precursor to today's modern recreational vehicles.
Discover the Best Free Camping in America
To be honest with you, we hate paying for camping. There are so many free campsites in America (with complete privacy).
You should give it a try!
As a matter of fact, these free campsites are yours. Every time you pay federal taxes, you're contributing to these lands.
Become a FREE CAMPING INSIDER and join the 100,000 campers that love to score the best site!
We'll send you the 50 Best Free Campsites in the USA (one per state). Access the list by submitting your email below: