Quartzsite RV Show: "Avoid Opening Weekend"
The upcoming Quartzsite RV Show "is a go." And the local citizens are overwhelmingly happy about that!
Today we're asking the community, show vendors, and local BLM officials what we can expect at the 2021 Quartzsite Sports, Vacation & RV Show.
Even though the event is still on the books, organizers say contingency plans are in place for any curveballs.
They also warn attendees, "If you can avoid opening weekend…"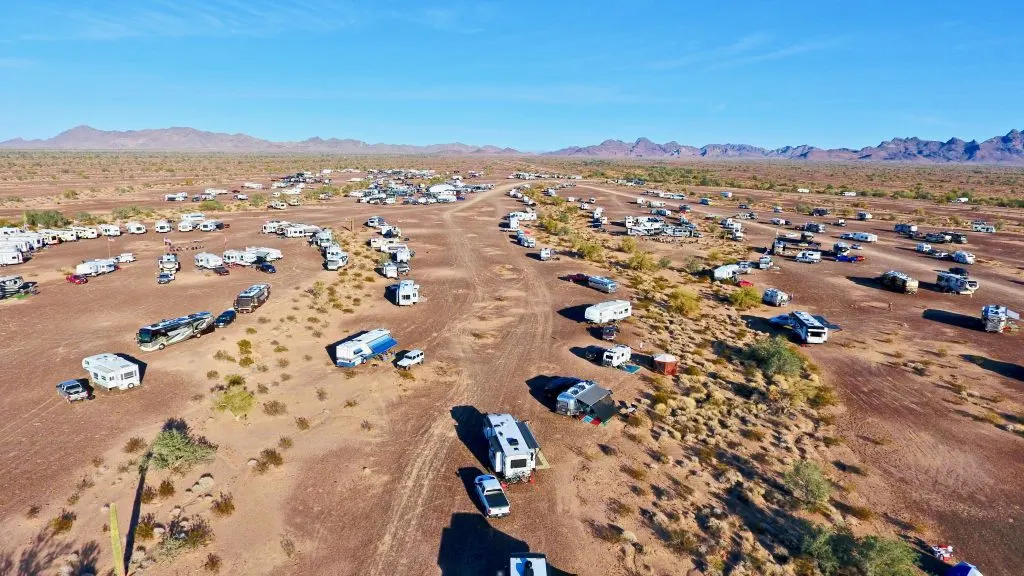 What Is The Quartzsite Sports, Vacation & RV Show?
Every January, snowbirds converge into the Quartzsite desert to escape the winter blues. The Quartzsite Sports, Vacation & RV Show, also known as the Big Tent, is the main event!
The Big Tent Show includes RV dealers, RV afterpart vendors, and every "as seen on TV" gadget imaginable.
There are also many food vendors located directly outside of the big tent.
In 2021, the event is scheduled between January 16-24.
Aside from the RV show, Quartzsite has many nearby activities and places to explore.
What Do Locals Think About the Influx of Tourists?
Small town America is a mixed bag this summer. Some cities want to keep tourists out, while others welcome tourists with open arms.
We asked the citizens of Quartzsite: "Do you want your town to host the annual RV show as normal in 2021?"
This question was asked in the Quartzsite Chatter Facebook group (consisting of 11,000 members).
An overwhelming 90% of respondents answered, "yes."
Comments included:
"Let's do it."
"I manage an RV park in Quartzsite, and we are booked full for January."
"Yes, we need our town back to normal as possible."
"The sales tax benefit should answer that question."
What Does The Local BLM Office Think About The 2021 Snowbirds?
Unlike most other towns in America, Quartzsite is surrounded by thousands of acres of BLM land.
This is the land where almost every tourist will set up camp.
Some of it is designated for long-term camping, but most areas have a 14-day limit.
Here's what Valerie Gohlke from the local BLM office told us:
"We are keeping our public lands open to provide the American people with places to get outside, while practicing social distancing. Visitors should review current recommendations from the local and state authorities as well as the CDC to enjoy public lands while protecting themselves, BLM employees ,and our volunteers.
Some individual BLM Arizona facilities and amenities around the state have adjusted operations or limited public entry to follow social distancing and related guidance from the CDC and local and state authorities."
Quartzsite RV Show Vendors are Excited
Most upcoming RV shows have been canceled, making it challenging for RV manufacturers and part-providers to connect with their customers in person.
Battle Born Lithium Batteries has attended the show multiple years. They use the appearance to help potential customers understand the benefits of lithium batteries.
They plan on attending the 2021 Quartzsite RV Show, but will also stay aware of potential changes.
"As we all know, the global pandemic has changed the way we participate in these events and interact with the people around us. We anticipate attending the 2021 Quartzsite RV Show in January with the highest of safety precautions to flatten the curve and reduce risk," says Caitlin Spara of Battle Born.
"The Battle Born Batteries team will continue to monitor the situation and act accordingly as things evolve."
The RV Show Must Go On
Kenny & Kimmy King, Quartzsite RV Show Co-Promoters, are looking forward to a successful event.
Here's what they told us:
"Face coverings will be mandatory for all exhibitors, attendees, and show staff. Numerous hand cleansing stations will be placed throughout the facility. The 3 Isles inside the temporary structure will be expanded to 15′.
All isles will be one-way only. Signage reminding attendees regarding social distancing and isle direction will be places strategically throughout the facility. Clear plastic dividers will be places between all exhibitor's selling areas inside the temporary structure.
Overcrowding will be controlled, when necessary, and some entrances may be closed, temporarily, in that event. We will be encouraging attendees, via social media, press releases and through other media sources, such as yours, to avoid attending opening day and to attend during the week, if possible, to avoid long waits to enter the BIG TENT.
As you can imagine, this is a fluid situation and we have back-up plans in the case that there is a huge surge this fall and/or State or local guidelines are made more stringent."
Discover the Best Free Campsites in the USA
To be honest with you, we hate paying for camping. There are so many free campsites in America (with complete privacy).
You should give it a try!
As a matter of fact, these free campsites are yours. Every time you pay federal taxes, you're contributing to these lands.
Become a FREE CAMPING INSIDER and join the 100,000 campers that love to score the best site!
We'll send you the 50 Best Free Campsites in the USA (one per state). Access the list by submitting your email below: