Portable Propane Fire Pits: Decent, Better, & Best
No authentic camping experience is complete without a campfire. But who likes the smoke, the cost of firewood or the lack of a fire entirely when there is a fire ban issued?
Many campers are finding a way around all of the negatives of a campfire by utilizing a portable propane fire pit that they can bring along on any outdoor excursion.
Today we'll be sharing three options: decent, better & best!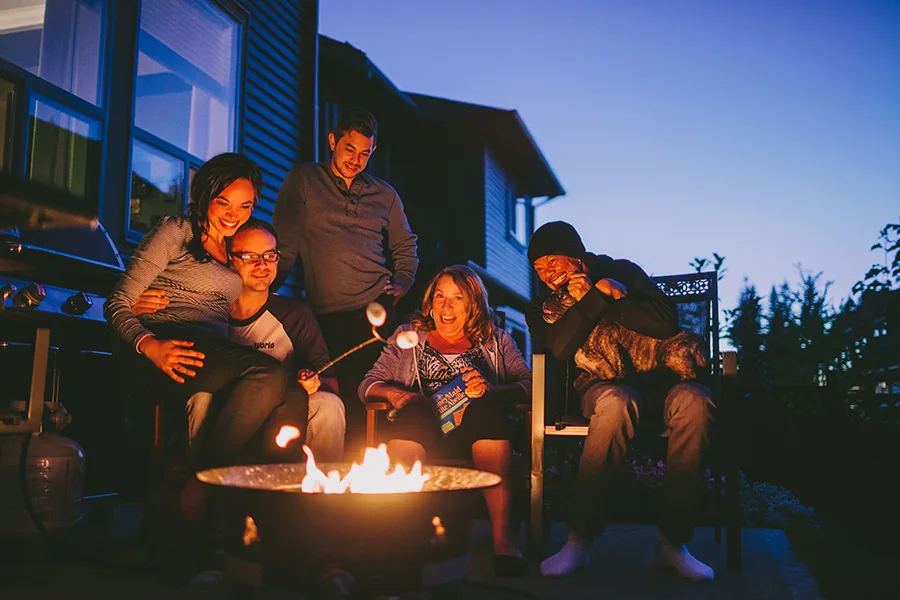 Why Use a Portable Propane Fire Pit?
Bypass all of the problems associated with a wood campfire, like purchasing firewood, smoke irritations, and local fire bans by bringing along a portable propane fire pit on your next camping trip.
Most are CSA approved to be used during fire bans (although you should always check with local officials regarding any stipulations), and no one will be moving around the campfire to avoid the smoke!
No more worries about collecting or buying firewood, as these fire pits come with lava rocks and auto-ignition features.
Just hook up to a propane tank, then sit back and enjoy a cozy camping tradition.
We find these portable propane fire pits most enjoyable when we're boondocking (aka free camping).
What to Consider When Purchasing a Portable Propane Fire Pit
Portability – How much does it weigh? Does it have a lid or carrying case to keep rocks in the pit and make it easy to maneuver and pack away?
Fuel Consumption and heat output/BTU – Does it have high and low settings to reduce propane usage and flame height? Most standard fire pits put out 58,000 BTUs or more.
Ease of Use – Does it come with its own hose or will you have to go and purchase one? Is there an automatic ignition feature? Does it come with lava rocks?
Safety – Is the fire pit hot to the touch? Does it have CSA approval for use during some fire bans? Is the stand sturdy?
Decent: Heininger 5995 19" Portable Propane Fire Pit
The most affordable in price, the Heininger 19″ Propane Fire Pit hits all the marks. It burns hot at 58,000 BTU and is smokeless.
At 22 lbs. it is relatively lightweight, including all of the lava rocks that come with the fire pit. A 10-foot hose will attach to any 5 gallon propane tank or larger.
See the current price for the Heininger Fire Pit.
Better: Outland 870 Premium 19" Portable Propane Fire Pit with Cover and Carry Kit
Coming in at 19″ in diameter, as well, the Outland 870 Premium Propane Fire Pit is made of stainless steel, includes lava rocks, lid and carrying kit, and puts out 58,000 BTU.
The portability of this unit is good, weighing in at 25 lbs., and it has auto-ignition with a 10-foot hose.
One nice additional feature is the capability to be converted to natural gas, although the kit to do so is an additional cost.
See the current price for the Outland Living.
Best: Outland 863 Cypress 21" Portable Propane Fire Pit with Cover and Carry Kit
This premium unit is 2″ larger than most fire pits, weighs 26 lbs. and has a unique "helios" burner design to give a more natural-looking flame. It's budget-friendly but with a premium design. The propane fire pit is CSA approved and comes with a lid and carrying kit.
It does sit a little lower to the ground (just 9.25″ high), but the bowl is flared out, and a natural gas conversion kit can be purchased separately.
With automatic ignition, 58,000 BTUs, a 10 foot hose and 5.5 lbs. of lava rock included, you'll have everything you need to make a great campfire every night with the Cypress propane fire pit!
See the current price for the Outland Living Cyprus.
Discover the Best Free Campsites in the USA
To be honest with you, we hate paying for camping. There are so many free campsites in America (with complete privacy).
You should give it a try!
As a matter of fact, these free campsites are yours. Every time you pay federal taxes, you're contributing to these lands.
Become a FREE CAMPING INSIDER and join the 100,000 campers that love to score the best site!
We'll send you the 50 Best Free Campsites in the USA (one per state). Access the list by submitting your email below: