Moab Jeep Rentals: Read This Before Booking
Moab, Utah has always been a fascinating desert location, where geology is on display everywhere. In the last 15 years, the region has exploded as an off-roading jeep destination. Technical drivers can experience natural arches, canyons and washes up close and personal.
Because the town is surrounded by two different national parks (Canyonlands and Arches) and hundreds of thousands of acres of federal land, there is no limit to the places drivers can explore.
And don't worry! If you don't have a jeep, there are several jeep rental companies that would be happy to provide you with a vehicle to enjoy the backcountry.
What is the Best Time of Year to Take a Moab Jeep Vacation?
If you are looking for less crowded jeep trails, more availability on rentals and empty campsites, plan your Moab jeep excursion for off-season.
In the high desert that means coming in the months of November, December, January or February.
Unlike the deserts of the Southwest, the region around Moab receives snow and lower temperatures than you might expect. Look into Moab jeep rentals during the winter months and you will have lots of wide-open spaces to explore.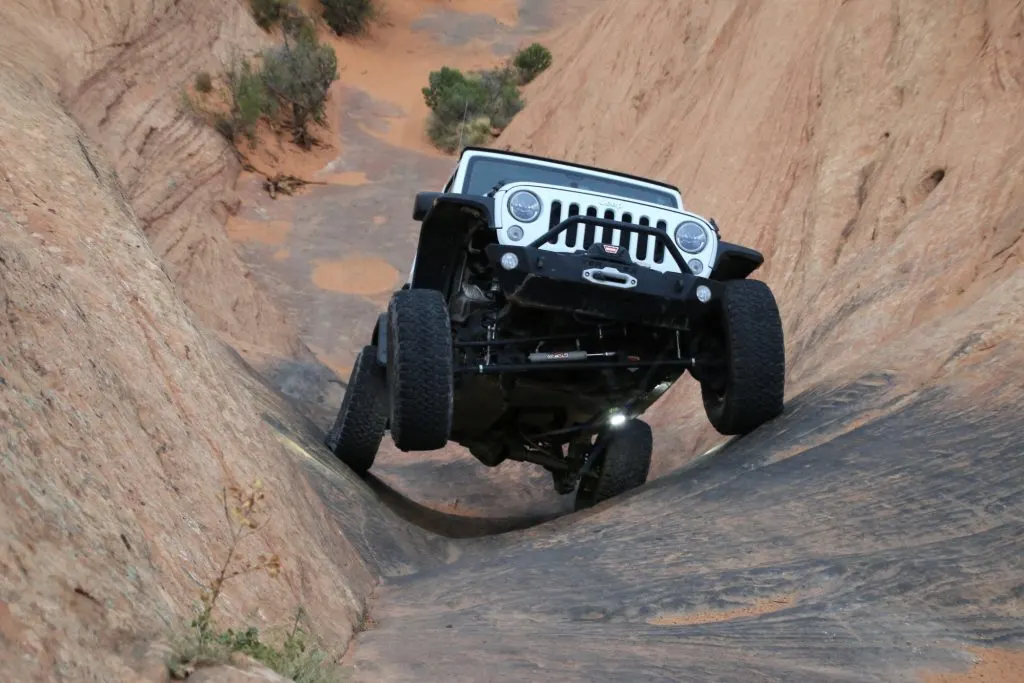 How Much Does it Cost To Rent a Jeep In Moab?
During high season (March – October) you can expect to pay anywhere from $180 to $295 per day for a Jeep Wrangler, with increased pricing on Rubicons and Gladiators. And according to several jeep rental companies, the prices do not decrease during off-season.
If you would prefer to hire a guide, you will be paying an average of $300 to $725 per day, depending on the length of the tour and whether the guide rides with you or drives their own vehicle as a leader.
Easy Moab Jeep Trails
Shafer Trail: take this scenic drop from Island in the Sky down to the White Rim Trail
Fisher Towers: crawl along the Colorado River in Castle Valley to the spires of Fisher Towers
Extreme Moab Jeep Trails
Hell's Revenge: hang onto your seat as you traverse slick rock, ledges and steep climbs
Poison Spider Mesa: technical climbers will enjoy this trail of switchbacks and rock ledges
Most Scenic Moab Jeep Trails
Crystal Geyser Trail – visit Dubinky Well and enjoy the Rainbow Rock of Entrada Sandstone on this sandy drive
Seven Mile Rim Trail – follow this trail through uranium mine country to Merrimac Butte and Uranium Arch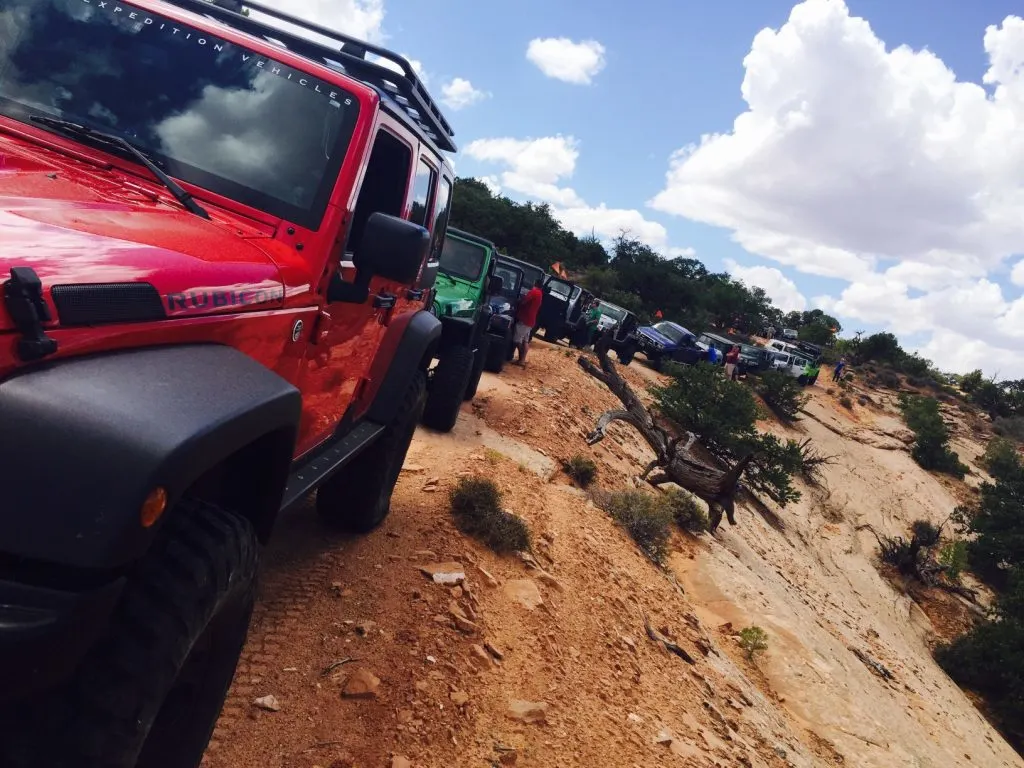 Guided vs Self-Guided Jeep Tours in Moab
Many Moab jeep rentals offer guided tours. This gives visitors the opportunity to see Red Rock Country and Canyonlands in a more personal way.
Most tour guides have grown up in the Moab area and are intimately familiar with side canyons, off-the-beaten-path trails, and little-known locations, making it possible to see the desert in a whole new way! You can usually choose to have the guide ride with you or lead in his or her own vehicle.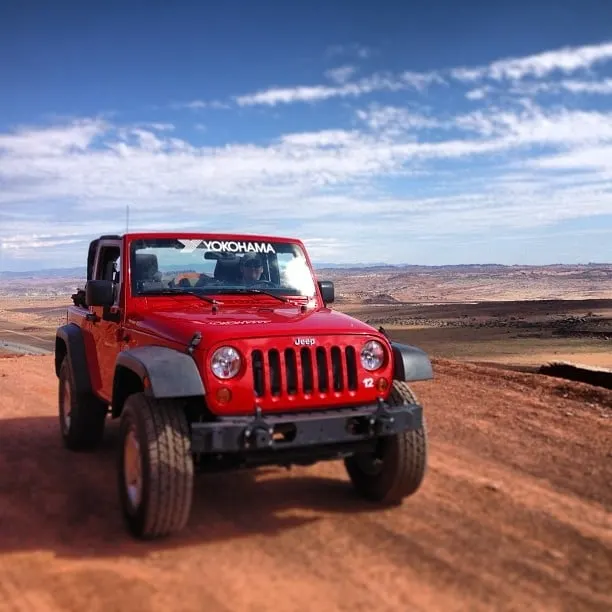 5 Best Moab Jeep Rental Services
There are numerous ways to enjoy the topography around Moab, Utah. If you are more interested in a visceral exploration of the region, traveling by jeep is definitely the way to go.
Use this guide to assist you in deciding when to visit, where to rent a jeep, and which trails to attack!
Discover the Best Free Camping Across the USA
To be honest with you, we hate paying for camping. There are so many free campsites in America (with complete privacy).
You should give it a try!
As a matter of fact, these free campsites are yours. Every time you pay federal taxes, you're contributing to these lands.
Become a FREE CAMPING INSIDER and join the 100,000 campers that love to score the best site!
We'll send you the 50 Best Free Campsites in the USA (one per state). Access the list by submitting your email below: