RV Water Pumps: Decent, Better & Best
A part of the RV that's not typically thought about or considered is the RV water pump.
But why is that?
The water pump is the heart that pumps water through the veins of your RV. It's important to have a quiet water pump, especially one that you can rely on to not break or leak.
Having any type of water issues could end your travels if not caught early.
What is the Purpose of a RV Water Pump?
The purpose of the RV water pump is to push water throughout the RV from your gravity tank.
When you are boondocking or in a place with no water hookups, the only thing keeping you from getting to the water is the water pump. A good water pump also maintains the appropriate water pressure.
If there is too much pressure it will damage the hoses and cause leaks. Not enough pressure will result in less water coming out of the faucets.
What should you consider when purchasing an RV water pump?
When it comes to deciding which RV water pump is best for you there are four things you need to consider.
Everyone has different needs maybe because you're boondocking more or maybe you have a larger RV with more water pipes. So, when choosing your RV water pump considered these four things:
Noise: This is a big thing to consider because some are louder than others. A lot of them sit right under the bed, which can be noisy when someone gets up in the middle of the night for some water.
Size: Another thing you want to consider is size. The bigger it is the more power it could have. But you might not always need more power. It also needs to fit in the space, which can be tight in some RVs.
Power Consumption: You will also want to consider power consumption. When boondocking you don't want a water pump that will suck all your power. If hooked up to a shore line but no water hookups this is less of a concern.
PSI & Gallons Per Minute: The last thing you want to consider is PSI and gallons per minute. You want to have enough PSI but not too much that the water lines can't handle it. You also want to make sure it can pump enough water that you can take a shower without it being a dribble.
Decent: RecPro RV Water Pump
When considering your RV water pump options at $70 the RecPro RV Water Pump is a decent product.
This pump is not a large pump but still powerful. This water pump runs at 45 psi which is right where you want to be for your water lines. It's very quiet and runs on 12V DC.
It can also run dry without damage. The gallons per minute is lower then some but it gets the job done.
See the current price for RecPro RV Water Pump.
Better: ShurFlo 2088-554-144
The better water pump of our choice is the ShurFlow 2088-554-144. It's a powerful little pump that pumps 3.5 gallons per minute.
This RV water pump sustains a PSI of 45 and has a check valve that prevents reverse flow. It's a little bit larger in size but still is a power-saving option.
See the current price for the ShurFlo2088.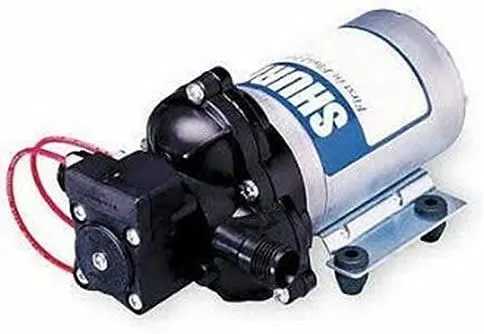 Best: ShurFlo 4008-101-E65
Of the three options, the best one is the ShurFlo 4008-101-E65 water pump.
This pump is a quiet pump and high flowing.
The pump maintains water pressure at 45 and pushes water through the pipes at 2.5 gallons per minute.
See the current price for the ShurFlo.
Discover the Best Free Campsites in the USA
To be honest with you, we hate paying for camping. There are so many free campsites in America (with complete privacy).
You should give it a try!
As a matter of fact, these free campsites are yours. Every time you pay federal taxes, you're contributing to these lands.
Become a FREE CAMPING INSIDER and join the 100,000 campers that love to score the best site!
We'll send you the 50 Best Free Campsites in the USA (one per state). Access the list by submitting your email below: