The Ultimate Guide To Grand Canyon White Water Rafting
The Grand Canyon is an American icon. Generations of US families have visited this natural wonder since it was established as a National Park in 1919. But, most of those visitors overlook the amazing Grand Canyon white water rafting adventures.
Roaring water with refreshing splashes, swirling rapids, and the exciting adrenaline rush of rafting through amazing rock canyons creates an epic experience!
However, these rafting excursions can be as relaxing or wild as you choose.
Today we're sharing the details and encouraging you to add Grand Canyon white water rafting to your bucket list trips.
About Grand Canyon White Water Rafting
After deciding to raft in the Grand Canyon, you likely want to find an outfitter.
Luckily there are 16 outfitters offering white water rafting trips in the Grand Canyon and you can find a list at the Grand Canyon River Outfitters Association website.
These guides are the only ones authorized by the National Park Service to provide multi-day backcountry guided whitewater rafting trips through the canyon.
Trips vary between 3 and 21 days and you can choose how long you want to be on the mighty Colorado.
Depending on how long of a trip you would like, your adventure level, and current weather/water conditions, the canyon section that you raft will be different.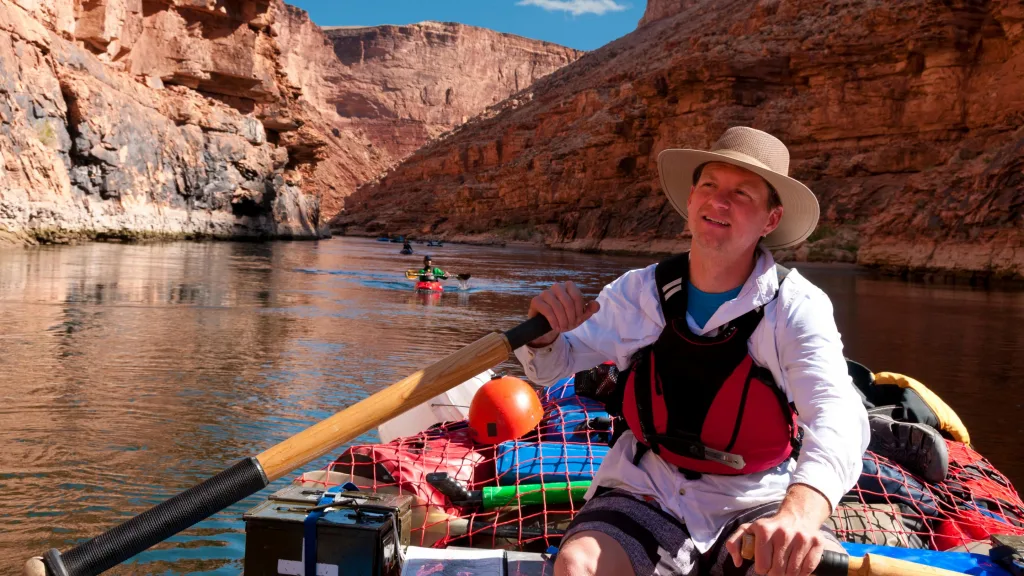 Choosing Your Outfitter
When you visit the various outfitter websites, how will you pick your outfitter?
First off, you need to know how long of a trip you desire. Then, you can pick by what type of boat you prefer, and then what part of the canyon that would suit.
After that, there are some trips that are "fancier" than others. This will lead you to the outfitter(s) that work for your preferred rafting adventure.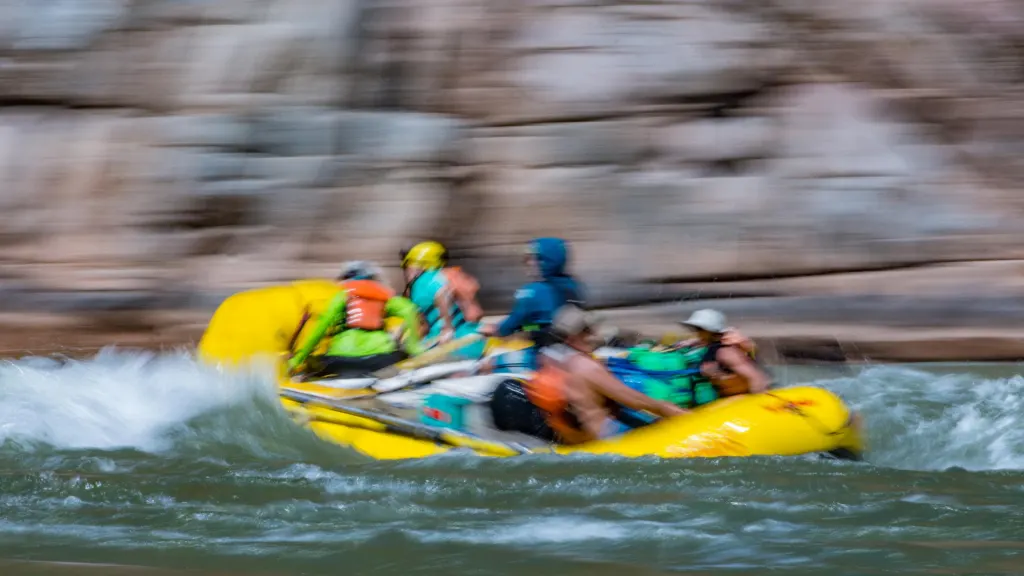 Choosing Your Boat Type for a Grand Canyon White Water Rafting Trip
There are a few types of rafts that are suitable for various sections of the Colorado River through the Grand Canyon.
Motor Raft–this raft has a motor to provide propulsion, and moves faster and is an easy ride for passengers. This option is best if you're in a hurry or don't want to exert yourself too much. These can be larger boats.
Oar Raft–one person (usually the guide) uses oars to move the boat and the rest are passengers.
Paddle Raft–all passengers paddle the raft all the time and the guide sits in the back and communicates steering directions. This is the smallest craft.
Hybrid–some trips have a mix of boats so guests can rotate between exerting themselves paddling and relaxing in the oar boat.
Dory–this is a hard sided craft made from wood or fiberglass, making it move faster and can fit more passengers in one craft.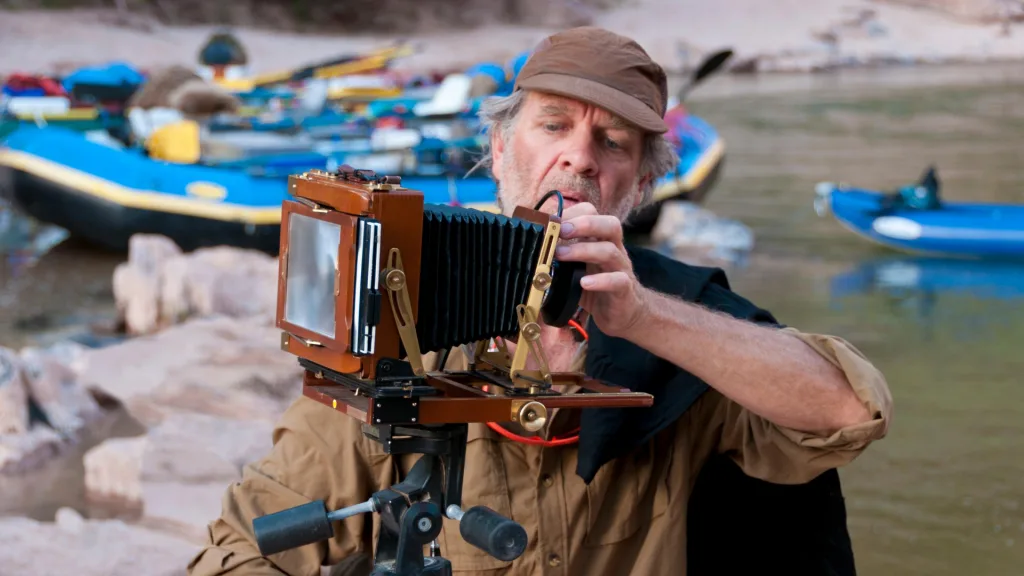 Choosing Your River Section and Trip Length
Depending on how long you can be gone, you can choose different parts of the canyon or half trips.
Most half trips require you to hike a strenuous day in or out of the canyon to meet up with the raft or out to a pickup point. The canyon doesn't have very many access points.
Motorized craft allows you to do more of the canyon in less time than a paddle trip.
The Upper Canyon has more geologic and historic attractions, while the Lower Canyon has more whitewater and the biggest rapids.
Some tours have a helicopter option from Las Vegas, so you don't even need to do the hike portion!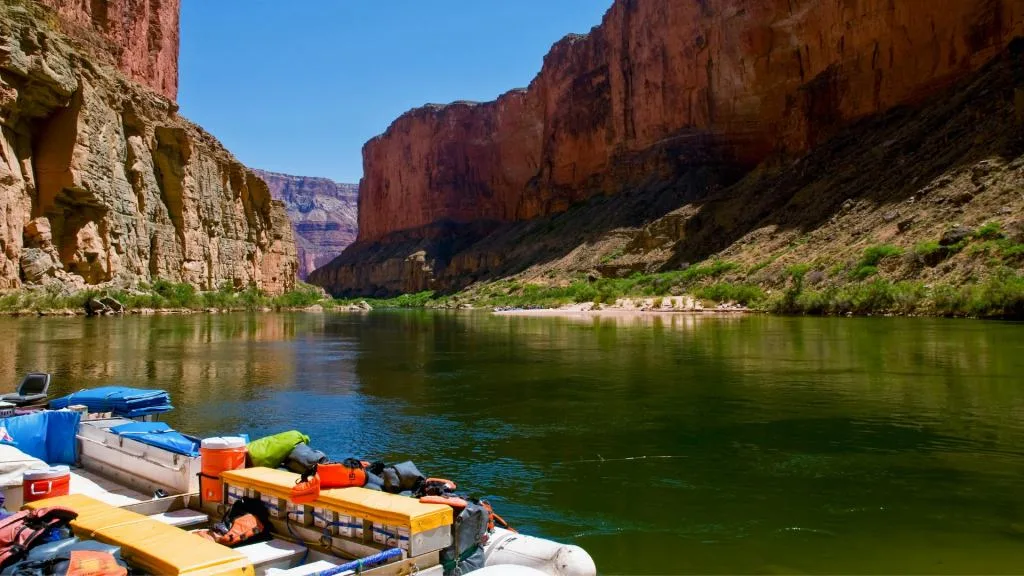 Booking Your Trip
Once you have decided on a Grand Canyon whitewater rafting trip, jump into the actual booking as soon as possible.
These trips are limited in space and time of year, not to mention weather events, so they book up very very quickly. Sometimes the most popular tours and companies book up over a year in advance.
It makes sense to start calling outfitters as soon as you have a group committed to go so you can get on their list!
Pro Tip: Here's our guide to the best campgrounds near the Grand Canyon. This will help you set up a base camp prior to your rafting adventure. After rafting, you may want to treat yourself to a day or two at the Grand Canyon Lodges.
How Much Does Grand Canyon White Water Rafting Cost?
Trip costs vary due to length, type of craft, time of year, amenities and level of food/equipment, and if additional hikes, fishing, helicopter pick ups, etc. are included or not.
These are approximate costs, but can change with season and demand:
Full Trip: $2275-$6210
Western Canyon: $1428-$2568
Upper Canyon: $1223-$3111
Lower Canyon: $2000-$4275
Preparing For Your Grand Canyon White Water Rafting Trip
Multiple days in a desert environment without modern conveniences can be strenuous, even on very fit individuals. The environment is extremely remote, and access to medical care or even communications is almost non-existent.
It is very important that anyone on trips is in good physical condition, as temperatures vary from extreme heat to extreme cold, with wind, sun, blowing sand, and also water concerns.
In addition, the hikes in and out are of the difficult variety. Besides cardiovascular fitness, agility and balance are extremely important.
What To Expect on the River
Side hikes can take you through slot canyons or up and over with great elevation gain. Some hikes even take you past native american history or to a beautiful waterfall. The hikes vary in length and in difficulty but many of them are very difficult to strenuous.
Camping is of the un-glamourous variety here. Due to carrying everything on the rafts, there are not many comforts of home. Sleeping on pads with sleeping bags, using the bathroom in the ground, and filling water bottles from jugs are all part of the adventure. Camping includes creepy crawlies, insects, lots of sand, and some potentially uncomfortable sleeping situations. But the views can't be beat!
Meals are provided by the rafting companies and can vary from simple to more complex, but everything must be hauled in on rafts, so definitely communicate ahead of time if you have dietary restrictions as some companies menus may fit you better than others.
Whitewater rafting in the Grand Canyon is an epic adventure and a bucket list level trip.
You can see ancient historic sites, hike to amazing waterfalls, see native wildlife and plants, and experience one of the natural wonders of the world up close and personal.
There are numerous options available from extremely physically challenging to more laid back, and from very simple to more luxurious. With the 16 licensed outfitter options, you can easily find the Grand Canyon whitewater rafting trip that fits your dream trip of outdoor adventure!
Discover the Best Free Camping Across the USA
To be honest with you, we hate paying for camping. There are so many free campsites in America (with complete privacy).
You should give it a try!
As a matter of fact, these free campsites are yours. Every time you pay federal taxes, you're contributing to these lands.
Become a FREE CAMPING INSIDER and join the 100,000 campers that love to score the best site!
We'll send you the 50 Best Free Campsites in the USA (one per state). Access the list by submitting your email below: