5 Spooky Ghost Towns in Arizona
The desert southwest is steeped in history and conjures up images of outlaws, saloons, and old mining towns. While it's difficult today to imagine what life might have been like way-back-when, visiting a ghost town can give you an idea!
Arizona once had many successful mining communities, and these are 5 of the best ghost towns in Arizona today.
What is a Ghost Town?
A ghost town is an abandoned village, town, or city whose reason for being no longer exists.
Ghost towns are typically old mining towns or areas that have become abandoned due to natural or man-made disasters, with many in the US being former mining communities. Some ghost towns are inhabited, but not by the original residents.
Most ghost towns will have dilapidated buildings, roads, and structures that tell of a bygone era.
How Many Ghost Towns Are There In Arizona?
Arizona is home to more than 200 ghost towns that now serve as popular tourist destinations. Visiting Arizona's ghost towns can feel like walking straight into the past!
Arizona's ghost towns are made up of old mining towns, and trading posts that are great educational destinations filled with stories of people and ways of life that no longer exist.
In fact, many of the best free camping spots in Arizona are also located near these ghost towns.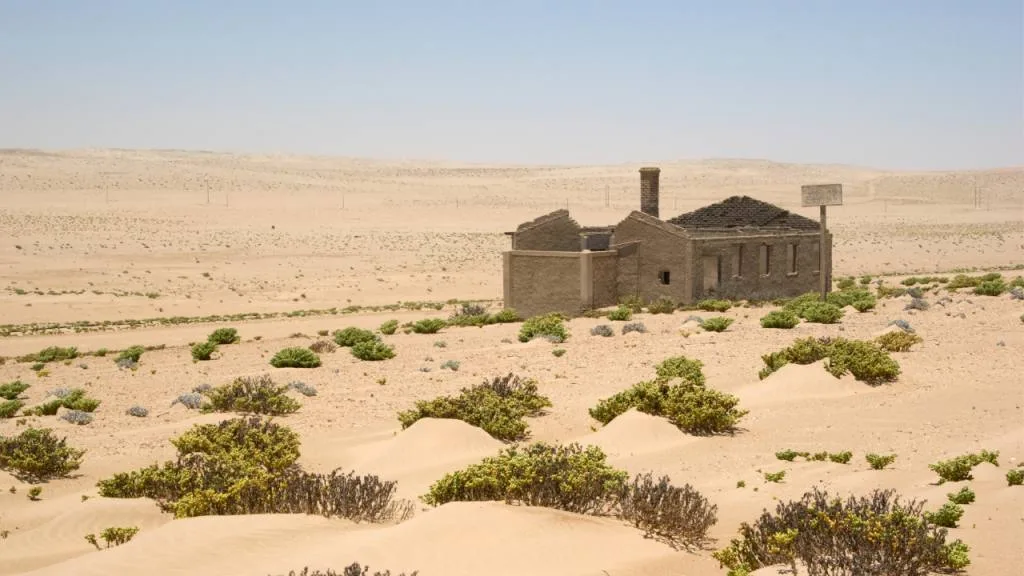 Tombstone, Arizona
Tombstone, Arizona is one of the most famous ghost town in the US – known as the "Town Too Tough To Die". Home to the famous gunfight at the O.K. Corral and former stomping grounds of Wyatt Earp, Doc Holiday, and the Clanton Brothers – Tombstone is one of the most popular ghost towns in Arizona.
Tombstone was one of the last Boomtowns of the American Frontier – meaning a town that grew rapidly from scratch, typically due to the discovery of a precious resource. Miners in Tombstone found a precious resource, alright, and that was silver bullion. In the mid-1880s, Tombstone was the most productive silver district in Arizona, producing 40 to 85 million dollars in silver. Tombstone grew from 100 inhabitants to over 14,000 in less than 7 years!
Today, visitors to Tombstone can:
Witness gunfight reenactments
Tour mines
Take ghost tours
Take historical tours
Ride in an old-fashioned stagecoach
Visit Tombstone's saloons
Visit haunted hotels and theaters
and more!
Nearby Camping: Tombstone RV Park and Campground
Located just 4 minutes from the heart of Tombstone, Tombstone RV Park and Campground is a great place to stay while visiting. The RV park even offers daily shuttles into town! With Cowboy Suites, cabins, RV sites, and tent camping, this campground offers something for everyone.
Jerome, Arizona
In the 1920's, Jerome, Arizona was a booming copper mining town with a population of over 10,000. Once known as "The Wickedest Town in the West" – Jerome was a harsh environment to live and work. In it's heyday, Jerome had rampant gambling, drinking, and prostitution, as well as disease, famine, poverty, fires, and landslides destroying the town and killing inhabitants. In addition to being a copper mining ghost town, Jerome is notoriously haunted.
Jerome was designated as a National Historic Landmark in 1967 and is now inhabited by around 400 artists and residents. Jerome is a popular tourist destination located about 40 minutes from Sedona, Arizona, rising above the Verde Valley in the Black Hills of Yavapai County.
Today, visitors to Jerome can:
Learn about it's rich history at the Jerome State Historic Park
Take a ghost tour of the town
Check out the artist galleries and unique shops in town
Visit the old Gold King Mine attraction
Visit, tour, and stay at the haunted Jerome Grand Hotel, originally a hospital and one of the most haunted hotels in Arizona
Look down a 1,900 foot mining shaft at Audrey Headframe Park
Grab a bite to eat at The Haunted Hamburger
And more!
Camping nearby: Dead Horse Ranch State Park in Cottonwood, AZ
Dead Horse Ranch State Park is located in Cottonwood, AZ, about 10 miles from Jerome. Dead Horse Ranch is a beautiful Arizona State Park with spacious sites, full hook-ups, water access, hiking trails, and beautiful views.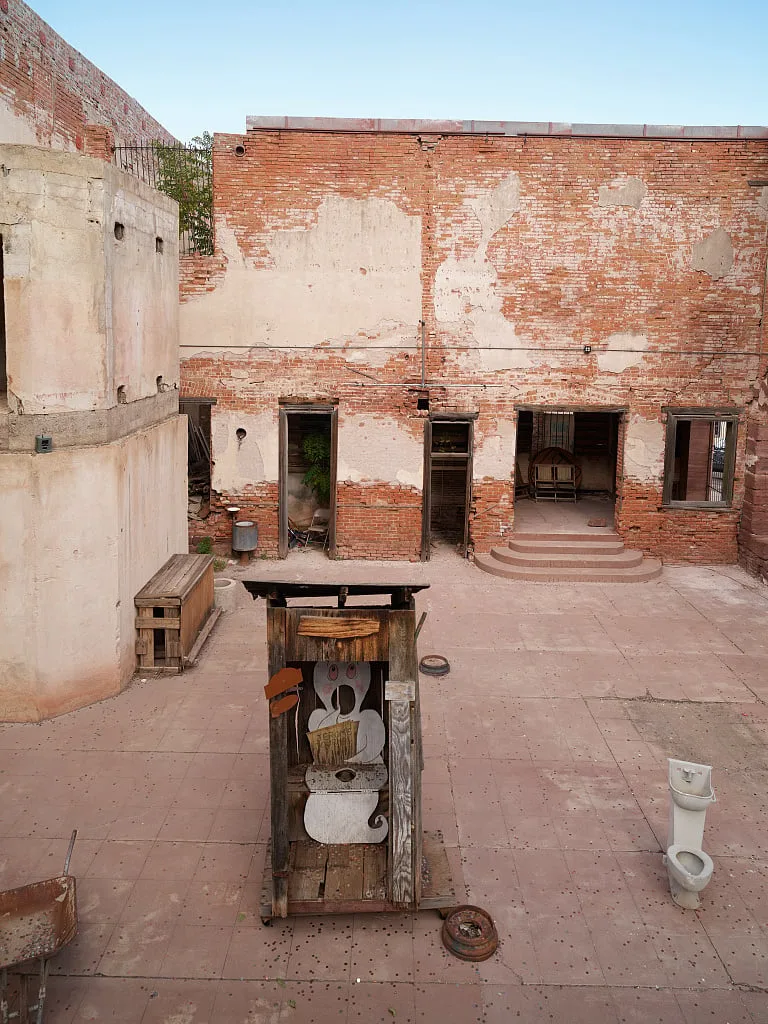 Oatman, Arizona
Located along old Route 66, Oatman is a true Arizona ghost town. From 1863-1941 Oatman was a booming gold mining town, being one of the largest gold producers in the American West for a decade. Oatman had a peak population of over 3,500, although today the town has more wild burro residents than it does humans.
Pro Tip: Oatman is also one of our top 9 stops on Route 66 in Arizona.
The town was named after Olive Oatman, a young girl that was kidnapped by a Native American tribe while traveling with her family through the area. Olive was later traded to another tribe and eventually released years later.
Oatman, Arizona has a true Wild West Town vibe with wild burros just roaming the streets – even blocking traffic at times!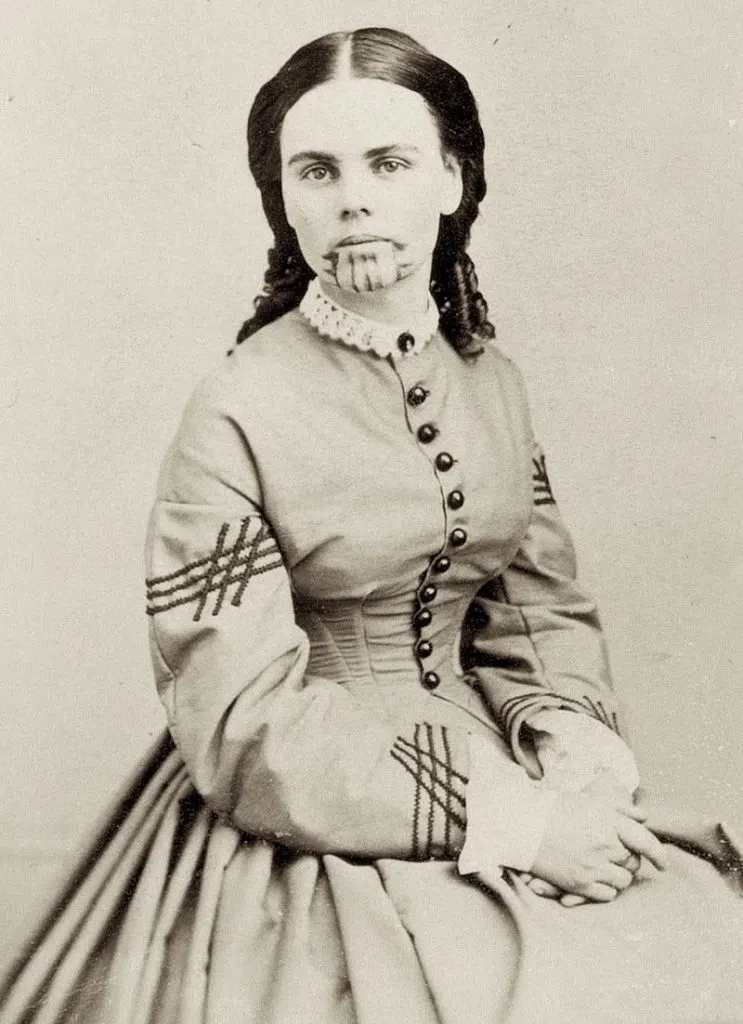 Today, visitors to Oatman can:
Visit the Oatman Hotel, now a museum and restaurant
Get dessert at the Olive Oatman Ice Cream Parlor
Watch a gunfight reenactment
Visit the many shops and restaurants that line the streets
Camping nearby: Oatman-Topock Dispersed
Oatman is surrounded by Bureau of Land Management wilderness with dispersed camping right off of Route 66. This is a dry camping area located about 30 minutes from Oatman with plenty of space to spread out.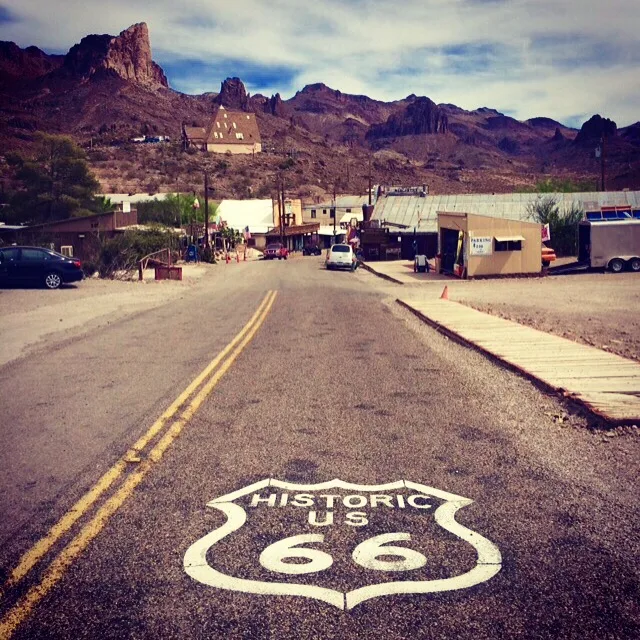 Bisbee, Arizona
Bisbee is located in southeast Arizona in the Mule mountains. In the late 1800's, Bisbee became a very successful mining operation. By the early 1900's, it was the biggest town between St. Louis and San Francisco with a population of over 20,000!
Today, Bisbee might not look like what you expect a ghost town to look like – with a current population of over 5,000. Bisbee is what is called a "Living Ghost Town" – and they haven't forgotten their mining past.
Visitors to Bisbee can:
Take history tours
Take ghost tours
Visit the old Copper Queen Mine
View the Lavender pit where mining operations took place
Visit historic local sites, and more.
Camping nearby: Queen Mine RV Park
Queen Mine RV Park is just south of Bisbee – with just a 5 minute walk into town. This RV park is located near the Queen Mine – another historic mine you can tour.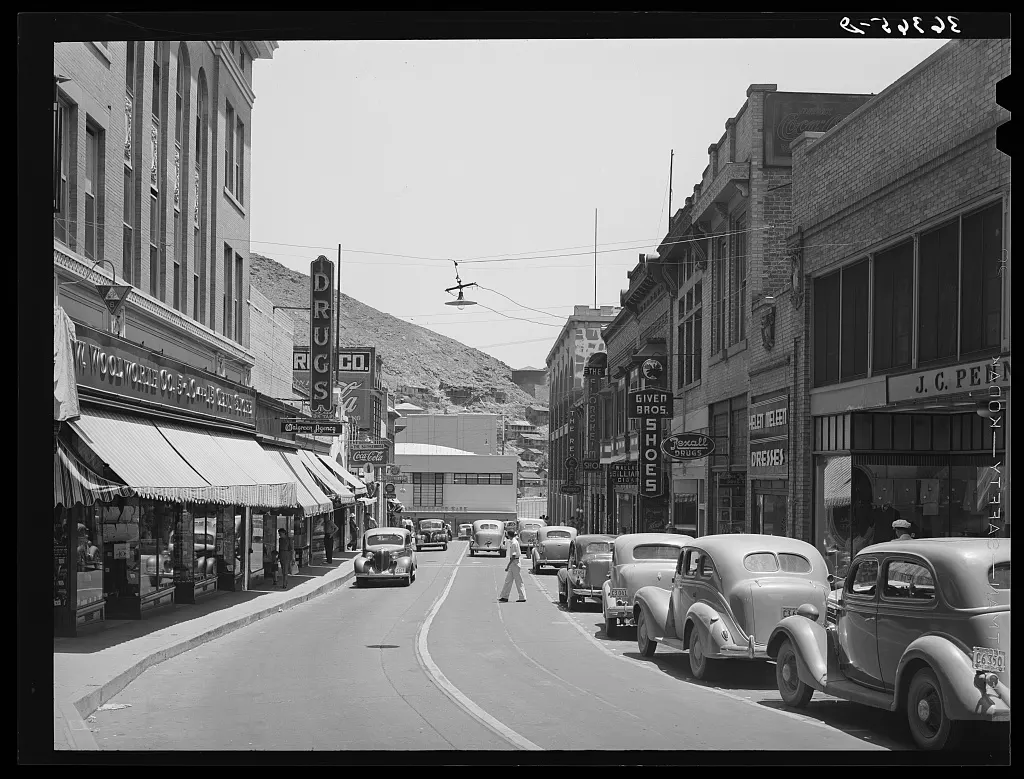 Ruby, Arizona
Located just 4 miles from Mexico, Ruby was once the largest mining camp in southwest Arizona. Ruby is one of the best preserved ghost towns in Arizona, with 25 intact buildings including the old jail, schoolhouse, and even old mining equipment. Ruby's mine closed in 1940, and the town was abandoned by the end of 1941.
Ruby, Arizona, is now on private property and there is a $15 fee to explore this ghost town.
Ruby is not a 'living ghost town', nor is it commercial, so you won't find any attractions, restaurants, or stores. The main attraction is the town itself.
Camping nearby: Arivaca Lake
The ghost town of Ruby, Arizona, is desolate and remote. You can RV camp nearby at Arivaca Lake. Camping at Arivaca Lake is dispersed camping – meaning no hookups or facilities, but they do have a restroom. If you enjoy solitude and history, a visit to Ruby and Arivaca Lake is definitely for you!
Plan Your Trip To an Arizona Ghost Town
Now that you know where to find the best ghost towns in Arizona, it's time to start planning your trip. We recommend not visiting these towns during the summer…all other times should be good!
If you're traveling with an RV, trip-planning is essential.
We use RV Trip Wizard to route our cross country trips.
It allows us to avoid steep passes, tolls, and tunnels – making travel day way less stressful! Try RV Trip Wizard Free for 7 Days.
Discover the Best Free Camping Across the USA
To be honest with you, we hate paying for camping. There are so many free campsites in America (with complete privacy).
You should give it a try!
As a matter of fact, these free campsites are yours. Every time you pay federal taxes, you're contributing to these lands.
Become a FREE CAMPING INSIDER and join the 100,000 campers that love to score the best site!
We'll send you the 50 Best Free Campsites in the USA (one per state). Access the list by submitting your email below: