7 Amazing Lakes in Colorado
The Centennial state is well known for its drop dead gorgeous landscapes, filled with meadows, mountains and mesas.
But many lakes in Colorado garner attention, as well, with their pristine waters and offerings of outdoor pursuits.
Let's take a look at seven of our favorite bodies of water in this western state:
Grand Lake, Colorado
Recognized as the largest and deepest natural body of water in the state of Colorado, Grand Lake is actually part of the headwaters of the Colorado River.
Grand Lake provides a stunning backdrop for many forms of recreation like sailing, kayaking, fishing, paddle boarding and swimming. And it's not unusual to run into a moose or two when visiting during their migrating season!
Location: Sitting to the west of Rocky Mountain National Park in north central Colorado, Grand Lake is surrounded on three sides by this amazing park. The GPS coordinates are 40.250493, -105.824323.
Great Nearby Campsite: Elk Creek Campground and RV Park
Elk Creek Campground and RV Park has 72 campsites with water and electric hookups.
Each site is separated by natural landscaping. Because of this, you'll have privacy and great opportunities to view the wildlife.
This campground has hot showers, an off-leash dog area, and a tranquil setting for those looking to get away from it all.
Colorado Lake Vibes Score: 9.5/10
Travel Tip: While you're exploring the state, check out these must-see Colorado ghost towns!
Lake Granby
Like its neighbor Grand Lake, Lake Granby is a huge mountain lake hosting a number of aquatic activities.
Lake Granby is stocked regularly with trout and salmon. Also, the Lake Granby Yacht Club schedules sailing regattas throughout the summer months.
This lake was created in 1950 when the Granby Dam was completed as part of the Colorado – Big Thompson Project to control the Colorado River. Today, it's a central player in the tourism industry of the county, bringing visitors from all over to play on its waters.
Location: Lake Granby is located just 5 miles south of its namesake town, and 15 miles south of Grand Lake. The GPS coordinates are 40.147793, -105.849115.
Great Nearby Campsite: Stillwater Campground
Stillwater Campground sits right on the edge of Lake Granby, with a total of 129 campsites. 21 sites have water and electricity, and a dump station is conveniently located on the way out of the campground.
Stillwater Campground is located on the lakeshore and isn't too far from Rocky Mountain National Park. Because of this, it's a popular stop for RVers exploring the northern mountains of Colorado.
Colorado Lake Vibes Score: 8.8/10
Crater Lake, Colorado
Crater Lake is a beautiful high mountain lake, hidden to the thousands of tourists who visit Maroon Bells each year.
This mountain lake is sequestered behind the Bells, accessible only by foot. The hike in is a moderate 1.5 miles, but many miss enjoying this beauty.
At the end of summer, Crater Lake's feeder creek runs underground after the winter runoff dries up. As a result, the lake may disappear during these months! There are also waterfalls scattered throughout the beautiful surrounding landscape.
Location: Crater Lake lies at the end of a moderate hike from Maroon Bells. The Bells are two famous 14,000ft peaks north of Aspen, Colorado. The lake can be seasonal in years when snowfall amounts are low, but the region is well worth the effort to see. GPS Coordinates are 39.085207, -106.967062.
Great Nearby Campsite: Difficult Campground
Difficult Campground is a typical national forest campground, with 46 campsites and running water, but no other amenities. Each site is secluded in a beautiful aspen grove, providing privacy and a tranquil setting.
Colorado Lake Vibes Score: 9/10
Lake San Cristobal
When thinking of a "mountain lake," this body of water is the perfect image that comes to mind. Lake San Cristobal fits into a mountain valley, with a long shoreline that extends around the bend and into the landscape.
Boating and fishing for rainbow trout are the most popular pastimes at Lake San Cristobal. There is also an abundance of wildlife here. From beaver to elk, and geese to ducks, the lake hosts a variety of visitors.
Location: Located just 4 miles south of Lake City, Colorado, Lake San Cristobal sits in a stunning valley at the base of Slumgullion Pass. GPS coordinates are 37.973486, -107.289373.
Great Nearby Campsite: Wupperman Campground
Wupperman Campground is the perfect camping spot to enjoy Lake San Cristobal, with 31 sites that overlook the second largest natural lake in the state of Colorado. There are no amenities, but Wupperman is a great place from which to explore the lake and the nearby town of Lake City.
Colorado Lake Vibes Score: 9.2/10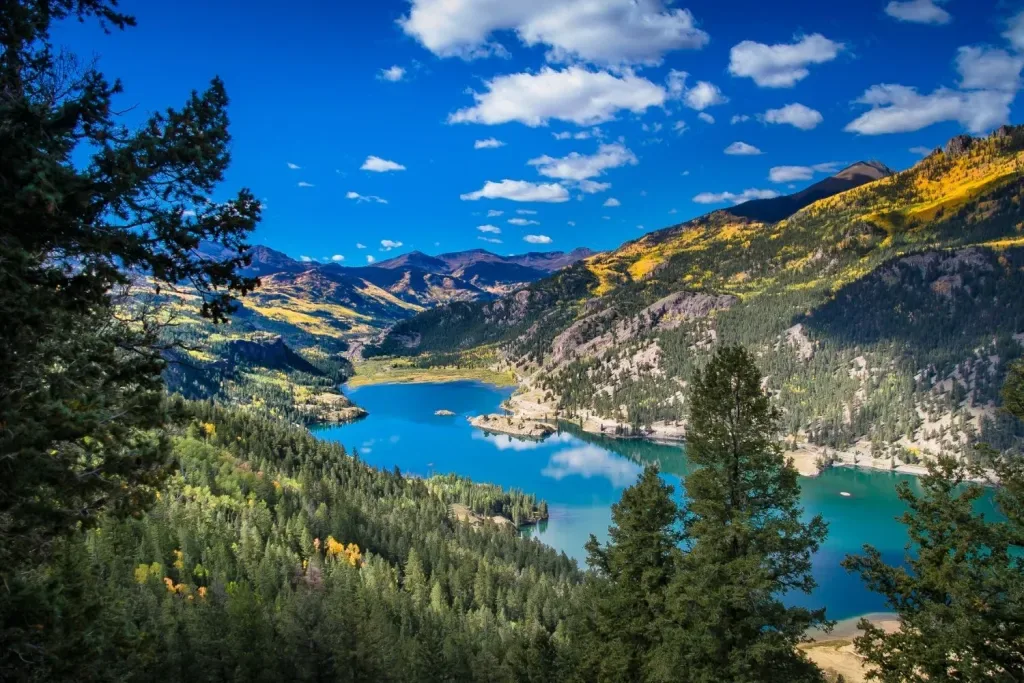 Horsetooth Reservoir
Situated just west of the Fort Collins city limits, Horsetooth Reservoir has become a mecca for outdoor enthusiasts of all types.
Horsetooth Reservoir measures 6-1/2 miles long by 1/2 mile wide, providing plenty of space for water sports like boating and kayaking, and its shoreline hosts numerous mountain bikers and hikers.
The reservoir was created in 1949 to bring water from the Colorado River to the eastern slope of the Rockies for towns like Fort Collins, and the city now benefits not only from that commodity, but from the playground that Horsetooth provides.
Location: Horsetooth Reservoir is adjacent to the city of Fort Collins, sitting in the foothills just west of the city limits. Its GPS coordinates are 40.558157, -105.158059.
Great Nearby Campsite: Horsetooth Reservoir South Bay Campground
Horsetooth Reservoir South Bay Campground offers 152 gravel campsites, set in a park-like atmosphere. Each has electric and water hookups, and there is a shower house on site. It's a popular place right on the reservoir and close to a major thoroughfare, so expect some road noise during rush hour.
Colorado Lake Vibes Score: 8/10
Steamboat Lake
This high mountain lake is a spectacular getaway location along the Colorado-Wyoming border.
Steamboat Lake lies within a state park of the same name and attracts visitors who are looking for an off-the-beaten-path experience with stunning Rocky Mountain landscapes.
Fishing, boating and hiking are top summer activities, and winter here brings its own splendor, with ice fishing, snowshoeing and cross country skiing adventures.
Location: Situated at the base of Hahn's Peak and 28 miles north of Steamboat Springs, Colorado lies scenic Steamboat Lake. Its GPS coordinates are 40.798783, -106.961254.
Great Nearby Campsite: Steamboat Lake State Park
A summer stay at Steamboat Lake State Park campground is filled with wildflowers and fishermen. You'll find 198 sites with electric and water hookups, along with hot showers, a marina and general store on site. The opportunity to play lies just outside your door here!
Colorado Lake Vibes Score: 9/10
Green Mountain Reservoir
If you're a windsurfer or sailboarder, you may have heard of Green Mountain Reservoir. This lake has the perfect conditions for both sports! Fishing is another top-ranked sport here, with trout and salmon being the biggest catches.
Sailing, kayaking and paddle boarding round out the water activities at Green Mountain. Sitting on the back of the Gore Mountain Range provides the reservoir with numerous outdoor adventures and places to explore. In fact, many land lubbers can't get enough of the hiking trails on the lake's shores or viewing the wildlife that wander through this region.
Location: Lying 22 miles north of Silverthorne, Green Mountain Reservoir is easily accessible from Highway 9 in Summit Count, Colorado. The GPS coordinates are 39.872343, -106.286739.
Great Nearby Campsite: Cow Creek South Campground
Cow Creek South Campground has 44 sites located right along the water's edge, making this campground perfect for kayakers and fishermen who wish to launch onto Green Mountain Reservoir from their front doors. There are no hookups here, but the location is killer!
Colorado Lake Vibes Score: 8.5/10
It is easy to see why these lakes in Colorado are magnets for visitors from around the country. But this list just covers seven getaway destinations.
There are literally hundreds more hiding above timberline in the Rockies, between sunflower fields on the eastern plains and at the base of red rock mesas in the canyon country of western Colorado. Be sure to include them in your explorations of the state, and let us know about your favorites!
Discover the Best Free Camping Across the USA
To be honest with you, we hate paying for camping. There are so many free campsites in America (with complete privacy).
You should give it a try!
As a matter of fact, these free campsites are yours. Every time you pay federal taxes, you're contributing to these lands.
Become a FREE CAMPING INSIDER and join the 100,000 campers who love to score the best site!
We'll send you the 50 Best Free Campsites in the USA (one per state). Access the list by submitting your email below: