5 Must-See Ghost Towns in Idaho
Idaho was only a territory when visitors struck gold or silver there for the first time, marking an onslaught of prospectors, settlers and city builders.
But the real treasures found in these dusty destinations we explore today are the historical stories that come from lives lived over 150 years ago.
What can we learn from those sometimes impetuous adventurers? Maybe we will discover some true motivations with a visit to each of these five ghost towns in Idaho.
What is a Ghost Town?
All ghost towns have at least one thing in common – they were all once active towns. And as you will see here, size didn't really matter.
Several ghost towns in Idaho only grew to encompass 200 or 300 residents, but others became county seats with more than 2,500 citizens. And each town had its own set of characters, making it no different from the towns of today.
So how did these towns become "ghostly?" It's simple: the human beings abandoned their towns, leaving only the wind to tell their stories.
Over the years historians have accumulated many of the stories, but what is fascinating about ghost towns is that there are always more stories to be discovered. Maybe you'll uncover a story or two in visiting the following ghost towns.
Bayhorse, Idaho
As boom and bust mining towns go, Bayhorse never established itself as a legend in the industry. But as a ghost town it fits the bill to a T, with several ramshackle buildings swaying in a breeze that whispers of times gone by.
The best preserved building in town is also the most historical in nature: the Gilmer and Salisbury Stamp Mill stands sentinel on the side of the mountain that produced more than $10,000,000 dollars in precious metals like gold, silver and copper.
But mining in the remote wilds of Idaho in the 1860s and 1870s was not an easy task without the support of suppliers, railroads and other miners.
By 1880 a smelter was constructed, making the mining process more streamlined (and prosperous), and Bayhorse grew in population and reputation.
In its heyday the little town topped out with 300 residents, but by the time silver was demonetized in 1893 the smelter had already closed and prospectors had moved on to the next ore discovery.
Today's visitors to Bayhorse can:
Poke through the Gilmer and Salisbury Stamp Mill
See the remnants of the coal ovens that were used to produce charcoal for the smelter
View the stone Wells Fargo building, where it is surmised that silver bullion was stored
Nearby Camping: Country Junction RV Park
Located 25 miles north of Bayhorse, the Country Junction RV Park has 61 sites with full hookups set on grassy spaces. The mountain views from each campsite provide a great backdrop from which to enjoy your morning coffee. The campground has hot showers and a pool, making it a great base for exploring the history of this region.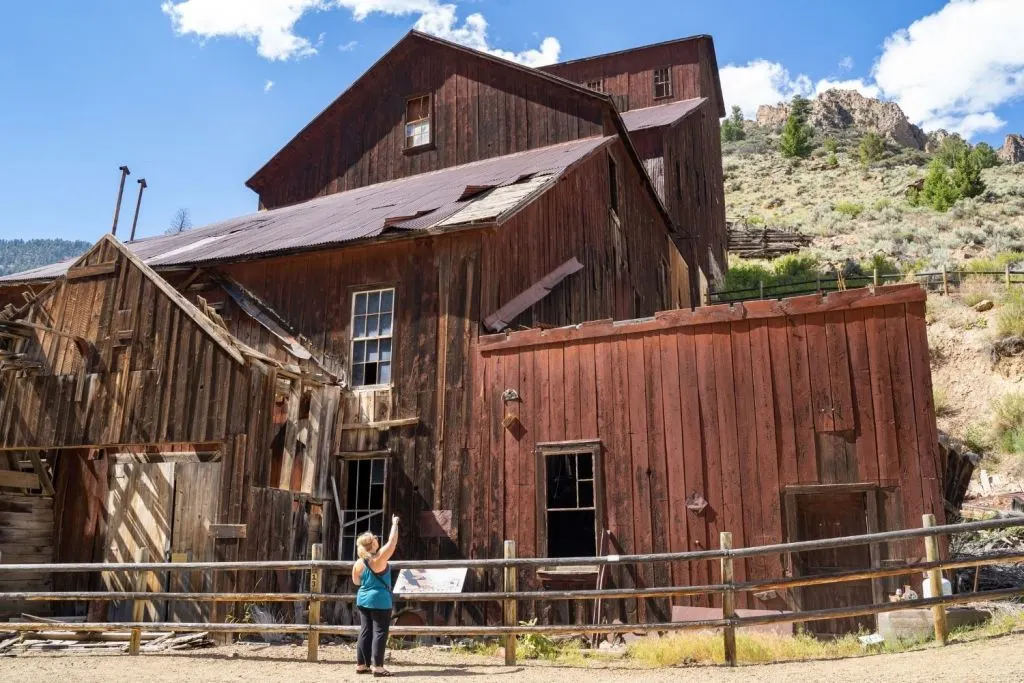 Burke Ghost Town
Situated in a narrow little canyon seven miles northeast of Wallace, Burke was a typical mining town. Silver was discovered in 1884 and the architecture of the community changed almost overnight.
With prospectors and businesses that catered to them moving in, houses and buildings went up immediately. So fast that what was a boarding tent one week, became a hotel the next!
There wasn't room in this narrow canyon for both a street and a hotel. So, the street ran through the lobby of the lodging facility! And later when the railroad came to town, it, too, ran the same gamut!
The region was prolific with its production of lead silver for a while. But, acts of nature and acts of violence finally took their toll. One avalanche lowered the population by 20, and labor riots had explosive results in 1899.
Mother Nature took a couple more swipes at wiping the town off the map with significant flooding and a massive fire that burned much of the downtown region. By 1991, all that remained in Burke were some brick structures and a few signs of its former life.
Today visitors to Burke can:
Walk along the twisted railroad tracks that once kept the town supplied with miners and supplies
Visit the unmarked cemetery where many of the headstones were destroyed by flood, fire or avalanche
Envision what the community would have looked like back in the day, when dozens of homes filled the hillside where only holes in the mountain mark their places today
Nearby Camping: Wallace RV Park
With 60 full hookup sites, the RV Park in Wallace is a good overnight stop that consists of a gravel parking lot along a creek. Hot showers and restrooms are on site, but there are no other amenities available, although cell service is strong in this location. The campground is good as a base camp for daily ATV treks into the surrounding mountains.
Bonanza and Custer Ghost Towns
Trading popularity and mineral strikes, Bonanza and Custer were booming mining towns in the 1870s when gold was discovered there.
The towns grew up two miles apart, sharing many citizens and stories of treasures lost and found in their mountains. By the time gold fever came to a head, Bonanza bragged of having a saloon, its own newspaper and even a dentist in town. Custer became the bedroom community for those that worked the mine, and the two towns were conjoined even in their governance.
But like every good ghost town, good times came to an end shortly after the turn of the century and the populations of Bonanza and Custer dwindled in the same manner that they had grown: together. Today, there are numerous cabins, a museum and huge gold dredge still standing. Bonanza and Custer are some of the most popular ghost towns in Idaho.
Visitors to Bonanza and Custer can:
See the Yankee Fork Gold Dredge
Meander through two historic cemeteries
Visit several log cabins
Get more information at the Custer Museum
Take a walking tour of each town
Nearby Camping: Mormon Bend Campground
16 no frills sites along the Salmon River are full of peace and quiet at the Mormon Bend Campground. There are no amenities except a central water spigot, but each site is its own tranquil getaway in nature, with a tent site, fire ring and picnic table overlooking the river and surrounded by forest.
Rocky Bar, Idaho
A discovery of gold on the Feather River in 1863 was the impetus to create the town of Rocky Bar. But because the area was so remote, the town was slow to grow, that is until a toll road was built.
When all was said and done, Rocky Bar topped the charts at 2,500 citizens and became a contender for the territorial capital.
With investors back east, the mines quickly had everything they needed to extract the precious mineral, but their enthusiasm was short-lived, as prospectors found the ore deposits quite shallow. Soon there was little product for the stamp mills to work with or the railroad to ship, and miners moved out as quickly as they had moved in.
Today a number of structures remain, making it easy to envision what Rocky Bar must have looked like 150 years ago as its placer operations and underground mines were working at full throttle. Rocky Bar is one of the best ghost towns in Idaho to explore and learn about rich mining history.
Today's visitors to Rocky Bar can:
Walk the city streets where thousands once trod
Tour the old town jail
See Rocky Bar's old whore house and bar
Nearby Camping: Fort Running Bear
Fort Running Bear has a rural feel to it as a private campground located 45 minutes south of Boise. Campsites are equipped with water and electric, and the amenities offered include a swimming pool, clubhouse, fish cleaning station and a 9 hole miniature golf course. Campers will have plenty to keep them busy around the campfire here!
Silver City, Idaho Ghost Town
One of the largest mining towns in Idaho became one of the best preserved ghost towns in Idaho, and America at large.
Silver City lies in a remote section of southwestern Idaho, where silver was discovered in 1864. With the rest of the country involved in Civil War, miners were engaged in extracting ore from the mountains around them. And those looking for a strike of their own found their way to this well-off-the-beaten-path area.
When silver was king, its namesake city boasted 2,500 residents, with more than 300 homes and 75 businesses. But prosperity is fickle sometimes, and eventually the mines played out, leaving baffled prospectors, suppliers and mine owners.
All but a few ran for the hills, looking for their next strike. Today most of the remaining inhabitants are direct descendants of those that initially settled Silver City. They keep the surviving structures maintained and welcome visitors to this authentic ghost town from May through September.
Visitors to Silver City can:
Grab a bite to eat and look around the Idaho Hotel
Visit the town's three historic cemeteries
Walk to the Standard School
See the Masonic Hall, which spans Jordan Creek
Photograph the ruins of the De Lamar Mine
Nearby Camping: Silver City BLM Campground
6 primitive campsites await at the end of a long, rugged, steep road. But for those courageous souls who make it to this BLM campground, the payoff is a secluded, scenic site with miles and miles of hiking trails and very few other humans. Be sure to bring everything you will need on your trip with you, as the nearest services are two hours away.
Each of the towns here have the same reason for founding, as well as abandonment. But you will find as you visit them, each community has a decidedly different flavor. Walk the streets, peer into windows, and take pictures of leaning structures and cemetery headstones to get a feel for the stories that whistle around every corner. They are anxious to be discovered and appreciated for the lives that once lived here.
Discover the Best Free Camping Across the USA
To be honest with you, we hate paying for camping. There are so many free campsites in America (with complete privacy).
You should give it a try!
As a matter of fact, these free campsites are yours. Every time you pay federal taxes, you're contributing to these lands.
Become a FREE CAMPING INSIDER and join the 100,000 campers who love to score the best site!
We'll send you the 50 Best Free Campsites in the USA (one per state). Access the list by submitting your email below: