What Is A National Park Pass for RVers?
Attendance at National Parks and Monuments in the United States has reached fever pitch in recent years.
If seeing the Grand Canyon up close and personal or walking the battlefields at Gettysburg is on your must-see list, then you might want to invest in an annual National Park Pass.
Today we'll make this complicated yearly pass a little bit easier to understand.
The pass itself is quite simple…but, there are a few variations that apply to unique situations.
Let's dive in!
What Exactly is the National Park Pass?
If you are longing for exclusive entry into more than 2,000 federal recreation sites, look no further. The "America The Beautiful" Pass has you covered!
This rather innocent-looking piece of plastic is the size of a credit card. But, it packs a huge punch when it comes to accessing all of the United States' most scenic and historical destinations!
Most national sites charge an entrance fee, either by car or by person. These fees can add up quickly!
The average price to enter most National Park Units is around $30 per car or $20 per person, every day.
If you plan on visiting more than two National Park Units per year, a National Parks Pass is a necessity. These include National Historic Sites, National Monuments, National Seashores, Preserves and more.
A National Parks Pass grants entry into all National Park Service Units, and is only $80 per year. It's a no-brainer… it pays for itself in just a few uses.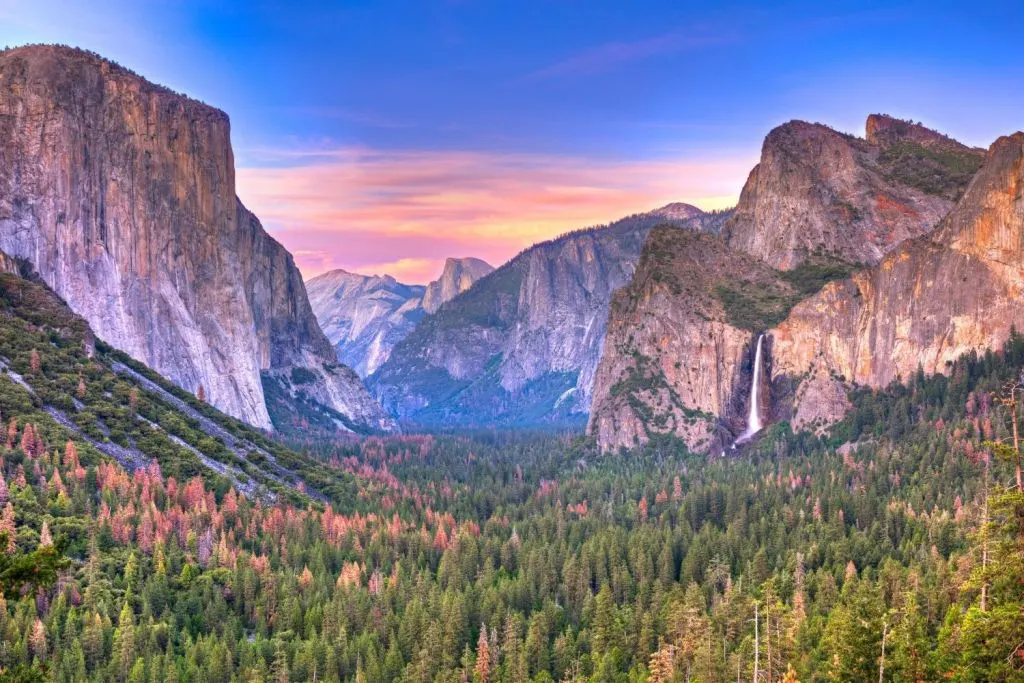 Where Can I Use My National Park Pass?
Passes issued from the National Park Service provides entry into all of the National Parks across America. But it doesn't stop there!
Your National Park Pass can also be used to visit:
Any National Monuments
National Historic Sites
All National Forests, Grasslands, Preserves, and Seashores
National Historical Parks
Army Corps of Engineer (COE) Recreational Areas
Bureau of Land Management areas
Fish and Wildlife locations
And, regions overseen by the Bureau of Reclamation.
The fees covered at these areas include entrance and day use fees. Fees are covered for the driver and all passengers in a vehicle. Alternatively, fees are covered for up to 4 adults if not in a car.
Different Types of National Park Passes
The Park Service has created a variety of passes. There are passes to benefit seniors, military personnel, those with permanent disabilities, and federal agency volunteers, as well US 4th graders!
Here's the current breakdown of costs by pass:
America the Beautiful Pass: $80 annual pass available to everyone
Military Pass: Free annual pass for current military members. This includes thosee in the Army, Navy, Air Force, Coast Guard, Marines, National Guard and Reserves and their dependents
Seniors: $20 annual pass or $80 lifetime pass for US citizens and permanent residents age 62 or older.
Access Pass: Free lifetime pass for US citizens or permanent residents with permanent disabilities.
Volunteer Pass: Free annual pass for volunteers with 250 or more hours with federal agencies that participate in the interagency pass program
Annual 4th Grade Pass: Free to US 4th graders with a valid "Every Kid Outdoors" paper pass. Learn how to get this pass below.
If you want to learn how to get these passes, keep reading!
Does a National Park Pass Work for State Parks?
If you enjoy exploring our National Parks, chances are that state parks may also be high on your list of visits. You might be wondering: does a National Park Pass work for State Parks? The answer is: no.
National Park Passes are only accepted at the national sites. Each state has their own state park pass, providing access to unique locations around the country.
To purchase a state park pass for a specific state, Google "(State Name) State Park Pass".
How To Buy A National Park Pass
You can buy a National Park Pass in a few different ways. Each pass is issued for a year from the month of purchase, excluding the Senior Lifetime and Access Passes.
Purchase a National Parks Pass one of these four ways:
In person at a Federal Recreation Site that issues passes. You can buy a pass at the gate of most major National Parks. Click here for a list of those locations.
By phone at: 888-ASK USGS (1-888-275-8747), extension 2 (Hours of operation are 8 am to 4 pm Mountain Time)
By mail
To help you easily get the appropriate pass, here is a list of options to apply for each pass type:
America the Beautiful – purchase pass in person, online, or by phone
Military Pass – receive pass in person by showing military ID or Common Access Card
Senior Annual or Lifetime Pass – purchase pass in person, online or by mail
Access Pass – receive pass in person, online or by mail
Volunteer Pass – receive pass from issuing federal agency
Annual 4th Grade Pass – get paper "Every Kid Outdoors Pass" here
Is the National Parks Pass Worth It?
A pass to discover some of the country's most beautiful and preserved destinations should be on every RVer's shopping list. A National Park Pass saves you money, and pays for itself within the first 2-3 uses!
It may be small in appearance, but it contains enormous benefits. This pass provides access to stunning landscapes and memorable adventures. And, it introduces you to the colorful characters of American history.
Grab yours before you hit the road, so you won't miss a minute of exploration on your travels!
Discover the Best Free Camping Across the USA
To be honest with you, we hate paying for camping. There are so many free campsites in America (with complete privacy).
You should give it a try!
As a matter of fact, these free campsites are yours. Every time you pay federal taxes, you're contributing to these lands.
Become a FREE CAMPING INSIDER and join the 100,000 campers who love to score the best site!
We'll send you the 50 Best Free Campsites in the USA (one per state). Access the list by submitting your email below: