7 Best Small Towns in New York (And Awesome Nearby Campsites)
Almost everyone in the world knows at least a little something about New York City.
But, there are many other places in New York state that are great places to visit… and much lesser known.
From upstate New York, across the Hudson Valley and out to Long Island, there are countless villages and small towns in New York that have incredible natural beauty and are full of friendly faces to welcome you.
Some of them may be fairly close to the Big Apple in terms of distance, but when it comes to attitude, they're a world away from what some people call "the greatest city in the world."
Let's move away from the metropolis for a slow-paced tour of 7 of the best small towns in New York and some awesome places to camp.
7 Best Small Towns in New York State
Canandaigua, New York
Why You'll Love It: With a name that literally means "the chosen spot," it's easy to see why this charming town outside Rochester is a popular choice for those wanting to experience small town life in New York.
The so-called Finger Lakes are a big draw for those who love water sports. Others love to hike among the scenic hills. Winter brings skiing and snowboarding, and you can grab a quick bite at a down-home diner or dine in leisure at a high-end resort. Tour a historic mansion or browse the works at a local museum.
Nearby Camping: Canandaigua KOA
Miles to Downtown: 4.7
The Canandaigua/Rochester KOA has a fun family atmosphere. You'll also find trail sthrough the woods with a treehouse and rock climbing wall. You'll have all the amenities you expect from a KOA facility campground. And, it's a good base to explore Canandaigua and its namesake lake.
Small Town New York Vibe Score: 9.3
Lake Placid, New York State
Why You'll Love It: Perhaps best known as the site of the 1980 Winter Olympics, this village in the Adirondack Mountains has a long history as a resort destination.
Lake Placid has a lot more to offer besides outdoor recreation, but it's on full display at the Lake Placid Olympic Museum. The unique history of the area and the scenic landscape makes Lake Placid one of the best small towns in New York.
Another notable spot to visit is the restored train depot, which is home to a museum as well as a popular performance theatre. At the town's center is the picturesque Mirror Lake, with a trail around its shoreline.
Nearby Camping: Drapers Acres
Miles to Downtown: 6
The family-run Draper's Acres is typically open during the summer months only with full hookups and 30 amp power plus hot showers. It's a great value with a rustic feel that makes it seem like a state park.
Small Town New York Vibe Score: 9.2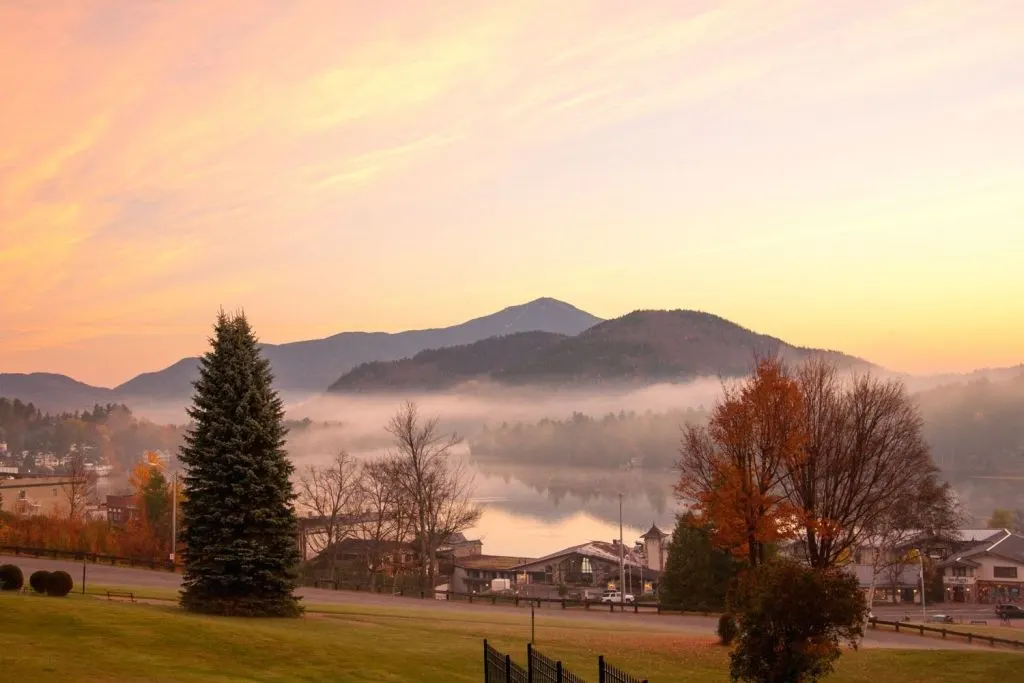 Watkins Glen, NY
Why You'll Love It: You know about Woodstock, but there was another music festival in Watkins Glen just four years later. This festival drew what was considered to be the largest crowd ever assembled in one place in the United States.
Most days, though, this village of less than 2,000 people is not crowded at all, and its scenic beauty here might just take your breath away.
The beauty here makes Watkins Glen one of the best small towns in New York. Along the Gorge Trail in Watkin Glen State Park, you can view 19 different waterfalls in a stretch of just 2½ miles!
The famous Rothschild family mausoleum in the cemetery there is an attraction of another kind entirely, but it's certainly worth seeing. Just outside the village is the Watkins Glen International race track, which hosts NASCAR events and was once home to formula car racing as well.
Nearby Camping: Watkins Glen State Park
Miles to Downtown: 3
Watkins Glen State Park is the place where you can experience those waterfalls, and much more. The Gorge Trail is not pet friendly, but other trails are. The spacious, sprawling scenic campground is quiet and shady with power and a dump station and extras that include an Olympic-sized swimming pool. No WiFi, but good cell coverage.
If you're looking for free camping, check out Sugar Hill Fire Tower Road!
Small Town New York Vibe Score: 9.0
Saratoga Springs, New York
Why You'll Love It: Nestled in the Adirondacks, the town of Saratoga Springs gets its name from the mineral springs that once drew visitors from around the world. However, it's probably better known for its honored place in the world of horse racing.
Saratoga Springs is home to the famed Saratoga Race Horse. The thoroughbred legacy is showcased at the National Museum of Racing and Hall of Fame. You can visit the mineral baths at Saratoga Spa State Park, or check out vintage models and race cars at the automobile museum.
Nearby Camping: Rock City Falls Mobile Villas
Miles to Downtown: 2.5
At Rock City Mobile Villas, you'll share some space with permanent residents, but you'll find a friendly staff as well as easy maneuvering and setup in a convenient location. A bare-bones site with no frills, but no headaches either.
Small Town New York Vibe Score: 8.9
Ithaca
Why You'll Love It: One of the larger communities on our list, Ithaca is a city of just over 30,000 people on Cayuga Lake in the Finger Lakes region.
Ithaca is home to Cornell University. But, it's also known for the impressive number of specialty shops, restaurants and galleries in the historic downtown area.
The Cornell Botanic Gardens, with its arboretum and multi-tiered Cascadilla Falls, is a must-see city centerpiece. There are other waterfalls in the area, too. It includes Ithaca Falls and Buttermilk Falls, and a beautiful wooded gorge at Robert H. Treman State Park.
Another popular attraction is the art museum that was designed by groundbreaking architect I. M. Pei.
Nearby Camping: Myers Park
Miles to Downtown: 8.9
Do some swimming in the lake at Myers Park, a city park campsite that's run by the city of Lansing. Sites are close to one another and not shaded, but they are mostly level. Bathroom and shower facilities are minimal, but there is WiFi, and shopping and city sights are just minutes away.
Small Town New York Vibe Score: 9.0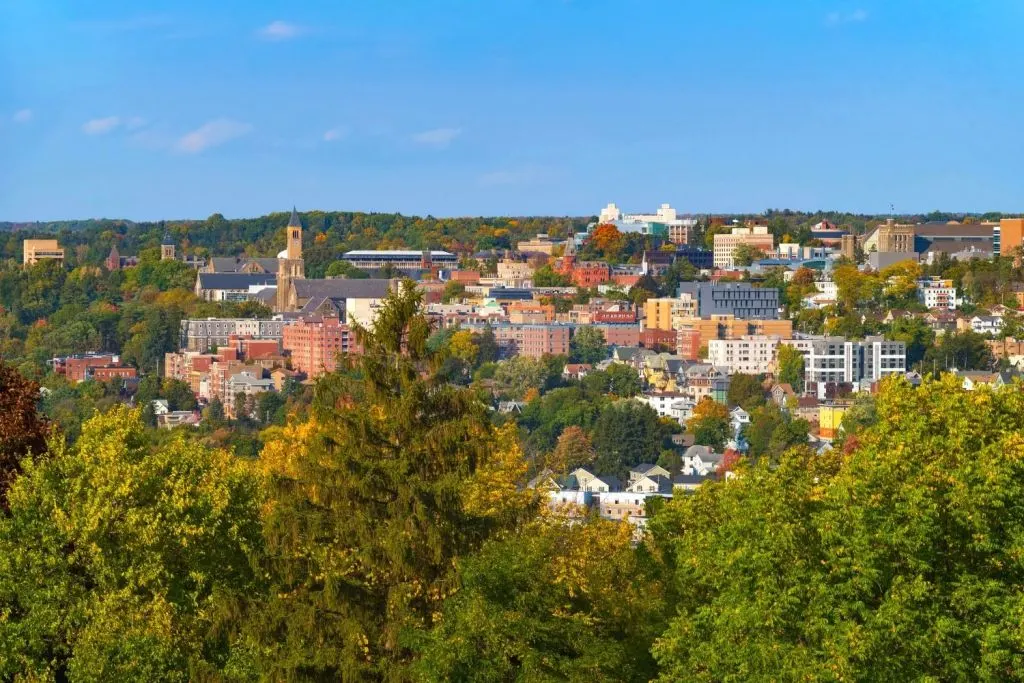 Woodstock
Why You'll Love It: Are you looking for the site of the infamous three days of peace, love and music? Sorry, that's 70 miles away near the town of Bethel. (Yeah, it's confusing.)
Some other music history was made here, though, and this lovely town at the edge of the Catskills Mountains has a deeper past as an artist colony. Wander Tinker Street for exhibits of local art or to visit the cozy bars and bistros or enjoy a hike through Catskills Park.
When you get to Woodstock, you'll realize why it's long been a popular escape from the city.
Nearby Camping: Rip Van Winkle Campground
Miles to Downtown: 7.4
You'll be tempted to take a long, long rest at Rip Van Winkle Campground as you get a taste of the 700,000 acres of wilderness that surround the town of Woodstock.
Near West Saugerties (home of The Band and their famous house called Big Pink), the campground is in the shadow of Overlook Mountain and near the rugged Indian Head forest preserve. Heavily shaded with privacy, and there are pull-thrus and full hookups.
Small Town New York Vibe Score: 9.6
Montauk
Why You'll Love It: In the Hamptons on the eastern end of Long Island, the village of Montauk is a beach getaway with lots of history.
Points of interest include Ditch Plains Beach on the Atlantic and the famous Montauk Point Lighthouse, which has stood at the tip of the peninsula since 1796. More modern history can be found at Camp Hero State Park, a former military base that has bunkers and a radar tower from World War II.
A must-visit is Deep Hollow Ranch, the oldest working ranch in the United States, which offers horseback tours across its 3,000 acres of beaches and countryside.
Nearby Camping: Hither Hills State Park
Miles to Downtown: 3.8
Sleep to the sound of ocean waves crashing and wake up to a gorgeous sunrise at Hither Hills State Park. The open, sunny campground has easy access to the beach, and there are concrete pads with picnic tables.
No hookups, but clean showers and restrooms and a well-stocked camp store for emergency goods.
Small Town New York Vibe Score: 9.1
The Best Small Towns in New York
These towns might be small, but the memories they'll leave with you certainly aren't! New York state is a must-visit for RVers, and these small towns in New York offer the perfect mix of adventure, history, and relaxation.
Discover the Best Free Camping Across the USA
To be honest with you, we hate paying for camping. There are so many free campsites in America (with complete privacy).
You should give it a try!
As a matter of fact, these free campsites are yours. Every time you pay federal taxes, you're contributing to these lands.
Become a FREE CAMPING INSIDER and join the 100,000 campers who love to score the best site!
We'll send you the 50 Best Free Campsites in the USA (one per state). Access the list by submitting your email below: