Canoe vs. Kayak: Which Should You Use?
The ultimate question…canoe vs kayak?
Some people prefer the maneuverability of a kayak and others want to have the storage and traditional experience of a canoe.
Both types of boats are great for getting out on the water and provide a good upper body workout.
So… which one is best for you, canoe or kayak? Read on!
What's the Difference between a Kayak and a Canoe?
The most obvious differences between a kayak and canoe are physical: the sizes and shapes. Each type of boat handles differently and are better suited to different situations and water types.
Your personal preference and what you plan to do with your boat will factor heavily into making your decision.
Kayaks are smaller, more lightweight, and as a result, are more portable. Kayaks work great for faster water and have more responsive maneuverability.
A canoe is much larger and heavier than a kayak. With that extra size also comes extra storage. Canoes are great for 2+ people, and are an excellent choice for a multi-day paddle and camping trip. These boats offer a more traditional paddling experience and are great for slower rivers and lakes.
Different Types of Kayaks
Kayaks are a great option if portability is high up on your list. There are so many different kinds, too!
Some of the different types of kayaks include:
Each different type of kayak has it's own set of pros and cons. You can find kayaks that are specifically for the ocean, those that are specifically built for speed, for fishing, and more.
Every type also comes with varying levels of stability and storage, too.
Different Types of Canoes
There are fewer different types of canoes than there are kayaks. The typical canoe style that you see for rent and at summer camps are recreational canoes. They are durable and are made of plastic, fiberglass, or aluminum.
Intermediate and advanced canoes come with better quality and lighter materials. These canoes are used for longer paddles, bird watching, or fishing.
Canoes can be rigged or outfitted for any sport or activity. Since canoes have so much storage space, you can easily bring along enough gear for a multi-day camping trip, a photography expedition, or a picnic on the lake.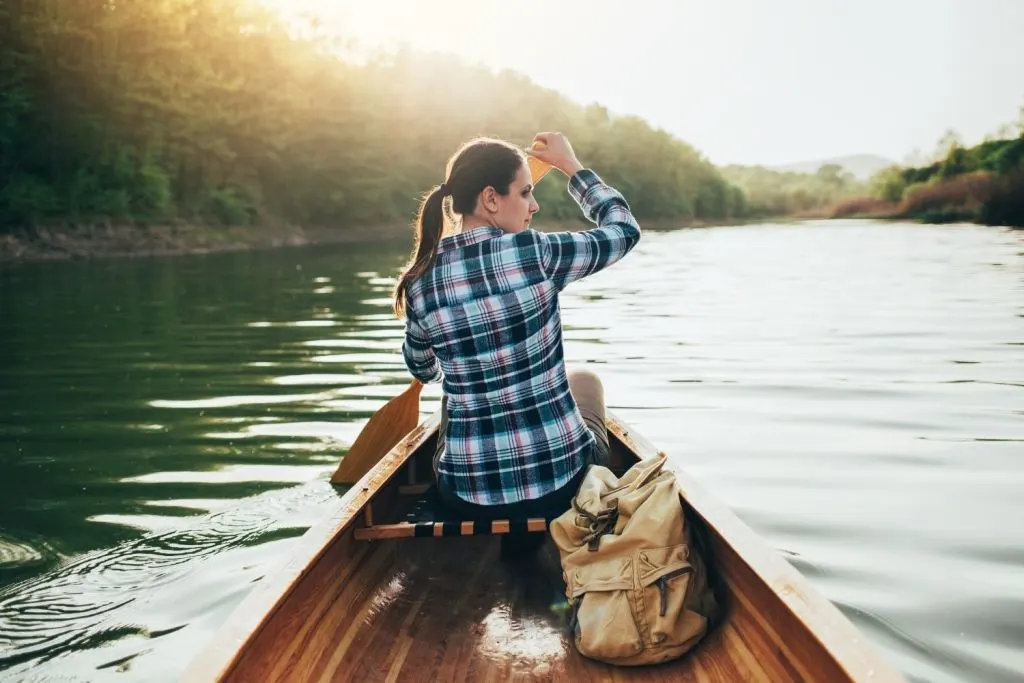 Which is More Stable?
Which is more stable between a canoe vs kayak? Canoes are considered to be more stable because of their wider base and higher sides.
That being said, there are some kayaks like sit-on-tops that have a wider foundation. Boats with flat, wide bottoms are the most stable option.
Benefits of a Canoe
There are many benefits of owning a canoe. Here are the main pros of canoes:
Storage Space. Since canoes are larger, deeper, and have a higher weight limit, you can bring more stuff with you.
Higher vantage point. When you're in a canoe, you sit higher up off the water. This provides more visibility on the water.
Easier to get in and out of. These boats are wider and generally more stable in the water, making them easier to get in and out of.
Great for calm waters. If you're looking for an excellent boat to experience lakes and slower rivers with, get a canoe!
Great for families and pets. Canoes can easily carry two adults and two children, and pets too!
Benefits of Kayaks
Kayaks have their own set of benefits, too. See if any of these check off items on your list:
Variety of styles. Kayaks come in many shapes, sizes, and styles for different recreational activities.
Lighter. This makes kayaks easier to portage around an obstacle, or load on and off your car. An excellent choice for a solo boater.
Ability to Roll. If a kayak capsizes with you in it, you can roll it back over. This is a skill that takes time and practice to learn, but you definitely can't do this in a canoe!
Dry storage area. Many kayaks come with a small dry storage area to put your backpack, food, or other gear into. It's always a good idea to use a dry bag, also.
Great exercise. Kayaking is a great upper-body workout, and it can be done solo with proper safety precautions.
Great for any type of water. From whitewater to lakes or even the ocean, there is a kayak for that!
Canoe vs Kayak: Which One Should You Choose?
The answer to this is as personal as the bodies of water to put the crafts in.
Since each type of boat is so different, the answer to this question lies in personal preference.
Kayaks will get you closer to the water and the action as they are more maneuverable. They are great for solo trips and faster waters.
Canoes, on the other hand, are better for transporting gear and families on a trip. They're also great for a more leisurely experience.
Still undecided? Try them before you buy them! You can rent a canoe or kayak at just about any recreational body of water. This gives you the chance to see what you like and don't like before you make the leap.
In the end, maybe you need one of each to have the best of both worlds!
Discover the Best Free Camping Across the USA
To be honest with you, we hate paying for camping. There are so many free campsites in America (with complete privacy).
You should give it a try!
As a matter of fact, these free campsites are yours. Every time you pay federal taxes, you're contributing to these lands.
Become a FREE CAMPING INSIDER and join the 100,000 campers that love to score the best site!
We'll send you the 50 Best Free Campsites in the USA (one per state). Access the list by submitting your email below: