What's the Deal with Long Term RV Parks?
It doesn't matter if you're a full-time, part-time, or some-time RVer. You can be retired, traveling with money saved, or working full-time. You may be a single traveler or traveling with family.
Regardless, most people who travel in an RV generally love the open road and the adventures that traveling in an RV brings them.
So, what's the deal with long term RV parks? And why would anyone want to stay long term in an RV park?
These type of RV parks often get a bad rap. Today we'll see if it's deserved or not.
Let's dive in!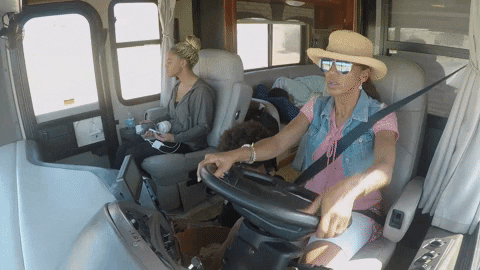 What Is a Long Term RV Park?
And what exactly is a long term RV park? Days, weeks, months, more? Generally, when RVers talk about the 'long term', the minimum would be a month.
But did you know you could also stay in an RV park for a season or even an entire year (or more)?
Types of Long-Term RV Parking
Monthly: To really get to know a place, and not just be a complete tourist, one should stay longer than a few days. Now, if you have many places to go and very limited time, then staying in a long term RV park for a month will not match your travel goals.
However, if you have time, love breweries and mountain biking for example, and you happen to be in an area where all of the above exist right outside your door. This way you get a chance to explore most of the trails and many of the breweries while almost feeling like a local.
Seasonally: We've all heard the term, "snowbirds" before. If you haven't, it is a person who migrates south for the winter. Generally, warm weather is your friend; snow and cold weather, be gone.
Seasonal long term RV stays are mostly known for snowbirds. Travel to RV parks during the colder months of the year in Florida, Baja California, southern Tucson and Texas, and almost anywhere south, you'll find a great deal of people enjoying stays in long term RV parks.
Another popular reason for seasonal long term RV parks is workamping (camping while working generally at an RV park or resort or as a guide). While many workamping gigs include the site with the position, some do not, and you'll need to find your own place to stay. If workamping is popular in a specific area, the RV parks will be prepared for seasonal RV stays.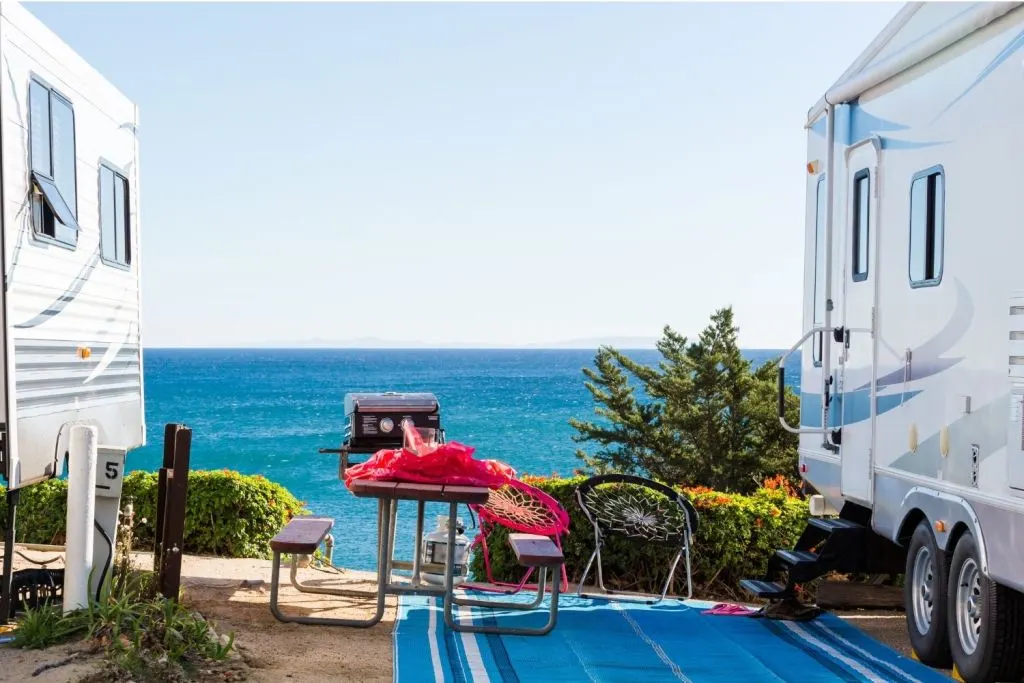 Annually: People generally assume that when you move into an RV, you're going to travel in said RV. That is not always the case. Some people simply want to downsize and stay in one place, but with the option of moving if needed. If you ever choose to stay in a long term RV park on a yearly basis, I would say that you have officially graduated from being a tourist to a local.
Project Based: In this last example, a long term RV stay is based on a work project. In the Dakotas, where the oil industry is booming, many workers opt to stay in an RV rather than a hotel. These campers will stay in a long term RV park for the duration of their contract.
Monthly, seasonally, or annually, sometimes you just want to stay put to enjoy the beauty of a place and the people that made it that way.
How Much Does it Cost To Stay in an RV Park Year Round?
Just as the cost varies within nightly stays at RV parks, it will vary, for long term stays. This can depend on the location as much as the amenities offered.
However, one of the major benefits of long term RV parks is the discounted price.
Most RV parks will offer a discounted monthly rate even if they don't have one listed. All you have to do is ask. You'll also get discounted rates for seasonal and annual RV parks; however, when booking these, pay close attention to cancellation policies and leaving early.
Just like renting a house, if you break your lease, you may be responsible for the full payment if you choose not to stay for the entire time you signed up for.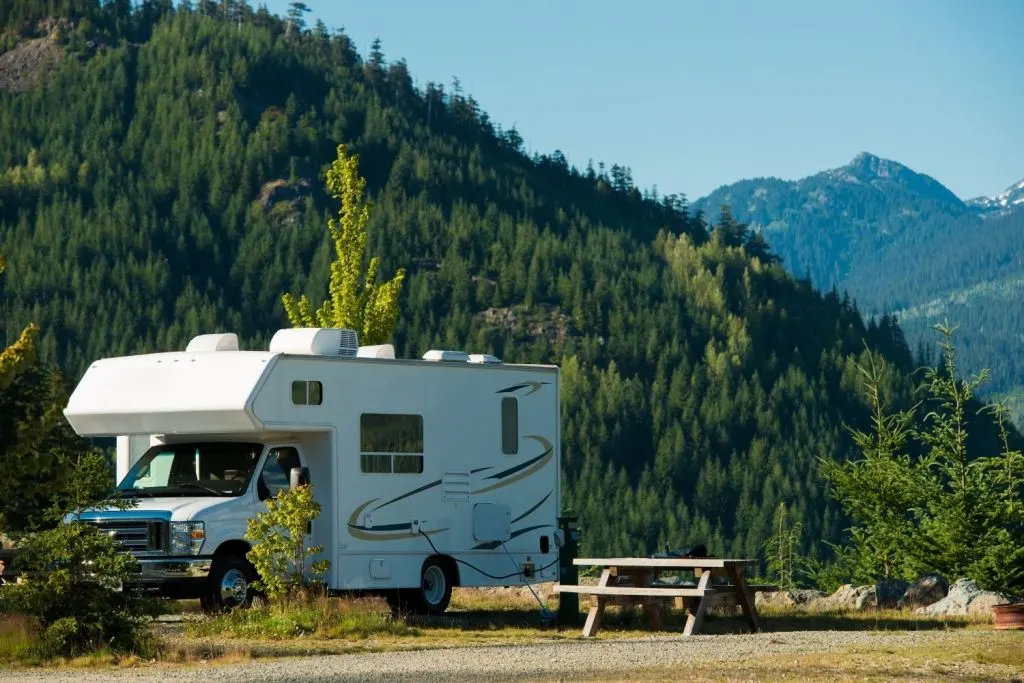 Is Living in an RV Park Cheaper than Renting a Home?
Think of it as renting a house, actually. When you are renting space from a long term RV park on an annual basis, you're paying for a place to live for a year.
Many parks will be a bit more lenient with patio furniture, BBQ grills, umbrellas, and such if you are staying for an entire year. The space becomes more like a home than an RV park.
So, when it comes time to consider the cost of paying for a long term RV park, ask yourself one question: "How much would I pay for a house for an entire year?"
Referring back to the location and the amenities, yes, a long term RV park could be cheaper than renting a house. It could also be more expensive. It all depends on what house and its location you're comparing it to.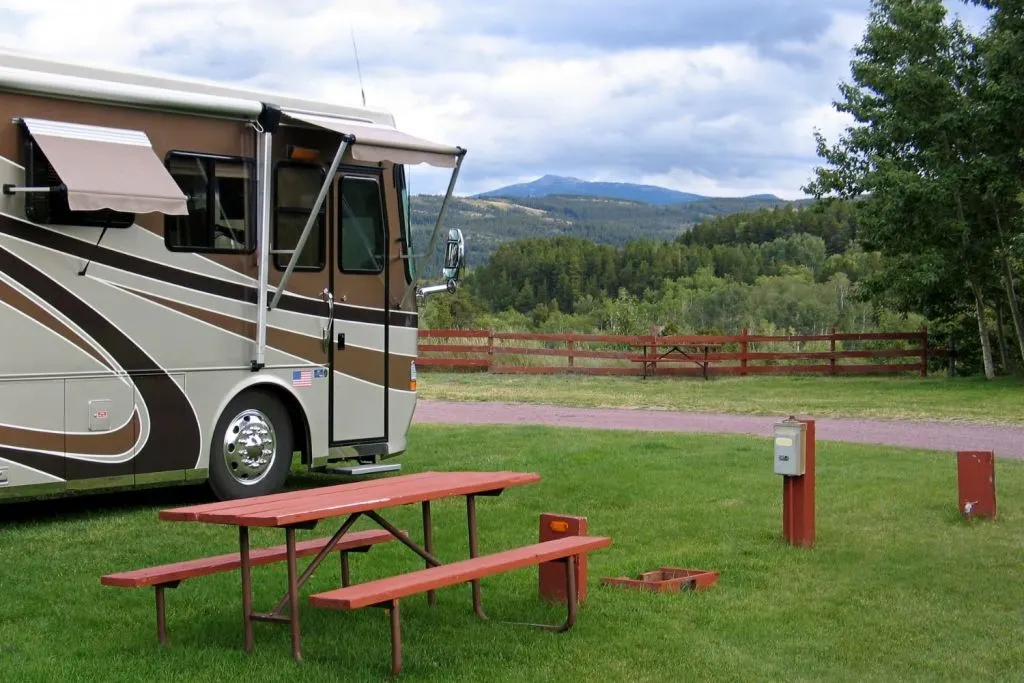 Here's an example. If your house is located in Denver, the cost of living there right now is quite high. So you might be paying rent of over $2,500 a month for a basic three-bedroom house in the suburbs. That $30,000 a year. An average RV nightly stay is around $40 a night without discounts. Multiply that by 365 days in a year, you'll be paying $14,600 annually.
Sounds like quite the deal, right? However, it's all about perspective. Not everyone lives in a basic suburban house, and not everyone spends $40 a night on RV Parks. So, just like playing the House Hunters game when it comes to looking for a house to buy or rent, or an RV to buy, be prepared to shop around a bit for the perfect long term RV park for you before making a decision.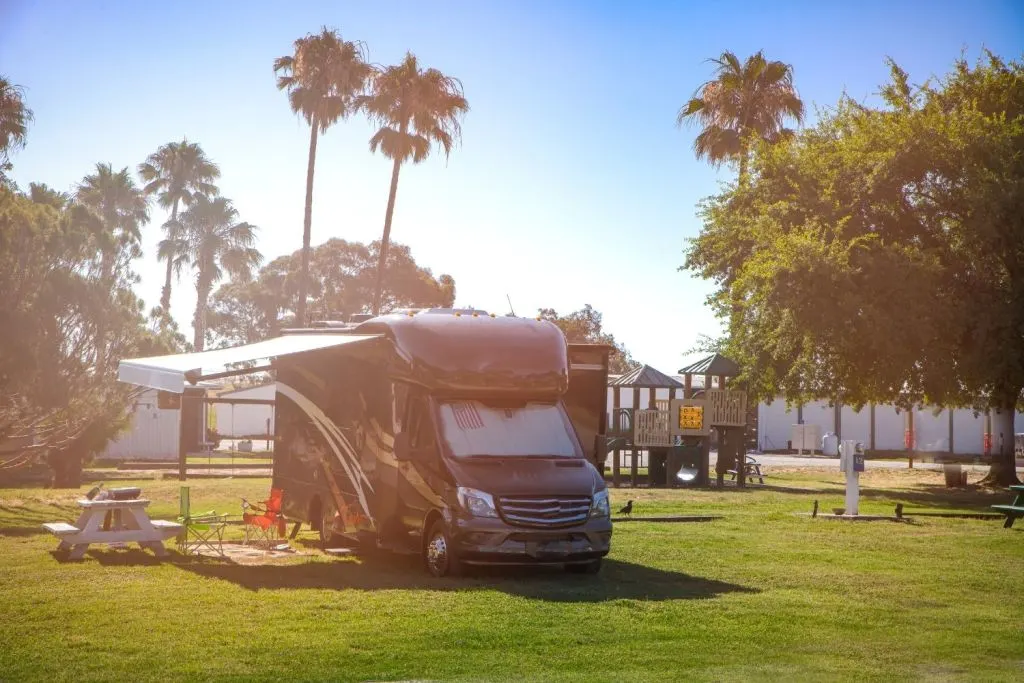 How to Find Long-Term RV Parks Near Me
"Great, now how do I find a long term RV park near me?" We've got you covered.
First, you need to decide what region of the country you want to be in, then you can start the hunt. There are many resources for locating that perfect place for you. Here are just a few to get you started:
Campendium: This free app and website gives a good variety of RV parks. It includes reviews from other campers as well as cell service availability and possible amenities at the RV park.
Allstays For a small fee, this app can also be quite helpful with locating RV parks, offering reviews from fellow RVers, possible amenities and more.
When using apps to help you find a long term RV park, many of them won't mention this possibility on their site. But if you find a place you think you might like, give them a call and ask. Many of them will also surprise you with immediate answers and costs.
Privately owned parks: If you want all the amenities such as full hookups at your site, laundry, level spots, maybe even a pool or two, your best bet will be to do some research on privately owned parks, such as the ones you'll often come across on the many camping apps.
Thousand Trails or Other Memberships: Thousand Trails is a privately owned company that offers free camping based off of memberships fees. They also have possible options for long term stays. Other possible memberships to get you started, may be Passport America or Good Sam.
KOA Parks: KOAs are quite popular not only because they have locations all over the U.S., but they also offer some sweet amenities. It's almost like staying at a resort without the resort prices. When searching for a possible KOA that offers long term RV parking, check out each park's website. Many of them have extended stay rates directly on their site. And if not, give them a call to find out.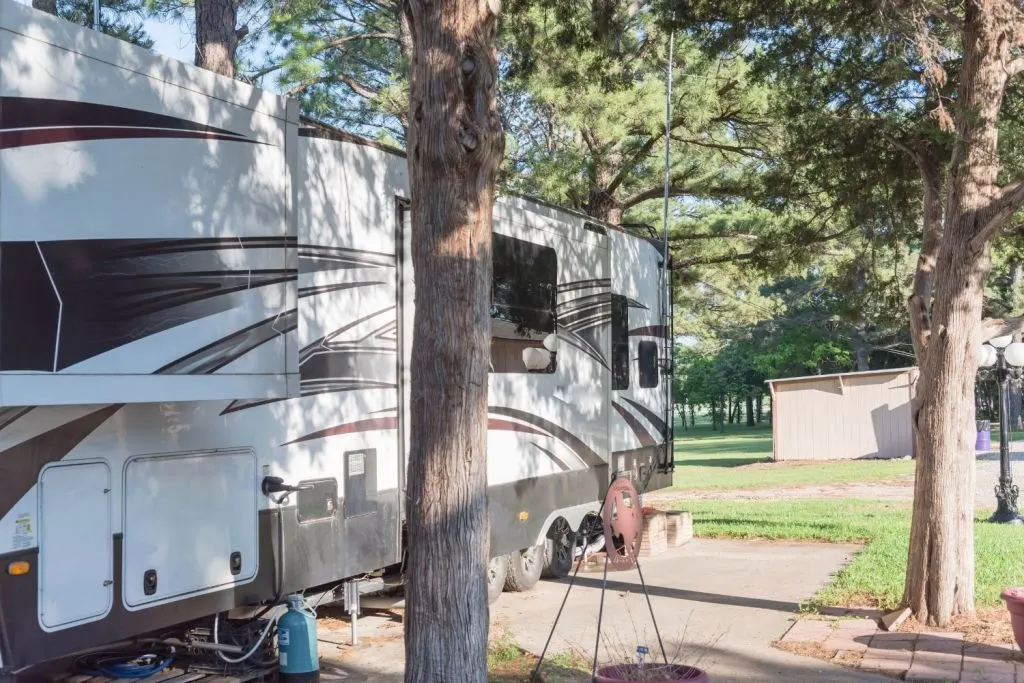 Long Term RV Parks: Turning Tourists into Locals
Now that you know a bit more about long term RV parks, let's paint a picture, shall we?
You've found the best long term RV park for you. You're all set up with your potted plants, a couple of lawn chairs, and even a wind chime or two. There are photos in real frames with glass on your nightstand.
You are home…at least for the next few months or so.
You even know the name of the bartender at the local hangout down the street.
Congratulations – Your long term RV park rental has turned you from a tourist into a local!
Discover the Best Free Camping Across the USA
To be honest with you, we hate paying for camping. There are so many free campsites in America (with complete privacy).
You should give it a try!
As a matter of fact, these free campsites are yours. Every time you pay federal taxes, you're contributing to these lands.
Become a FREE CAMPING INSIDER and join the 100,000 campers that love to score the best site!
We'll send you the 50 Best Free Campsites in the USA (one per state). Access the list by submitting your email below: