What is a Boho Camper Van?
A fully built-out custom camper van on a budget? Boho Camper Vans makes that a possibility!
This brand is shaking things up in the vanlife world and it's not hard to see why.
Today we are going more in-depth about Boho Camper Vans and sharing pics of their trendy van builds… Let's dive in!
Who Are Boho Camper Vans?
You may recognize the name Boho Camper Vans if you're a fan of Shark Tank. Boho Camper Vans scored an investor from the show, and the vanlife business is booming!
This is a unique camper van company… Not only do they build custom van conversions for clientele – they also rent out pre-built vans for the ultimate road trip experience.
Boho Camper Vans was started because the owners wanted to create a functional yet minimal experience for people who have no prior knowledge of maintaining a more complicated systems, like RVs. So, their renters can just focus on the experience… instead of taking care of the systems in the rig.
#Vanlife on a Budget – How Much Does a Boho Camper Van Cost?
The price of a Boho Camper Van willl vary depending on whether or not you want a new van.
According to their website, the price of a buildout is around $36k, and the cost of a van van vary from $30k to $37k. So, the total project price might land somewhere around $65-70k.
Now, we know $70k might not sound like much of a "budget" option… But for what you get – it's a deal!
Compared to camper vans like the Winnebago Revel or Winnebago Travato, which both go for upwards of $172k new, $70k definitely seems like a deal.
Also, Boho Camper Vans offers financing for monthly payment options. Learn more about their financing here.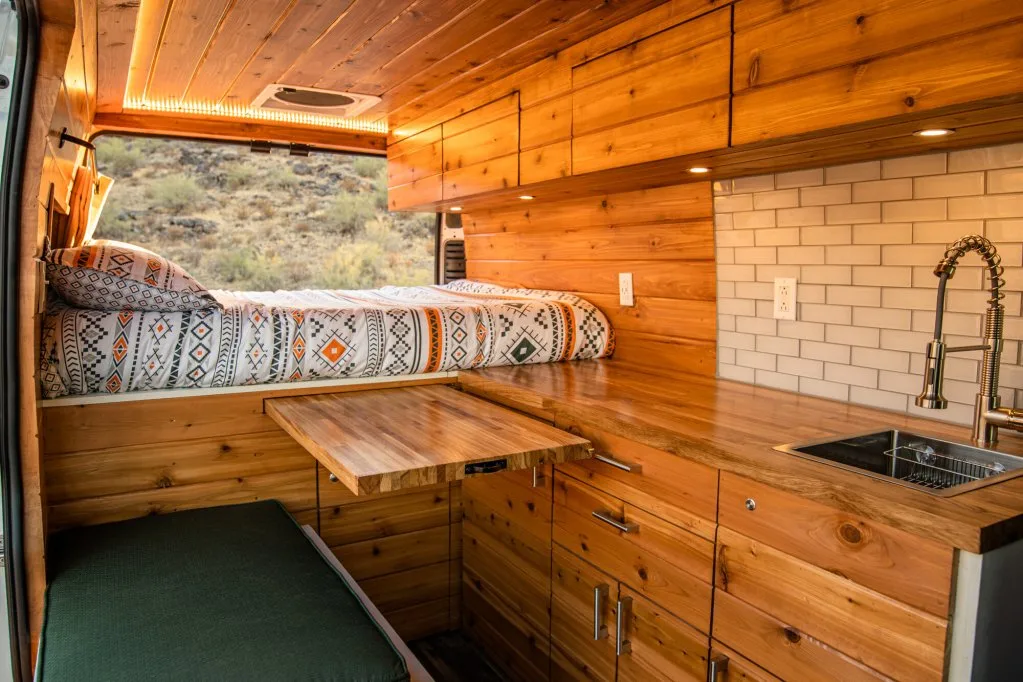 Renting a Boho Camper Van
Boho Camper Vans currently has a wide variety of van models and build-outs to choose from for rent. Check out their available rentals here.
The company and their rental vans are located in Tempe, Arizona.
When you rent a Boho Camper Van, you get access to their top-secret map of epic camping locations, and the company even provides optional road trip itineraries for the ultimate experience.
How Much Does It Cost to Rent a Boho Camper Van?
Boho Camper Vans has a 3-night rental minimum, and charges by the night vs by the day.
So, a 3-night rental is really a 4-day experience… pretty cool!
We checked out rental rates for all the available Boho Vans for rent, and at a 3-night minimum rental period, rates start at $574 for low roof vans, and $732 for the one high-roof they have available.
Boho Vans has a two-week rental discount for long term rentals!
There is no charge for an additional driver, and 200 miles a day is included in the price of your rental. You can take these vans anywhere in the continental US! They don't currently offer 1-way trips, so plan on being back in Tempe at the end of your epic Boho Vans Road Trip.
All of their vans are booked out for a couple months, so if you want to rent a Boho Van, plan a few months ahead.
See their current available vans for rent here.
Buying a Boho Camper Van
Buying a Boho Van is a pretty straightforward process. But, since business is booming, you'll need to wait a little bit!
You'll start by reviewing the current model(s) they're offering for sale, and then you'll find and buy the perfect van. Boho can get you a discount on a new van, or you can buy a used van as long as it fits their build specifications.
Once your van is purchased, you'll get on the schedule for a build out. When your build starts, it'll only take 6 weeks to complete!
Boho Camper Vans has an option to buy a pre-built van, but they don't currently have any pre-built vans for sale. We don't know how long they'll keep this option on their website, because it looks like they're too busy with custom orders to build any other vans to sell.
For the purchase process, once your van is purchased and you schedule your build, a 10% down payment will get you booked, 50% will be due at the start of the build, and the remaining 40% when the build is finished.
Of course, Boho does offer financing for monthly payments, you can find the link above.
Boho Van Trip Ideas
An awesome offering and excellent customer service tactic that Boho offers is their road trip ideas and secret map.
Their current road trips are in the Arizona and Utah areas. These trip ideas tell you locations to visit and where to go… but if you want more detailed information, you'll have to rent a van and get their secret map!
We can't tell you what's on the secret map, but we do know it's pretty amazing.
Experience Van Life With or Without The Commitment
If you want to get a taste of van life without committing to buying or building a camper van, we definitely recommend renting a Boho Camper Van.
If you know you want to dive head-first into van life but don't want to (or can't) complete the build yourself, you'll love the quality workmanship that Boho Vans puts into every build.
Discover the Best Free Camping Across the USA
To be honest with you, we hate paying for camping. There are so many free campsites in America (with complete privacy).
You should give it a try!
As a matter of fact, these free campsites are yours. Every time you pay federal taxes, you're contributing to these lands.
Become a FREE CAMPING INSIDER and join the 100,000 campers who love to score the best site!
We'll send you the 50 Best Free Campsites in the USA (one per state). Access the list by submitting your email below: