5 Best Portable Solar Generators for Camping
Portable solar generators are probably one of the handiest devices for RV & tent campers.
It doesn't matter if you're a full-time RVer, part-time camper, or a homebody… These things pack a powerful punch!
If you're in the market for a small, yet powerful, quiet backup power source, look no further.
We've got the 5 best portable solar generators for you here: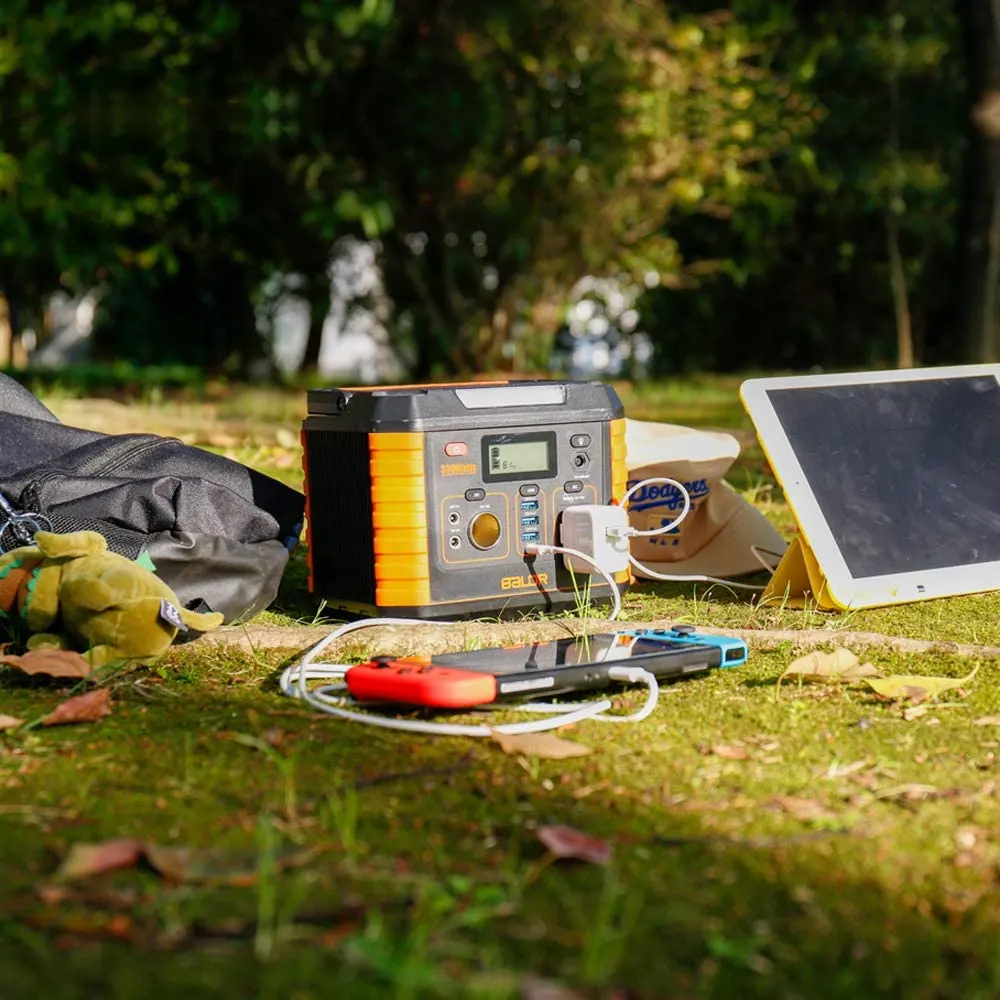 How Do Portable Solar Generators Work?
First, portable solar generators are not generators – at least not in the sense that we usually think of.
Portable solar generators are actually high-capacity batteries, usually lithium.
Solar generators are quiet – they don't have an engine or run off of fuel combustion. These portable generators generate electricity from the sun using solar panels and store it in the battery until use

They can be charged with solar panels that plug directly into the device. Some can even be charged by your car when it's running, or by plugging into a regular power outlet.
Different Sized Portable Solar Generators for Differing Power Needs
So, how do you know what size you need? As you may have noticed, these generators come in many different sizes (and price points).
Solar generators are typically best used as a backup power source to run or charge things like your lights and electronic equipment. They are generally not able to power high-power consumption electrical equipment.
To determine the proper size solar power bank for you, you need to consider your power needs and what you will be using it for.
Smaller portable solar power banks will generally be fine for you if you have low power consumption needs – like running a few LED lights and charging your phone.
If you have larger power needs, choose one with higher watt-hours.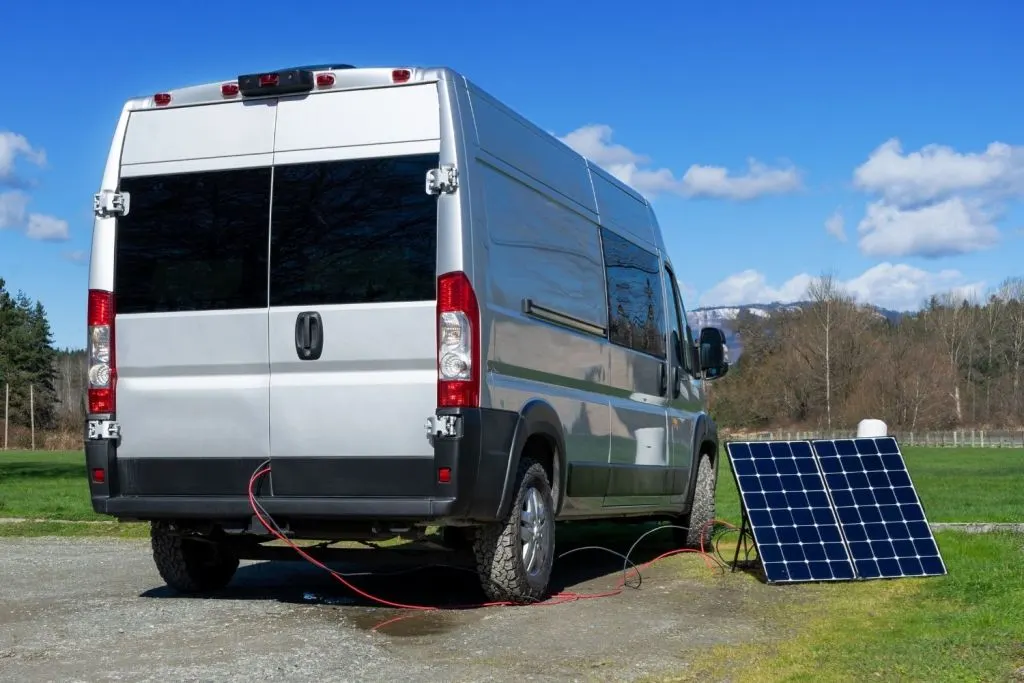 5 Best Portable Solar Generators for 2021
Now let's dive into the best portable solar generators for 2021! Keep in mind that these are the generators only, solar panels must be purchased separately – unless you already have them.
Yeti Goal Zero 500x
The Yeti Goal Zero 500x is a 505 watt-hour portable power bank. This little battery has two USB-A ports, a USB-C port, a 12v port, and two 120v regular plug-in ports.
This solar generator is perfect for charging most of your small electronic equipment. It features an LCD display that tells you everything you need to know: current state of charge, how much power you're pulling from it, and how much power is going in.
Jackery Explorer 500
Next up we have the Jackery Explorer 500 with 518wh of power. The Jackery is a close runner-up to the Yeti Goal Zero and is beloved by campers everywhere.
This generator has three USB ports, one 120v plug-in, and one 12v port.
Like the Goal Zero, it also has an LCD display letting you know the capacity and energy output.
This solar generator is a great size for powering small things like LED lights and charging your electronic equipment.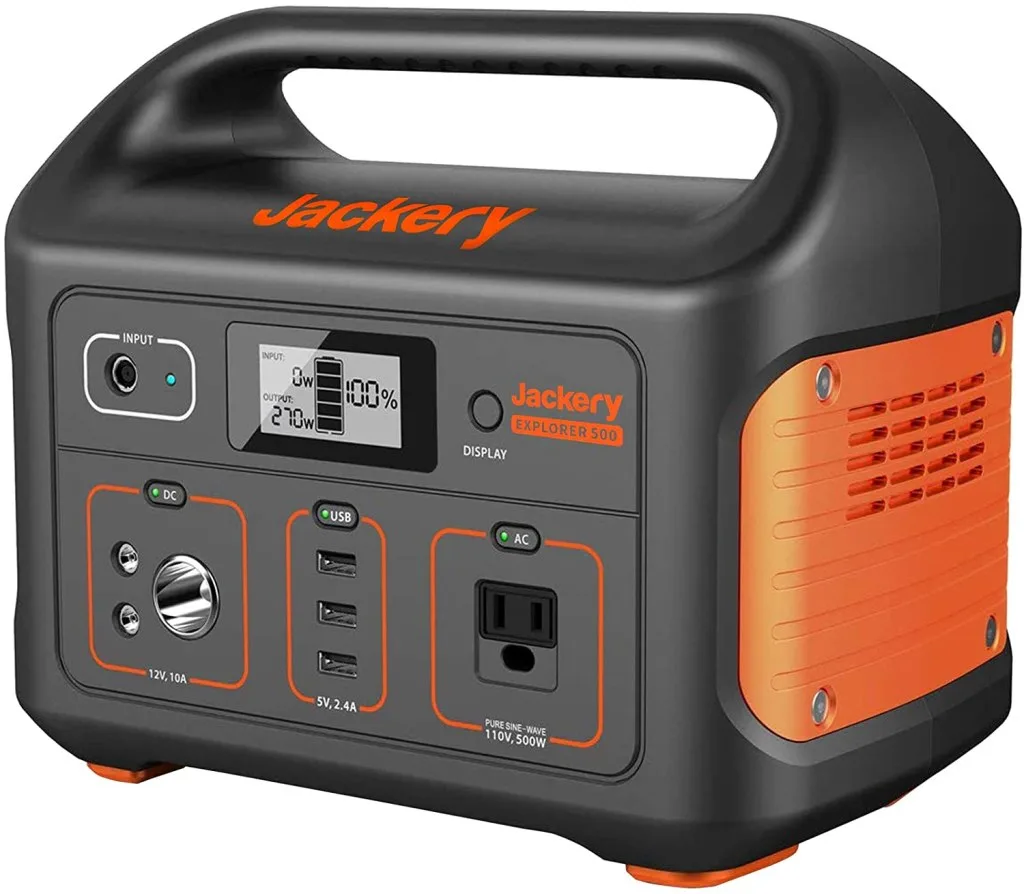 BALDR Portable Power Station 330W
The BALDR portable power station has 297 watt-hours of capacity and is good for charging small electronics. It has a smaller capacity than the first two on this list, but it's still a great back-up power source.
This power pack has an LCD display, three USB ports, one 120v plug-in port, and one 12v port.
You can recharge this power station with solar panels, in your car, or in your home. Another cool feature of this power station is a built-in flashlight!
Wattfun Portable Solar Generator
The Wattfun portable solar generator is a 500 watt-hour power pack at a very competitive price.
This little solar generator has the features you'd expect from a portable power pack, and even has a wireless charging pad right on top! Now that's handy.
The Wattfun generator has four USB-A ports, one USB-C port, one 12v port, and two 120v plug-in ports.
This small generator packs a punch for a much lower price than it's competitors and has stellar reviews.
AIMTOM Portable Power Station
The AIMTOM Portable power pack is among the smaller portable power packs, but has a lot of functionality.
This battery pack has a 280 watt-hour battery and multiple charging ports for USB, 120v, 12v, and more.
The AIMTOM portable solar generator also features lights on the front, an LCD display, and a convenient carrying handle. This particular power pack has over 900 5-star ratings on Amazon – many customers love that it can power their CPAP throughout the night!
Portable Solar Generators: Backup Power and Camping Convenience
Portable solar generators are really handy to have – whether you're a full-time RVer, a part-time camper, or for the occasional power outage.
These devices are small and portable – which is great for storage in small spaces. And, they hold enough power to charge most of your electronic devices, some even multiple times.
We can't recommend having one of these on hand enough!
Discover the Best Free Camping Across the USA
To be honest with you, we hate paying for camping. There are so many free campsites in America (with complete privacy).
You should give it a try!
As a matter of fact, these free campsites are yours. Every time you pay federal taxes, you're contributing to these lands.
Become a FREE CAMPING INSIDER and join the 100,000 campers who love to score the best site!
We'll send you the 50 Best Free Campsites in the USA (one per state). Access the list by submitting your email below: