7 Camping Mistakes You May Be Teaching Your Kids
Family RV trips are usually occasions to get away and spend quality time together, exploring new destinations or returning to old favorites. They are also teaching opportunities.
Whether we realize it or not, our kids are learning a great deal about RV life by watching how we prepare, plan and execute those camping getaways. Are you teaching your kids any camping mistakes?
Although we have the best of intentions, we may be teaching them some bad habits if they model our behavior. Here are 7 areas where proper instruction can help your children develop into responsible, caring RV travelers.
7 Common Camping Mistakes You May Be Teaching Your Kids
Not Knowing and Following "Leave No Trace" Principles
The concept of visiting a location without leaving evidence that you were there is a great way to enjoy destinations, while leaving the location intact for the next visitors. This covers everything from picking flowers to packing out trash from a backcountry hike. This is probably the most common camping mistake.
The "Leave No Trace" code is so highly valued that 7 principles have been established to give new campers, hikers and travelers a rule of thumb to follow.
1. Plan ahead and prepare so that you have what you need to leave no trace, like bags to pack out trash or wood for campfire.
2. Travel and camp on durable surfaces, so as not to leave footprints or pack down grass or dirt.
3. Dispose of waste properly – this includes trash and human waste, if no toilet is available.
4. Leave what you find, so that others can enjoy the petrified rock or stunning flower that you discovered on your journey.
5. Minimize campfire impacts by using existing fire rings where possible, keeping the fires small, and making sure the fire is completely out before leaving the site.
6. Respect wildlife – this does NOT mean taking selfies with bison or bear or feeding any wild animal. It DOES mean that you should give them plenty of space if you come across them in the backcountry.
7. Be considerate of other visitors by respecting their space and using common courtesy.
Leaving Food and Trash Accessible
If you have ever left food outside for a short period of time, you know what can happen. Ants make a beeline for it, flies swarm, and if in bear country, Yogi may invade your campsite.
Keep your food in your RV but out of your tent, as the smells it leaves may attract wildlife. Bag up trash and deposit it in the proper receptacles immediately, and clean up food processing areas as soon as possible.
Even food storage items like coolers can be enticing to animals, so when camping in the outdoors, many campsites have food lockers in which to store those tempting morsels. Do not make the mistake of leaving food in your car either.
Bears, in particular, have been known to break into automobiles, totally trashing the vehicles to get to anything that tastes better than the berries they have been eating!
Not Practicing Campground Etiquette
There's nothing more frustrating than finding that perfect boondocking spot in the wilderness, away from any other homo sapiens, then having another RV pull in right next to you! There is plenty of room out there, and most dispersed campers are "dispersed" because they want some privacy, so don't be that RVer. This is a surprisingly common camping mistake.
Follow common sense courtesy rules and don't use your generator night and day. Most campers will endure generator noise at times between 8am and 10pm, but campgrounds are not truck stops.
Don't run your engine overnight, and cut down on any noise by 10pm at the latest, as some campers actually camp to relax and enjoy a bit of peace and quiet.
This really shouldn't require a statement, but some campers haven't taught their children how to respect the campsites around them. Don't cut through someone's site to get to the showers, etc. They paid for their space and shouldn't have to share it with those too obtuse to know better. Don't allow your pets in someone else's site, either. And that means to do their 'business,' as well.
And while we're on that topic, you chose to have pets, the campers around you did not. Got a yappy dog? Maybe get a sitter.
Your neighbors did not pay good money to listen to Fido complain that you left him in the RV while you went swimming, hiking or ziplining. What you allow your pets to do speaks volumes to your kids, and they will emulate your actions.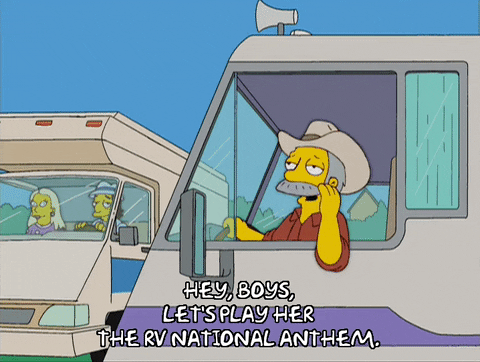 Not Making a Pre and Post Trip Checklist
If you like to fly by the seat of your pants when it comes to travel plans, you are setting yourself and the future generations that are watching you up for possible failure. This is one camping mistake you really don't want to make!
Making a checklist for the trip ahead will help you avoid unnecessary stops to pick up forgotten items, surprise repair appointments because of unforeseen RV maintenance issues, and extra time spent on the road.
In the same fashion, a checklist for departure from your campsite can definitely mean the difference between returning to the campsite for forgotten items that weren't packed up, and it might even keep you from damage to your RV, when that TV antennae hits tree branches because you forgot to lower it, or you failed to unhook the water hose from a campground spigot before pulling out.
Make those checklists and use your children to double check them. They will quickly learn the importance of being thorough!
Not Making Reservations Is Not a Fun Camping Mistake To Make
This camping mistake is one that RVers learn to avoid after their first exposure to it.
No one wants to travel all day in a RV and not get a campsite. Scrambling ensues and after much searching, tempers may flare. The floundering campers end up spending their vacation moving from a truck stop to a Walmart, then on to a Cracker Barrel parking lot for nightly stays.
There will be no poolside lounging or hikes through the forest on this camp trip, just frustration and disappointment.
The moral of the story here is MAKE RESERVATIONS if you plan to stay at a campground. Don't assume that an RV park will just magically have space saved for you when you show up. That usually only happens in fairy tales!
Not Wearing Gloves at the Dump Station
Yes, gloves are handy at a dump station, but if done right, your hands will never get soiled. And even after wearing gloves, a good hand washing is called for.
But, I think the bigger camping mistake here is not keeping freshwater and black water paraphernalia separate. Separate hoses should be used for supplying water to the freshwater tank and for cleaning out the sewer hose after use. And as such, these hoses should be kept in separate bays in your RV, if at all possible.
Teach your children that you buy hoses that are different in appearance so it is easy to remember what each is used for. And if wearing gloves when "cleaning up your business," do not handle any part of the freshwater hookups or hose while the gloves are still on your hands.
Not Using an RV GPS
RV GPS units, trip planning software and Google Maps are useful tools in looking at your travel route before and during a camping trip.
Without them you may find yourself stuck on a road with a low clearance bridge that your rig cannot navigate under, or stopped on the side of the road needing gas in a region where service stations are few and far between.
Instead, why not use your children as miniature trip planners? Show them how the GPS works, and how to look at locations via Google Street View to see if gas station pumps are configured for large RVs to get around.
Teach them how to figure mileage to plot fuel stops and help them research things to see along the way. In the long run, you will become not only their tour director, but their Geography and Math teacher, as well!
Take Camping Mistake Free Family Vacations
A family RV vacation is anticipated all year long. When it finally arrives, be sure that your children are learning how to make the trip an enjoyable and worry-free journey by teaching them about campground etiquette and thoughtfulness, along with trip planning skills.
If you are like every other RVer, you've made a few camping mistakes that you have learned from, so showing your kids how to enjoy RV life without any missteps will give them confidence in carrying on a great family camping legacy.
Discover the Best Free Camping Across the USA
To be honest with you, we hate paying for camping. There are so many free campsites in America (with complete privacy).
You should give it a try!
As a matter of fact, these free campsites are yours. Every time you pay federal taxes, you're contributing to these lands.
Become a FREE CAMPING INSIDER and join the 100,000 campers that love to score the best site!
We'll send you the 50 Best Free Campsites in the USA (one per state). Access the list by submitting your email below: