How to Spend a Day in Machias, Maine
Maine is a beautiful state to visit. With its sprawling forests, rocky cliff faces, and ocean shores, you will love the time spent here.
But with so many amazing things to see and do it's hard to know what to do on your trip.
We've wrapped up the best places to visit in Machias, Maine to help you plan an unforgettable day that misses nothing!
About Machias, Maine
Machias, Maine is a town of just over 2,200 people. It is almost as far north as you can get and still be on U.S. soil with an ocean view.
The town was officially established as a trading post in 1633. It was a perfect location given its access to the ocean and the Machias River. The town of Machias is best known for its role in the American Revolution. It was the site of the first naval battle of the war.
Machias experiences all the major seasons with severely cold winters and summers that are warm to hot and typically humid. Summer to early fall is the best time to visit the area. And given its location in the middle of Maine's blueberry belt, you'll love picking blueberries during your stay.
When you make your way to Machias, Maine, here is what we recommend for the perfect day!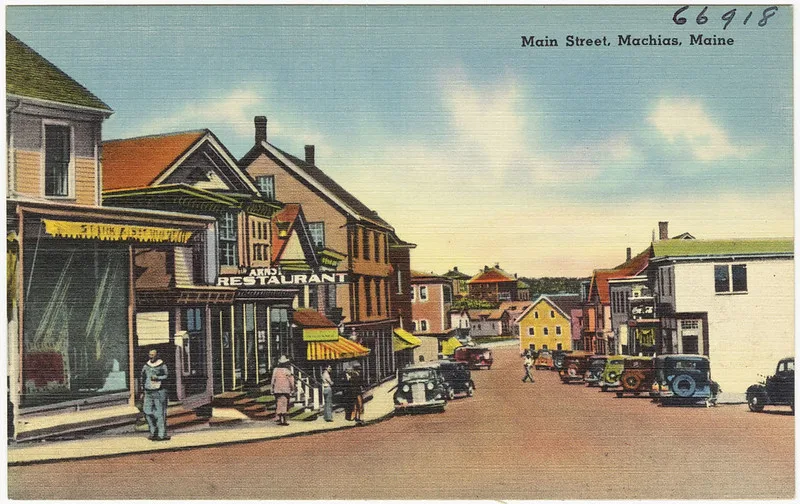 Morning
Breakfast at The Bluebird Ranch Family Restaurant
Address: 78 Main Street, Machias, Maine 04654
Menu options: While you can grab a bite to eat at the Bluebird Ranch throughout the day, you won't want to miss it for breakfast. They offer a variety of breakfast sandwiches, omelets, and pancakes. They also have donuts, muffins (of course including blueberry!), and delicious jams that you absolutely don't want to miss!
Other reasons to love it: This is a small, family-owned business that offers delicious home style cooking. Bluebird Ranch has been in the Prout family for 30 years, but they have had multiple different businesses during that time.
They have had blueberry farms, trucking businesses, storage warehouses, and more. The Prouts can really do it all. Their donuts have even been featured in the Best of Maine Magazine.
If you want a donut, you'll have to visit on Sunday as they only make them once a week as a special treat for the town.
Tour the Bold Coast
After you finish your tasty breakfast, next up for a perfect day in Machias is to visit the Bold Coast. This stretch of rocky shoreline is absolutely stunning.
The cliff faces give way to sparkling blue ocean as far as the eye can see. There is plenty of hiking along the rocky coast that you won't want to miss!
Afternoon
Eat lunch at Helen's Restaurant
Address: 111 Main Street, Machias Maine
Menu Options: Helen's Restaurant offers appetizers, burgers, sandwiches, pasta, and classics like pot roast and meatloaf. And of course, given Machias' location, seafood! You'll love their lunch choices, but make sure you save some room.
They have nine different types of pie for dessert, including their famous wild blueberry pie!
Other reasons to love it: Helen's has been a Down East Maine tradition for over 60 years. Both locals and travelers love this restaurant.
They source their ingredients fresh from local farmers, fishers, and artisans. In fact, your fresh-caught seafood may have been swimming in the ocean just hours before. Hundreds of happy diners give it an average of 4.5 stars!
Take a Canoe or Kayak Trip
After lunch, it's time for a kayak or canoe trip on the ocean or the Machias or St. Croix Rivers. Sunrise Canoe and Kayak offers guided tours that let you get a unique view of the Bold Coast. This experience is one of the top-rated in Machias.
Touring the Machias Bay gives you a chance to see wildlife, including seals and bald eagles. Another extremely unique thing about this kayak or canoe experience is that you can see petroglyphs scratched into the rock in some places.
Explore Bad Little Falls Park
Another thing you can't miss while in Machias is Bad Little Falls Park.
After all, Machias means "bad little falls" in Passamaquoddy, the Native American language of the region.
While at the park you can walk around on the rocks by the falls. It is a quick outing but worth stopping at for the views, especially given the history.
Evening
Dinner at Thirsty Moose Cafe
Address: 36 Main Street, Machias, Main 04654
Menu Options: The Thirsty Moose is a typical American eatery. You can get burgers, wings, tacos, and other bar food.
Other reasons to love it: The Thirsty Moose looks a bit like a dive on the outside, but once you get in, you'll love the eclectic vibe. They've got a range of draft beers on tap. You can also shoot a game of pool while you visit with friends.
Drinks at Hing Garden
Address: 46 Main Street, Machias, ME 04654
Drink Options: Hing Garden has a range of exotic Polynesian drinks, cocktails, brandies, bourbons, scotches, beers, and wines for you to choose from. They also have some virgin options including strawberry daiquiri, pina colada, and Shirley Temples.
Other reasons to love it: For a small-town Chinese restaurant, Hing Garden has a pretty impressive drink menu. They also have some delicious appetizers if you need a little late-night snack.
Stroll Around Middle River Park
Before you head to bed for the night, we recommend an evening stroll through Middle River Park. It is located right near downtown by the confluence of the Middle and Machias Rivers.
This lovely park is part of the larger Machias River Preserve. The preserve has 5.5 miles of trails in the area, including many that follow the Machias River. The Middle River Park portion also has several miles of out and back and loop trails.
Where to stay?
Sunset Point Campground
Address: 24 Sunset Point Rd, Harrington, ME 04643
About the Park: Located close to Machias, Maine, Sunset Point Campground has 30 sites offering full hookups. There are pull-through sites available. Amenities include restrooms, showers, and Wi-Fi. They also allow pets.
It has all 5-star reviews on Trip Advisor so you can rest assured other campers love it.
Why you'll love staying here: There are waterfront views right from the park at almost every site. The campground is tucked into the woods right along the water so you'll have a peaceful, relaxing stay.
You will absolutely love watching the sunset over the ocean before calling is a day in beautiful Machias, Maine.
A Day in Machias
Maine is an awesome place to visit. While you're there, you won't want to miss a stop in Machias, Maine. Don't let the small size preventing you from stopping in this beautiful place.
This town is on the ocean and offers tons to do all within a short drive. We know you'll love it here!
Discover the Best Free Camping Across the USA
To be honest with you, we hate paying for camping. There are so many free campsites in America (with complete privacy).
You should give it a try!
As a matter of fact, these free campsites are yours. Every time you pay federal taxes, you're contributing to these lands.
Become a FREE CAMPING INSIDER and join the 100,000 campers who love to score the best site!
We'll send you the 50 Best Free Campsites in the USA (one per state). Access the list by submitting your email below: