Which RV Trailers Have Aluminum Siding?
When you're new to RVing, it's tricky to learn all the ins and outs.
RVs have different builds and styles, all of which can get overwhelming pretty quickly. So, to help you on your RV journey, today we're here to tell you all about RV aluminum siding.
What is RV Aluminum Siding?
The exterior body of your RV is likely made of one of two materials. Fiberglass or aluminum siding. RV aluminum siding is, unsurprisingly, made of aluminum.
Aluminum is resistant to rust and corrosion. It is also weather-resistant but malleable. There are also two different types of aluminum to choose from if purchasing or re-siding your RV.
Types of Aluminum RV Siding
Corrugated: The telltale sign of corrugated aluminum siding is the textured ridges on the outside. They also fit on the RV in separate, interlocking panels.
A benefit of corrugated aluminum siding is that you can replace one panel if damaged versus having to replace the entire side.
Smooth: Smooth aluminum siding, on the other hand, is smooth instead of having ridges, like with Airstreams. This siding attaches to the RV in one piece with metal fasteners.
It is typically more costly to replace and usually requires the work of a professional.
Aluminum Siding vs Fiberglass Siding for RVs
Fiberglass is another type of RV siding that is becoming more common for its unique advantages over aluminum.
Fiberglass siding is more durable than aluminum. It also has a shine that makes it look more polished than aluminum siding and helps maintain resale value.
Improved aerodynamics is another reason people often choose fiberglass siding. This improvement can help with gas mileage. Given its advantages, fiberglass siding comes with a higher price tag than aluminum siding. It is also more expensive to replace in the case of an accident.
Benefits of Aluminum
Given the advantages of fiberglass, you may be wondering why someone would choose aluminum siding. Well, aluminum siding still has many benefits. It is a tried-and-true material, and there's a reason it has been a staple for RVs for many years.
One enormous benefit is that rigs are much less expensive when made of aluminum. Aluminum is also lightweight, easier to repair in case of damage, and won't delaminate.
Delamination is a tremendous concern for RVers as it is costly and time-consuming to repair So, not only does aluminum siding have a lower upfront price tag, but repairs are also typically more affordable.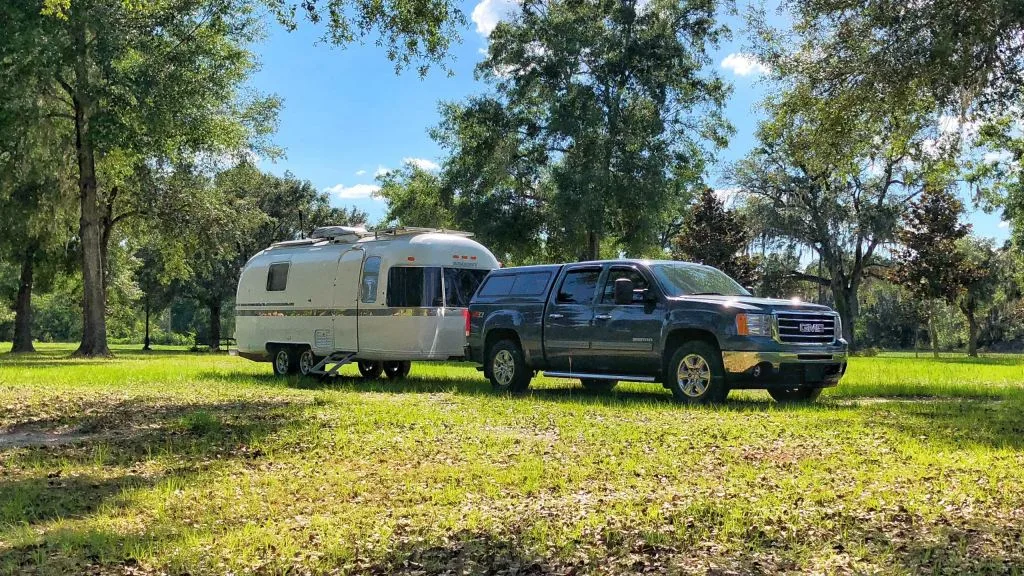 Disadvantages
That being said, everything has its downsides. One major disadvantage to aluminum siding is that it is more prone to dents than fiberglass.
This makes it more difficult to keep it looking new and can impact resale value.
Another downside of smooth aluminum is that it is harder to repair or replace than corrugated siding. And finally, some people simply don't prefer the look of aluminum siding.
What RV Trailers Have Aluminum Siding?
Typically, less expensive travel trailers will come with aluminum siding. It is most commonly the material of choice for travel trailers. Smaller vehicles can haul RV aluminum siding travel trailers, given how lightweight they are.
One of the most iconic aluminum siding RVs is the Airstream. Airstreams can't help but catch your eye on the road with their shiny exterior.
A few examples of other trailers that have aluminum siding include the Forest River Rockwood Ultra Lite, Cross Roads Zinger, Holiday Rambler Aluma-Lite travel trailer, Dutchmen Aerolight, and the Bowlus Road Chief, among many, many others.
Aluminum Siding is a Great Choice for RVers
If you're looking to get your feet wet with RVing going with aluminum siding could be a great option. These trailers are lightweight and affordable.
The lower introductory price tag of aluminum sided RVs makes them more accessible for everyone. These tried-and-true RVs have been bringing joy to families for years, and now you can be next.
Discover the Best Free Camping Across the USA
To be honest with you, we hate paying for camping. There are so many free campsites in America (with complete privacy).
You should give it a try!
As a matter of fact, these free campsites are yours. Every time you pay federal taxes, you're contributing to these lands.
Become a FREE CAMPING INSIDER and join the 100,000 campers that love to score the best site!
We'll send you the 50 Best Free Campsites in the USA (one per state). Access the list by submitting your email below: