Can the Toyota Tacoma Tow a Camper Trailer?
The Toyota Tacoma first came out in 1995, and it's gotten bigger and better over the years.
Today it's the biggest-selling midsize truck in the United States, and one of its big selling points is its towing capacity.
But, can it tow an RV Trailer?
Toyota Tacoma History
Those early Toyota trucks were compacts. The Tacoma grew to its current size with a second generation that was launched in 2005.
A third generation came along in 2016. Over these years, the Toyota Tacoma has seen steady improvements in terms of luxury as well as performance. It's still a little brother to the full-size Toyota Tundra, but its smaller package has lots to offer.
This year's base model comes with a 2.7-liter four-cylinder engine with 180 pound-feet of torque. A larger 3.5-liter V-6 is also available for 278 horsepower and 265 pound-feet of torque.
Rear-wheel-drive is the standard drive train, with four-wheel-drive as an option. Transmission is six-speed automatic (standard), with a manual available (in the TRD trim only).
It's true that a Toyota Tacoma may not match up to all the other trucks in its class in terms of power. It also brings fuel efficiency to the table as well as a well-deserved reputation for dependability.
Did You Know: Toyota once produced an RV! Learn about it here.
Toyota Tacoma Towing Capacity
The standard four-cylinder Tacoma is rated to tow up to 3,500 pounds. With the larger V-6 engine and a tow package, the capacity increases dramatically – to almost twice that amount.
The optional tow package also gives you a feature called Trailer Sway Control that automatically helps to steady your trailer.
Which Toyota Tacoma Has the Highest Towing Capacity?
Toyota Tacoma comes in six main trims: SR, SR5, TRD Sport, TRD Off-Road, Limited and TRD Pro. It's also available in two cab styles: Access Cab, with seating for four, and Double Cab, which seats for five. The SR and SR5 trims come standard with a four-cylinder engine.
While the base model has a towing capacity of up to 3,500 lbs., other options give you more power. The 4-wheel-drive configuration with the larger V-6 engine will tow up to 6,400 lbs. while the rear-wheel-drive with the V-6 version tops out at 6,800 lbs.
The bigger Toyota Tacoma tow rating is available in the 2WD V-6 auto in the SR, SR5 and TRD Sport trim levels.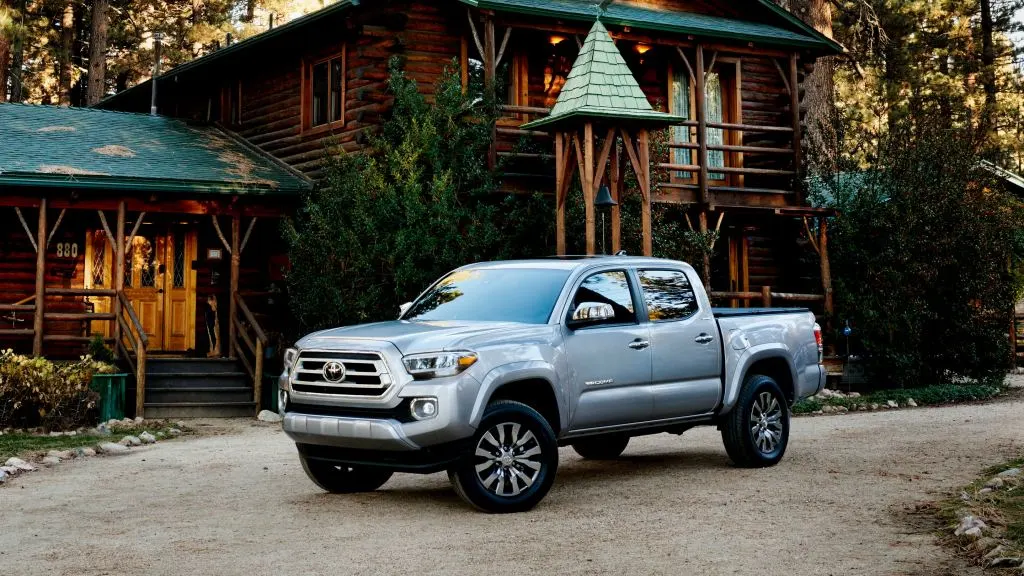 Can You Tow an RV Trailer with a Toyota Tacoma?
Yes, you can absolutely tow an RV trailer with a Toyota Tacoma. The question is how big of a trailer. It's a simple question with a complicated answer.
It's tempting to try and haul as much as possible, but if you overdo it can do serious damage to your tow vehicle.
Look at numbers very carefully and realize you have to look way beyond an RV trailer's dry weight, or what it weights before it's loaded. The numbers can add up real fast. A freshwater tank, for instance, can easily weigh 400 pounds.
Add another 100 for the generator … and so on. If you're not careful you can easily exceed your capacity.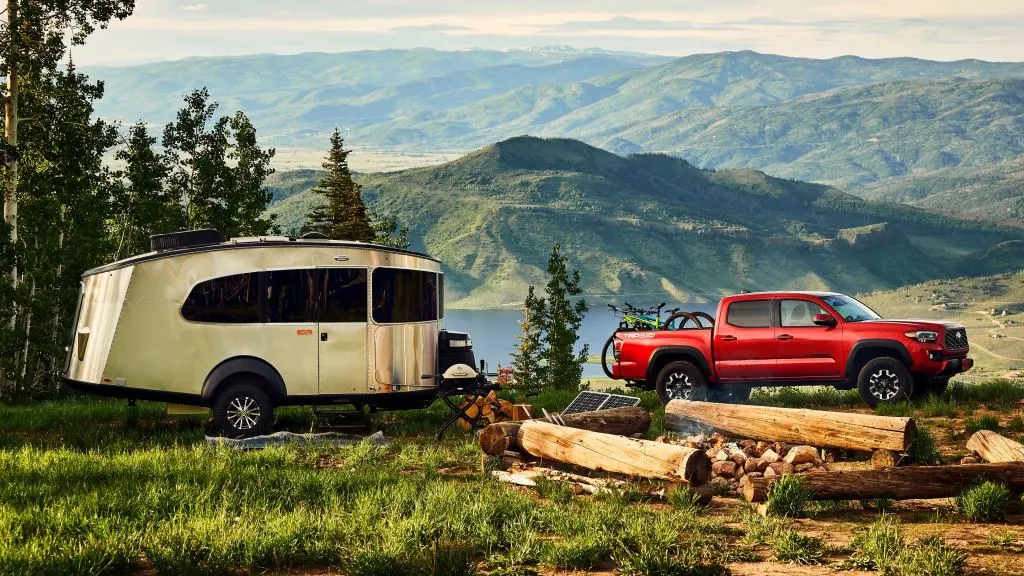 What Kind of Camper Can You Tow with Toyota Tacoma?
There are different types of towable RVs, and they have a huge range of lengths and weights.
Some of them will be far too heavy for a Toyota Tacoma. Others, however, will fall safely within its towing range. In fact, there's a trend right now toward lightweight camper trailers. Many of them are really compact but are loaded with amenities – even full bathrooms.
Teardrop trailers, which are the smallest types, will be no problem at all for a Tacoma. Most of them weigh less than a ton.
Pop-up campers, also called tent campers, are light because they have sides made of canvas or other lightweight material. They're also compact and easy to tow, and usually weigh less than 4,000 pounds – sometimes much less.
The average travel trailer weighs around 5,000 pounds. Some of them will be too much for a Toyota Tacoma to tow, but certainly not all of them.
Many of them have slide-outs to increase the amount of living space. Unfortunately, they greatly increase the weight, as well. A single slide-out can put on another 800 pounds.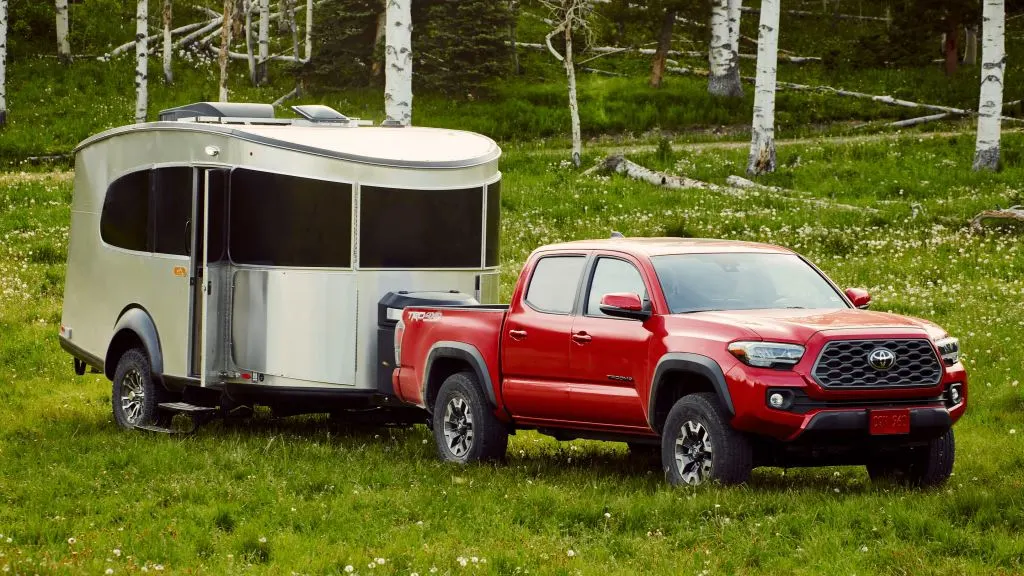 The Toyota Tacoma is A Great Mid Size Truck
If you're looking for a mid-size truck, the Toyota Tacoma is a great choice for many reasons. It maneuvers easily, gives a smooth, comfortable ride and is pretty good on gas mileage. Talk to some Tacoma owners, and they'll probably be quick to tell you they've been reliable, too.
It's a smaller truck that can do some pretty big jobs. So when it comes to towing a trailer, it can certainly get the job done – as long as you don't give it too big of a job to do.
Discover the Best Free Camping Across the USA
To be honest with you, we hate paying for camping. There are so many free campsites in America (with complete privacy).
You should give it a try!
As a matter of fact, these free campsites are yours. Every time you pay federal taxes, you're contributing to these lands.
Become a FREE CAMPING INSIDER and join the 100,000 campers who love to score the best site!
We'll send you the 50 Best Free Campsites in the USA (one per state). Access the list by submitting your email below: