The Entire 2021 Winnebago Travato Lineup (with YouTube Video Tours)
Wiinnebago has come a long way since its humble beginnings, and so have camper vans. It wouldn't be a stretch to call the new Winnebago Travato a modern marvel. It pushes the limits of what you can expect in a Class B RV.
The Winnebago Travato is compact and energy-efficient and packs lots of sophisticated features in a small space. It might look like a slick street van, but it's smartly engineered for living off the road and off the grid.
Let's take a look!
What Is the Winnebago Travato?
Winnebago has been building RV's since 1958, and its name is almost synonymous with motorhomes. While a classic Winnebago is bigger and bulkier, the company offers some scaled-down models, too.
The Travato is a compact, luxurious coach that sleeps up to four and has a galley kitchen and wet bath. This 21-foot Class B RV is built on a Dodge Ram Promaster chassis with a V-6 gasoline engine that delivers 280 horsepower.
On the outside, the Travato stands 9'4" and has a width of 6'9". The interior height is 6'3" and the inside width is 6'2".
There are four different versions with the same basic specs. There are some key differences, though. We'll walk you through the different floorplans and features.
Keep in mind: Class B RVs aren't for everyone. Here are 5 reasons to avoid Class B's.
Why You'll Love the Winnebago Travato
Behind the wheel, you'll feel like you're driving a van or SUV but from a taller point of view.
Camper vans offer a unique set of challenges, and the Winnebago Travato has most of them worked out. The comfortable interior is made from sturdy, stylish materials, and there's a thoughtful use of space throughout.
Light and Air
The large windows let in plenty of sunlight when you need it, and heavy magnetic curtains keep it out when you need privacy or sleep. Similarly, heavy waterproof curtains keep water inside the shower area. (The bathroom also has a cool fold-up sink that drains easily.)
The living area has a side door plus a rear one, so there's some good cross-ventilation. Each door has a screen to keep the bugs out.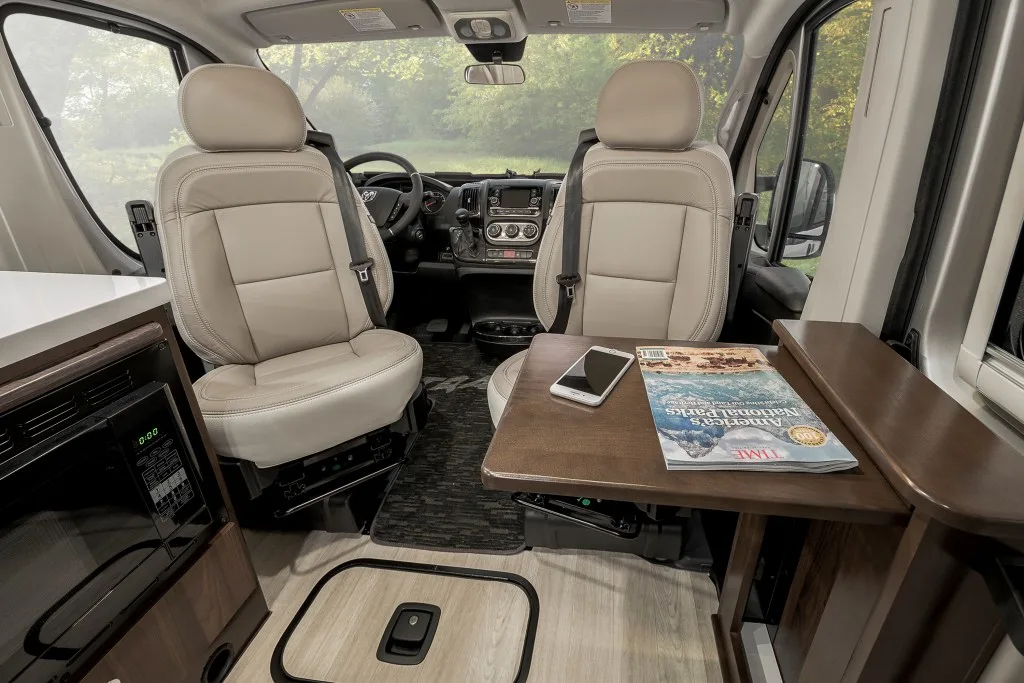 Size
The compact size of the Winnebago Travato means it can get you in and out of some tight and secluded camping spots. If you're as big a fan of boondocking as we are, this is a tremendous plus. It will easily navigate city streets as well as highways.
It won't take up much room in your driveway or garage and slides easily in and out of standard-size parking spaces.
Extras
Storage is usually a big problem in camper vans. Winnebago alleviates it with overhead compartments running along either side as well as lockable compartments in the floor.
Outside, a movable ladder gives access to the roof from virtually any point. The armless 13-foot powered awning is equipped with a sensor so it will automatically retract when winds get high.
A surround-sound stereo system with a subwoofer provides great fidelity inside and out.
How Much Does the Winnebago Cost?
While the Travato is by no means an economy model, it's certainly more affordable than larger Class A and Class C coaches.
The Travato is one of four camper vans offered by Winnebago, the others being the Solis, the Revel, the Boldt, and the Era. Pricewise, it lands pretty much in the middle, with an MSRP starting at $130.056.
Winnebago Travato Floor Plans
Travato 59G
Inside, the Travato seems spacious – it almost has a two-room feel.
The master bedroom has a 46" x 77" double bed, and the dinette converts into a 42" x 72" cross-coach bed for kids or guests. There's a 24-inch TV, and the kitchen has Corian countertops, a two-burner stove, and a convection-style microwave oven. It has a dorm-style refrigerator.
The 2,800-watt Cummins Onan gas generator sips directly from the fuel tank, which holds 24 gallons.
The tow hitch weight is 3,500 lbs, and the gross weight is 9,350 lbs. Tank capacities are 18 gallons for fresh water, 14 gallons for greywater, and 11 gallons for black water.
Here's a used model on RV Trader.
Winnebago Travato 59GL
The L stands for lithium. The Travato 59GL is the same model as the Travato 59 but with more power to keep you off the grid longer.
The difference is the Pure3 power system, which is the same used for electric vehicles and hybrids. The 48-volt energy storage pack provides up to 8,700 watts of 30-amp electricity using a 3,600-watt inverter.
The unit also comes with built-in solar panels that provide 200 watts of standard solar power.
Here's a used model on RV Trader.
Travato 59K
This model has even more of an open feel to it.
Rather than a Murphy-style bed in the rear, there's a twin bed configuration near the cap that leaves a walk-able space in the middle. (They can also be moved together to create a larger bed.)
The fridge is a larger unit with an optional freezer combo. The microwave oven is a standard one rather than a convection style. The shower is larger, too.
Grey water capacity is 13 gallons, and black water is 12.
Here's a used model on RV Trader.
Winnebago Travato 59KL
Just as with the 59G and 59GL, the difference here is in the power system.
The Winnebago Travato has the same floorplan and features as the 59K but will allow you to stay off the grid even longer.
Here's a used model on RV Trader.
Winnebago Quality
Winnebago has been a hugely successful RV business for more than 60 years, so it knows what works and what doesn't. With the new Travato, this industry leader certainly gets a lot of things right.
The Winnebago Travato is a small self-contained RV with plenty of features that move it toward the head of its Class B designation. However far you decide to roam, you won't have to sacrifice all those comforts you left at home.
Keep in mind: Winnebago was named one of the top 5 RV Brands in 2021.
Discover the Best Free Camping Across the USA
To be honest with you, we hate paying for camping. There are so many free campsites in America (with complete privacy).
You should give it a try!
As a matter of fact, these free campsites are yours. Every time you pay federal taxes, you're contributing to these lands.
Become a FREE CAMPING INSIDER and join the 100,000 campers who love to score the best site!
We'll send you the 50 Best Free Campsites in the USA (one per state). Access the list by submitting your email below: