How Much Can a Jeep Wrangler Tow?
The Jeep Wrangler is the perfect adventure SUV that can take on all the challenges Mother Nature throws at it.
For those of us who crave explorations into the back-country of America, having a vehicle that can take us through all kinds of terrain is a wish that can quickly come true.
From tight mountain roads to rocky hillsides and mud-soaked trails to steep inclines, the Wrangler's high clearance, short wheelbase, and rugged suspension make it an excellent choice for your off-road escapades.
But how much can it tow?
Let's dive into the details.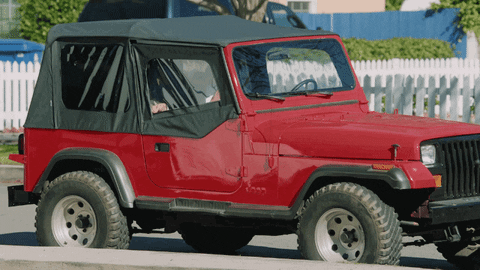 About the Jeep Wrangler
The Jeep Wrangler has a history dating back to World War II. This vehicle evolved from a "Willys" Overland adventure vehicle, a 4-wheel drive auto for the military.
Willys were known for their ability to get anywhere and their reliability to do so. And, they were easy to repair when they did have a failure.
After the war, civilian versions began to show up. Thus began the "CJ" series of Jeeps, from CJ-2 to CJ-7.
Once the masses began to fall in love with the brand, Jeep created a new on-road version with comfort amenities. It was called the Wrangler. This model had a larger windshield, wider body, and lower ride, enticing suburbanites to cruise the interstate in relative contentment.
Over the years, Jeep produced increasingly luxurious models.
Still, with the growth of interest in off-roading, the company designed its Wrangler division as the designated line of sport utility vehicles explicitly created for back-country exploration. Today's Wrangler models include:
Willys
Islander
Sport
High Altitude
Freedom
Sierra
Rubicon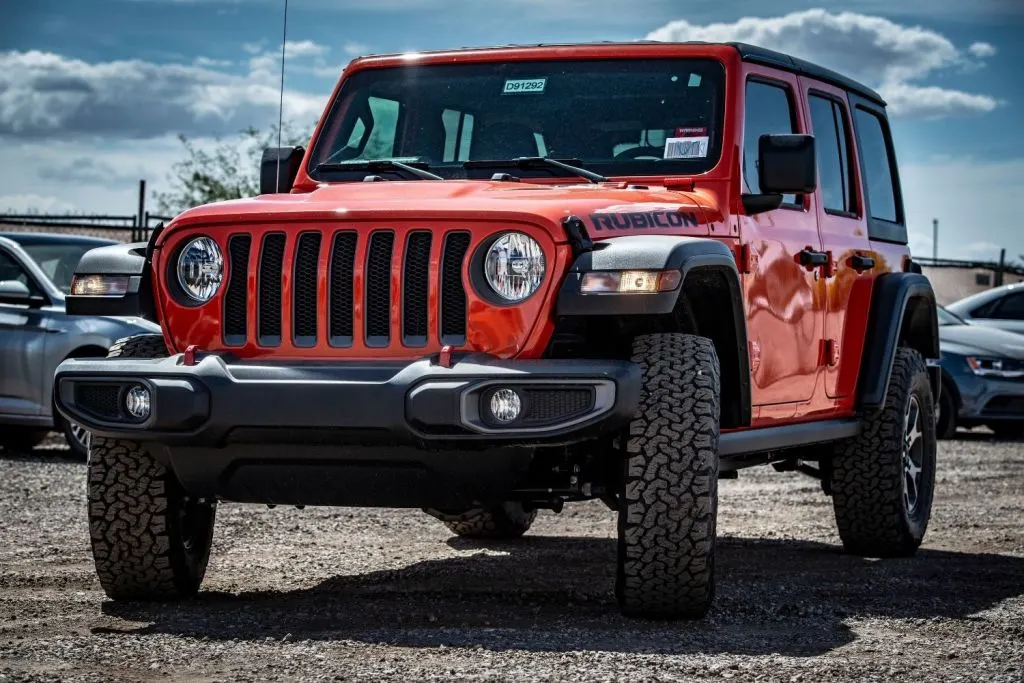 Towing Capacity and Specs
In simple terms, the Jeep Wrangler tow capacity comes with two different options. Two-door models can handle up to 2,000 pounds, and four-door models can pull up to 3,500 pounds.
This definition is overly basic, but it's a good starting point to understand the basics.
Depending upon the model design, the engines range in size from 2.0 L 4-cylinder to a 3.0 L V6 diesel or 3.6 L V6 with manual or automatic transmissions, and horsepower varying from 260 to 285 hp.
Another consideration regarding towing capacity is the tongue weight of the trailer. T
wo-door Wranglers can usually handle tongue weights of up to 200 pounds, while four-door models will be able to take on tongue weights of 350 pounds.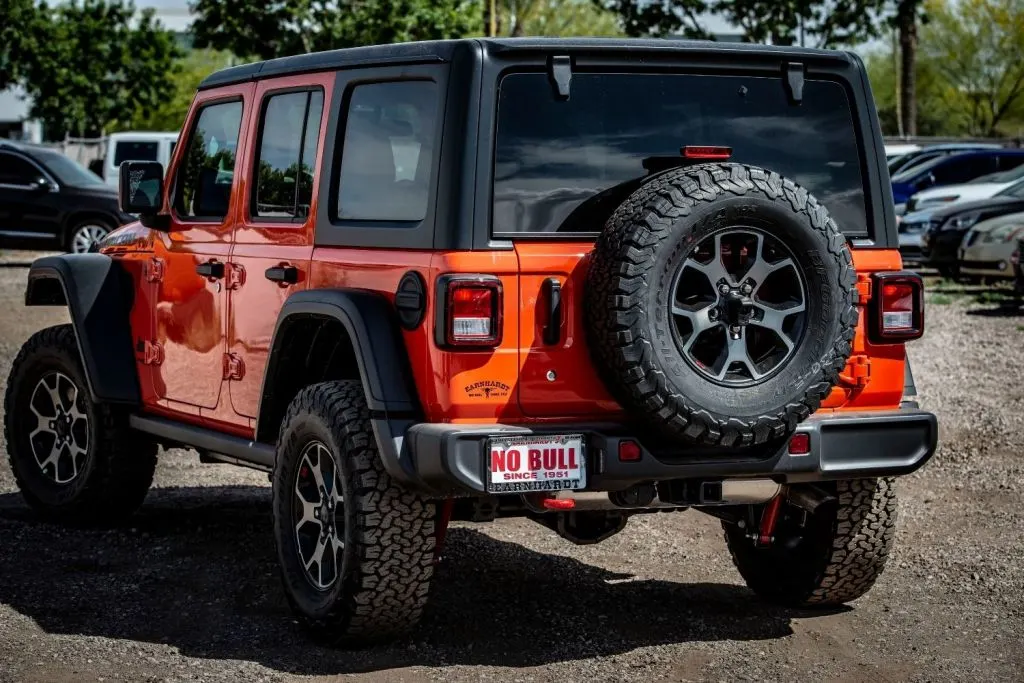 Is the Jeep Wrangler Good for Towing?
With towing capabilities from 2,000 pounds to 3,500, a Jeep Wrangler can tow small trailers of many types, like utility trailers, etc.
Travel trailers, such as teardrops or lightweight pop-up campers, might also fit the bill. But keep in mind that if either has water tanks of any kind, the weight added (at 8 pounds per gallon) could put the trailer over the limited weight allowed.
Manufacturers are, however, adding more and more new travel trailer designs each year that a Jeep Wrangler could pull. So it might be worth your time researching the possibilities!
Keep in Mind: Jeep Wranglers have a limit as to how much they can tow, but here are 5 RV Trailers That Can Be Towed with a Jeep.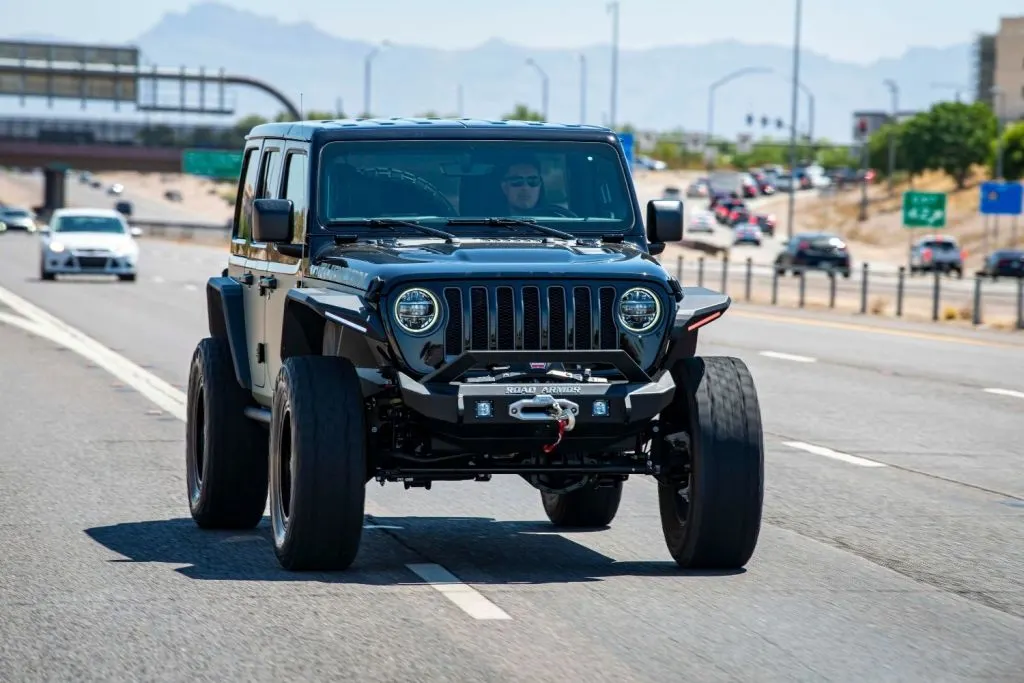 Can You Tow a Camper Trailer with a Jeep Wrangler?
The short answer is "Yes!" The long answer to this question is, "Do your due diligence." With a safe towing weight of up to 3,500 pounds. You will need to realize that a Jeep Wrangler is not a one-ton truck. So, it will not be able to take your beloved Airstream Globetrotter to your favorite destinations. But it might be able to tow an empty Airstream Bambi. Consider a few things:
The four-door Jeep Wrangler can tow up to 3,500 pounds. The two-door can only handle 2,000 pounds. Know your vehicle's limitations.
When looking at trailer weights, remember the weight listed is an empty trailer. What would the camper weigh when full of your stuff and, more importantly, water?
Consider tongue weights of the trailer, as well. Four-door Wranglers can handle a tongue weight of up to 350 pounds.
You most likely will also need a brake controller installed in the Jeep Wrangler.
With all things considered, you can find several small camper options that a Wrangler can pull.
What Kind of RV Can You Tow With a Jeep Wrangler?
The most suitable types of RVs that a Wrangler can safely tow would be smaller, lightweight trailers. For example, fiberglass campers like Roulette Prolite models or Scamp Travel Trailers. Many of their campers weigh under 2,000 pounds and, even fully loaded, a four-door Jeep Wrangler could pull them.
In addition, many teardrop campers may qualify as lightweight. Depending upon the model and brand, some can weigh between 1,000 pounds and 3,200 pounds.
And pop-up tent campers may also be another option that a Wrangler can tow.
A few small travel trailers fall on the borderline in weight. Still, considering payload weight added to them, they might be a good fit for Jeep Wrangler towing. These would include 14 and 15-foot trailers made by Lance, Taxa Outdoors, and Sylvan Sport. Even Airstream offers a "Basecamp" model that the larger Wrangler could pull.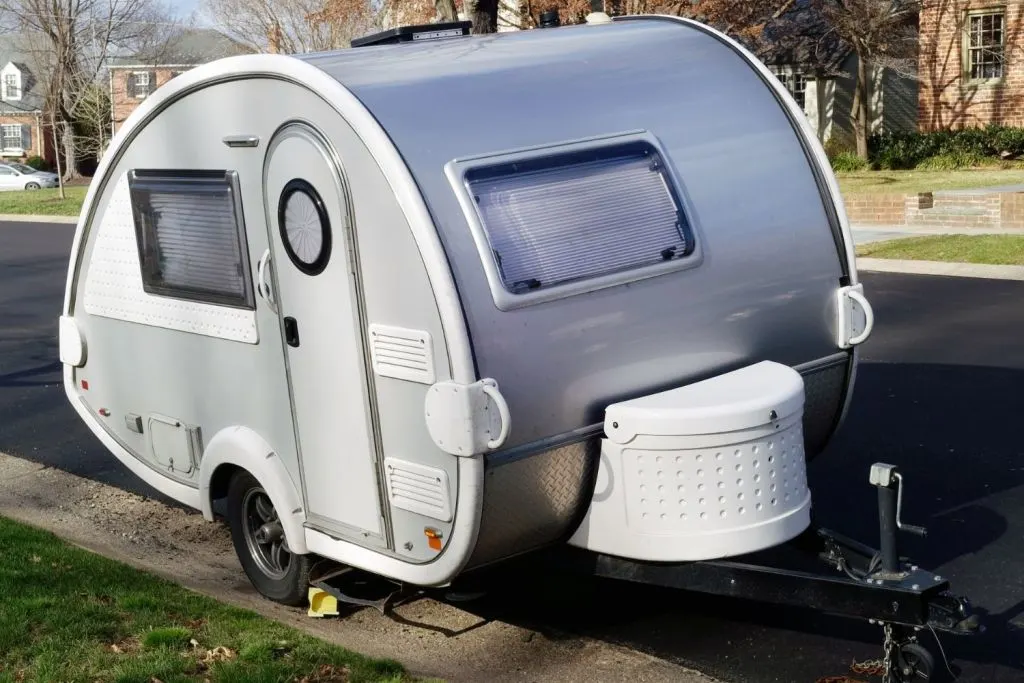 Jeep Wranglers Are Great for Small Campers
Jeep Wranglers have taken on extreme popularity in the adventure field with their flexible and rugged design.
But with care, they can do double duty for outdoor enthusiasts allowing you to tour less-explored locations in challenging destinations while towing a small camper!
Discover the Best Free Camping Across the USA
To be honest with you, we hate paying for camping. There are so many free campsites in America (with complete privacy).
You should give it a try!
As a matter of fact, these free campsites are yours. Every time you pay federal taxes, you're contributing to these lands.
Become a FREE CAMPING INSIDER and join the 100,000 campers who love to score the best site!
We'll send you the 50 Best Free Campsites in the USA (one per state). Access the list by submitting your email below: