Hayen Valley Guide for Hikers and Campers
There's something purely magical about Yellowstone National Park.
Whether you've been once, twice, or twenty times, her magic will draw you back in, and you'll find something new every time. Maybe this time, your new adventure will be the hidden gem that is Hayden Valley.
Today we're sharing all the details to make your Yellowstone road trip more vibrant with a guide to Hayden Valley.
Let's dive in!
What Is Hayden Valley (and Its History)
The Yellowstone River runs right through Hayden Valley in central Yellowstone National Park. Known for its herds of bison and subalpine environment, this hidden gem is a must-see when visiting Yellowstone. It's an ancient lake bed that consists of 50 square miles of plant and wildlife wonders.
When exploring this region, prepare to come across bison, wolves, bears, and a diversity of other animals and plant life that thrive amongst the Yellowstone River banks.
Along with the wildlife here, you'll also see a lot of geothermal activity. In fact, Sulphur Cauldron is one of the most acidic hot springs in the park, reaching 190 degrees.
Hayden Valley formed millions of years ago as the Yellowstone River flowed through its lands, creating the valley we know today. It was the natural route for trappers, explorers, and natives when traveling in this region.
This home to wildlife is the place to explore for that quintessential Yellowstone experience.
Where Is Hayden Valley in Yellowstone?
Hayden Valley is centrally located in Yellowstone National Park between Yellowstone Falls and Yellowstone Lake.
It's seven miles long and seven miles wide, encompassing 50 square miles of the park. It lies west of the Yellowstone River between Canyon and Yellowstone Lake in Wyoming.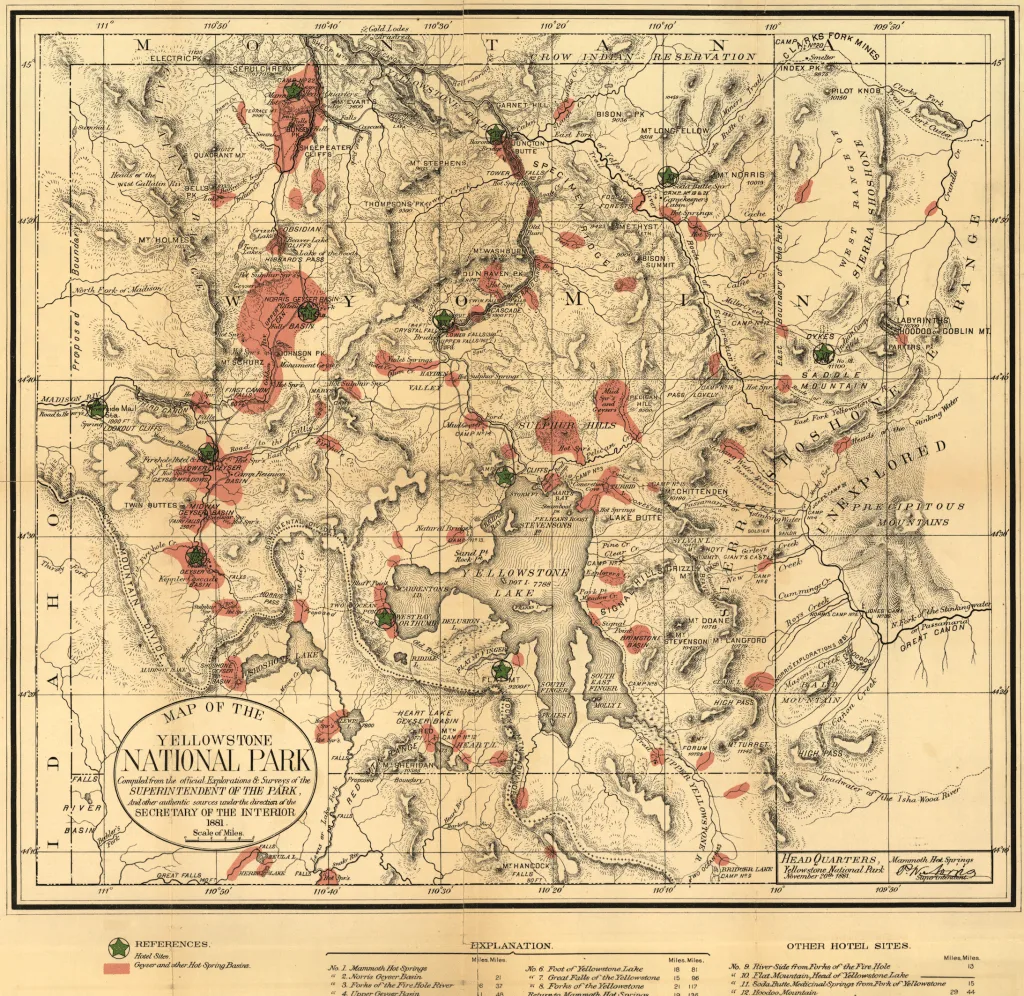 The Best Way to Get to Hayden Valley
As Hayden Valley is at the park's center, you can access it from any of Yellowstone's main entry stations. But we recommend starting at the West Yellowstone entrance and heading towards Madison Junction. Watch closely for wildlife along the Madison River as you go.
If you need to, stop at Madison, where there are flush restrooms. Then, head north towards Norris Geyser Basin, where you can see Steamboat Geyser, the world's largest natural geyser.
Next, you'll head east towards Canyon Village. Stop to observe the Upper and Lower Falls of the Yellowstone River. Pause for breathtaking views and a memorable picture, or use the bathrooms in another flush-toilet facility.
After you get your fill of Canyon Village's views, follow the signs towards Hayden Valley, where the experience only gets better!
Most importantly, be patient and enjoy the journey. Yellowstone is an extremely popular National Park with millions of visitors each year. So, no matter which way you're going toward Hayden Valley, remember that others are trying to get there, too. It's a long drive, and there might be traffic.
So, sit back, relax, and enjoy the views along the way.
How Far Is Hayden Valley from West Yellowstone?
Hayden Valley is only about a 30-mile drive from West Yellowstone proper. However, this is quite a famous drive when open during the summer season, so be prepared.
If you're entering the park with everyone else in the morning hours, there will likely be delays due to animal sightings. People love to stop and view the wildlife, forgetting that there are other cars behind them.
It can be helpful to enter the park before dawn so you'll reach the valley near sunrise. You're likely to see more wildlife this way, particularly in Hayden Valley, where the wolves are more active in the morning hours with fewer visitors. Bear in mind that there may be wildlife in the middle or near the road while it's dark, so drive slowly and carefully.
You can also avoid heavy traffic by going in early spring or late fall. Weekdays are also slower, reducing the number of cars on the road.
The best advice is to simply enjoy Yellowstone with patience and a slow mindset. This way, people and traffic won't have a negative impact on you. You'll just be happy enjoying the sights, regardless of how long the drive may be.
Popular Hikes Near Hayden Valley
While there are several hiking options in Hayden Valley, one of the most popular trails is aptly named the Hayden Valley Trail.
Hayden Valley Trail
The Hayden Valley Trail is a 13.6-mile point-to-point trail. It's rated as difficult and best used in the summer months. Even then, the course can be quite muddy, so wear some waterproof shoes as you prepare to hike this trail with a 1,300-foot elevation gain along the way.
Bison are highly populous in this area. They seem to love the trails as much as the people do. If you see bison on the trail, step off and keep a wide berth so as not to aggravate them.
Be prepared to be stepping in muddy, moist lands when doing so. But any day, giving room to wildlife is a day well spent, I'd say.
The Best Campsites Near Hayden Valley
There are many campsites to choose from when visiting Yellowstone National Park. But when you choose a campground close to Hayden Valley, you choose the possibility of waking up to wolves howling in your backyard or catching a glimpse of that grizzly you've wanted to see for years.
When you camp here, you choose adventure.
Pro Tip: Here are the best free campsites located near Yellowstone National Park.
Canyon Village Area Campground
Address: GPS Coordinates: N 44 44.118 W110 29 17
About the Campground: Located at the northern end of Hayden Valley, Canyon Village Campground is also not far from the Yellowstone River's Grand Canyon. Laundry services, a dumpsite, and potable water are at this campground, with over 270 sites to choose from. You'll even have access to flushing toilets and hot showers.
Close to Canyon Village and several trailheads, you'll have everything you need here, including the beauty of Mother Nature at her finest with easy access to Hayden Valley.
Price: $32.00 per night
Bridge Bay Campground
Address: GPS Coordinates: N 44 32.070 W 110 26.218
About the Campground: Bridge Bay is one of the largest campgrounds in the park and is near the southern end of Hayden Valley. Located near Yellowstone Lake, you can choose from over 400 campsites, all while enjoying potable water, flush toilets, and a dump station on site.
With its convenient location southwest of Lake Village and next to Bridge Bay Marina, you'll have plenty to do and hopefully plenty of wildlife sightings to keep you company.
Price: $27.00 per night
Hayden Valley is often driven through and explored from within the comfort of one's vehicle. Being centrally located, many visitors pass through here on their way to somewhere else within the park.
But if you take the time to enjoy a hike or camp nearby, you'll be one of the lucky ones to experience the true magic of the hidden gem that is Hayden Valley.
Discover the Best Free Camping Across the USA
To be honest with you, we hate paying for camping. There are so many free campsites in America (with complete privacy).
You should give it a try!
As a matter of fact, these free campsites are yours. Every time you pay federal taxes, you're contributing to these lands.
Become a FREE CAMPING INSIDER and join the 100,000 campers that love to score the best site!
We'll send you the 50 Best Free Campsites in the USA (one per state). Access the list by submitting your email below: