The Best Free Camping Near Grand Canyon National Park
Visiting the Grand Canyon is a, well … it's a grand experience! And free camping can make it even more memorable. Fortunately for us, this Arizona park has many boondocking options (but, not all are grand).
Today we'll tell you all the best spots for free camping with unforgettable views near the Grand Canyon.
Let's explore!
What to Know About Free Camping
There are plenty of places you can camp for free. You just need to know where to find them. One of the best resources for free camping is Campendium. It brings together free campsites across a variety of public lands.
Usually, you can stay at these places for 7 to 14 days. However, some locations require shorter stays.
When you free camp, you usually won't have to pay a dime, but you need to prepare for a few things. Boondocking requires you to have a power system, wastewater and freshwater tanks, and a way to deal with your trash.
Once you've got those in place, free camping here you come!
Things to See in Grand Canyon National Park
While you're visiting the Grand Canyon, there are some things you absolutely won't want to miss. You should definitely check out the Grand Canyon Village, the Rim Trail, and Bright Angel Trail.
Depending on where you are, you could also make a trek to Havasu Falls, walk on the Grand Canyon Skywalk, travel the railway, or even raft down the Colorado River right through the canyon itself!
There's plenty to do at the Grand Canyon. You could stay a day or an entire week, and there will still be more opportunities to explore on a return visit.
Keep in mind: For our travels, a cell booster is essential. It helps us stay connected when we're off grid.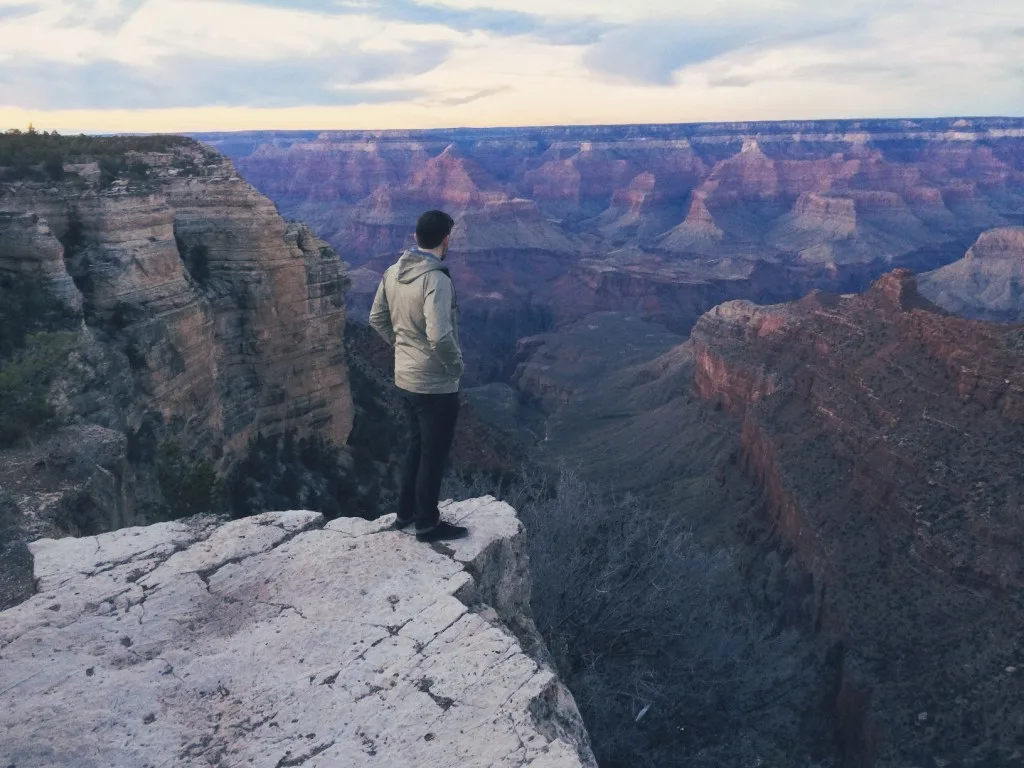 The Best Free Campsites Near Grand Canyon National Park
Here are the top places to camp for free near this breathtaking National Park.
#1 – Long Jim Loop Dispersed Camping
GPS: 35.9812, -112.1271
This campground is best used with smaller rigs. The largest reported was 19 feet long. However, we saw some pictures of much larger rigs. A few pull-around sites could accommodate a longer Class A.
Definitely scout it out first in case someone already snagged those particular sites.
Long Jim Loop has fire rings at all the sites, an outstanding perk and one you don't always find when boondocking. There are many spots available, but they fill up quickly, so you'll want to plan to arrive early.
One of the best things about Long Jim Loop is how well-maintained the road is. Often dispersed camping requires traveling over bumpy gravel roads. Not here, though! The spots offer lots of shade trees and level parking. There is a hiking trail right nearby but no other amenities. Pets are allowed, so feel free to bring your furry friends on a leash.
Reported Cell Service: Long Jim Loop has pretty good cell coverage. Virtually all reviewers report access.
Grand Canyon National Park Free Camping Vibes: 8/10. The views aren't anything special, but you have easy access to the Grand Canyon and other hiking nearby. Also, having some cell coverage plus the fire rings is excellent. The sites are also nice and access is better than many other boondocking locations.
#2 – Forest Road 302 Dispersed Camping
GPS: 35.9681, -112.1185
Camping off Forest Road 302 is excellent for rigs of all sizes. Reviewers have reported fifth-wheels up to 40 feet. You'll enjoy having multiple sites to choose from as long as you get there early. The sites are also more secluded, allowing you to really get away and enjoy nature.
There aren't any amenities apart from a few fire rings. The Grand Canyon and town are just a few miles away, though.
Reported Cell Service: This is another site that offers pretty good cell coverage.
Grand Canyon National Park Free Camping Vibes: 7.9/10. It's accessible with remote, shady spots. You are also close to town and the Grand Canyon for easy access to activities!
#3 – Point Sublime
GPS: 36.1986, -112.2505
Point Sublime is absolutely breathtaking! You'll have unforgettable views when camping at this spot. There are only two campsites available for small, off-road trailers or vans.
You also need to purchase a backcountry pass from the National Parks Service to stay here. The cost is $10 for the permit, plus $8 per group per night. So it isn't totally free, but the views make the small fees well worth it!
The road in can be challenging and is best accomplished with a 4-wheel-drive vehicle. There's a vault toilet but no other amenities. They allow pets, but you'll need to keep an eye on them. Not only because of the canyon, but there are frequently buffalo roaming the area!
Reported Cell Service: There is no reported cell service at this location. So just enjoy the views!
Grand Canyon National Park Free Camping Vibes:10/10. Would recommend! You really can't beat these fantastic views. Plus, since there are only two campsites, you'll be almost completely alone.
Tips for Free Camping
When you're taking advantage of free camping, keep in mind many other people have the same idea. To get the best site (or a site at all), arrive early. This is especially important during peak season!
It's also important to secure valuables and lock your RV because of the frequent coming and going in these sites. We've never had an issue, but use common sense and trust your instincts.
Most of all, enjoy your time making unforgettable memories.
Free Camping at the Grand Canyon for Amazing Views
Visiting Grand Canyon National Park should be on everyone's bucket list, and free camping can help make it easier on your budget while providing amazing views.
Check out these free campsites when planning your trip, then get excited to hit the road. Be sure to give yourself enough time to take advantage of all the amazing hiking too. You'll be happy you did!
Discover the Best Free Camping Across the USA
To be honest with you, we hate paying for camping. There are so many free campsites in America (with complete privacy).
You should give it a try!
As a matter of fact, these free campsites are yours. Every time you pay federal taxes, you're contributing to these lands.
Become a FREE CAMPING INSIDER and join the 100,000 campers that love to score the best site!
We'll send you the 50 Best Free Campsites in the USA (one per state). Access the list by submitting your email below: