Is It Legal to Camp at Lawless Slab City?
Slab City. Whether you've heard of this place or not, there's intrigue within the name itself. And it's that name that gives away the origins of this mysterious place, without giving away its many stories to be told and secrets that we may never know.
Unless, that is, you choose to reside there, instead of camping there.
But is it legal to camp at Slab City? And what exactly is this place?
What is Slab City (and Where is it)?
Slab City is tucked away in the southeastern corner of California's Sonoran Desert, a mere four miles east of Niland, California, and 45 miles from the Mexican border. Named for the concrete slabs left behind from a forgone WWII military base, it is not technically recognized as a town.
However, it can be found on a map. And, it's most definitely a community, albeit not an official one.
Slab City has been referred to as the Last Free Place on Earth as well as the Last Lawless Place due to its lack of any official recognition as a town. While words say a lot about a place, these two phrases keep an air of mystique around Slab City.
Using words to define Slab City offers up quite a struggle.
It's much more than the Wikipedia definition of an unincorporated off-the-grid squatter community.
While it's not a defined town, it has street names and neighborhoods. It's far from wealthy, but some residents will claim they are rich beyond compare. It's full of trash, yet much of that trash holds more artistic allure than some million-dollar paintings.
But if there is to be an answer to the all-encompassing question of, "What is Slab City," it would have to be called a misunderstood community.
Or better yet, a community not meant to be understood.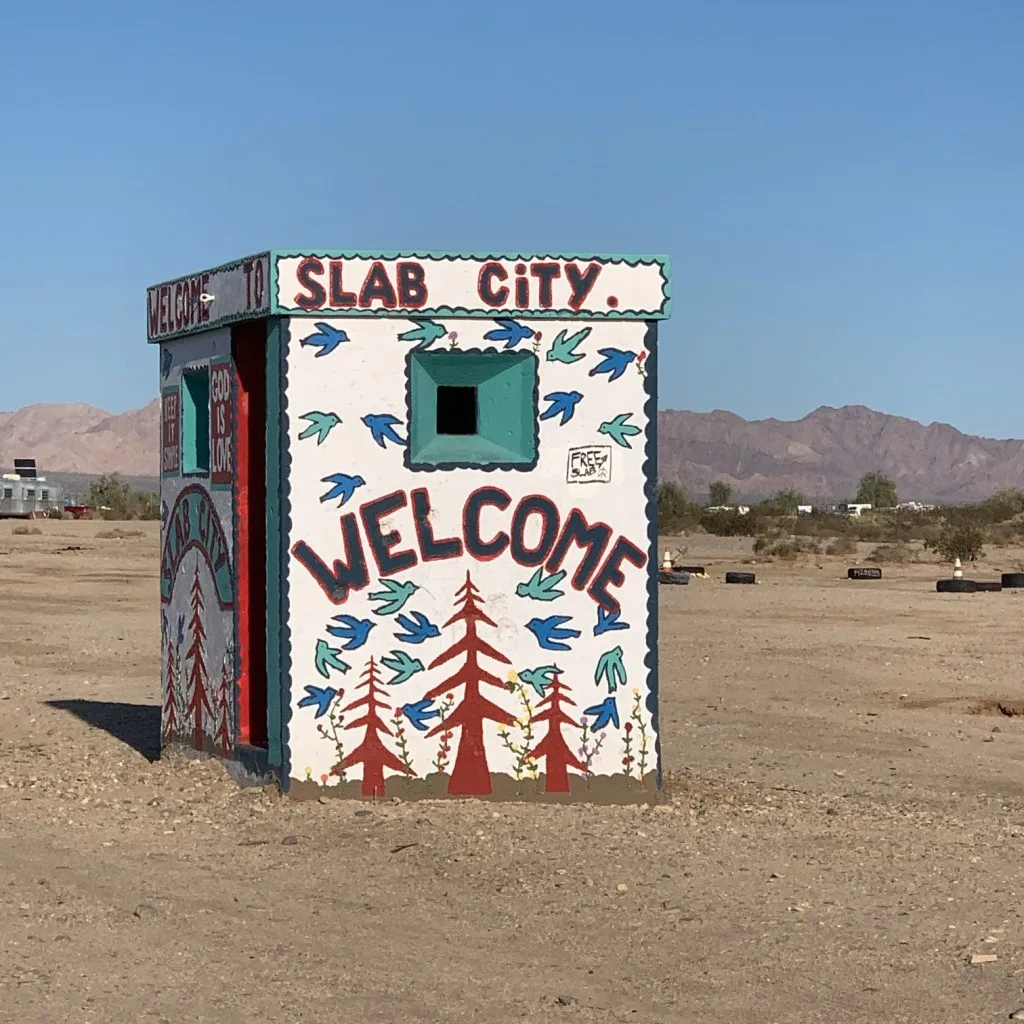 Is it Legal to Camp at Slab City?
The legalities of camping at the Slabs are about as clear as a mud puddle.
If you are looking for an exact answer that could be admissible in court, that I could not give you. While the property is technically owned by the California State Teachers Retirement System, they do not currently regulate who lives or visits The Slabs.
With that being said, many people passing through for a night, a week or even a season have camped here without any issues.
Tourists come through in all types and sizes of RVs, vans, cars, and tents. Setting up camp like they normally would when boondocking is quite a common sight at Slab City.
It's fairly easy to tell where you can pull off and camp. And once set up, it's up to you how much you become involved with the community.
Is Slab City really Lawless?
Home to less than 200 residents year-round and more than 4,000 in the winter months, Slab City offers a unique experience to anyone passing through. And while it may seem as though people are attracted to The Slabs because of its nickname, The Last Lawless Place, it's simply not true.
Yes, it is true that there are no law enforcement offices on-site nor any officially endorsed rules, but it's not a lawless place.
School buses come by in the morning and the afternoon on weekdays transporting the few kids that live here to school elsewhere in the region. Signes are posted throughout with a few written rules. Police cars have a presence almost daily, and there are even UPS and FedEx delivery stations throughout the community.
There are some reports of high theft and drug usage; however, this is not uniqe to Slab City. As with any community there will be issues, squabbles and disagreements among its residents. And as with any place, most times you can choose not to get involved. And in those rare instances when that choice is not given to you, you can still call the police if needed.
Keep in mind, while Slab City is not without laws, and it is free to camp or live here, you are without running water, sewage, plumbing or electricity. Unless you are creative and savvy enough to create your own, which some have done. Ingenuity runs deep here.
Is it Safe to Camp at Slab City?
Camping at Slab City is just as safe as camping anywhere else. Meaning, it's up to you to judge what makes you feel safe. Just as in boondocking, you'll have to make sure you have everything with you, such as water, solar or generator power, food and any emergency supplies you feel you should carry with you.
There are no amenities readily available directly at Slab City.
Keeping safe anywhere you camp is never a guarantee, but it's possible if you remember a few simple tips. Choose a campsite where you'll feel safe. Let someone know where you'll be. Carry protection if you desire, but know the laws for California. Bring all the necessities you require.
No matter how cool your site is, don't post your location live on social media. Enjoy the moment and post later.
And the most important thing to remember anywhere you go is to trust your gut. If you don't like where you are, and you can safely leave to another spot, then go.
Tips for Camping at Slab City
Slab City is not meant for everyone. It's quite a unique spot to camp. With that being said, it's also a community. And like any community it deserves respect.
Knowing what to expect when you arrive will make your time here much more enjoyable.
Camp Near the Entrance
When you first enter Slab City, you'll come across Salvation Mountain, a vibrant and colorful piece of mountainous artwork. Be sure to stop in and explore.
Driving a bit past there, you'll see quite a few places with easy sites to pull into. Many of the well-established residences and residents are further off the main entrance. Don't worry. Most times, it's quite easy to recognize if someone has claimed a spot. It's hard to miss a fence made out of old Barbies or colorful tires. Near the Shoe Tree or the bright blue church are a variety of spaces that make for a great place to camp.
If you love getting away from people, this is generally not the space to do so, unless you know the roads well. Driving on unfamiliar desert roads can be like heading into the Bermuda Triangle.
You might make it back out, but the sand might suck you in, and you'll be staying a bit longer than you thought waiting for a tow truck.
Pack It In, Pack It Out
There are untold amounts of trash all throughout Slab City. Much of it has been repurposed into stylistic art. Much more of it has not. As camping guests, we are not here to contribute to the trash.
What you bring in, you bring out. And yes, this includes items that you may think others could find useful.
If you have items like that, seek out more of the community. There are weekly trading circles where your items could come in handy. But it is not ok to leave anything lying around under the assumption that it might get used. There's enough trash there already. They don't need yours.
Visit the Public Places
Slab City is a sight. And many people create art here that they want you to see, explore, experience and touch. Salvation Mountain and East Jesus are two very popular artistic tourist attractions. In fact, they are both non-profit organizations registered with the government and do rely on your donations if you feel inclined to donate.
You can get as involved within the community here as much as you would like. With community coffee clubs, movie nights, fire circles complete with music, nightclubs, a library, hot springs, and even a hostel, your time here can be quite social if you let it.
Say hi. Ask about community events and participate. As in most places, be aware of your surroundings, but also realize that the people at Slab City, just as in most communities, can be quite warm and welcoming. Don't let the trash talk; let the art talk instead.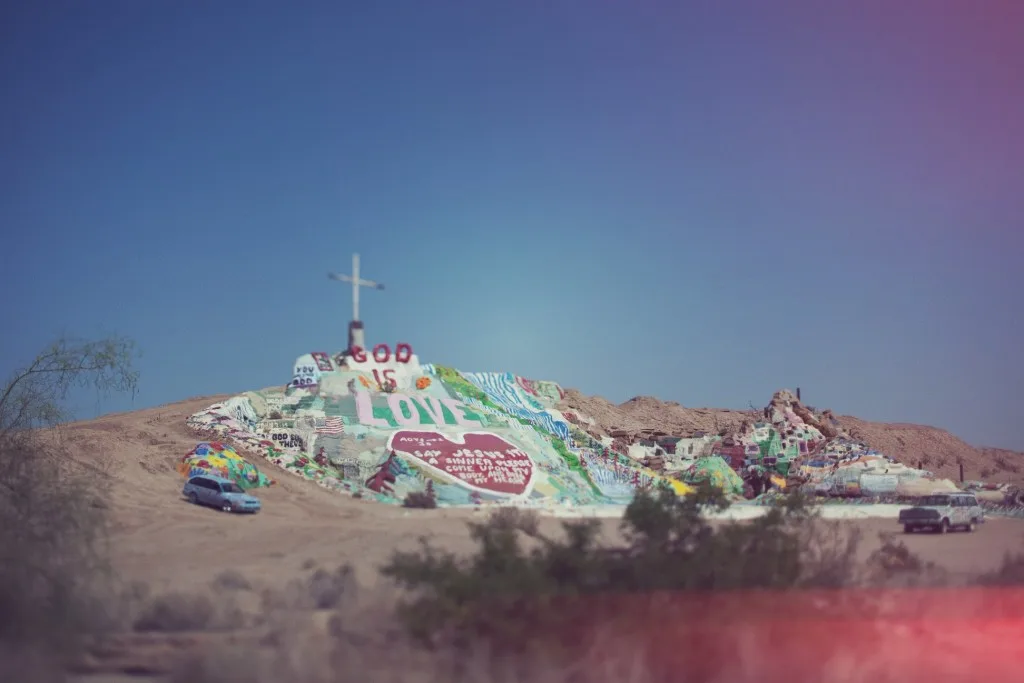 Be Kind and Respectful
Wherever you find yourself setting up camp, be kind and respectful. If a place or piece of property looks as though it belongs to someone, it probably does.
And no matter how cool it looks or how much you may want to pay a visit, respect the space. Most places in Slab City are private. And most people here like it that way.
Slab City: A Unique Camping Experience
Slab City is more than just a place to gawk at. It is a community full of people with many of the same hopes and dreams we all have.
Throughout the years, it has also become a tourist attraction of sorts. Camping here offers a unique situation. And how you choose to experience Slab City is completely up to you, but choose with respect and kindness for those that call this anomalous place home.
Discover the Best Free Camping Across the USA
To be honest with you, we hate paying for camping. There are so many free campsites in America (with complete privacy).
You should give it a try!
As a matter of fact, these free campsites are yours. Every time you pay federal taxes, you're contributing to these lands.
Become a FREE CAMPING INSIDER and join the 100,000 campers that love to score the best site!
We'll send you the 50 Best Free Campsites in the USA (one per state). Access the list by submitting your email below: