The Delicate Arch Guide for Hikers & Campers
One of the most intriguing geologic formations in the nation was almost named "Old Maid's Bloomers." But we're eternally grateful that Arches National Park managers settled on "Delicate Arch" to describe its signature natural wonder.
Many visitors have photographed this spectacular arch that's the iconic symbol for the state of Utah. Isn't it time you checked out this gateway to red rock country?
Let's explore!
What is Delicate Arch (and Its History?)
Delicate Arch is a natural rock formation created out of Entrada Sandstone through various forms of erosion. It's located in a region of the park famous for its various "fins," which are baby arches in training. Earth movement pushes up salt underlying the sandstone to form a dome, cracking the rocks above it.
When rain and wind pound away at the porous sandstone over millions of years, they leave an arch of stronger rock.
Delicate Arch is a perfect example of this weathering, and its scenic location couldn't be more dramatic. Overlooking red rock canyons and the La Sal Mountains, the arch is a stalwart reminder of strength in what seems to be a fragile body!
Although its creation took millions of years, the National Park Service didn't formally name Delicate Arch until 1933. Before that, local cowboys who came across the phenomenon called it Saltwash Arch, Chaps, and Schoolmarm's Bloomers.
Thank goodness they weren't given naming rights!
The Best Way to Get There
To see Delicate Arch, you have two hiking options. If up close and personal is your desire, then be ready for a moderate 3-mile round trip hike along the top of sandstone fins for most of the trail.
The last quarter is a narrow rock ridge around the back of the bowl that opens up to a gorgeous view of the formation. You'll have the opportunity to stand right under the arch, as well as photograph it from across the bowl.
The second hike is a less strenuous hike to Lower Viewpoint, which is only 100 yards from the parking area. However, your view is one mile away from the arch, so take binoculars or a long lens on your camera. Continue hiking to Upper Viewpoint for a closer, less obstructed view across a chasm.
With either hike, be sure to consider the weather. You'll be spending the bulk of the hike on sandstone, which can become extremely slick with rain or ice. And lightning is not unheard of during Utah thunderstorms.
Is Delicate Arch Still Standing?
The arch was created over time and hopefully will continue to stand for many years in the future. We're certainly fortunate that eastern Utah does not experience many earthquakes, which might wreak havoc on several arches within the national park.
But humans have recently played a part in disfiguring Delicate Arch, much to the frustration of park officials and arch admirers worldwide.
One photographer attempted to teach a night photography workshop to his students, lighting a fire at the arch's base and scorching the rock surface. He was eventually charged with the crime, receiving probation and a fine of $10,900 – the cost of cleanup.
Another rock climber used the arch as his canvas, free climbing the rock formation at least six times. He left cams in a crevasse and used a counterweighted rope across the top.
Surprisingly, it wasn't illegal to climb Delicate Arch at the time of his 'ascension.' Needless to say, those rules have since changed.
In many respects, it's a miracle the arch is still in such good shape. And, with the enforcement of new laws in place (and a little common sense), it will stand the test of time. We hope it'll be around for our children and grandchildren to enjoy in the years to come.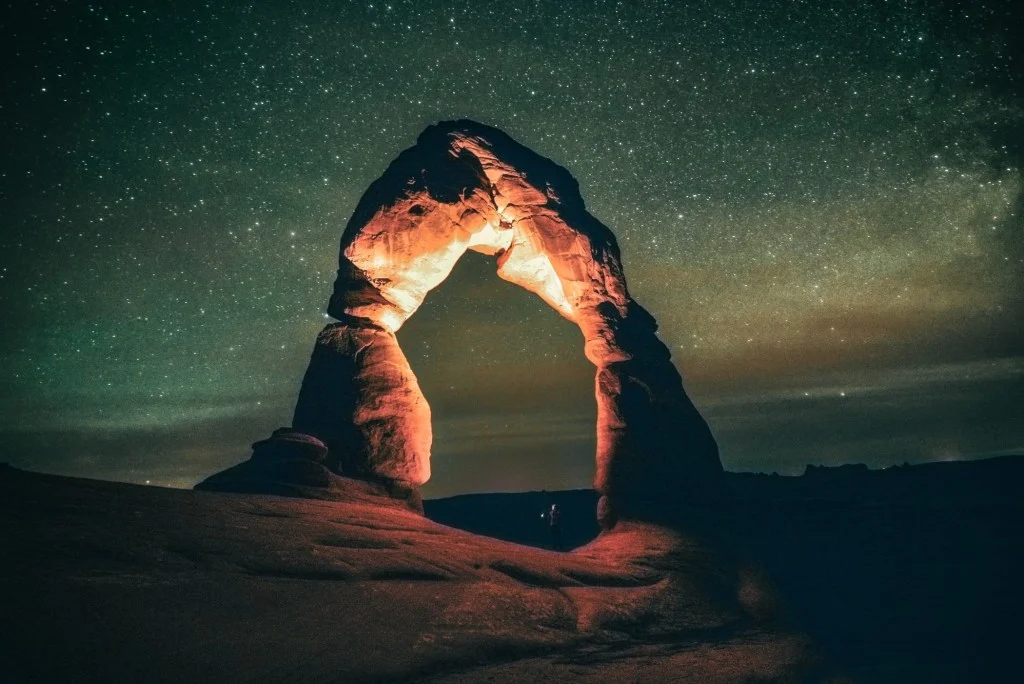 Has Anyone Ever Died at Delicate Arch?
In recent times it seems there have been one or two deaths around Delicate Arch each year. This is due to the terrain, as several deaths have happened from hikers slipping and falling into the canyon behind the arch. Sandstone can get very slippery when wet or as layers of ice form on it, and the rock formation is located at the top of a precipitous dropoff.
Other visitors have died because of the heat and not staying hydrated during the summer months. The desert is a harsh environment at any time of year, but summer temperatures often rise to over 100 degrees.
It's worth noting that the hike up to Delicate Arch is strenuous and should not be taken lightly.
Park rangers rescue dozens of visitors each year who begin the climb to the rock formation but abandon it because of heat, heart, and breathing problems. Make sure you're fit before attempting this hike, that you have sturdy footwear, and carry water with you.
Popular Hikes Near the Arch
Hikers of all experience levels will enjoy the abundant trails in Arches National Park.
There are two major trails for viewing Delicate Arch, however. One hike takes you right up to the rock formation, and the other gives you a great overview of the arch and the sandstone canyon walls.
Delicate Arch Trail
As stated before, the trail to Delicate Arch is not for the faint of heart. It takes place almost exclusively on sandstone rock, and although the altitude gained is only about 500 feet, it's a moderately difficult journey.
Hikers begin their trek uphill on the sandstone fins and finish on a narrow rock ledge that takes you around a curve. There, you discover what appears to be a fragile arch overlooking the red rock canyons and mesas of eastern Utah.
It's a challenging path with a wonderful payoff at the end!
Delicate Arch Viewpoint Trail
The Viewpoint Trail is comprised of two parts, both easily handled by any skill level. The Lower Viewpoint is only 300 feet from the parking lot, is wheelchair accessible, and has a slight rise on the way to the overview.
From there, you'll get your first view of Delicate Arch from about a mile away.
The second section of the trail is past the Lower Viewpoint. A moderate half-mile hike will take enthusiasts to the edge of a canyon over which you can get a better view of Arches' claim to fame.
The Upper Viewpoint here offers visitors a prime glimpse of Delicate Arch in its surroundings.
The Best Campsites Nearby
Arches National Park has only one campground. But the neighboring town of Moab has plenty of camping and lodging options. Listed below are two campgrounds that should be on your radar.
Keep in mind: These are paid campsites. Here's a reference that lists a few free campsites in the area.
Devil's Garden Campground
Address: Arches Entrance Rd, Moab, UT 84532
About the Campground: To stay within the national park, Devil's Garden Campground is your only official option. It has 51 dry campsites, which are usually full every single night. You can make reservations for camp trips scheduled between March 1 and October 31. However, the sites are first-come, first-served for the rest of the year.
Each spot has a picnic table and grill, and the campground provides drinking water and both pit and flush toilets.
Price: For individual campsites, the nightly fee is $25. And, there are two group sites available that range in price based on the number of campers from $75 to $250.
Archview RV Resort & Campground
Address: 13701 N Hwy 191, Moab, UT 84532
About the Campground: For a more pampered camping experience, consider Archview RV Resort. With 77 full hookup sites, the campground offers a general store and gas station on-site. In addition, it has community campfires, a dog park, a splash pad, and a heated pool.
If you're traveling sans RV, reserve a casita or cabin to enjoy your desert escape here.
Archview provides activities for everyone in your group with wine tastings, golf outings, and its very own Wild West church. This seasonal resort is open from March 1 through October 31 and is centrally located between Moab and Arches and Canyonlands National Parks.
Price: Tent sites are $38, with full hookup RV sites coming in at $64 per night. There are also cabins and casitas on-site, priced at $107 to $114.
View the Fragile Strength of Delicate Arch
A visit to Delicate Arch is bound to be an inspiring experience, as you touch a piece of geology that's millions of years old. It's erosion in action, and the mere fact that this fragile piece of Mother Nature's artwork is standing in front of you is surely worth the effort to see it.
Do not miss the opportunity to see that, despite its name, this sandstone 'carving' is no fragile flower. It's apparent that Delicate Arch has withstood many a storm and intends to stand tall for generations to come.
Discover the Best Free Camping Across the USA
To be honest with you, we hate paying for camping. There are so many free campsites in America (with complete privacy).
You should give it a try!
As a matter of fact, these free campsites are yours. Every time you pay federal taxes, you're contributing to these lands.
Become a FREE CAMPING INSIDER and join the 100,000 campers who love to score the best site!
We'll send you the 50 Best Free Campsites in the USA (one per state). Access the list by submitting your email below: