Immerse yourself in the intertwining desert vegetation, wildlife, and lure at Saguaro National Park.
It's here that visitors get a telescopic view of the relationship between plants and animals of this arid region. Combined with rocky topography and the world's largest cacti, Saguaro represents a cross between serene landscapes and complicated flora and fauna.
Let's dive in.
About Saguaro National Park
Saguaro National Park comprises two locations, as the park is split in half by the bustling city of Tucson, Arizona. The east portion lies within the Rincon Mountains and covers more than 66,000 acres of land, rising from the Sonoran Desert to piney hillsides and mountain tops.
Because of their younger age, greater height, and location, the Rincons host a wider variety of animals and plant life than the park's western section in the Tucson Mountains.
The park has more than 165 miles of hiking trails, two paved loop drives, and two visitor centers. In addition, backcountry camping is available at six designated campgrounds in the Rincon District. But no camping is allowed in the Tucson District.
Since both regions lie within the Sonoran Desert, carrying water should be #1 on your hiking essentials list. Plus, visitors should be alert for flash floods along washes, extreme heat, and wildlife like rattlesnakes, cougars, and African bees, depending on the season.
Morning
Start your day off with an energy-packed meal at one of Tucson's favored eateries. After downing breakfast at Beyond Bread, you'll be ready for awaiting adventures!
Get Fueled Up with Breakfast at Beyond Bread
Address: 421 W Ina Rd, Tucson, AZ 85704
Menu options: Fill up on Brian's Breakfast Bash with selections including avocado toast, yogurt parfaits, and granola with milk, or grab a pastry for the drive out to the park. And don't forget to take a sack lunch for your hike at Saguaro National Park.
Sandwich options are all over the board with chicken selections offered with marinara or chipotle cream cheese, fresh salmon on a bun, and even corned beef with slaw and Russian dressing (and those are just the specials!). There are veggie, tuna, roast beef, and turkey sandwiches for the less adventurous.
Salads include Greek, caesar, tuna, chicken, turkey, and beef, along with vegetarian and vegan delights.
And don't get us started on the mac and cheese! You can make a whole meal out of the classic basil and tomato or bacon mac and cheese. Don't miss the daily special of chili mac, either.
Reasons to love it: With unique breakfast items, sandwich selections, salads, soups, and mouth-watering mac and cheese options, what's not to love at Beyond Bread! As a Tucson staple with four locations, the restaurant caters to those visitors who crave comfort food. From pizza on a bun to cornucopia specials, you'll find a plethora of great tastes 'rising' at Beyond Bread!
Hike the Freeman Homestead Trail Before It Gets Hot
The Freeman Homestead Trail is a great way to get your hiking feet wet inside the park. This one-mile loop is perfect for all skill levels and provides an excellent place to view wildflowers, do some bird watching, and take in the various plants and wildlife of the Sonoran Desert.
Kids will enjoy the special activities served up on signage throughout the hike. Anyone interested in botany will appreciate the plant identification labels along the way to an old settlers' foundation.
Afternoon
There's nothing better than a picnic with your Beyond Bread takeout lunch. Bring it along to soothe those hunger pangs after a few hikes. You'll find an excellent place to devour it at Valley View Overlook.
Eat a Packed Lunch at Valley View Overlook
Address: 3693 S Old Spanish Trail, Tucson, AZ 85730
About the short hike: Don't miss this short little hike within the park, especially if you bring children along. They (and you) will love wandering through the desert valley. At the end of the trail, you'll find yourselves at an overlook, where the saguaro forest will take your breath away. I
t's the perfect spot to enjoy that tasty lunch you picked up at Beyond Bread! Plant signage will help you identify any unknown plants, and the whole trail is only 0.8 miles long.
Reasons to love it: This moderate hike has a little bit of everything in its short tenure. Kids can handle the length and difficulty of the trail. Everyone will feel like they've entered the Land of the Giants as they meander through a veritable forest of the world's largest cactus. These saguaros are oddly welcoming.
The desert floor features teddy bear cholla and ocotillo cacti at their bases, and birds will flutter over your heads, looking for homes in these succulents.
Take a Scenic Drive on the Bajada Loop
The western side of Saguaro National Park may not have any designated camping areas, but the views are astounding. Saguaro cactus line up like soldiers on the mountainsides and throughout the desert topography.
The Bajada Loop will give you an up-close and personal view of this magical landscape, enticing you back time and again.
Get Out and View Signal Hill Petroglyphs
History is literally written in Saguaro National Park, with petroglyphs left behind by the Hohokam people. You can find one prevalent collection on an easy hike up Signal Hill in the park's western district.
Hikers will find dozens of stone etchings dated over 800 years old, ranging in character from animals to abstract designs, squiggles, and human representations. The mystery of their appearance has confounded scientists and historians for years.
Evening
There's no better way to bring a day in the desert to a close than with a filling evening meal and some sky watching. End your outing with a few of these choice activities:
Dinner at Li'l Abner's Steakhouse
Address: 8501 N. Silverbell Road, Marana, AZ 85743
Menu Options: Sticking close to its origins, Li'l Abner's Steakhouse offers the requisite T-bones, sirloins, filets, and huge porterhouse steaks, along with smoked ribs and chicken. They will even grill up a juicy burger and let you finish the evening's meal with homemade pie a la mode.
But there's nothing fancy or high falutin' about this place. They let their food speak for itself–and it's screaming, "You won't find a better steak this side of The Mississippi!"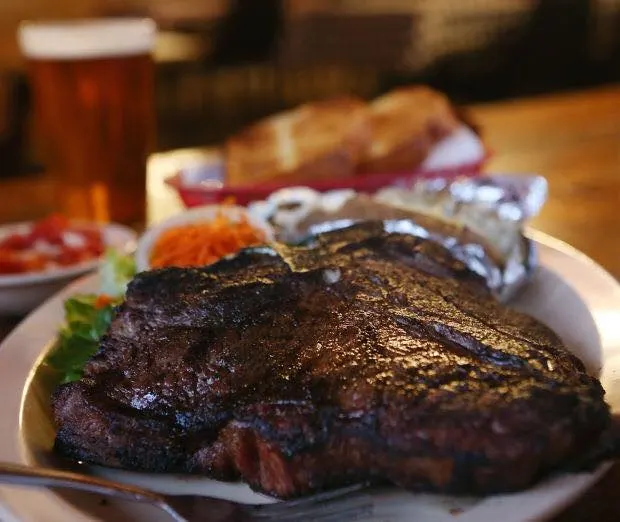 Other reasons to love it: From humble beginnings in an adobe building circa 1947, Li'l Abner's Steakhouse has always offered excellent fare. It's reminiscent of roadside bars from years gone by, but the service is top-notch, and the meals are cooked to perfection. Although it's not high on vegetarians' favorites list, if beef, pork, or chicken are in your wheelhouse, you'll be anticipating your next visit before you leave the restaurant!
Drinks at Growler's Taphouse
Address: 8275 N. Silverbell Road, Suite 137, Marana, AZ 85743
Drink Options: You'll find beers that hale from Arizona, California, Texas, Illinois, and even Maryland on tap here. Serve up your favorite brew and add any "Nittie Gritties" to tide you over 'til morning's light. Choose from appetizers like Speakeasies (fried onion rings) to Goons (stuffed mushrooms), and Gigilos (stuffed peppers).
Reasons to love it: Just down the road from Li'l Abner's is an ideal place for a nightcap. Growler's Taphouse has quite the beer selection, with 26 IPAs, stouts, meads, and pilsners on tap.
You're sure to enjoy the gangster theme from the 1920s, and with evening entertainment, Growler's is the right location to bring your night out to a close.
Stargaze at Tucson Mountain Park Overlook
There's nothing more stunning than a desert sunset highlighting the majestic saguaro cactus, and Tucson Mountain Park is just the place to serve one. Every night!
At Gates Pass Overlook, the view will instantly overwhelm you after traveling up the narrow and winding road. The vista fits perfectly between two mountains that "squeeze" as many cacti gentle giants into its perspective as possible. The night skies here are free of city light pollution, and the stars overhead are too numerous to count.
Where to Stay?
It's impossible not to feel tired after you've enjoyed such a jam-packed day in the desert sun! Therefore, you need a fantastic place to rest your head. Here's our favorite campground in the region.
Address: 8451 W McCain Loop, Tucson, AZ 85735
About the Park: Located within Tucson Mountain Park, the Gilbert Ray Campground lies just 13 miles from downtown Tucson. Its 130 RV sites offer 30amp power, and five tent sites share a restroom facility, water, and a dump station with all other campers. The campground enforces seven-day camping limits, and there are no shower houses.
The best time of year for a camping trip is between January 1 and the end of March, when the campground has staff and daytime temperatures are moderate. Rates run from $10 per night for tenters to $20 per night for RV spots, and reservations are online.
Why you'll love staying here: There aren't many places where the solitude of a desert campsite exists so close to a bustling city without the two intermingling. Gilbert Ray is one of those unique campgrounds where hiking and adventure lie outside the city limits without interruption from everyday life.
Pro Tip: If you like free camping, here are the 3 best free campsites near Saguaro.
A Day in Saguaro National Park
Life in the Sonoran Desert can appear harsh and unforgiving. But a trip through Saguaro National Park may give you a better idea of the symbiotic relationship between this arid land and its plants and animals.
With 50 years of history before a saguaro even grows its first "arm," the park's namesake cactus can teach us a lot about endurance.
Many of these older plants have watched desert sunsets come and go for centuries. Their presence infers that patience is a virtue, rewarded by a long life filled with events, both perfect and prickly. And no matter your daily ups and downs, these sentinels will still be standing tall to welcome you upon your return.
Planning the next stop? Find out how to spend a day and what to do in Green Valley, Arizona.
Discover the Best Free Camping Across the USA
To be honest with you, we hate paying for camping. There are so many free campsites in America (with complete privacy).
You should give it a try!
As a matter of fact, these free campsites are yours. Every time you pay federal taxes, you're contributing to these lands.
Become a FREE CAMPING INSIDER and join the 100,000 campers who love to score the best site!
We'll send you the 50 Best Free Campsites in the USA (one per state). Access the list by submitting your email below: