Organ Pipe National Monument Road Trip Guide
National monuments may not hold the same draw as national parks, but you don't want to miss them. With more than 100 national monuments in the country, your travels will surely take you near a few.
But if you need some warmth and prickly plants to keep you company, here's how to spend a day at Organ Pipe Cactus National Monument in Arizona.
Let's dive in.
The Deets on Organ Pipe Cactus National Monument
Organ Pipe Cactus National Monument is about 150 miles west of Tucson and eight miles north of the U.S./Mexico border. Given the monument's southern location, you'll behold an authentic Sonoran desert experience when visiting.
The Sonoran Desert and, of course, the grand saguaro and organ pipe cacti are the main draws for many people visiting this area. Due to both plants' sensitivity, Organ Pipe became a National Monument in 1937 and an International Biosphere Reserve in 1976.
With 33 miles of international boundary lines here, you may see a lot of border patrol activity alongside the surprisingly abundant wildlife, most of which goes on closer to your feet. Watch for lizards hightailing it under a rock as you stroll by or a snake darting off in the distance.
And don't forget to watch the few trees overhead. You may be lucky enough to catch a glimpse of the pygmy owls that also call Organ Pipe home.
The Best Time to Visit Organ Pipe National Monument
The best time to visit here is late fall and early spring. The highs are 60 degrees and sunny, with lows in the 40s. It may often rain in the winter months, but those rains result in gorgeous wildflowers in the spring.
Summer days are hot and dry, with temperatures in the 100s and lows in the temperate 70s. January and August offer the highest chances of rain. With that being said, that amount only averages out at about 1.25 inches of rain each month.
Morning at Organ Pipe National Monument
Pack your bags; it's time to hike, explore and camp your way through this unique National Monument. Here's where you might start:
Check Out the Kris Eggle Visitor Center
One of the best ways to start your Organ Pipe National Monument explorations is to visit the Kris Eggle Visitor Center. Here, you'll discover everything you need to know about the park and more.
You'll find maps for hiking trails, scenic drives, and places to camp. You'll also find educational materials on the organ pipe and saguaro cacti, along with the best ways to spot wildlife in the stark desert.
Named after the former law enforcement park ranger, Kris Eggle, this Visitor Center is the starting point for many exploring Cactus Pipe. Kris Eggle started working here in 2000 and was well-loved. Killed in the line of duty while in pursuit of a drug cartel in 2002, his memory lives in the wonders of the visitor center and the park.
Take a Hike
The most popular developed trails within the park are the Desert View Trail and the Campground Perimeter Trail. Both are easy to access and are about two miles round-trip.
If you're looking for a more strenuous hike that takes a bit more time, then grab a map, a compass, plenty of water, and start wandering off the beaten path to see what you can find.
The nearby Puerto Blanco Mountain also has several hiking trails offering diversity amongst the trail types plus plants and wildlife. Following the historic roads that connected the once-working mines, you'll get a taste of the history while hiking. You can access these trails from Twin Peaks Campground, North Puerto Blanco Drive, and the Senita Basin parking area.
Afternoon at Organ Pipe National Monument
After a long morning exploring the park, you'll likely want a more relaxing afternoon activity. Here are a couple of ways you can spend a restful afternoon at the monument.
Eat a Picnic Lunch While Enjoying the Scenery
Several picnicking sites are dispersed throughout the park, so you can pack a lunch and find the one with the best scenic atmosphere. From Arch Canyon near Mt. Ajo, which sits at 4,000 feet, to the scrub plains near Golden Bell Mine, there's something for everyone.
Take a Scenic Drive (or Two)
One of the best ways to experience all that Organ Pipe Cactus National Monument offers is to take a scenic drive.
One of the most traveled drives is Ajo Mountain Drive. It's 21 miles of gravel roads, so it's best suited for cars and includes several picnicking sites along the way. RVs over 25 feet are not allowed, so plan accordingly.
Ajo Mountain Drive twists and dips and turns its way through stunning vistas filled with organ pipe, saguaros, chollas, and barrel cacti. You'll experience brush plains, expansive washes, and majestic mountains. It's a one-way loop, so pack some snacks and a lunch, grab your camera, and sit back to enjoy this two-hour drive of natural beauty.
Another scenic drive is Puerto Blanco Drive, offering several picnicking sites along the way. Beyond Pinkley Peak, we recommend high clearance vehicles.
Bates Well Road, Pozo Nuevo Road, and Camino de Dos Repúblicas are a few more scenic drives to try. These roads can be quite rough, so once again, we recommend high clearance 4×4 vehicles. If you can access them, the drives are well worth it and provide an opportunity to explore places off the main path.
Evening at Organ Pipe National Monument
Whether you're interested in fantastic food or more evening adventure, there are plenty of options for winding down at the monument. Try one or more of these:
Dinner at Agave Grill in Ajo, AZ
Address: 1051 Solana Ave., Ajo
Menu Options: Just a few miles up the road from Organ Pipe is the quaint town of Ajo, Arizona. Enjoy their wide selection of mouth-watering burgers. Or try the pizza, stir-fry veggies, or a choice of fresh fish for the day.
Other reasons to love it: Agave Grill is a great way to relax after an exciting day of hiking and experiencing the natural wonders of the Monument. A perfect match for the coziness of Ajo, you'll feel right at home walking into this charming, family-run restaurant.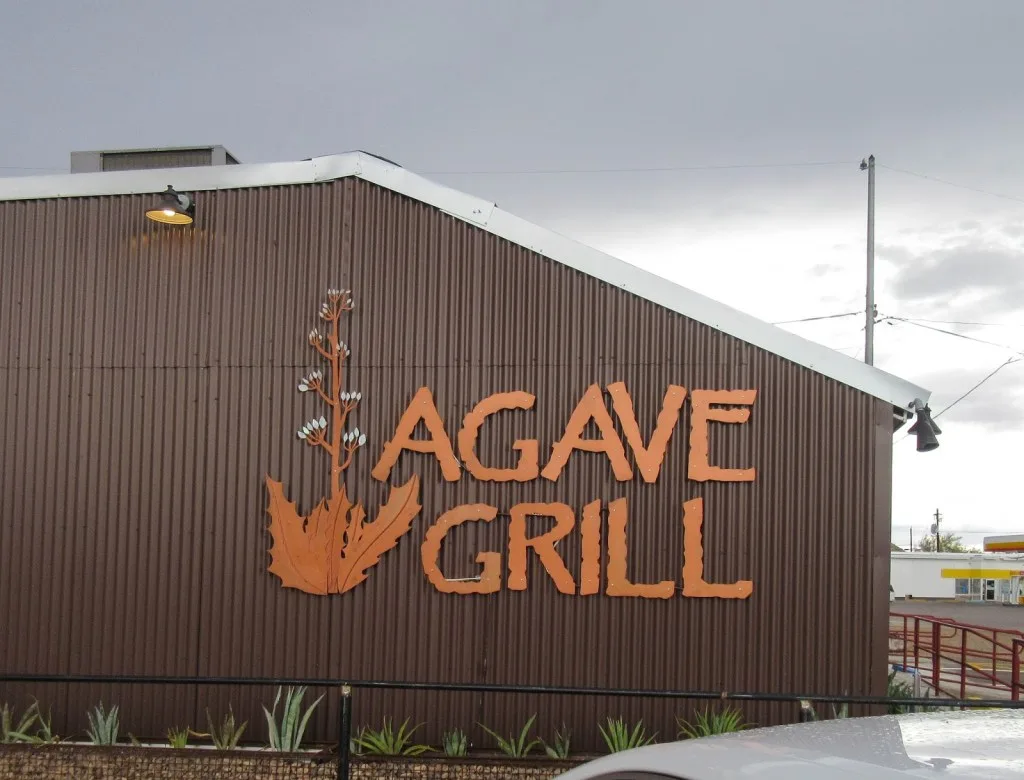 Go Stargazing in the Park
Just because the sun has set on your day doesn't mean your explorations of this park are over. The night sky shines quite brilliantly here. From your excursion throughout the park earlier in the day, choose a spot you loved, toss down a blanket, and gaze up at the gloriously lit-up sky.
Stars may or may not shine brighter here, but with the cacti backlit and the sounds of the desert evening, they sure seem like it!
Check out Evening Ranger-Led Programs at the Twin Peaks Campground Amphitheater
And if you're interested in learning more about the stars that light up the sky here, head to the Twin Peaks Campground Amphitheater.
Here, you can spend time with others on a ranger-led program about the constellations, the night wildlife, and how the desert comes alive at night. Each program schedule and topic varies from day-to-day and season-to-season, so check in at the Kris Eggle Visitor Center for upcoming programs.
Where to stay?
Part of what makes or breaks any trip is the overnight accommodations. Here's the campground we most highly recommend.
Address: 10 Organ Pipe Dr., Ajo
About the Park: Located 1.5 miles from the Kris Eggle Visitor Center, Twin Peaks Campground is the main campground in the Monument. It has over 200 sites, including 34 tent sites, and it can accommodate RVs up to 45 feet. There are no hookups at individual sites, but you'll find a dump station and potable water throughout the park, along with flush toilets.
Why you'll love staying here: Tucked away with the cacti and views of the Puerto Blanco Mountains in the distance, your evenings will be as plentiful as your days. The only sounds you'll hear are the coyotes off in the distance, the birds settling in for the night, and the stars twinkling from above. It's that quiet!
A Day at Organ Pipe Cactus National Monument
If you've ever dreamed of getting to know the Sonoran Desert on a personal level, a day spent at Organ Pipe Cactus National Monument will get you on your way. Getting up close and personal with the hardy cacti that can withstand desert wind, rare rains, and harsh dry conditions offers an insight that not many experience unless visiting here.
A day might not be enough time to explore all there is to see here, but at least you've started your journey through the Sonoran Desert on the right foot.
Discover the Best Free Camping Across the USA
To be honest with you, we hate paying for camping. There are so many free campsites in America (with complete privacy).
You should give it a try!
As a matter of fact, these free campsites are yours. Every time you pay federal taxes, you're contributing to these lands.
Become a FREE CAMPING INSIDER and join the 100,000 campers who love to score the best site!
We'll send you the 50 Best Free Campsites in the USA (one per state). Access the list by submitting your email below: