Can You Drive To Alaska Safely?
Roadtripping up to Alaska is on the bucket list of many RVers, but can you safely drive there? Alaska is a bit more involved than simply crossing the typical state-to-state border.
Though between the gorgeous views, amazing wildlife, and fantastic hiking, there's so much to see and do. So, why not see what it takes to check driving to Alaska off of your bucket list?
Let's jump in!
Can You Drive Your Car To Alaska?
The answer to the question of whether you can drive your car to Alaska will vary based on the time of year. If you're hoping to work your way up to Alaska in the winter months, it's going to be a bit tough. You would need to work your way through treacherous weather conditions for much of the drive. Some may even go as far as say you cannot do it. The summer months not only make the trip doable but a more pleasant experience in general.
You'll also need to consider where in Alaska you're trying to go. Juneau, for example, is not accessible by roads. Therefore it's impossible to drive your car to this Alaska destination without the assistance of a ferry or a plane.
You should also think about your destination when choosing the vehicle you'll be driving. Alaska is a beautiful and rugged location. If you plan to go off the beaten path, you'll want to consider bringing a vehicle that offers 4×4 capabilities.
What Is The Best Way To Drive To Alaska?
Your route to Alaska may vary slightly depending on your originating location. But there's a popular route that most people choose. The most direct driving route is the Alaska-Canada Highway, also known as the AlCan. Since this is the most common road to access Alaska, there are plenty of gas stations and places to stop along the route.
If traveling from the eastern part of the United States, you can choose to remain in the United States as you drive west before crossing the Canadian border and jumping on the AlCan in Dawson Creek, BC.
Those coming from the east who prefer to experience more of Canada can cross the border earlier and travel west throughout Canada before reaching the Alaska-Canada Highway.
Crossing The Canadian Border
Travel restrictions are ever-changing so check to see what current border crossing restrictions are in place before planning your trip. As this is being written, Canada isn't allowing people to drive across the United States border for a leisure reason such as a vacation.
To cross the border currently, you'll not only be subject to strict public health screening but also proof that your entry into Canada is not optional. For example, to be allowed access, you'll need to prove residence or employment in Alaska. Even then, there are strict rules you must follow on your drive to Alaska.
The only option to access Alaska for pleasure under Covid-19 restrictions is via direct flight or a ferry from the lower 48.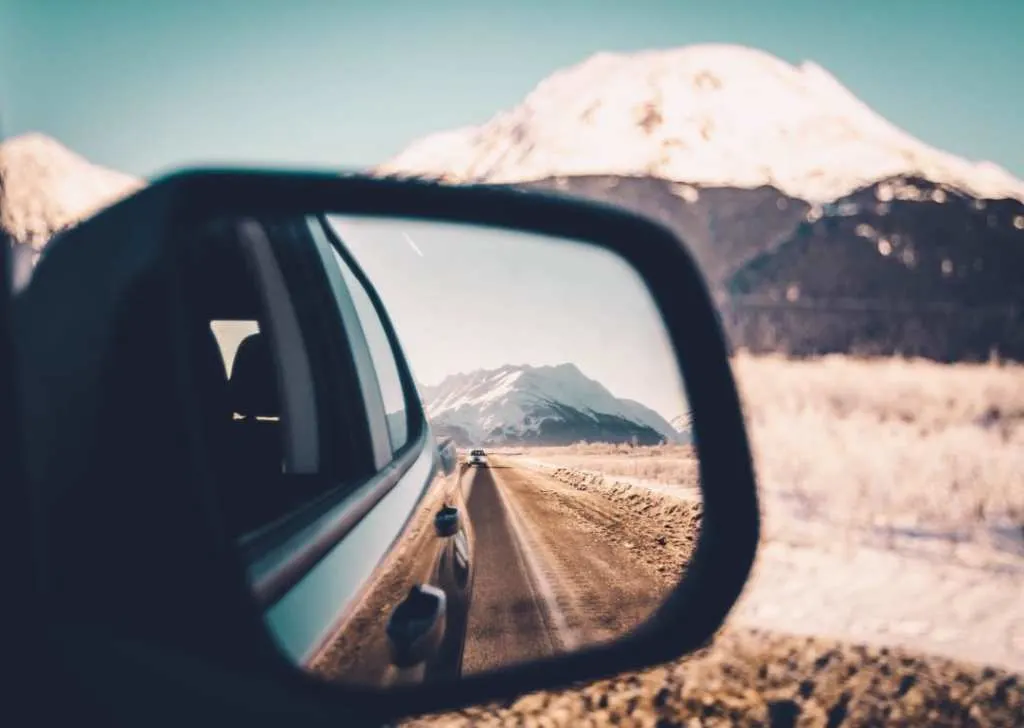 How Is The Road Quality On The AlCan Highway?
Thankfully, the AlCan Highway's road quality is generally pretty good. More to the point, the entire highway was paved as of 1992. With that said, bad roads are a fact of life when driving in Alaska. Northern winters are harsh, and roads take a bit of a hit in those conditions.
So, you're likely to encounter road construction as well as roads still in need of repair.
There are a variety of driving conditions found along the highway. There are straight easy-going sections and areas with up to a 10% grade as you traverse the Canadian Rockies.
You should be sure your vehicle is equipped to handle a long drive with curves and steep grades, especially if you're towing an RV.
Pro Tip: Here's our take on Apple Maps vs Google Maps.
How To Make Sure You Have Cell Service On Your Trip
Checking your provider's service map is a great first step in discovering if you'll have cell phone service throughout your drive to Alaska.
Those maps tend only to give you a basic knowledge of service regarding consistency and strength, though. So, we suggest you use campground review sites such as Campendium to see what others say about cell service at the places you'll be camping.
Is Driving To Alaska Worth It?
Exploring Alaska is an experience that's not to be missed, and we think driving to Alaska is worthwhile. Even if you're not someone who describes themselves as "outdoorsy," it's a rewarding destination. The culture, hiking, and wildlife viewing are certainly like no other place.
It might take a bit of work to get there, but don't let that deter you. If you're up for a unique adventure that will leave you with lifelong memories, driving to Alaska is absolutely worth it.
Discover the Best Free Camping Across the USA
To be honest with you, we hate paying for camping. There are so many free campsites in America (with complete privacy).
You should give it a try!
As a matter of fact, these free campsites are yours. Every time you pay federal taxes, you're contributing to these lands.
Become a FREE CAMPING INSIDER and join the 100,000 campers who love to score the best site!
We'll send you the 50 Best Free Campsites in the USA (one per state). Access the list by submitting your email below: