The Half Moon Bay Beach Road Trip Guide
People in the San Francisco Bay area think of Half Moon Bay Beach as a quick and easy getaway.
It certainly must be amazing to have a treasure like this right there in your backyard!
Let's find out!
Where is Half Moon Bay Beach?
This scenic spot on the California coast is in San Mateo County, just 25 miles south of San Francisco. Highway 1 runs through it from north to south, and state Route 92 is the main road from the east.
About Half Moon Bay Beach
The waters of the semicircular bay are popular with surfers, boaters, and anglers. The communities onshore also have lots to offer. The quaint seaside town of Half Moon Bay is just one of many communities that make up this unique stretch. Other popular towns such as Miramar, El Granada, San Gregorio, La Honda, and Pescadero dot the area.
Initially, the area was agricultural, and it retains some wide-open spaces today. Surrounding them are surely some of the most beautiful beaches and redwood forests around.
Is Half Moon Bay Expensive?
The cost of living in Half Moon Bay is one of the highest in California, which says a lot. You can certainly rest assured that things are expensive here. If you're on a tight budget, it may not be the wisest destination.
But if you're like us, you're used to stretching your dollars pretty far. You can spend your time wisely here by taking advantage of the natural beauty and resources.
As a matter of fact, there are lots of things to do that cost nothing or next to nothing. Thankfully, this includes lots of hiking trails through a variety of terrain.
What is There To Do in Half Moon Bay?
On the other hand, a visit to this area wouldn't be complete without a relaxing stroll through the historic downtown. It's a thriving tourist community with lots of shops and restaurants. In addition, many of the old 19th-century buildings are wonderfully preserved. It's just a neat glimpse into the past.
Best Nearby Hikes
There's a lot to see in and around Half Moon Bay Beach. You can explore dramatic bluffs on the coastline, the scenic and sensitive wetlands, and even old ranch lands. Here are two of the best trails.
Mavericks Cliffs Trail
The Mavericks is the name of cliffs that overlook this world-famous surfing spot. Located in El Granada, it's also called Pillar Points Bluff. A 3.7-mile loop along the beach and cliffs offers stunning ocean views, and the hike isn't a difficult one. In fact, it's heavily trafficked and is friendly for kids, wheelchairs, and dogs.
The trail starts with an uphill climb before winding through the cliffs with a 259-foot elevation gain. You can enjoy an array of wildflowers or watch surfers catching the big wave off in the distance. It's also a great place for birdwatching, and you can also rent a kayak for paddling around the bay.
Purisima Creek Trail
For a wildly different experience, the Purisima Creek Trail puts you on the hilly floor of the redwood forest. The 2.8-mile trail uses old logging roads in places along two canyons on the western slopes of the Santa Cruz Mountains.
The hike is very popular even though it climbs up to 1,200 feet and is rated as moderate to difficult.
You can start the hike from the lower trailhead off Higgins Purisima Road. Another accessible entry point is on Skyline Boulevard. It's a part of a larger trail system that stretches out to almost 10 miles.
Best Nearby Campgrounds
Half Moon Bay State Beach
There are four miles of sandy beaches here. The segment known as Francis Beach has a campground with 52 sites for tents and RVs up to 40 feet. Many are just steps from the beach.
Some sites have power, but there are no sewer hookups. Water, a dump station, and coin-operated showers are also available. Standard campsites are $35 per night or $50 per night with electricity plus an $8 registration fee.
The state beach allows easy access to the Coastside Trail north to Pillar Point Harbor. Whale watching tours also depart from here.
Half Moon Bay RV Park and Campground
This friendly, family-owned facility is just across the street from the waterfront. It's pet-friendly, has laundry and private showers, and free wifi. Moreover, it's neat and tidy, with gravel pads, fire rings and grills, and full hookups.
However, it's a bit pricey at a reported $85 a night, and some people complain of a tight fit.
The campground is in a commercial area, next to a hotel and restaurant/pub, but manages to offer a peaceful, fairly quiet experience. There's also a bike path that leads directly to the beach.
Is a Half Moon Bay Beach Road Trip Worth It?
For outdoor lovers, a trip to Half Moon Bay is absolutely a box that needs to be checked. There are surely sights here that take your breath away. And it's a reminder that even the most populated and developed areas along the Pacific Coast have incredible natural beauty.
These northern California coastal areas are impressive and awe-inspiring. They can certainly make stress disappear – at least for a little while.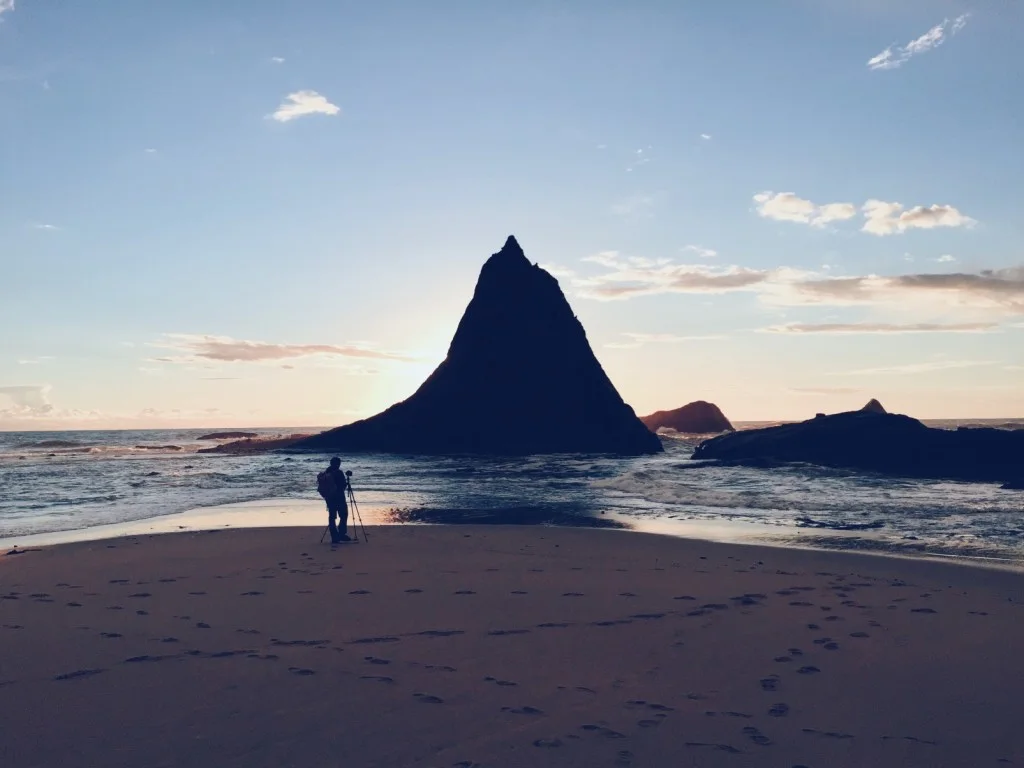 Discover the Best Free Camping Across the USA
To be honest with you, we hate paying for camping. There are so many free campsites in America (with complete privacy).
You should give it a try!
As a matter of fact, these free campsites are yours. Every time you pay federal taxes, you're contributing to these lands.
Become a FREE CAMPING INSIDER and join the 100,000 campers who love to score the best site!
We'll send you the 50 Best Free Campsites in the USA (one per state). Access the list by submitting your email below: