5 Best RV Awnings and Sunshades
RV awnings are a great way to stay out of the sun while prolonging your time chilling outdoors at your campsite. And, whether you're looking to replace your old awning or add one, there are plenty of options on the market.
We've narrowed it down to what we consider the five best ones. Keep reading to learn more.
Let's jump in!
What Is An RV Awning?
An RV awning is a thick material, usually fabric or vinyl, that attaches to the outside of your RV. Their purpose is to provide shade and protection from rain or other elements, so manufacturers typically place awnings above the door or windows. They expand to various widths and lengths. In addition, you can roll them in and out manually or electronically.
A sunshade typically hangs from your awning to provide additional sun protection and some privacy.
How To Measure For An RV Awning
If you already have arms for the RV awning, measure the awning from the center of the left arm to the center of the right arm. The awning fabric tends to be about 9" smaller than the size of the awning, so you'll want to factor that in. We also recommend confirming how to measure with the brand you're purchasing from. Most will surely have instructions on their website.
Fabric Vs. Vinyl RV Awnings
Fabric and vinyl awnings both have advantages and disadvantages. There's no wrong choice between the two, so choose which one fits your preferences.
Manufacturers typically make fabric RV awnings from woven acrylic cloth. As a result, they're breathable and keep out the sun, rain, or other elements. Fabric awnings can also dry fast, and you can roll them up wet if necessary. However, they are water repellant and not waterproof. If you were to poke at the underside of the fabric awning when wet, water would likely come through.
Vinyl RV awning fabrics are quite robust and keep out UV rays and water. They're mildew resistant, but that doesn't mean it's mildew-proof. This can be an issue if you're in humid climates frequently or if the awning is rolled up when wet.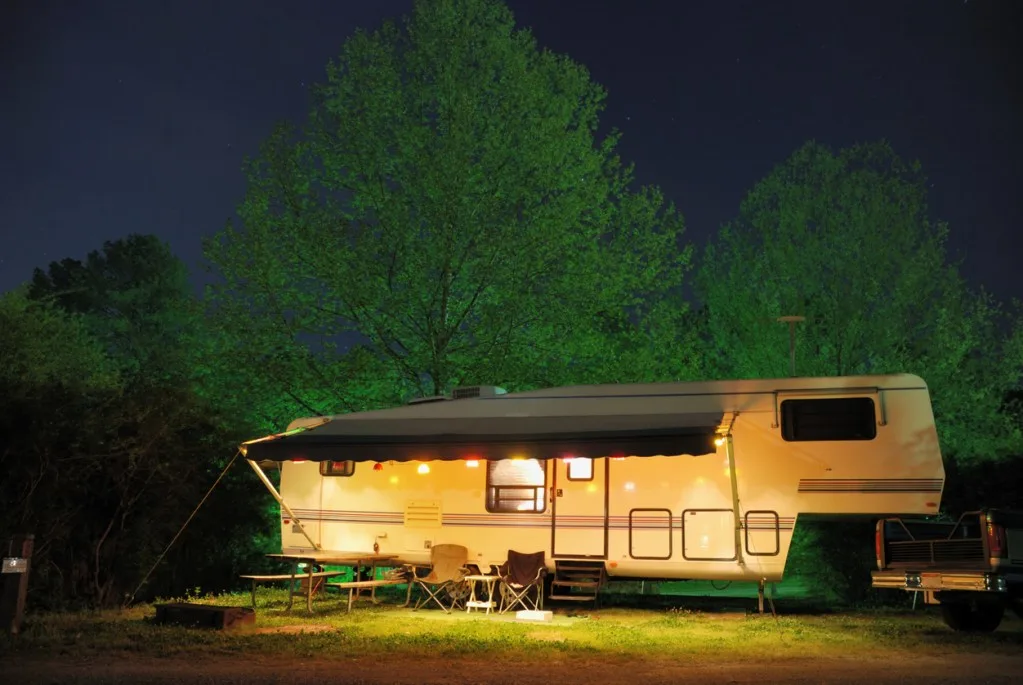 The 5 Best RV Awnings and Sunshades
We've compiled a list of five of the best RV awnings on the market.
#1 – Solera Universal Fit Awning
About the Solera Universal Fit Awning: Made of vinyl, it's designed to work with Solera, Dometic, and Carefree awning products. The awning is available in sizes from 10 to 21 feet and comes in nine different colors.
Stand Out Features: The Solera Universal Fit Awning has an integrated LED light track. In addition, the awning has been cold-crack tested at -25 degrees Fahrenheit and reinforced for leak-proof seams.
Best For: Any Class RV
#2 – Shade Pro Vinyl Awning
About The Shade Pro: This vinyl RV awning is available in sizes from 10 to 21 feet and comes in various colors and patterns. It works with Carefree, Dometic, Lippert, Carter, and Faulkner awning parts.
Stand Out Features: Both polyrods are sewn into the Shade Pro Vinyl Awning, which means it doesn't require special tools to install it. It also comes with a five-year limited warranty on parts and freight.
Best For: Any Class RV
#3 – SunWave Awning
About The SunWave Awning: The SunWave is made from 15-ounce vinyl with a 16-ounce vinyl weather guard that's heat-welded onto the main vinyl. This awning comes in various colors and sizes, from 8 to 22 feet. It will work with Dometic, Carefree, and Carter awning parts.
Stand Out Features: The SunWave Awning has a projection of about 8 feet. It has a ¼ inch poly cord for the rail and a 3/16 inch poly cord for the roller tube with a pull strap.
Best For: Any Class RV
#4 – Recpro Awning
About Recpro RV Awning: This awning is made of premium vinyl with a tensile strength of 140 PSI. It comes in three colors and sizes from 12 to 22 feet.
Stand Out Features: The Recpro RV Awning has heat-welded seams. It is also known to be easy to install.
Best For: Any Class RV
#5 – Tentproinc Sunshade
About The Tentproinc RV Awning: The Tentproinc is an RV awning sunshade. It attaches to your awning and blocks about 86% of UV rays. The sunshade comes in four colors and several sizes.
Stand Out Features: The Tentproinc RV Awning sunshade breaks crosswinds. It also comes with a storage bag, and it is easy to install and take off.
Best For: Any Class RV
The Best RV Awning for You
If you're in the market for a new RV awning, we're sure one of these will fit your needs. And most of all provide you with more time outdoors!
Discover the Best Free Camping Across the USA
To be honest with you, we hate paying for camping. There are so many free campsites in America (with complete privacy).
You should give it a try!
As a matter of fact, these free campsites are yours. Every time you pay federal taxes, you're contributing to these lands.
Become a FREE CAMPING INSIDER and join the 100,000 campers who love to score the best site!
We'll send you the 50 Best Free Campsites in the USA (one per state). Access the list by submitting your email below: