This Tiny Camper Fits in a Garage (And You Can Stand Inside It)
A camper you can stand in that fits in a garage?! While it sounds too good to be true, it does exist. If you're looking for a small camper that fits in your garage but won't cramp your style, the MeerKat trailer might be just what you're looking for.
This tiny camper is big on features! And it can be towed by almost any car.
Let's learn more about the MeerKat trailer and take a virtual tour here.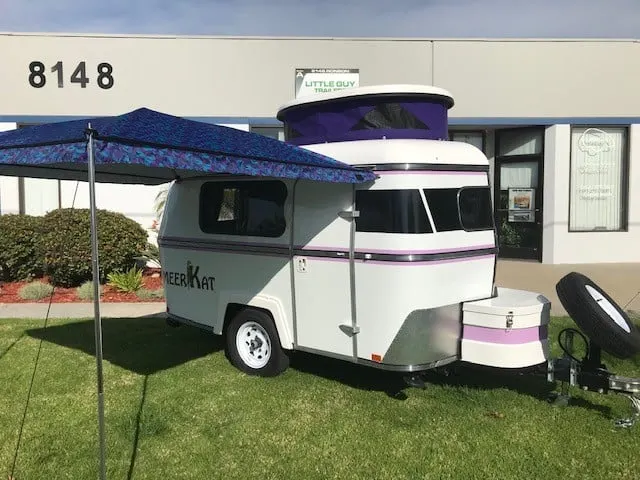 The MeerKat Trailer: A Camper You Can Stand In That Fits in a Garage
The MeerKat trailer is a single axle camper that fits in a garage… and you can actually stand up in it!
The MeerKat trailer features a round pop-top feature in the front half of the trailer that allows campers to pop open, stand up, and peer out, similar to a meerkat peering out of a burrow.
This unique camper will fit in most garages with an exterior height of 6.4 feet.
How Much Is a MeerKat Trailer?
The base price of a brand new standard MeerKat camper trailer is $22,970. With all additional options added, the price of a brand new MeerKat comes in at $28,083.
Options include an induction cooktop, a refrigerator, an awning, hub caps, a cover, a spare tire rack, a side room, bed extension, yacht-style flooring, and more.
Who Sells MeerKat Trailers?
Little Guy Trailers is a small camper maker based in California that manufactures MeerKat campers. Little Guy is a well-known brand that specializes in small campers and teardrops.
Other popular campers sold by Little Guy include Tab Teardrop campers, Little Guy Max, Aliner, InTech, and more.
This small camper company is based in San Diego, California, and also rents campers in addition to selling them.
How Much Does the MeerKat Trailer Weigh?
The standard curb weight of the MeerKat trailer without added options is 900 pounds. This small camper trailer has a hitch weight of just 100 pounds.
Due to its low weight, almost any vehicle can tow this camper. It's also easily maneuvered by hand while unhitched due to the low hitch weight. This makes it easy to park, move, and more.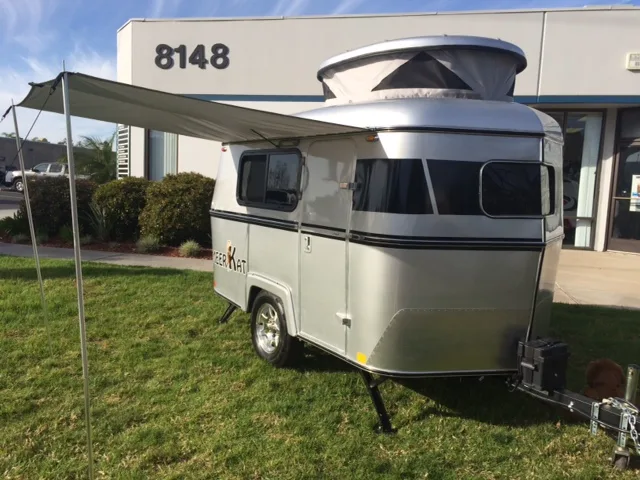 Does the MeerKat Trailer Have a Toilet?
The MeerKat trailer comes equipped with a porta-potty toilet under a bench in the front of the camper. The included toilet holds 2.5 gallons of wastewater and can dump into any toilet or RV dump station.
This camper does not have a separate bathroom, but the inclusion of the toilet makes this RV a self-contained unit.
Specs and Details of the MeerKat Camper
The MeerKat is 6.4 feet tall while closed and 7.3 feet tall with the pop-up open. The exterior length is 13,' and the interior length of the camper is 9'6". There are twelve different color options for the exterior of the MeerKat camper to suit any taste and style.
The MeerKat camper has an axle rating of 2,000 lbs, so you can bring along any gear you might need!
On the inside of the camper is a dinette-style table that converts into a full-sized bed for sleeping. Under one of the benches is the porta-potty, and the rest are open for storage.
This camper has a built-in wardrobe, sink, and counter area.
The MeerKat kitchen comes equipped with a one-burner butane stove and sinks with a hand pump. There isn't an extensive plumbing system in the MeerKat, and there are no onboard gray or freshwater tanks, so this camper never needs winterizing.
To have freshwater, you simply need a gallon jug of water and a hose to use the manual hand-pump sink.
There are windows on all sides of this camper trailer and a Fantastic Fan to keep fresh air flowing.
The trailer's exterior features a battery box, and it is pre-wired for solar to keep you powered up, even while you're off the grid. The MeerKat has stabilizers on all four corners with wide pads that are great for softer dirt and sand surfaces.
Is a MeerKat Camper Worth It?
If you're looking for a small camper that's easy to store, won't break the bank, and is self-contained, the MeerKat trailer is perfect!
However, if you're looking for a bigger camper with tons of amenities or a trailer for a large family, this little camper might fall short.
The most remarkable feature of this small camper is the ability to stand up while still maintaining a low profile for storage and travel. We think this might just be one of the coolest tiny campers on the market today!
Discover the Best Free Camping Across the USA
To be honest with you, we hate paying for camping. There are so many free campsites in America (with complete privacy).
You should give it a try!
As a matter of fact, these free campsites are yours. Every time you pay federal taxes, you're contributing to these lands.
Become a FREE CAMPING INSIDER and join the 100,000 campers who love to score the best site!
We'll send you the 50 Best Free Campsites in the USA (one per state). Access the list by submitting your email below: