2021 Is The Last Frontier For Camping Off-Grid
Camping off-grid has become quite popular over the last couple of years. This may or may not be due to the pandemic, but camping is certainly a natural way to isolate yourself from the rest of the world and still get out of the house.
Regardless of the cause, the increase in people traveling and camping is causing some major issues on public lands. So much so that 2021 may be the last frontier for off-grid camping, as many places are being shut down.
Let's explore more!
Why Are Off-Grid Boondocking Areas Being Shut Down?
Some boondocking sites are being shut down due to the environmental impact on the land when it comes to overuse or misuse. Others are being closed due to excessive quantities of trash being left behind, vandalism, or people simply not following the rules.
Vandalism
Vandalism to property, such as restrooms, picnic tables, and fire rings, is one of the quickest ways to get free camping sites shut down for good. Another type of vandalism that is quite common is damage to nature itself. It's quite easy to pound a nail into a tree to hold a trash bag, but that's still vandalism.
Chipping away at a rock for an impromptu rock carving contest can be construed as such, as well.
Here's one example: This site was closed after a local party abused the land.
Area Misuse
I am a firm believer that most people work hard to care for the land they love to camp on. Even so, when too many people use it, there's an impact on it. And for us to be able to use it again, it's sometimes best to close the land to human access while it recovers. Doing this on and off is a simple solution to keep much of our beloved lands still available for our recreational uses, albeit on limited terms.
But while I am a firm believer in people being good to the land, there are plenty that aren't. And this is what's really causing a lot of off-grid camping closures.
The biggest problem is trash and dumping, which is something we all have complete control over. When campers come in with no regard for the land, the wildlife, or other people, park rangers will shut down access to the land.
And trash isn't the only factor. Human waste is another reason why camping off-grid is becoming severely limited. Many campers use the woods for their natural bathrooms. This doesn't have to be a problem, but if we keep thinking that toilet paper will decompose overnight, it becomes a problem. Toilet paper doesn't grow in the forest or anywhere naturally. If you use it, pack it out.
Campers Overstaying Their Welcome
We've all played around a bit with the saying, "Rules are meant to be broken." But when it comes to camping off-grid, rules are posted for a reason. And one of the most common rules that's often ignored is the stay limit.
When we all converge upon a place we love, there's a natural impact on that place. By implementing stay limits, such as the most common 14-day limit, the number of people in one spot at one time is reduced. In turn, this reduces the impact on the land. We cause some of our favorite sites to close by breaking this seemingly insignificant rule.
If we're going to be camping off-grid long past 2021, we have to be more intentional about how we use our natural campgrounds. We need to understand that there are impacts, sometimes ones that cannot be reversed, on the lands we love.
Here's a recent story: Homelessness leads to campsites shut down.
What Does 'Camping Off-Grid' Mean?
Camping off-grid typically means that you're not plugged in. There's no electricity, running water, or sewage dumps. Most people often relate off-grid camping to other terms such as dispersed camping, primitive camping, or boondocking.
Most boondocking sites are located on National Forest Service Lands or Bureau of Land Management (BLM) Lands. The term "off-grid camping" may elicit images of a picture-perfect campsite next to a mountain stream or in the middle of a desert next to a towering saguaro cactus. Park rangers don't often frequent these areas. However, they will still have posted rules to follow and stay limits to help minimize over-crowding.
What Do You Need for Camping Off-Grid?
Preparing to camp off-grid can be simple or complicated. It all depends on what you require when you head out on a camping trip. Along with water and electrical needs, keep in mind your camping style and desires.
Be sure to stock your camper with the appropriate cooking utensils that match your culinary tastes. If you don't have an oven in your RV, don't bring french fries along for the ride. If you have the ever-popular Instant Pot, be sure you have the power to use it. And if you plan on cooking over the fire, check for fire restrictions to ensure you can actually have a campfire.
You'll need to be self-sufficient, so make a list and check it twice. And consider adding a few extra items, such as an emergency battery charger, an air compressor, and battery-powered lanterns, to name a few. Do your research ahead of time, take your time, and double-check your list. As your off-grid camping adventures become more frequent, you'll realize you actually need less than you think.
To get you started, here are three main essentials needed to camp off grid.
Fresh Water Storage
How long you plan on camping off-grid will dictate the amount of water you'll need. If you have a small freshwater tank in your RV, consider bringing along extra water in a stand-alone five or six-gallon water jug to give you backup water if needed. Be conservative with your water needs.
If you have a large freshwater storage tank, this doesn't mean you should take a shower every day. Save that for when you're plugged in. Water is life, and you don't want to run out of it.
Need extra water storage? Try a portable water bladder.
Off-Grid Camping Electricity
You can create electricity when camping in many different ways. Both solar and generator power should provide you with what you need to camp off-grid. Again, be conservative. The sun isn't always shining, and neighbors don't relish hearing generators in the middle of the forest.
If you're heading out on a camping trip yet still need to work, then having the ability to charge your computer or phone may be a necessity. You'll need a generator or enough solar power to charge your devices. If you're heading out to get away from it all, and need nothing, except maybe a bit of light to cook your dinner, then electricity isn't as much of a necessity. Maybe a campfire or a good old-fashioned lantern will do you just fine.
Waste Water Storage
Everybody poops, so everybody needs a way to get rid of waste. This could be in a self-contained vehicle with gray and black water tanks. And even so, these can fill up quicker than you think. So, just like you need to be conservative with water and electrical needs, the same holds true here.
Use minimal water to flush. Consider tossing used toilet paper in the trash instead of taking up space in the black water tank. If you feel comfortable doing so, pee in the woods. Just be sure to bring the used toilet paper back to your trash can. It doesn't belong in the woods, no matter how fast it may or may not dissolve.
When washing dishes or yourself, use as little water as possible to get the job done. A good trick of the trade is to use your dish rinse water for the next time you wash your dishes. This way, you're conserving water while also conserving space within your tanks.
How Can You Help Keep Boondocking Areas Open?
So, if the land we love is overrun and over-used and trashed and vandalized, does this mean we should stop boondocking altogether?
Boondocking is still one of the greatest ways to explore the country. With millions of acres of land to camp on, camping off-grid can still happen if done responsibly. Here are a few tips to help you keep boondocking areas open.
Follow the Stay Limits
Rules are posted for a reason. One of the more common rules when camping off-grid is time limits. Many free campsites have a 14-day stay limit to help reduce the number of people in one spot at one time. This lessens the impact on the land.
Camp and Hike on Durable Surfaces
We do not have permission to traipse anywhere we want to go. By camping in designated spaces and staying on designated trails, ultimately, we're helping to keep the beauty in nature. Instead of creating more firepits and campsites, we need to use what's already there.
Trails can be created by only a few people walking the same path. Sounds convenient, right? Yes, but this can scar the landscape and diminish natural plant growth. People, organizations, and volunteers work hard to create trails for all to enjoy. The least we can do is work hard to stay on them when we can.
If you find yourself off-trail in backcountry settings, do so on durable surfaces. This means walking and camping on surfaces that can handle repeated contact and scuffling. Rocks and gravel are great examples of durable surfaces.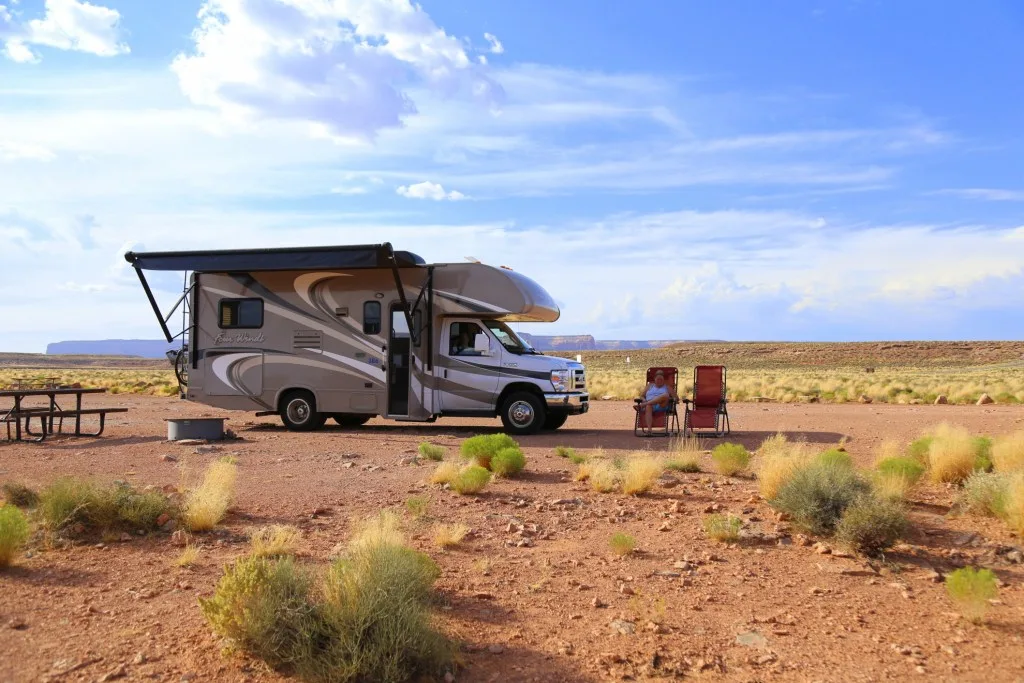 Pack It In, Pack It Out
Leave no trash, dump no wastewater. That's what garbage cans and dump stations are for. If you have trash, you packed it in, so you pack it out. And be aware of the micro-trash, those little tiny pieces of paper that quite easily tear off from your granola bar wrapper. Pick it up, put it away in your backpack, and throw it away in a trash receptacle.
If the trash containers are full, or there aren't any, then the trash goes with you in your vehicle until you can find a proper place to dump it. Your trash is your responsibility. This also includes food trash. Be sure to pick up all food droppings that you may have left behind. By keeping food away from wildlife, we keep wildlife wild.
Leave It Better Than You Found It
The unfortunate truth is that some campers are trashing our public lands. It's up to us to clean it up, or the managing districts will shut them down. So, it may not be your trash, but it is now your responsibility to pick it up as best as you can. When you head out on a hike or walk, bring a small trash bag with you. The more we take out, the more likely we'll be able to continue staying at our favorite sites.
Should You Still Go Camping Off-Grid?
You most certainly should still go camping off-grid, but do so responsibly. Boondocking is not a free-for-all. It's not permission to do whatever you want, whenever you want, or however you want. It is, though, permission to get into nature. To disconnect from the hurried pace of the world. To be aware of your natural surroundings, so that you can gain an understanding of how important it is to take care of the lands you love.
If you've never been camping off-grid before, it may be hard to appreciate the wonders of living simply and close to nature. So, get out there. Try it. And once you do, we hope your appreciation for the beauty of the world has increased tenfold. Because then your appreciation for taking care it will more than likely increase, as well.
The More You Know About Camping Off-Grid, The More You Care
So, while it may be true that 2021 is the last frontier for off-grid camping, it doesn't mean that it shall be no more. It just means that we have to adapt to an ever-increasing and changing world of camping. Ironically, the solution for getting people to care about nature and off-grid camping locations may mean getting more people outside so that they understand why they need to care about it. After all, the more you know, the more you care.
Discover the Best Free Camping Across the USA
To be honest with you, we hate paying for camping. There are so many free campsites in America (with complete privacy).
You should give it a try!
As a matter of fact, these free campsites are yours. Every time you pay federal taxes, you're contributing to these lands.
Become a FREE CAMPING INSIDER and join the 100,000 campers who love to score the best site!
We'll send you the 50 Best Free Campsites in the USA (one per state). Access the list by submitting your email below: