Buy Or Avoid: Jayco Hummingbird Travel Trailer
The Jayco Hummingbird travel trailer is a lightweight teardrop coming in at under 3,015 pounds. It's also fairly inexpensive, but is it a trailer we'd recommend?
Keep reading to find out if this is a travel trailer to buy or avoid.
Let's go!
Jayco Hummingbird Travel Trailer Overview
The Jayco Hummingbird travel trailer comes in five floor plans. As a result, this small, entry-level travel trailer ranges from 12'11" long to 19'10" long from hitch to bumper. Most of the floor plans have a full bath and an indoor kitchen. The 10RK, however, has an outdoor kitchen in the rear. In addition, the models offer no bunkhouse options.
One of the nice things about this travel trailer is that you can pull it with some SUVs. This is especially convenient if you don't want to upgrade your tow vehicle for a larger RV.
Our Favorite Features
The Jayco Hummingbird travel trailer has three of our favorite features: strong construction, affordability, and a good warranty.
Strong Roof Construction
Jayco builds the Hummingbird travel trailer with vacuum-bonded floors, sidewalls, and roof. In fact, their StrongholdVBL™ Vacuum-Bond Lamination is an excellent construction process created by Jayco. Specifically, this construction gives the roof extra protection from the elements. In addition, the Hummingbird has a Norco frame with an A-frame that prevents the hitch from buckling.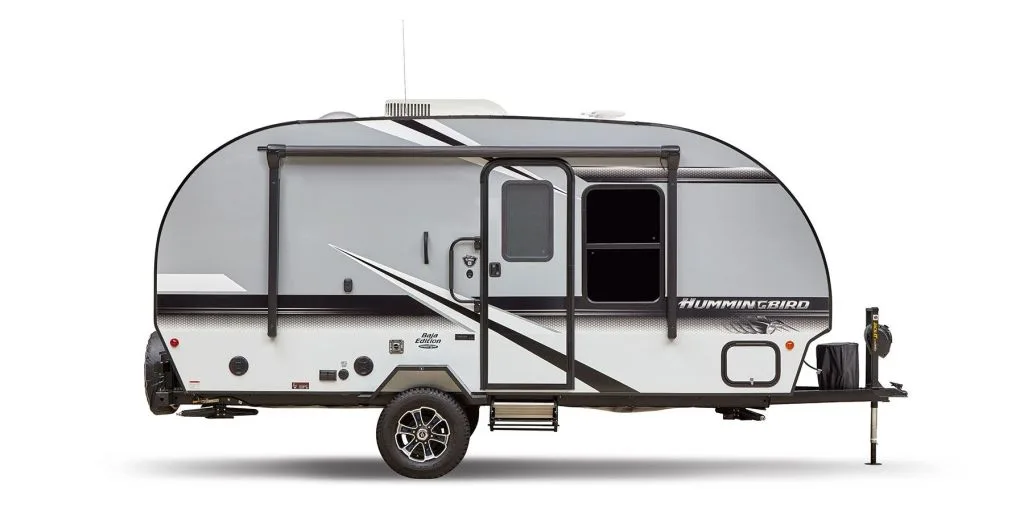 Affordable Entry-Level Price
You can find Jayco Hummingbirds made in 2019 or 2020 in the low $20,000 price range or below. Used models can, of course, get you into one for even less. This entry-level price is certainly a good way to get your feet wet in the RVing waters.
Helpful Warranty Program
Jayco is known for its helpful warranty program. They have a two-year limited warranty covering the travel trailer for 24 months from the original date of purchase. Additionally, they've included a third-year structural warranty for 2020 or newer models. This covers things like laminated walls, roof assembly, and floor assembly.
Hummingbird Travel Trailer Cons
We've also found three cons for the Jayco Hummingbird.
Constant Maintenance Required
One of the downsides of this small travel trailer is the maintenance. You can probably imagine how much wear and tear a small space can have after one camping season. This and the nature of the travel trailer going down the road at 65 mph causes maintenance to be a consistent theme with the Jayco Hummingbird.
But if you keep on top of things and keep your RV clean, you're less likely to have major issues.
Small Floor Plans
The Jayco Hummingbird travel trailer has small floor plans. This can be a downside if you're not prepared for how that plays out in the long run. If you're doing weekend camping with one or two people, you may think these small floor plans are a piece of cake. But longer trips will likely take some getting used to.
It really depends on what type of traveler you are and what your needs are. However, for the right person, a Hummingbird could be a full-time home on wheels.
Mixed Brand Reviews
Hummingbird reviews mix positive and negative comments. Some of the negative reviews include parts falling off, bad mattress, awning bar getting stuck, and poor quality.
Positive reviews include easy to tow and maneuver, a nice dining area for a small trailer, and a great warranty. Many of the reviews note the constant maintenance of the Jayco Hummingbird, but reviews also give light to the favorite features we mentioned earlier in this article.
Is The Hummingbird Trailer Being Discontinued?
Jayco last produced the Hummingbird travel trailer in 2020. The company replaced it in 2021 with the Jay Feather Micro. This replacement stays within the lightweight category, coming in under 4,750 pounds.
It differs from the Hummingbird in that it's not a teardrop, but the 12SRK floor plan has an outdoor rear kitchen. The Jay Feather Micro floor plans also differ significantly from the Jayco Hummingbird.
Should You Buy Or Avoid The Jayco Hummingbird Travel Trailer?
We recommend the Jayco Hummingbird if you're specifically looking for a lightweight, entry-level travel trailer to use for infrequent camping. For those considering RVing full-time, we would likely suggest a different model. But only you know what will work for you. And if you currently own one, we would love to hear a review from you!
Discover the Best Free Camping Across the USA
To be honest with you, we hate paying for camping. There are so many free campsites in America (with complete privacy).
You should give it a try!
As a matter of fact, these free campsites are yours. Every time you pay federal taxes, you're contributing to these lands.
Become a FREE CAMPING INSIDER and join the 100,000 campers that love to score the best site!
We'll send you the 50 Best Free Campsites in the USA (one per state). Access the list by submitting your email below: