Yosemite vs Sequoia: Which National Park is Worth Your Time (and Money)?
California hosts nine parks that carry the official "National Park" title and 28 parks that are part of the National Park System. This makes California home to the most national parks in a single state.
Two such parks are Yosemite and Sequoia. Perhaps you're trying to decide which of the two you want to explore.
Let's take a look at Yosemite vs Sequoia to find out.
Yosemite vs Sequoia At-a-Glance
While both parks are must-sees, sometimes you just don't have the time for everything. If you must choose, take the time to compare them.
Facilities
Sequoia (and nearby Kings Canyon) features four lodges as well as campgrounds. There are five visitor centers, including the Kings Canyon centers. Each visitor center has bathrooms. Visitors can explore exhibits and learn more about the park while buying souvenirs.
Yosemite offers lodges and hotels as well as several rustic lodging options and campgrounds. There are four visitor centers at Yosemite National Park. At each, you'll find bathrooms as well as shops. Or learn more about the park by speaking to a ranger. From Yosemite Valley, a shuttle takes visitors to other parts of the valley.
Trail Variety
Sequoia gives visitors a variety of landscapes to explore via trails. Most of the trails found within Sequoia are mild. Several require permits, especially during "quota season" when the park limits the number of hikers. You can find some challenging hikes, but they're not the norm here.
Yosemite has something for everyone when it comes to hiking. If you're looking for a stroll through a meadow, Yosemite has that. If you're looking for the thrill of your life as you climb to the top of Half Dome, Yosemite has you covered. The variety of trails means no one visiting should leave disappointed. Families won't be left in the parking lot with no safe hikes to complete, but advanced hikers can find a satisfying challenge.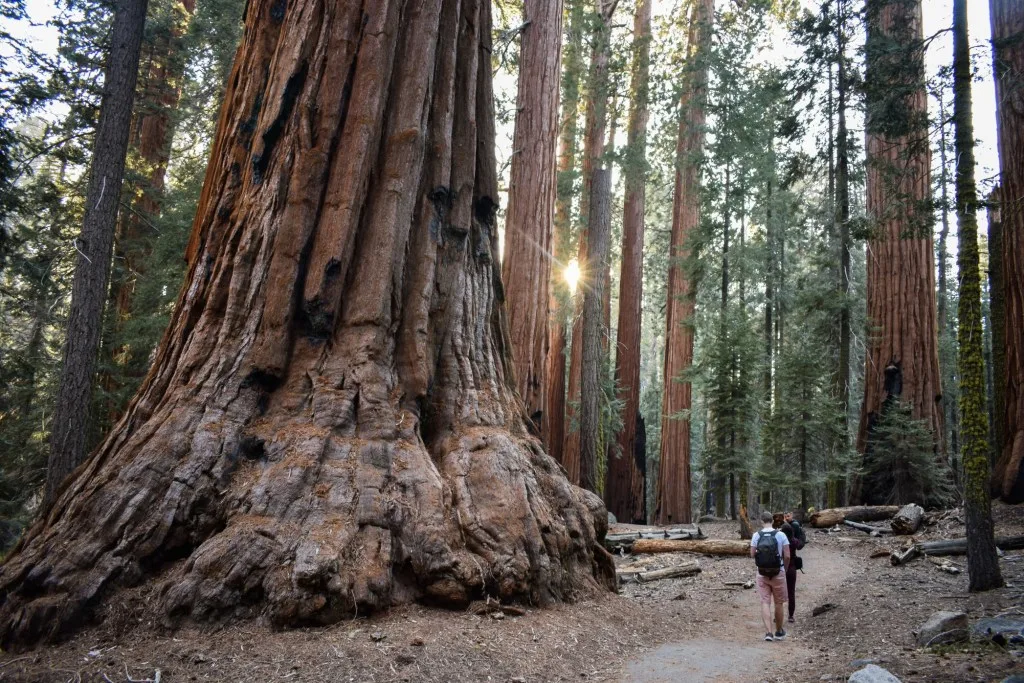 Ease of Access
Sequoia is easy to access from many points, specifically in mid to southern California. The park is a quick 80-minute drive from Fresno and less than two hours from Bakersfield. While it does feel remote once you're there, it's a simple drive from many locations.
Traveling to Yosemite can be challenging. It may not seem far on a map, but the roads can be full of switchbacks and elevation changes. Driving from San Francisco will take about three hours while coming from Modesto will take about two hours. The longest part of the drive will be the last portion as you navigate to the park entrance. Once you've reached the gate, you still face about 30-40 minutes of driving before reaching Yosemite Valley.
Crowds
Sequoia sees about 1.2 million visitors a year. While it can feel crowded, especially at peak times, it doesn't tend to be overcrowded.
Yosemite gets more than four million visitors per year typically. The crowds slow in the cold, snowy months, especially when roads begin to close, but you'll still find plenty of people. At the height of peak season, it can be tough to enjoy the most popular areas.
Unique Features
Sequoia is known for its namesake, the massive sequoia trees. Those visiting get the amazing experience of walking among these giants. In addition, you'll experience the Sierra Nevada mountain range.
When people think of Yosemite, they likely think of the stunning views from within the valley. With El Capitan towering above, it's hard not to be amazed. Visitors also enjoy the enormous Half Dome cliff. Not only are these granite features stunning, but when you add in the majestic waterfalls, you'll be hard-pressed to find someone who isn't impressed.
Camping Opportunities
There are 14 campgrounds within Sequoia National Park. Three remain open year-round. The campgrounds require advanced reservations and typically fill up, especially in the peak season. Walk-up sites might be available but aren't guaranteed. While RV camping is allowed, there are no hookups anywhere in the park. You can find dump stations in select campgrounds.
Yosemite National Park has 13 campgrounds available for both tent and RV camping. Only one campground is open year-round, though many have been temporarily closed for 2021. The campgrounds require reservations, though it's possible to get a walk-up site if you're lucky. It's unlikely you'll get a walk-in site during peak season unless there's a cancellation.
Pro Tip: Here are the best free campsites near Yosemite.
What to Think About When Choosing Between Yosemite and Sequoia
With such great features at both, it can be incredibly tough to decide which park is right for you. Take a look at a few things you should consider before you make your decision.
Time in the Parks
Yosemite National Park is impossible to appreciate in just a single-day visit. With more than 1,100 square miles of wilderness, you could spend months exploring and still have more to see. Plan at least a week to highlight the most well-known sights and trails.
Sequoia also has a lot to see, but with 631 square miles to explore, it shouldn't take as long as Yosemite. If needed, you could spend a day in the park and get a good feel for it. Of course, we're not implying you'll get bored if you stay longer. That's still a whole lot to explore.
Surrounding Attractions
Both locations are relatively remote, with no major cities in the immediate area. If you're staying outside of Yosemite National Park and want to expand your adventures, you could explore Big Tree State Park, the town of Angel's Camp, and the Stanislaus National Forest.
Before or after visiting Sequoia National Park, you might visit Kings Canyon National Park (which intertwines with Sequoia National Park), Lake Kaweah, or Devils Postpile National Monument.
What Do You Want to See?
Yosemite is where you want to go if your goal is to see towering granite and awe-inspiring waterfalls. While there are large sequoia trees in some parts of Yosemite, they aren't as prominent. If walking (and even driving) among the giants is your end goal, head over to Sequoia National Park.
How Far Apart Are Yosemite and Sequoia National Parks?
It's about 218 miles from one park to the other. Due to the route and landscape, the trip takes five to six hours.
Can You Visit Yosemite and Sequoia in One Day?
Probably not. You could drive from one park to the other in a day, but you wouldn't truly experience either. Both of these amazing parks deserve some dedicated time.
How Much Does It Cost to Visit a National Park?
National parks cost about $35 for each car. This fee covers a full week. If you plan on visiting other national parks throughout the year, it's a much better value to purchase the $80 America The Beautiful pass. This pass gives you access to all of the nation's National Park Service locations.
Yosemite vs Sequoia: Which Should You Visit?
Yosemite is a park you shouldn't miss. Sequoia is worth a visit, but Yosemite is a bucket list park if you have to choose. The magic of the park is something everyone should experience at least once. Whether you spend a day or a month, it's well worth your time.
Yosemite is extremely popular, and for a good reason. Everyone wants to experience this incredible park. That does mean you'll need to plan carefully, however. If you'd like to camp within the park, you'll need to make reservations. Permitted hikes will also need reservations, and in some cases, you'll need to be in a lottery for the opportunity to acquire a permit.
When it comes to Yosemite vs Sequoia National Park, both have fantastic features worth seeing. With so many trails to hike and views to see, you'll likely never run out of things to do. If you had to choose, which park would you choose for your trip and why?
Discover the Best Free Camping Across the USA
To be honest with you, we hate paying for camping. There are so many free campsites in America (with complete privacy).
You should give it a try!
As a matter of fact, these free campsites are yours. Every time you pay federal taxes, you're contributing to these lands.
Become a FREE CAMPING INSIDER and join the 100,000 campers who love to score the best site!
We'll send you the 50 Best Free Campsites in the USA (one per state). Access the list by submitting your email below: