7 Tips for Hitching Up an RV Camper that Actually Work
Hitching up your RV camper can be incredibly difficult, especially if you're new to RVing and trailers.
Getting frustrated while hitching up doesn't make the rest of the process any easier. The more you're stressed or frustrated, the higher the chances you'll commit a significant mistake.
So, let's look at seven of our best tips to help you with hitching up your RV.
How Do You Hitch a Trailer When You're Alone?
Hitching a trailer is often more manageable with a little bit of help. However, there will be a time or two where you may need to get the job done independently. It's not an impossible task, and with a little bit of practice, it becomes easier and easier.
The hardest part of hitching a trailer when you're alone is lining up your truck with your trailer. Use your backup cameras if you have any. This can help ensure you're straight on with the kingpin (if it's a fifth wheel) or the coupler (if it's a travel trailer). Stopping short of the kingpin or coupler makes it easy to see if you need to raise or lower the trailer for hitching.
Once you're in line, back up the rest of the way to finish your normal hitching routine. Make sure you have a checklist, so you don't miss anything. The more you practice your solo hitching process, the easier it becomes. You'll find the sweet spot on your trailer. Take a deep breath and never rush. Taking your time is the best way to ensure you're ready to go before hitting the road.
Pro Tip: We've got you covered! RV newbie or seasoned RVer, take the stress out of towing with our RV Trailer Towing Checklist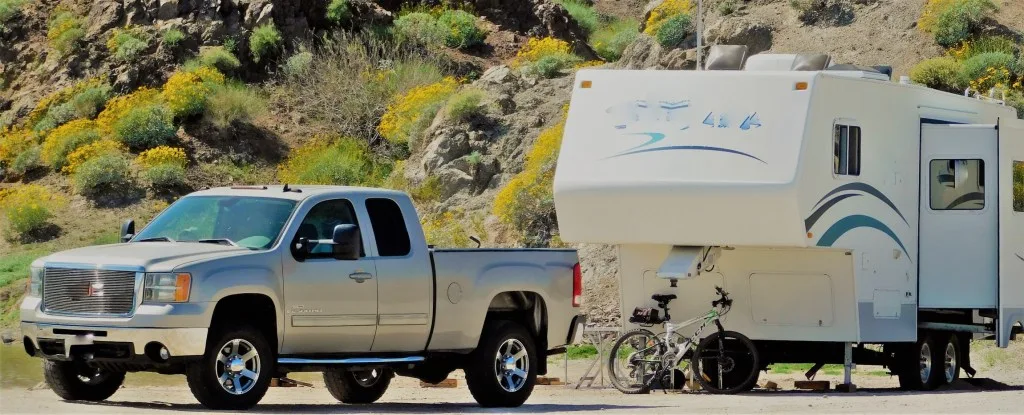 7 Tips for Hitching up an RV Camper that Actually Work
Here are some of our best tips to help with hitching up an RV camper. Even if you've been RVing for years, these tips can make your next hitching up a breeze. Let's take a look.
1. Use a Hitch Cam to See What You're Doing
When you're hitching up a travel trailer, it can be incredibly frustrating to miss the mark by an inch or less. Using a hitch cam will allow you to see precisely where you're lining up.
A hitch cam means no more pulling forward and adjusting your truck an inch or two only to find out you now went too far in the other direction. Using a hitch cam when hitching up can drastically cut down the amount of time it takes to hitch up your trailer. The less time you spend hitching up, the more time you can spend enjoying your RV.
2. Traveling with a Partner? Use Their Eyes Instead
A hitch cam is nice, but it's hard to beat a second pair of eyes. Use your cell phone or walkie-talkies to communicate with your camping partner. Have your partner stand in a safe place away as they help you back up properly.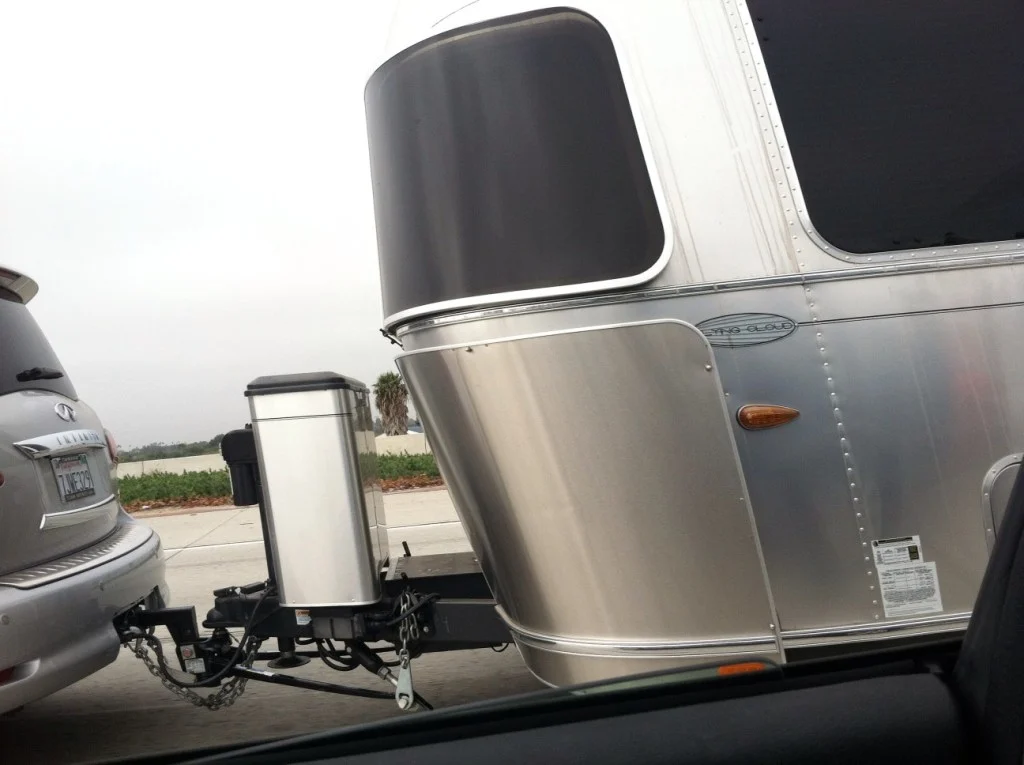 3. Get a Camco Magnetic Hitch Alignment Kit
Camco makes the Magnetic Hitch Alignment Kit, which helps make solo hitching up easy. These balls attach to a retractable antenna. Adjust the height for ideal visibility.
To use the Magnetic Hitch Alignment Kit, attach one ball to the trailer hitch and the other ball to either your hitch head or the ball on your vehicle's bumper. Now, all you'll need to do is slowly back up and line the balls up, so they touch. Once the balls are touching, you're in the perfect spot to hitch up your truck.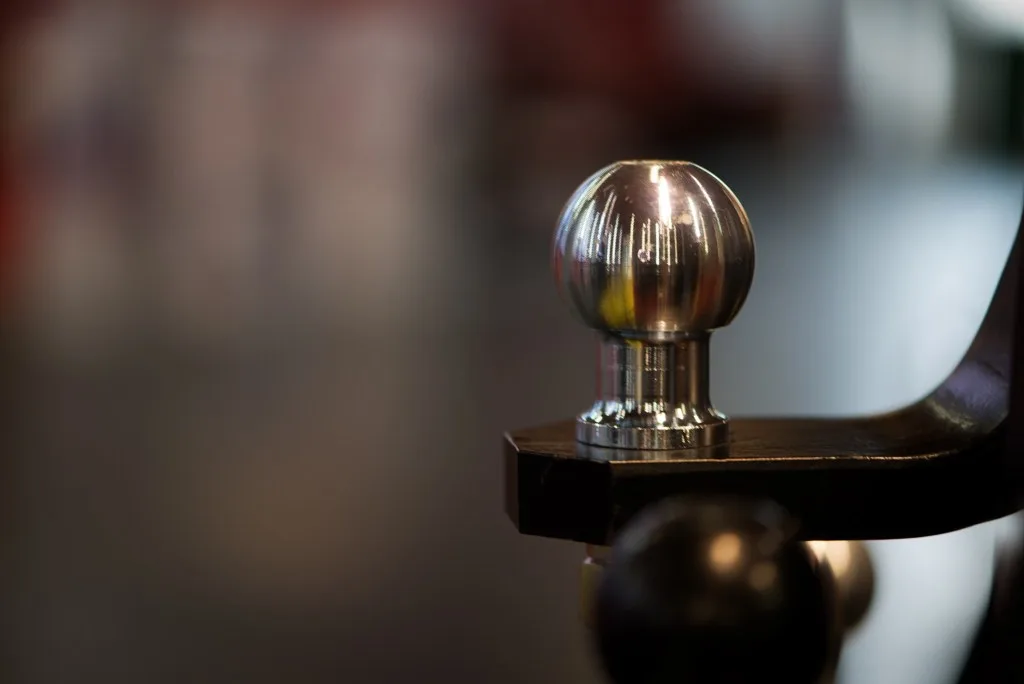 4. Use a Hitch Mirror for Fifth Wheels
Hitching up a fifth wheel comes with its own challenges. This hitch mirror mounts to the pinbox on your trailer and gives you a better view of the kingpin from the driver's seat of your vehicle.
When you use a hitch mirror, you can hitch up your fifth wheel with little or no help. This can save time, energy, and stress by letting you know when to make critical adjustments.
5. Try the HiTow Trailer Hitch Coupler
With the HiTow Trailer Hitch Coupler, you'll get a little help aligning the coupler with the hitch ball on your trailer. The HiTow not only makes hitching up your trailer easier but also helps prevent accidental damage to your vehicle.
The unique design of the HiTow allows even the newest trailer owner to quickly and efficiently hitch up their trailer. The hitch design helps you get close but then pushes the hitch over the ball. We think any tool that makes hitching up easier is worth considering.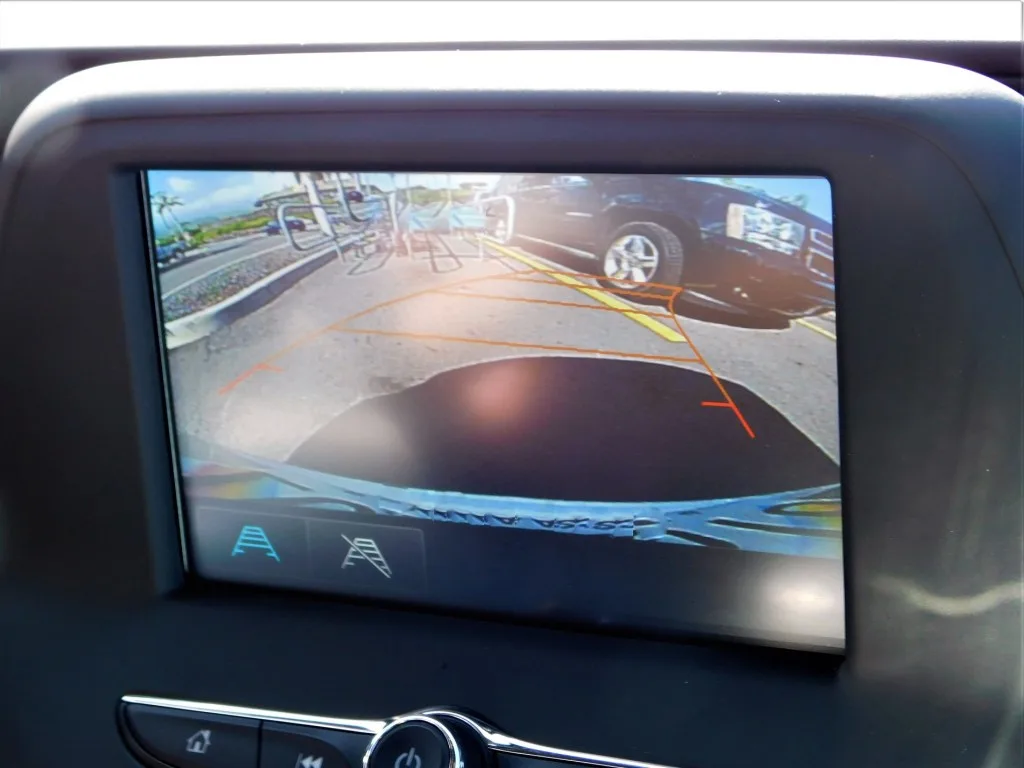 6. A Regular Backup Camera Can Double as a Hitch Cam
Many modern vehicles come from the factory with backup cameras. Some vehicles have multiple camera angles to provide a comprehensive visual. Cameras can help you line up your vehicle with your trailer and keep an eye on your surroundings. You don't want to forget about a tree, picnic table, or post and damage your vehicle or trailer.
7. Get Hitchin' Rods Trailer Hookup Guides
Hitchin' Rods are magnetic rods that attach to the trailer kingpin or coupler and the truck. These rods help you align the vehicle with the trailer when hitching. They're made in the U.S. and will have you hitched and ready to go camping in no time.
You'll easily hitch up your trailer on your own with these rods. The 48-inch bright yellow-green rods are easy to see. As you align your vehicle with the trailer, the Hitchin' Rods will slide out of the way so you can finish hitching.
Keep in Mind: Learning how to hitch up an RV takes practice. Take the overwhelm out of the learning curve with our 11 Excellent RV Towing Tips for Beginners.
Slow Down and Hitch Up Right
It's easy to go too fast when hitching. When you use the tools and tips we've shared with you today, you'll no longer need to stress about hitching up before your next big trip. Whether you'll be hitching up solo or with a partner, you won't stress it. What tips do you have for hitching up your RV?
Discover the Best Free Camping Across the USA
To be honest with you, we hate paying for camping. There are so many free campsites in America (with complete privacy).
You should give it a try!
As a matter of fact, these free campsites are yours. Every time you pay federal taxes, you're contributing to these lands.
Become a FREE CAMPING INSIDER and join the 100,000 campers who love to score the best site!
We'll send you the 50 Best Free Campsites in the USA (one per state). Access the list by submitting your email below: