The 7 Best Alabama State Parks for Camping
Alabama state parks give you the opportunity to camp year-round. Hot summers and mild winters make for a good mix of weather.
In addition, you can experience the state's wilderness and Gulf coastline. Plus, you're guaranteed to find some southern cooking along the way.
Check out the seven best Alabama state parks for camping.
The 7 Best Alabama State Parks to Camp In
These seven Alabama State Parks are the best of the best. We ranked them according to their location, amenities, and pet-friendliness.
#1. Gulf State Park
Gulf State Park sits on two miles of white sand beaches on the Gulf of Mexico. It has a spacious campground and 28 miles of paved hiking and biking trails. From water to land activities, this state park has it all.
Address: 20115 State Park Rd., Gulf Shores, AL 36542
Amenities: The campground has full hookup RV sites. Amenities also include bathhouses, laundry facilities, a camp store with bike rentals, a nature center, and a swimming pool.
Pet-Friendly: Pets are allowed in the campground, but not on the beach.
Why You'll Love It: The most prominent attractions in Gulf State Park campground are the pool, beach, and trail system. You can stay active all day or relax by the water.
Pro Tip: From white sand beaches to lush wetlands, Alabama has much to offer. Want to go camping on the beach? Check out these 5 Amazing Gulf Shores Campgrounds in Alabama.
#2. Meaher State Park
Meaher State Park sits in the wetlands of north Mobile Bay, Alabama. The park features a boardwalk and fishing pier along the Mobile-Tensaw Delta. And it has a campground with 61 RV sites.
Address: 5200 Battleship Pkwy. E, Spanish Fort, AL 36527
Amenities: RV sites have full hookups with 20-, 30-, and 50-amp electrical. The campground has a bathhouse, laundry facilities, a playground, a beach, and a kayak launch.
Pet-Friendly: The campground is pet-friendly.
Why You'll Love It: Meaher State Park is an excellent place for fishing. The 300-foot pier with a 200-foot T provides plenty of space to fish and catch up with the locals.
Pro Tip: Plan your trip for March, so you can check out Fairhope, Alabama's art festival.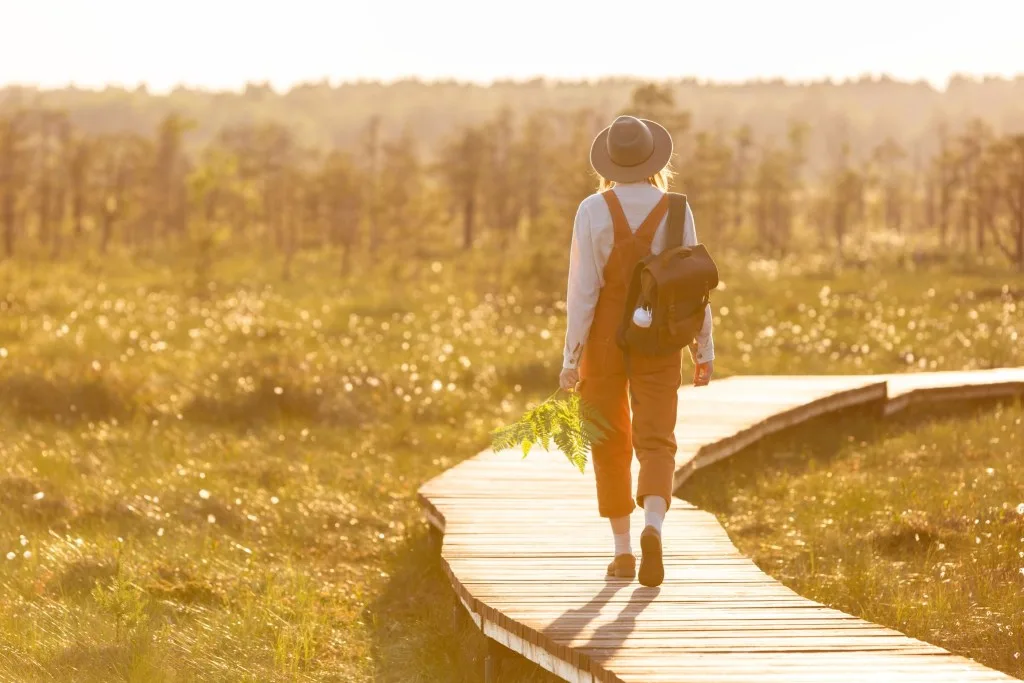 #3. Frank Jackson
Frank Jackson State Park sits on a lake by the same name. The park is about 80 miles north of the Gulf of Mexico. Lake Frank Jackson is a popular fishing spot. It's stocked and managed for prime freshwater fishing with bass, bream, crappie, and catfish.
Address: 100 Jerry Adams Dr., Opp, AL 36467
Amenities: RV sites have full hookups, WiFi, and cable. There are some waterfront sites. The state park has a boat launch and beach.
Pet-Friendly: Pets are allowed.
Why You'll Love It: The park has three miles of trails and a cool boardwalk that goes over the water to an island in the lake.
#4. Lake Guntersville State Park
Lake Guntersville State Park is in northeast Alabama. The state park is 6,000 acres and sits on the banks of the Tennessee River. There are 36 miles of hiking and biking trails, guided hikes, a zipline, and an 18-hole golf course. In addition, Guntersville Lake is the state's largest lake and is great for freshwater fishing.
Address: 1155 Lodge Dr., Guntersville, AL 35976
Amenities: All campsites have water and electrical hookups. Some sections have sewer hookups. In addition, the campground has bathhouses, laundry facilities, a splash pad, a camp store, and boat rentals.
Pet-Friendly: The campground is pet-friendly, but dogs aren't allowed on the beach or by the swimming pool.
Why You'll Love It: You'll love the access to various activities, including the golf course and lake. It's easy to spend a week at Lake Guntersville State Park without running out of things to do.
#5. Wind Creek State Park
Wind Creek State Park is about 50 miles northeast of Montgomery, Alabama. It has one of the largest state-owned campgrounds in the United States. Providing access to Lake Martin, the park is an angler's dream and hosts various fishing tournaments.
Address: 4325 Alabama Hwy. 128, Alexander City, AL 35010
Amenities: The campground provides a mix of waterfront sites and sites with and without full hookup. It has a premiere section with 39 renovated campsites on concrete pads that are 16 feet wide by 60 feet long. In addition, there are bathhouses, laundry facilities, and playgrounds in the park.
Pet-Friendly: The campground is pet-friendly.
Why You'll Love It: Wind Creek State Park has excellent fishing and bird-watching. It's also a stop on Alabama's Piedmont Plateau Birding Trail.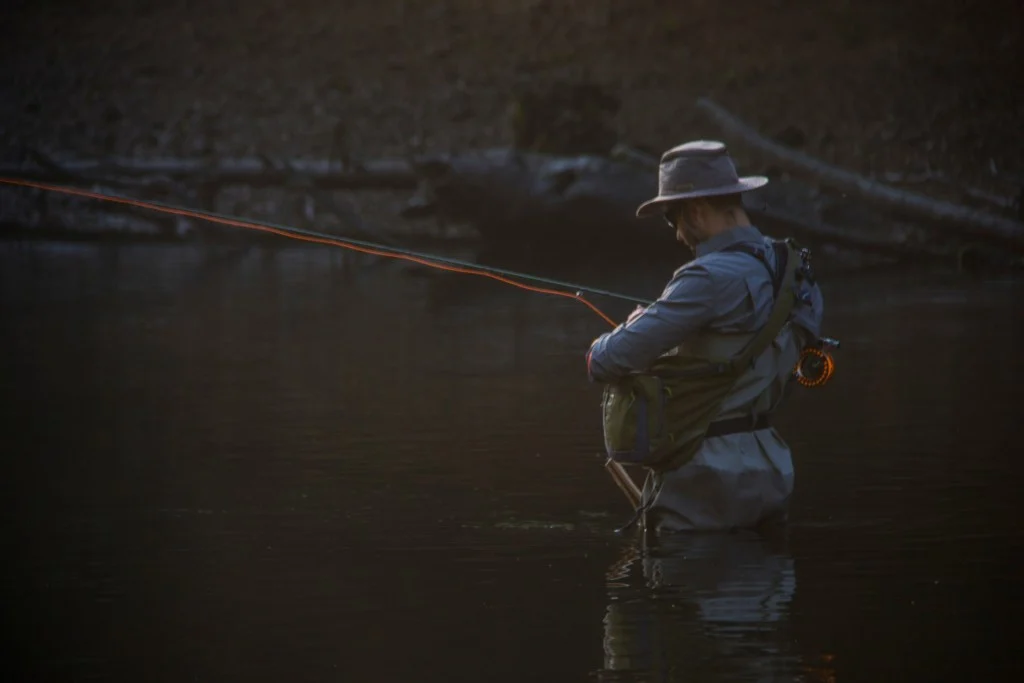 #6. Lakepoint State Park
Lakepoint State Park is near the border of Georgia in southern Alabama. It sits on the 45,000-acre Lake Eufaula, known as "The Bass Capital of the World." This is yet another angler's paradise.
Address: 104 Lakepoint Dr., Eufaula, AL 36027
Amenities: Some RV sites have full hookups, and others have water and electricity only. And the Deer Court section has pull-through sites. In addition, the campground has a bathhouse, dump station, and a store.
Pet-Friendly: Pets are allowed in the campground.
Why You'll Love It: Lakepoint State Park is a popular place for hiking, swimming, fishing, boating, and wildlife watching. It also has a restaurant on-site in the lodge, making for a great dining option within walking distance.
#7. DeSoto State Park
DeSoto State Park sits on top of Lookout Mountain in the northeast corner of the state. It's the only one of the Alabama state parks on our list that has waterfalls. You can experience nature up close and personal here with hikes that pass by wildflowers, waterfalls, and more.
The state park's website notes that when traveling to the park, GPS directions are not reliable. Therefore, if you have a medium to large-sized RV, be sure to refer to the written directions on the website, or you may get caught in a dangerous situation.
Address: 7104 DeSoto Pkwy. NE, Fort Payne, AL 35967
Amenities: The campground has various types of sites, including primitive and backcountry. But the RV sites are referred to as the "improved campsites." They have 94 full hookups and some pull-through sites. The campground has bathrooms, showers, and coin-operated laundry.
Pet-Friendly: Dogs are allowed in the campground.
Why You'll Love It: Waterfalls and nature are what's to love about DeSoto State Park. You can kayak, hike, bike, photograph wildflowers, and watch wildlife. It's a complete outdoor adventure package.
Keep in Mind: DeSoto State Park is known for having one of the best waterfalls in Alabama, but we recommend scheduling time to stop at some of these 7 Amazing Waterfalls in Alabama.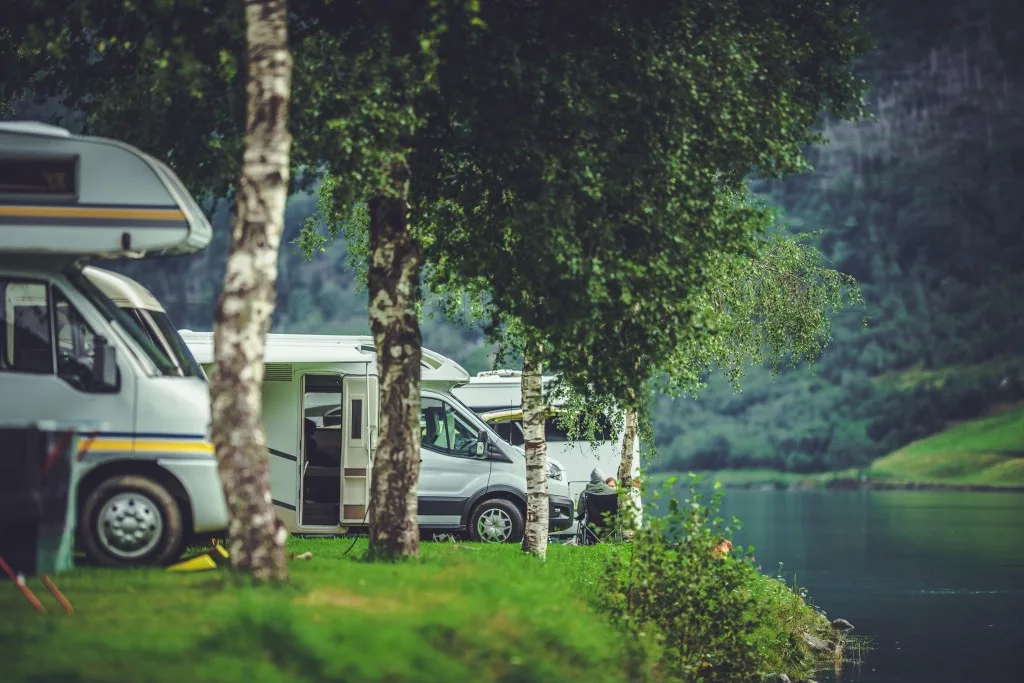 Planning a Camping Trip to Alabama
Alabama state parks provide a variety of activities and landscapes. From saltwater to freshwater and mountainous hikes to paved bike paths, there's something for everyone. And the best part is that you can visit year-round.
If you're visiting during the summer heat, we recommend heading to a campground on a lake in northern Alabama. DeSoto or Lake Guntersville State Park would do the trick. During the spring, fall, and winter months, consider camping near the Gulf of Mexico. Gulf State Park and Meaher State Park are excellent options to catch some sun and soak in that ocean air.
How Much Does It Cost to Camp in an Alabama State Park?
The cost to stay at an Alabama state park campground varies. For example, you can pay up to $50 per night at a sought-after location like Gulf State Park. Whereas it only costs $437 for a month at Frank Jackson State Park from October to March. That's less than $16 per night.
So camping costs depend on the location and time of year. Check the campground's website for pricing and discounts.
Enjoy Epic Camping in Alabama
Are you ready to plan an epic camping trip in Alabama state parks? We hope this list of the seven best parks helps you map out your route. There's so much to see throughout the state that you could visit several during your trip. However, we have a feeling you might fall in love with one or two and keep going back for more. Have you ever camped in Alabama?
Discover the Best Free Camping Across the USA
To be honest with you, we hate paying for camping. There are so many free campsites in America (with complete privacy).
You should give it a try!
As a matter of fact, these free campsites are yours. Every time you pay federal taxes, you're contributing to these lands.
Become a FREE CAMPING INSIDER and join the 100,000 campers who love to score the best site!
We'll send you the 50 Best Free Campsites in the USA (one per state). Access the list by submitting your email below: