5 Best Trailer Brake Controllers Reviewed
A trailer brake controller is a great tool to help your truck stop that massive trailer you're towing.
Certainly, one of the most asked questions in RV circles is, "Can my truck tow this RV?" It's a crucial question, but perhaps a better question is, "Can my truck stop this RV?"
So, we took a look at a handful of the best trailer brake controllers and are sharing our findings with you.
Let's dive in!
What Is A Trailer Brake Controller?
A trailer brake controller is an electronic device that uses electricity from the tow vehicle's electrical system to activate the trailer brakes. Enabling the trailer brakes makes it easier for the truck to stop while towing heavier loads and helps extend the life of a truck's brake system while towing. These controllers enable the driver to apply the trailer brakes when needed by squeezing the tabs on the brake controller.
The driver should check the brake controller before hitting the road. Adjusting the gain on the trailer brake will either increase or decrease the amount of pressure applied by the trailer brakes. Once you've fine-tuned your trailer brake controller for your RV, it shouldn't require much adjustment in the future.
If you're planning to tow heavy loads, you may be required to use an independent braking system like a brake controller. Many states require brake controllers or other braking systems for trailers over 3,000 pounds. There may be exceptions if the trailer's weight doesn't exceed 40% of the tow vehicle weight, but you should always verify your local regulations.
Pro Tips: Don't get caught in a stressful situation without a brake controller. Discover more about: What Is a Trailer Brake Controller?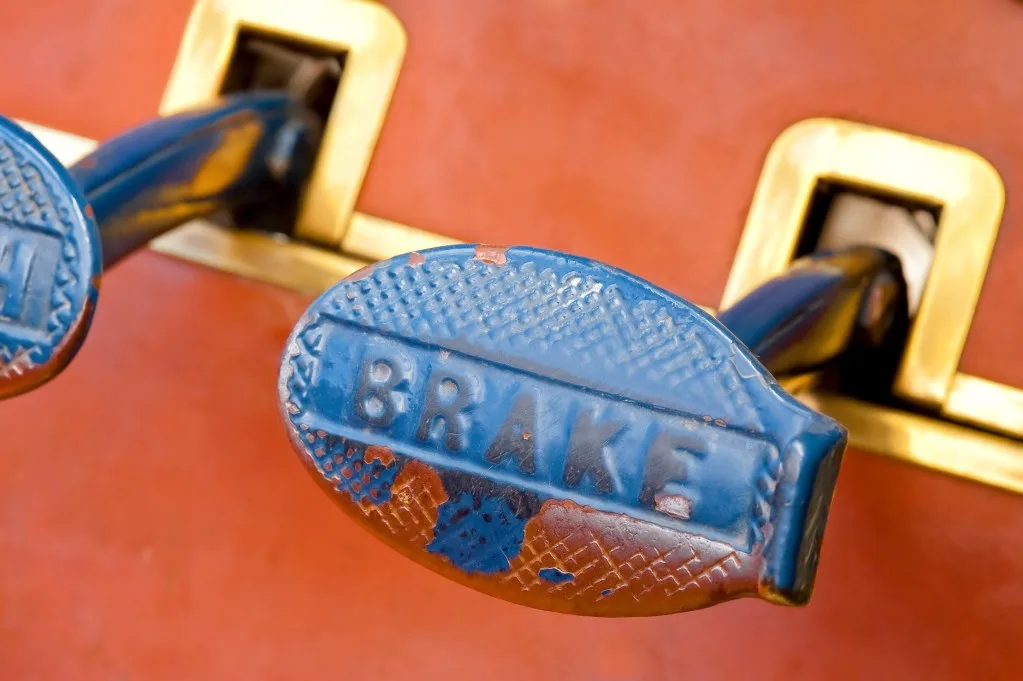 What Are The Different Types Of Brake Controllers?
There are a couple of different options when it comes to types of brake controllers. Your choice in brake controller type will primarily be dependent on your towing needs. The two most popular brake controllers vary based on the intensity and consistency when applying the trailer brakes.
Time Delayed
A time-delayed brake controller was once the most popular choice for brake controllers because it was the only option. These brake controllers are known as user-controlled brake controllers. They allow the driver to choose how much power to give to the trailer braking system and delay sending it.
This style of brake controller is a popular choice because it's relatively cheap and easy to install. Time-delayed brake controllers are prevalent in off-roading as it helps prevent your trailer tires from biting into the soft ground during a hard stop in the vehicle. Being able to adjust between braking styles based on the load you're towing or where you're towing is incredibly convenient.
While time-delayed brake controllers can be a great choice, there are some drawbacks that you should know. Since the brake power and consistency are the same with every brake press, the braking system doesn't adjust based on the situation. This braking style can cause a push/pull effect while driving and potentially cause uneven wear on the brakes over time.
There also have been instances where brakes will pulse when a vehicle's hazard lights are activated. You may find that some newer vehicles might not be compatible with using a time-delayed brake controller.
Proportional
Proportional brake controllers are a popular choice because they can adjust braking pressure based on the truck's brake pedal pressure. This braking style allows for an equal amount of pressure and a much smoother and controlled stopping experience.
These controllers are also intelligent and designed to release pressure on the trailer brakes when applied for an extended period. An example of this might be sitting in traffic or at a red light for a prolonged period. Specifically, if the system doesn't release the pressure, it could cause your brakes to overheat and malfunction.
New vehicles have a good chance of coming with a proportional brake controller. If not, these brake controllers are more expensive than their time-delayed counterparts. If you're lucky, you can pick up a proportional version of a brake controller for $30-$40 more than a time-delayed brake controller.
Keep in Mind: Selecting the right truck size doesn't need to be overwhelming, but it is important to make sure it is proportional to what you are towing . We uncovered: What RV Towing Truck Size Do You Need?
The 5 Best Trailer Brake Controllers
You should have a decent understanding of what a brake controller does and the different types by now. Let's take a look at five great options we think you should consider!
About: This time-delayed brake controller can work on trailers with one to four axles. The illuminated LED output and display make it easy to view no matter how you choose to mount it. The mounting hardware is included, and the plug and play connections allow for a quick and easy installation.
Pros: A quick and easy installation process is always a win. Being able to use this brake controller on one- to four-axle trailers is also a tremendous capability. The $50-$60 price point is also an attractive quality that attracts consumers. Reviewers state that despite being cheaper, it gets the job done equally as well as competitors that are twice the price.
Cons: One of the significant drawbacks of this trailer brake controller is the fact that it's time-delayed. It does an excellent job under ideal circumstances, but it doesn't perform well during hard braking or extended braking conditions. There are also several reports of poor customer service and the product malfunctioning after a year or two of use.
Best For: If you're looking to tow short distances occasionally, this could be a great option. Time-delayed controllers are also an excellent choice for trailers driven in off-road conditions. The delay helps the trailer avoid abrupt stops, which often cause tires to sink into soft surfaces.
About: This digital brake controller is time-delayed. It has pre-wired plug-and-play connections that make it easy to install on trailers with one to four-axle systems. The digital display allows the driver to easily see output settings, sync settings, brake overload, or even shorts in its connections. If you choose the Reese Towpower pod brake controller, it'll come with advanced internal circuit protection to help prevent damage.
Pros: Despite being a time-delayed brake controller, setting the delay as short as possible provides an instantaneous braking response. You get many of the benefits of a proportional brake controller, but with a much cheaper price tag.
Cons: Even though this brake controller can mimic a proportional brake controller in many ways, it's not. Applying the brakes, even lightly, for an extended period causes the brake controller to provide maximum braking on the trailer brakes. This issue will cause premature wear and tear on a braking system. Users also report that this brake controller's emergency override doesn't apply maximum pressure when needed in emergencies.
Best For: This controller is best for someone who plans to tow a couple of times per year. If you're planning to do regular towing or towing long distances, this is not the brake controller for you.
About: The Tekonsha 90160 Primus IQ is a fully proportional brake controller. At $70-80, it's only slightly more expensive than many time-delayed options. It utilizes a plug-and-play port for a quick and easy installation in your tow vehicle but could require a unique wiring harness.
This trailer brake controller will look great mounted on your dash with the included snap-in dash mounting hardware and easily stored when not in use. The digital readout confirms that the electrical connection is secure and the appropriate voltage reaches the trailer brakes.
Pros: This proportional brake controller works incredibly well while going forwards and in reverse. Installation and calibration are straightforward. You'll be ready to tow in no time! You can buy with confidence as it has over 4,000 reviews but still has a 5-star rating.
Cons: There's a good chance you'll need to purchase an additional wiring harness based on your tow vehicle, which is not as "plug and play" as the company advertises. Some users complain the wiring harness for their truck made it impossible to mount the controller anywhere that was convenient.
Best For: This is best for users looking for a proportional brake controller but looking for value pricing. If you're not planning to tow often but need the functionality of a proportional brake controller, this might be the brake controller for you!
About: The Draw-Tite 5504 Activator IV is a time-delayed brake controller and is perfect for one to four axles. The large display makes it easy for the driver to see at almost any angle. The Activator is a tremendous value as it'll only cost $50-$60. You'll have everything you need to mount this controller in your vehicle.
Pros: The Draw-Tite 5504 Activator IV is of tremendous value for those looking for a time-delayed brake controller. The quick and easy installation makes this an appealing brake controller for many.
Cons: The Draw-Tite 5504 Activator IV is a time-delayed brake controller. It won't adapt to the braking situation and can cause issues when braking hard. Some Dodge owners stated they needed an adapter to connect to their vehicle.
Best For: This value-priced trailer brake controller is an excellent option for occasional towing or off-road towing.
About: The Tekonsha 90885 Prodigy P2 is a proportional trailer brake controller with a premium cost. The $130 to $140 price gives users access to a generous amount of alerts and features not commonly seen on value-level controllers. This system's quick and easy installation means you'll be towing soon, and the easy-to-read LCD screen even has several language options available. For optimal security, the controller is easily removable from the mounting clip when not in use.
Pros: You'll receive battery, brake, and other warning system alerts for peace of mind while towing. The Tekonsha 80885 Prodigy P2 also has several boost settings that are fully customizable. This brake controller is wildly popular as it has over 4,500 reviews and still maintains a 5-star rating.
Cons: The only con of this incredible brake controller is the price. There are no widespread issues reported from users.
Best For: This is one of the best brake controllers on the market and is an excellent option for anyone looking to tow regularly. No matter the size of the trailer you're planning to tow, this is an incredible option that you should consider.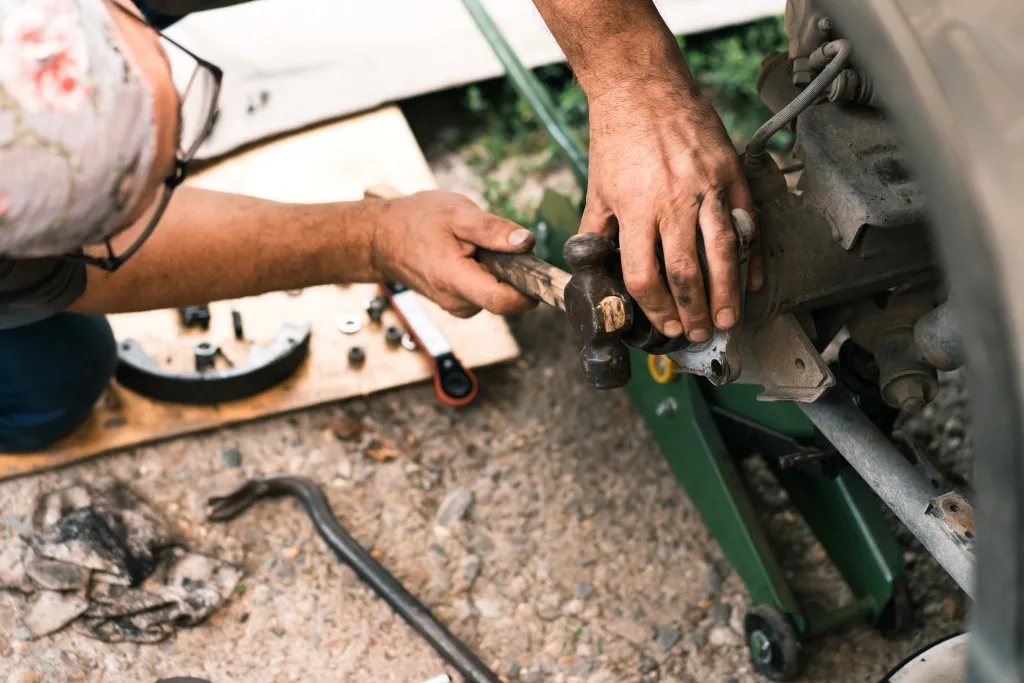 Do You Need A Trailer Brake Controller?
Whether you need a trailer brake controller or not will largely depend on the towing you plan to do. The heavier the load you'll be towing, the harder it'll be to stop when needed.
However, local regulations may require you to use a brake controller based on your load size and tow vehicle. A trailer brake controller is a great tool to assist with stopping your trailer, and we think your safety, and the safety of others, is worth the investment.
Use a Trailer Brake Controller for Safety's Sake
Towing that big rig up into the mountains can be an accomplishment in itself. But your concern shouldn't end there. A trailer brake controller will also help ensure you make it down the other side safely and in control. Have you ever had your trailer brake save the day while towing? Let us know!
Discover the Best Free Camping Across the USA
To be honest with you, we hate paying for camping. There are so many free campsites in America (with complete privacy).
You should give it a try!
As a matter of fact, these free campsites are yours. Every time you pay federal taxes, you're contributing to these lands.
Become a FREE CAMPING INSIDER and join the 100,000 campers who love to score the best site!
We'll send you the 50 Best Free Campsites in the USA (one per state). Access the list by submitting your email below: