Can You Park Your RV Overnight at an Elks Lodge?
Word of RVers parking at Elks Lodges has spread far and wide. In fact, you can even find locations on the camping app, Allstays.
But, can anyone park at an Elks Lodge, and what exactly is the Elks? Today, we'll find out the answers.
Let's go!
What is the Elks?
The Elks is a social organization founded in the late 1800s by a singer and dancer named Charles Algernon Sidney Vivian. The group initially started in New York as a way for local white male entertainers to get together on Sundays when all the public houses were closed. At the time, they called themselves the Jolly Corks.
After a short time, a member passed away, leaving his family with no money, and the group raised money to help them. They wanted to do more, though, so they officially declared themselves the Benevolent and Protective Order of Elks in 1868. This began their mission of raising funds through benefits and club activities to help others in need.
Today, the Elks have over 2,100 lodges across the United States. They state their fundraising efforts go toward community improvement, youth and veterans programs, and college scholarships.
Do You Have to Be a Member to Park Your RV at an Elks Lodge?
Yes, you must be an Elks member to park your RV at a lodge. Once you've become a member at one chapter, though, you're able to stay at any that offer RV parking.
Benefits of Elks membership include travel and other discounts, as well as, insurance discounts or health coverage group rates. In addition, Elks lodges offer a sense of community and social activities.
Keep in Mind: Not an Elks member and looking for somewhere to park? The good news is there are plenty of other places waiting for you, but before you do make sure to read: How Safe is Overnight RV Parking?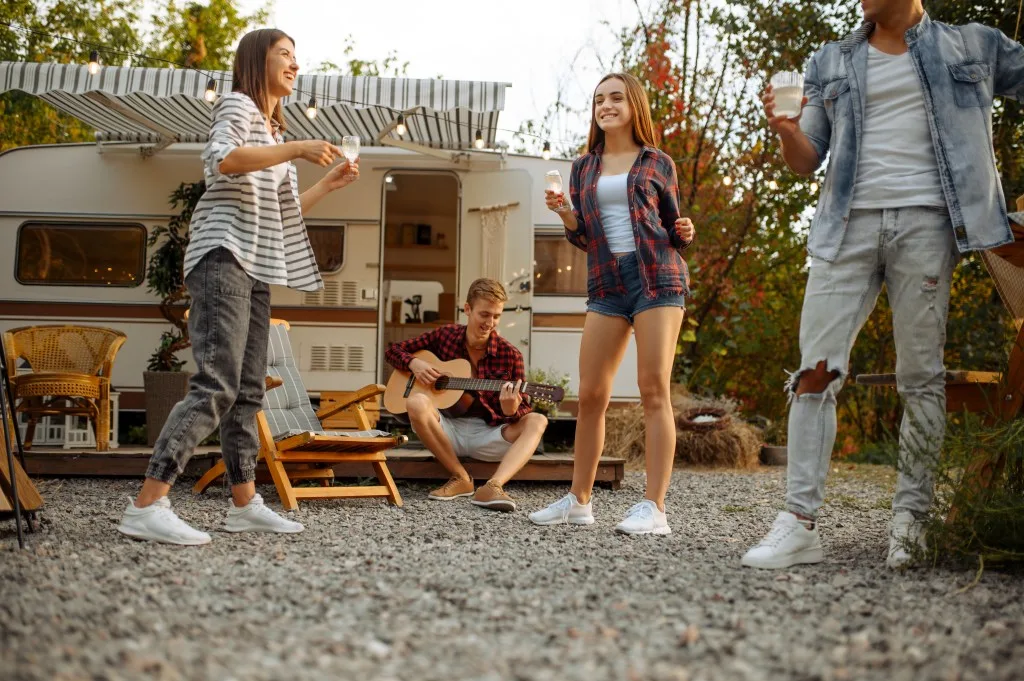 How Do You Join the Elks?
From the Elks' current website, "To be eligible for membership in the Benevolent and Protective Order of Elks, you must be a citizen of the United States over the age of 21 who believes in God."
A current member of the Elks must sponsor your membership application. If you don't know anyone in the Elks, you can complete their Membership Inquiry Form and someone will contact you. They will send you an application, which will be reviewed by that Lodge. Then, you'll go through an interview, and the members will vote based on your application and information obtained in the interview.
It can take a couple of months or more to complete the process. So, you should plan to be near that specific Lodge until they approve your membership. Each chapter has its own set dues, so how much you pay will depend on where you sign up.
How to Find RV Parking at an Elks Lodge
Once you've become a member of the Elks, you can stay at the lodges that offer RV parking. As we mentioned above, Allstays provides a filter for Elks Lodges with reviews, and Campendium has some, but not all, lodges listed.
In addition, you can go out to Elks.org for a list of all their RV facilities by state. An Elks member also created the site Elkslodgesrv.com, which provides essentially the same information as the official website but shows them on a map. These both state the amenities provided, such as dry camping only, power connection only, or even some full hookups.
Pro Tip: Dry camping, also known as boondocking, requires camping without any hookups. Don't get stuck without everything you need. We made you the perfect list of Boondocking Essentials and Dry Camping Tips.
Whichever app or website you use, we suggest calling ahead to see if you can stay and for how long. Some accept reservations, while others are first-come, first-served.
Convenient Elks Lodge RV Parking
It might take a bit to become a member, but those who do swear by the convenience and welcome they receive when parking their RV at an Elks Lodge. Have you parked at an Elks Lodge? How was your experience?
Troubled History May Affect Your Choice to Join
The original charter for the Elks stated, "No person shall be accepted as a member of this Order unless he be a white male citizen of the United States of America, of sound mind and body, of good character, not under the age of Twenty-one years, and a believer in God."
In 1973, they dropped the requirement for members to be only white and officially allowed women members in 1995. Today, some women hold the highest offices at the local chapters.
However, women as recently as 2013 have sued Elks chapters due to membership discrimination. In one case, the woman was sponsored by her husband, and she had worked in their kitchen for years. Yet, they still denied her membership.
In addition, the order continues to come under scrutiny for its lack of BIPOC members. According to the ACLU, some local lodges have sued their state government or moved locations to avoid allowing people of color. So, while the order's charter is inclusive, some of the local lodges may not be.
Discover the Best Free Camping Across the USA
To be honest with you, we hate paying for camping. There are so many free campsites in America (with complete privacy).
You should give it a try!
As a matter of fact, these free campsites are yours. Every time you pay federal taxes, you're contributing to these lands.
Become a FREE CAMPING INSIDER and join the 100,000 campers who love to score the best site!
We'll send you the 50 Best Free Campsites in the USA (one per state). Access the list by submitting your email below: