Can You Visit Kurt Cobain's House in Washington?
Come as you are to Kurt Cobain's house. Whether you're a lover of Cobain, Nirvana, or music in general, a visit to Kurt Cobain's house is a must-stop while visiting Washington state.
Read on to learn what you should know before making a stop.
Let's go!
Where Is Kurt Cobain's House?
Kurt Cobain was the former lead singer and guitar player of the grunge band Nirvana. Hailed as one of the most influential bands of the '90s, Nirvana brought alternative music to the mainstream. This was thanks in large part to their first Billboard hit, "Smells Like Teen Spirit," in 1991.
Kurt died by suicide in 1994 in Seattle at just 27 years old. Fans and music lovers from around the world frequent his childhood hometown and the Seattle area to remember him.
Kurt Cobain's childhood home sits at 1210 East First Street in Aberdeen, Washington, a two- to three-hour drive from Seattle depending on traffic.
He spent 14 years at the house, living there until he was about 20. Luckily for fans, the home will soon open for public viewing.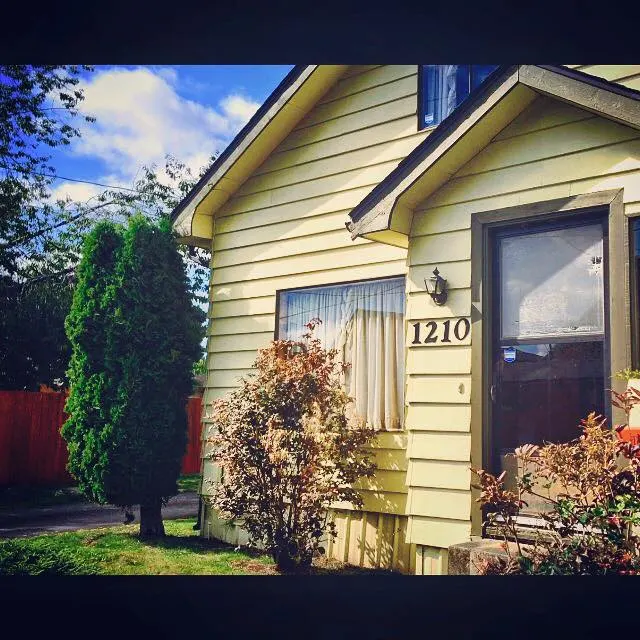 What's Special About the Aberdeen House?
This past August, the Washington State Department of Archaeology and Historic Preservation listed Cobain's one-and-a-half-story childhood house on the Heritage Register. This makes the home a historically significant property. The registry listing doesn't preserve the home forever. However, it does provide a special honor that many Nirvana fans are especially glad to see.
The home is on the registry as the "Donald and Wendy Cobain House," or Kurt Cobain's Childhood Home, and it will soon serve as a special place for Nirvana fans. Not only will you be able to peer into the house, but you'll be able to step into it yourself.
Is Kurt Cobain's House Open for Tours?
Yes, starting early next year, the home will open for small private tours.
The house remained in the Cobain family for five decades until they sold it in 2018 to Lee and Danielle Bacon. From the beginning, the Bacons intended to open up the home to the public. They wanted others to appreciate it and witness the very place where Cobain grew up.
After all, he spent many hours of his childhood and teenage life here.
This is where he was first inspired; practiced his artistry, songwriting, and musicianship; and spent long hours jamming out. It was in this home that Kurt grew up to be who he was. And the Bacons felt it fitting to purchase the space to remember and celebrate who he was.
Are There Any Other Nearby Areas That Nirvana Fans Visit?
In addition to purchasing the Cobain home, the Bacons purchased a large building in downtown Aberdeen. They plan to renovate this space into a Tribute Lounge and Gallery Cafe. It will tell the story of the house and serve as a starting point for private tours.
Following your visit to Cobain's childhood house, visit the local Kurt Cobain Memorial Park.
The park features various Cobain tributes and is next to the Young Street Bridge. Below this bridge flows the Wishkah River, a place where Cobain spent many hours. It even inspired Nirvana's song "Something in the Way." You might run into Nirvana's original drummer, Aaron Burckhard, near this area since he's known to visit with fans.
Note that the Kurt Cobain Memorial Park is in a residential area. There's plenty of signage reminding you to be respectful of the homeowners' space.
Aside from these two spots, Aberdeen's official city sign includes the words "Come as You Are."
It's a famous spot for photos with its ode to the former musician. You can find a large Nirvana-inspired mural downtown in Aberdeen, and there's even a Kurt Cobain Walk of Fame star.
Outside of Aberdeen, fans make the drive to Cobain's former home in Seattle.
Located at 171 Lake Washington Boulevard, this home is privately owned, so respect their space and privacy. You can't see much of the house from the street due to tall privacy fences and trees. However, there's a small bench nearby at Viretta Park where fans congregate to remember him.
Are There Any Plans to Renovate the Kurt Cobain House?
According to the Heritage Registry document, the Bacons worked closely with Cobain's family to restore the home. They wanted it to resemble the time when Kurt lived there. As such, fans can expect a "meticulously accurate storytelling" of each room.
This includes original furnishings and décor, family photographs, instruments, equipment, interviews, audio recordings, video recordings, and artifacts."
Whether you're a past or current fan, visiting Kurt Cobain's house is a sure way to bring up some memories. Pay tribute to the legendary singer-songwriter, a man iconic to the '90s. What's your favorite Nirvana song?
Discover the Best Free Camping Across the USA
To be honest with you, we hate paying for camping. There are so many free campsites in America (with complete privacy).
You should give it a try!
As a matter of fact, these free campsites are yours. Every time you pay federal taxes, you're contributing to these lands.
Become a FREE CAMPING INSIDER and join the 100,000 campers who love to score the best site!
We'll send you the 50 Best Free Campsites in the USA (one per state). Access the list by submitting your email below: