What Is a Four-Season Travel Trailer?
For those who love to camp year-round, a four-season travel trailer is a requirement.
Enjoy the comforts of home while skiing in the Rocky Mountains, or take your camper on a desert sojourn when the sun is at its peak.
The four-season RV can accompany you through any climate, providing you with relaxing interior temperatures and protecting the RV systems that we've all come to rely upon.
Let's take a closer look at these trailers.
What Is a Four-Season Travel Trailer?
A four-season travel trailer has features that help it withstand harsh conditions on either end of the climate spectrum.
You should be able to comfortably camp in a four-season trailer year-round without worrying about equipment failure or severe heat or cold. Most four-season campers are heavier and more expensive because of the upgrades that help protect them and their occupants.
What Does Four-Season Truly Mean?
Many manufacturers may tag their RVs as four-season vehicles.
However, to truly qualify, these travel trailers must have the following features.
Better Insulation
To withstand the temperature extremes, a four-season camper must have more insulation than its three-season counterparts. And that insulation is of better quality, as well.
With thickly insulated walls, ceilings, and undercarriages, an RV can keep its interior cooler during summer and warmer during winter.
Sealed and Heated Underbelly
The underbelly of a four-season travel trailer should be sealed. This protects water pipes and tanks from freezing because the furnace ducting runs through the basement.
When the furnace runs, the sealed undercarriage keeps the hot air from escaping the basement area.
Ducted Storage Bays
With ducted storage bays, a four-season trailer will have storage space protected from the elements.
As with the camper underbelly, the furnace, when running, will warm these storage bays.
Other Four-Season Travel Trailer Features
Most campers listed as four-season RVs also are fitted with a more robust furnace and a more powerful air conditioning unit to handle temperature extremes. Newer RVs in this category include dual pane windows and tank heaters.
Some models have adopted new building products, like Adzel walls that are lighter weight but have a higher R insulation value.
Pro Tip: Keep cozy, even in the snow, with these 5 Ways to Heat Your RV This Winter.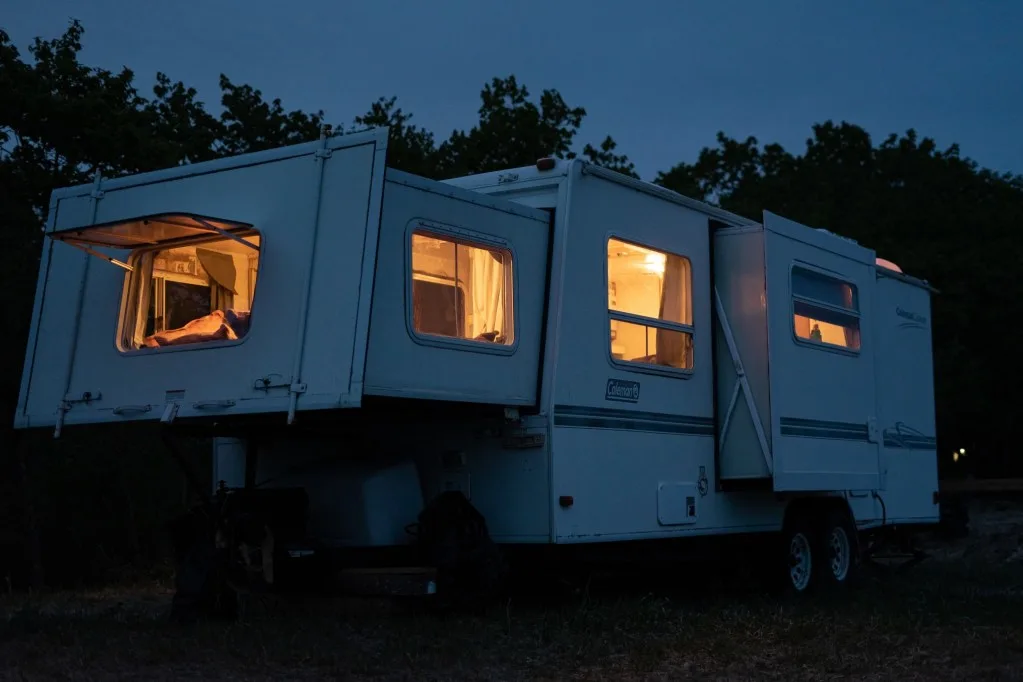 Four Brands Offering Four-Season Travel Trailers
Here are four RV brands that offer reliable four-season travel trailers. Check them out to see if any are right for you.
Lance Campers
Lance makes a four-season truck camper with an insulated battery and propane tank bay, insulated flooring and hatch covers, and ducted holding tanks.
They also have a four-season travel trailer with the same offerings.
Keystone RV
Keystone's four-season campers come with a heated underbelly. They're also insulated and sealed.
The attic space is vented, and all water tanks have tank heaters. Even the city water drains are heated.
Northwood Arctic Fox
Northwood's Arctic Fox line of four-season travel trailers includes high-density foam block insulation, R-15 value roof material, heated tank liners, and thermal pane windows.
This all combines to protect campers from hot and cold temperature extremes.
Oliver Travel Trailers
Oliver has created interior and exterior hulls that fit on top of one another with a layer of air and insulation in between. An Oliver trailer also offers a heavy-duty heater for winter camping and a three-in-one cool air system that includes a roof-mounted air conditioner, as well as a MaxxAir fan and a rain cover.
A wall-mounted thermostat operates all of this. Double-paned windows and insulated pipes within the two "hulls" complete the picture of each Elite "Ollie" build.
Can You Use Any Travel Trailer in the Winter?
You can take any RV for a camping trip in brutal winter or summer temperatures.
But if you aren't in a four-season camper, you might not camp comfortably in these extremes. And you may risk harming your RV. Pipes and water tanks can freeze without tank heaters, and refrigerators and air conditioners may not be able to keep up in hot desert climates.
Is it worth permanently damaging these systems when a four-season travel trailer is up to the task?
Pro Tip: If you're RVing in the winter, you will want to protect your trailer. Read more to find out Do You Need RV Skirting This Winter?
Choose a Four-Season Travel Trailer to RV in Comfort All Year
For year-round travel opportunities, a four-season travel trailer will provide comfort and protection.
Stay cool in hot climates and warm in cold locations while your RV's equipment remains operable and safe. These campers can handle it all from polar freezes to scorching heatwaves while giving you a temperature-controlled home base during any camping excursion.
Have you ever tried out a four-season travel trailer?
What did you think?
Discover the Best Free Camping Across the USA
To be honest with you, we hate paying for camping. There are so many free campsites in America (with complete privacy).
You should give it a try!
As a matter of fact, these free campsites are yours. Every time you pay federal taxes, you're contributing to these lands.
Become a FREE CAMPING INSIDER and join the 100,000 campers who love to score the best site!
We'll send you the 50 Best Free Campsites in the USA (one per state). Access the list by submitting your email below: