The Best Travel Trailers for Holding Value
Not all travel trailers are the same. Some brands stand out above the rest for longevity, build quality, and high customer satisfaction.
If you're shopping for a quality travel trailer, you might as well choose one that'll last and have a high resale value if you ever decide to sell.
In this article, we'll take a deep dive into the best travel trailer brands for holding their value.
Let's get into it!
What Is a Travel Trailer?
The different classifications for RVs can be a little confusing, so let's clear up what a travel trailer actually is. A travel trailer is a type of towable RV that hitches to the bumper of a tow vehicle. Travel trailers are sometimes called "bumper pulls" for the way they connect to the vehicle.
Since these RVs connect directly to the bumper, you can tow travel trailers with many different types of vehicles, from trucks to SUVs.
It's important to differentiate between a travel trailer and a fifth wheel, as these are the two most commonly confused RVs. Fifth wheels are usually larger and have a unique jaw hitch that connects to a truck bed rather than a bumper hitch.
A portion of the RV rests above the truck bed, giving the illusion that it's an extension of the pickup truck; thus, the name "fifth wheel."
Let's be real: We've traveled with a travel trailer for 5 years, but here are reasons you may want to avoid one.
How Much Do Travel Trailers Depreciate Each Year?
You can expect a brand new travel trailer to depreciate around 20% the minute it drives off the lot.
By its fifth year, you can expect your travel trailer to retain around 60% of its value.
This doesn't apply to every brand, though. This rate of travel trailer depreciation primarily applies to mass-produced travel trailers.
A customized travel trailer and specific brands could have better resale value, but that's usually something to assess on a case-by-case basis.
What Makes a Travel Trailer Hold Its Value Better Than Others?
Several factors contribute to how well a travel trailer holds its value. A travel trailer by a well-known or popular RV brand will automatically cost more in the beginning and retain its value better.
Another factor is the trailer's construction.
If it's a unique type of trailer or built out of quality materials, it'll inevitably last longer. The travel trailer's longevity has a significant effect on resale value.
And some travel trailers just have a cult-like following. Some have a unique and aesthetically pleasing design, like Airstream trailers. Others are family-owned small-batch (yet high-quality) travel trailers like Casita.
In those cases, demand keeps the used value high.
Some camper brands just have a more enthusiastic customer base than others, which directly affects its used value.
These are the types of things you'll want to look for if you want a trailer that will retain its worth.
The Best Travel Trailers for Holding Value
Now, let's look at the best camper brands for holding value long after they first drive off the lot. These travel trailers come from well-known brands and are built to the highest quality, resulting in them fetching a high dollar even several years down the road.
Airstream
There's no doubt about it: Airstream is one of the most iconic RV brands on the planet. The "silver bullet" travel trailer styling is even more popular today than when first released. To date, there's no other travel trailer brand on the market that can do or create what Airstream does.
Airstream travel trailers are already expensive, and that value holds up!
Airstreams are unrivaled in both interior and exterior design. Even vintage Airstreams sell for a pretty penny.
They have no wood framing. Instead, builders use aluminum and composite material for the framing and flooring.
These materials hold up better with time, meaning you can expect Airstreams to continue to hold their value really well, perhaps even better than in the past.
Did you know: Not only do Airstreams make great travel trailers, but they also make these amazingly expensive vans.
Jayco
Jayco is a well-known travel trailer brand, and they're at the top of the list of travel trailers that hold their value. Jayco campers are known best for their high build quality and skilled workmanship.
A high build quality means a camper that will last longer–meaning less depreciation.
According to the Jayco website, their used travel trailers consistently sell for more than other RVs in the same class. Despite complaints you may read online regarding quality, the Jayco name is quite popular. This means they often retain value well.
Jayco travel trailers retain their prices well because of several factors, including custom-built frames and vacuum-bonded laminated walls with aluminum studs.
This brand puts a lot of thought into its RV construction, including comfortable ride, safety, and climate control features.
All in all, there's a reason Jayco is one of the most well-loved travel trailer brands on the market today.
Oliver
Oliver Travel Trailers is a luxury molded fiberglass travel trailer brand made in Tennessee. Oliver Travel Trailers hold their value really well, in line with most other molded fiberglass travel trailer brands.
Oliver is a small RV brand that focuses on quality over quantity. You don't see Oliver Travel Trailers exactly flooding the roadways, and that's part of what makes them hold their value so well.
Their molded fiberglass construction makes them a hot commodity because only a handful of brands produce this construction style. And all of the brands are sought after!
These unique fiberglass travel trailers join in the middle instead of along the top or the sides. This joinery results in a travel trailer that's significantly less prone to cracks and leaks.
The minimal risk of water damage, a top cause of value-reducing damage, makes Oliver Travel Trailers that much more popular.
These RVs also feature a hull made of double-shelled fiberglass and composite to last a literal lifetime.
Grand Design
Winnebago Industries, arguably one of the biggest names in the RV world, owns Grand Design. These towable travel trailers are in a class all their own.
If you buy a Grand Design trailer, you can expect a high-quality rig with a luxury feel that lasts much longer than its competitors. As a result, they hold their value better, too.
Grand Design travel trailers are pretty expensive brand new compared to other mass-manufactured RV brands on the road today. These travel trailers come with luxury features and high-quality detailing.
These features contribute to the end price and a resale value that's higher than the average RV.
Popular Grand Design travel trailer lines include the Imagine and the Reflection. Both have multiple models and floor plans and use high-quality materials and artistry in construction.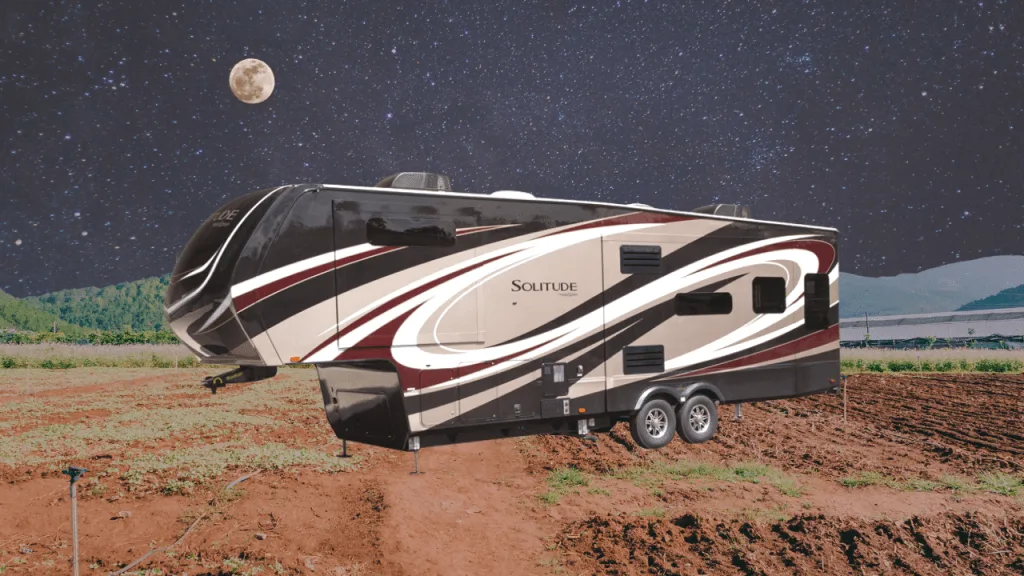 Winnebago
As we just mentioned, Winnebago has long been a household name in the RV industry, and its popularity and RV offerings continue to grow. Their travel trailers are known for their above-average used resale values, in part because the brand is so well-known and loved.
Winnebago owns and sells many popular travel trailer brands, including the Minnie, Micro Minnie, and Voyage. Each line has multiple models and floor plans.
Winnebago travel trailers have a high-build quality, and their unique floor plans and features keep them top-shelf. But the top contributing factor is the brand name itself. It's kind of like the Nike of travel trailers.
People know the name and love the prestige of owning one.
Casita
Casita Travel Trailers manufactures five different molded fiberglass RVs at a family-owned and operated facility in Texas. These are known for retaining almost 100% of their value, even several years down the line!
These travel trailers are lightweight and nimble, yet they contain everything you need for long camping trips or even full-time RVing. Their molded fiberglass hull is similar to Oliver Travel Trailers, meaning there's less potential for leaks and water damage.
As we said, this construction means an incredibly long-lasting camper, and people will pay for it.
The current lead time to get a new Casita travel trailer is close to two years, so it's no wonder why used models still sell for close to the new model prices.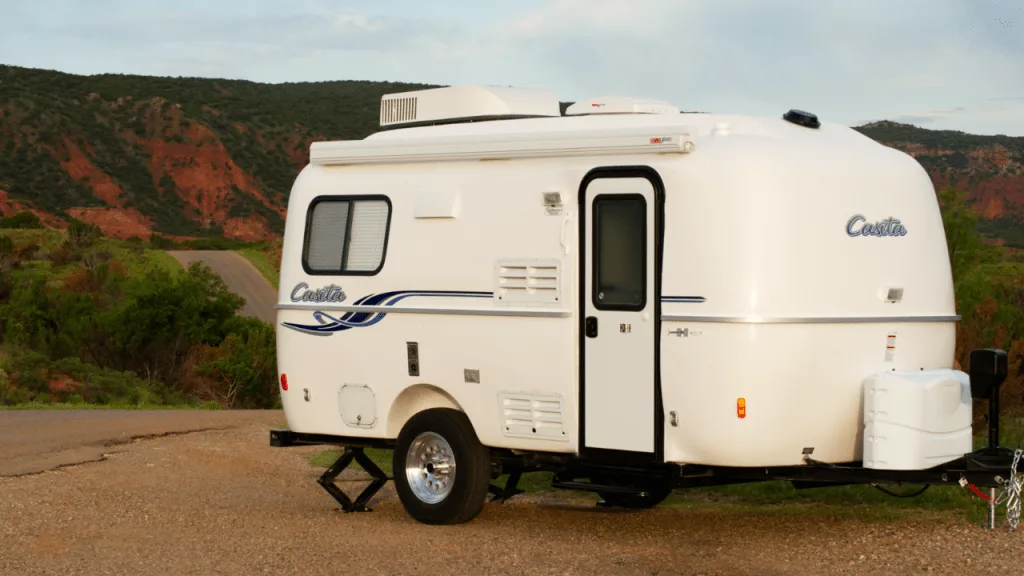 Scamp
Scamp is another brand of molded fiberglass travel trailers with a cult-like following. In addition to making travel trailers, Scamp makes a molded fiberglass fifth wheel–the only one like it on the market.
Each model has the potential to last generations, contributing to its higher-than-average resale value.
These travel trailers feature three different lengths, and you can buy them with or without a bathroom. Many Scamp campers are on the short end, as well, so they're great for customers with a smaller tow vehicle.
Scamp is a family-owned and operated business that focuses on quality RVs over quantity. The owners are a lively bunch with considerable passion and devotion to the Scamp brand.
So not only do these trailers last longer than any other type of travel trailer on the market, but the brand is also well-known and well-loved.
Here's a common battle: Scamp vs Oliver, find out the winner.
Are These Travel Trailers Worth the Investment?
Do you want to be the envy of the road with a sought-after RV brand? Or do you want a travel trailer that'll last so long you can pass it down to your grandkids?
All of the brands on this list fit the bill.
Some fetch a high resale value due to their brand name, but most have a quality and longevity unmatched in the industry. And many on our list have both!
No matter your reasoning for wanting a travel trailer with a high resale value, you can't go wrong with the brands listed here.
Do you have a travel trailer brand you might add to our list?
Discover the Best Free Camping Across the USA
To be honest with you, we hate paying for camping. There are so many free campsites in America (with complete privacy).
You should give it a try!
As a matter of fact, these free campsites are yours. Every time you pay federal taxes, you're contributing to these lands.
Become a FREE CAMPING INSIDER and join the 100,000 campers who love to score the best site!
We'll send you the 50 Best Free Campsites in the USA (one per state). Access the list by submitting your email below: