The Temple of Oculus Anubis Is a Mysterious Destination in Oregon
The Oculus Anubis, named for Anubis, the Egyptian god of embalming, is unquestionably mysterious.
But is it truly a temple? And who can say for sure?
We don't have all the answers, but we have some of them.
Let's dig in!
Where Is the Temple of Oculus Anubis?
The Temple of Oculus Anubis resides in Damascus, Oregon. This small town of just over 10,000 is hilariously situated between Happy Valley and Boring, Oregon.
About the Temple of Oculus Anubis
Little is known about the Temple of Oculus Anubis, so it's the source of much speculation. In fact, people call it the creepiest place in Oregon.
A large, black front gate with gold symbols on it sits at the edge of the property. Nearby there's also a statue of the Egyptian goddess Sekhmet, portrayed as a lioness. There are also two identical stone pyramids.
Like a lot of eerie places, the speculation about Oculus Anubis feeds on itself. It's a popular topic in the subreddit r/nosleep, which consists of people sharing their personal stories. Personal accounts offer wildly different information, especially when posted in the same forums and subreddits.
The top theory comes from a newspaper and therefore has some credibility. The Oregonian reported a story about an eye doctor, Dr. Dean Elton Neal, and his son, Anthony Curtis Neal. The article included a picture of Oculus Anubis, citing it as their home.
The prosecutors believe both men were complicit in an elaborate insurance fraud scheme. But, by then, Dr. Neal had died of a stroke. It was unclear how much the son was involved since he has Autism Spectrum Disorder.
The articles state that the money was in a shell corporation named Oculus, Latin for eye. Certainly, it's not very impressive as far as shell corporation names go. Regardless, The Oregonian reports Oculus funds paid for the construction of the doctor's home and his son's, linked by a heated tunnel.
Other theories abound, from the Satanic to the banal. One source says it's simply the home of some wealthy Egyptian art dealers. All agree that the lack of sightings of people is odd. In addition, there's no data on when Oculus Anubis first arrived on the property.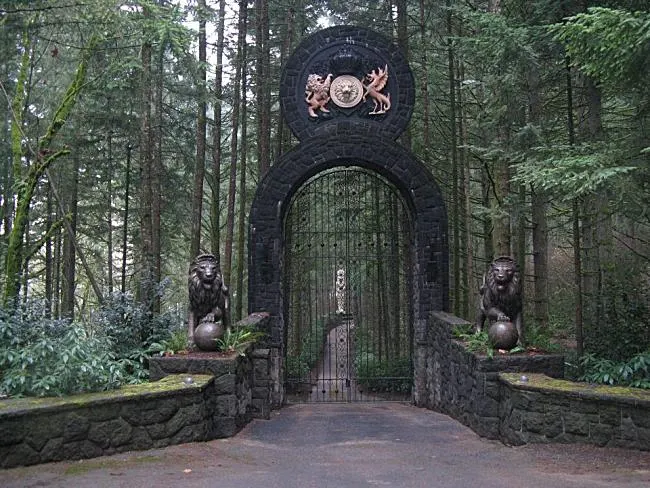 Does a Cult Live on the Property?
Probably not. This theory has been popular over the years, given the foreboding gate and sculptures and the property's mystery. The "cult" theory got especially popular when someone found a permit to build tunnels on the property.
We suppose some people associate tunnels with cults.
Can You Visit the Temple of Oculus Anubis?
Big no! It's all (very) private property. The few accounts of someone making it onto the property include being told to never come through the gate again.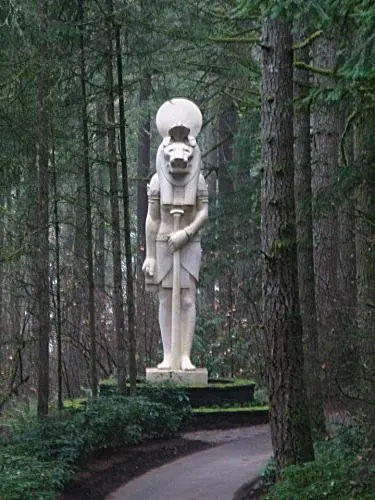 Pro Tip: Searching for more spooky spots in Oregon? Check out these 5 Must-See Ghost Towns in Oregon.
Best Hikes Near the Temple of Oculus Anubis
Mount Talbert Nature Park Loop Trail
This 3-mile loop is suitable for all skill levels, though hikers report some tree roots and rocks on the path. Highlights include abundant wildflowers and birds. You'll even see an extinct lava dome (circular mound made of lava).
Unfortunately, the nature park doesn't permit dogs on the trail.
Multnomah Falls
Multnomah Falls is so popular that you need reservations to hike it. As a result, it may be a bit more crowded than other trails. It's a 2.4-mile out-and-back hike rated moderate, though some commenters said it was steep in places.
There have been some closures in parts for construction, so please check into that when making your reservation. As of now, you can still access the upper bridge. They do allow dogs here as long as they're on a leash.
Note that it's a little farther out from the Oculus Anubis, but the falls are a must-see when visiting northern Oregon.
Best Camping Near the Temple of Oculus Anubis
Pheasant Ridge RV Park
This RV park has 130 concrete sites with full hook-ups. All travelers agree that this campground is well-maintained and clean, praising the beautiful landscaping. The park is quiet, though it has activities like play structures, a pool, a spa, and an area for off-leash dogs.
Rates range from $62 to $78.
Pro Tip: Want to camp more around Oregon? Check out these 7 Best Free Camping Spots in Oregon.
Oxbow Regional Park
Located in a 1,000-acre park in Sandy River Gorge, camping here gives visitors a chance truly to be in nature and admire the surroundings.
Oxbow Regional Park is a smaller site with only 12 RV spots and no hook-ups. However, this park consistently draws rave reviews for its peacefulness and natural beauty. The property is well-maintained and clean, and there's a river where you can sometimes see salmon spawn. They also have clean restrooms with free hot showers.
Many campers love this park for the sense of getting away from their busy lives. There's no wifi here, and cell signals are weak, allowing visitors to get away from the busy world.
Oregon Metro maintains the park and offers plenty of educational and entertaining programming, including rainy day activities for children. Four of their sites are ADA accessible.
This park does have a few rules to note, the first being that reservations are required. No pets are allowed, even if on a leash. No smoking, alcohol, or other intoxicants are allowed on-site either. They close the gate at 6 pm, so make sure to bring everything you'll need overnight, and arrive no later than 5 pm.
Quiet time begins at 10 pm.
The average rate is $27/night.
Is a Trip to the Temple of Oculus Anubis Worth It?
We'd say it's only worth it if you enjoy looking at a corrupt eye doctor's intense choices in gates and statuary. However, if you believe there's more to the story, have a look from the entrance, but don't go further since it's private property.
If you'll be in the area, sure. See what you can see and, after a long hike, tuck yourself in with terrifying cult theories dancing in your head.
What do you think is the true story behind Oculus Anubis?
Discover the Best Free Camping Across the USA
To be honest with you, we hate paying for camping. There are so many free campsites in America (with complete privacy).
You should give it a try!
As a matter of fact, these free campsites are yours. Every time you pay federal taxes, you're contributing to these lands.
Become a FREE CAMPING INSIDER and join the 100,000 campers that love to score the best site!
We'll send you the 50 Best Free Campsites in the USA (one per state). Access the list by submitting your email below: