11 Best Christmas Towns in Colorado
Colorado is a beautiful state, and Christmas in Colorado is incredibly stunning.
Picturesque small towns nestle into the snow. Bigger cities deliver Christmas lights to brighten up the winter. And, of course, the Rockies are at their most majestic.
If you're lucky enough to go to Colorado for Christmas, which towns are most festive? What is there to do?
Let's go for a walk in Colorado's winter wonderland!
Southwest Colorado Christmas Towns
Ouray
Located in southwest Colorado, Ouray is known for year-round recreation and outstanding hot springs. It's also popular for winter sports like ice climbing and backcountry skiing.
But did you know it's even better at Christmas? The natural beauty and recreation are all around, and you'll also find holiday festivities. The town hosts the annual Ouray Ice Festival, which lasts seven whole weeks!
Starting the weekend after Thanksgiving, Ouray residents turn on their holiday lights. There are gingerbread house decorating contests, Yule parades, public viewings of Christmas movies, and more in the weeks to follow.
In addition, Ouray has a lot of options to shop for crafts made by independent artisans, so you can pick up some unique gifts while you're here.
Telluride
Tucked into the San Juan Mountains, people appreciate Telluride most as a ski resort. The village starts its Holiday Prelude in December to kick off the season, and that's when the magic happens.
You can watch holiday movies and sip hot cocoa all around town. They also light their Christmas tree that weekend.

Christmas Eve is the most magical night of their season. Ski school employees carrying torches make their way down a mountain in a choreographed Torchlight Parade. Meanwhile, fireworks above the mountain illuminate the sky far and wide.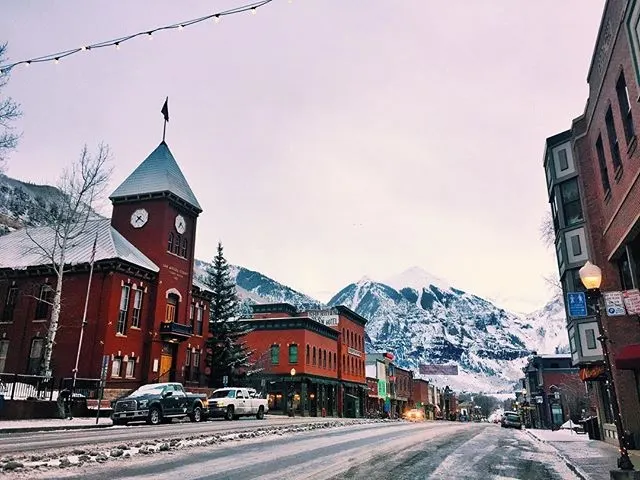 Durango
The small town of Durango is a can't-miss at Christmas, especially for little ones. It offers a ride on the Polar Express, a steam train where children are treated to hot cocoa, and a reading of the classic book The Polar Express.
Once at the North Pole, a light show entertains the passengers, and on the return trip, Santa hands out gifts.
Durango also boasts a range of lodging options. From luxury hotels to B&Bs and rustic cabins, it has lodging for every need. It also has reliable public transportation to help you get around.
While you're out enjoying nature's beauty, remember to check out the artistry of local painters, sculptors, and metalworkers.
Pro Tip: While exploring Durango don't miss out on these 9 Best Things To Do in Durango, Colorado.
Northern Colorado Christmas Towns
Glenwood Springs
Glenwood Springs is known for lots of fun winter sports. Snowmobiling, snowshoeing, Nordic skiing, and ice skating. Hot springs offer a toasty break from so much snow.
In addition, light shows illuminate the town during Christmas, from the historic Hotel Colorado to the trees along the main street, Grand Avenue.
Steamboat Springs
Steamboat Springs touts itself as being the home of more Olympic skiers than any other town. Given their 3,000 ski-able acres and powdery snow, that's easy to believe. There are also 165 trails and six peaks.
It's only fitting that Christmas celebrations in Steamboat Springs involve skiing. A few nights before Christmas, Santa rides down a mountain on horseback. Live music and cookie decorating entertain families while Santa hangs out with reindeer and welcomes children. After sunset, there's a torchlit parade and fireworks.
The slopes open up for night skiing as well.
Eastern Colorado Christmas Towns
Denver
Colorado's capital city goes all out for Christmas. Denver lights up with all sorts of holiday displays throughout the city. Open all season, downtown's Mile-High Tree is a light and sound installation.
It's the largest of its kind in North America and programmed, so the lights go with the music for maximum impact. Be sure to grab a selfie under the tree!
The Parade of Lights goes through the city with impressive floats and, of course, more lights and music. Plus, Zoo Lights uses over two million LEDs to illuminate the Denver Zoo's 80 acres.
They also offer ice carving demonstrations, seasonal craft cocktails, and of course, plenty of animals. The Botanical Gardens has a similar event geared toward plants.
Colorado Springs and Manitou Springs
Colorado Springs is home to Pike's Peak, also known as "America's Mountain." With a gateway at 7,400 ft in elevation and a 14,115 summit, Pike's Peak is a sight for any season.
Near Pike's Peak, Colorado Springs kicks off the Christmas holidays with a Festival of Lights. Children can ride the Santa Express Train to the North Pole, where they'll enjoy cocoa and cookies, as well as a treat from Santa.
The five-star Broadmoor resort is also worth a look, even if you're not staying there. Each year, their decorations are done with care and imagination.
Just outside Colorado Springs, Manitou Springs runs a fireworks display from Pike's Peak. Manitou Springs is also home to Miramont Castle, an 1895 chateau and historical site.
You can see the eclectic architecture and historical items year-round, as well as enjoy the tea room. It's a special treat near Christmas to see the Victorian trees they display. Every year on December 23, they host a special dinner for low-income families.
Central Colorado Christmas Towns
Breckenridge
Breckenridge has lots of holiday options, whether you'll be visiting with kids or seeking a romantic getaway. You can do just about any snow sport you like here. There are four ski resorts, plus cross-country skiing, dog sledding, snowmobile tours, tubing, sledding, sleigh rides, ice skating, and ski biking.
You can add any of those activities to your Colorado Christmas vacation. Or you can stick to less adventurous traditions such as the tree lighting event and opportunities to make your own keepsake holiday ornaments.
Restaurants in the area will offer special holiday menus for cozy meals, but be warned they fill up fast!

And don't miss a hilarious Breckenridge tradition, the Race of the Santas! Each year, hundreds of runners clad in Santa costumes sprint down Main Street, hoping for the win.
Aspen
Aspen is another Colorado town most famous for its skiing. Its variegated terrain offers extra fun for skiers and snowboarders who come from all over.

If you'd like to pair an Aspen ski trip with a holiday one, show up for the 12 Days of Aspen celebration. Events include classic workshops on cookie and stocking decoration. They also show movies and have magic shows as well as fireworks.

Are you looking for something a little more adult? They offer private snowcat tours, gourmet prix-fixe meals, and live music for lovebirds.
Vail
Vail is a charming, Bavarian-style village that offers ski resorts like many other Colorado towns. But it's also known for its spas. Who doesn't need a hot stone massage after skiing? Plus, it has a thriving arts community that lends a funky individuality to the town.
That creativity adds sparkle to their holiday events. The downtown is adorned with bows, ribbons, and lights, and the ski area there is picture-perfect.
In addition to the decorations and tree-lighting, Vail has some special other events to offer. There's an Ugly Sweater 5K run, and you can stock up on gifts at a local Kris Kringle Holiday Market.
Frisco
Frisco is a cute town with a marina, hiking trails, ski areas, and historic sites. It's also home to many local brewpubs.
The brewing tradition may have helped inspire their holiday celebration. Frisco's annual Wassail Days commemorates the warm drink. We're told all options are nonalcoholic, at least if you don't bring a flask. Local vendors come out to offer a cup of their own recipe. Once visitors fill up a "12 Sips of Wassail" card, they can exchange it for a commemorative mug.
There are also visits with Santa and free skiing. Their official website currently advertises "good clean holiday fun with a dose of magic and wackiness." We'd hold them to that if we were you.
Pro Tip: If you're dreaming of a white Christmas make sure you use these 5 Ways to Stay Warm and Heat Your RV.
Christmas in Colorado Towns is a Must-Do
Colorado is known for snow sports, but it's fun to see other ways they put their peaks to use. Whether you're celebrating the holiday with children or with your sweetie, there are Christmas offerings in towns all across Colorado.
The extra fun thing is that these events incorporate natural beauty and local artists. The celebrations are far more than cookie-cutter, commercialized holiday events. Instead, they offer you space to stand with your loved ones as fireworks crown the endless mountains.
Have you spent Christmas in Colorado?
Discover the Best Free Camping Across the USA
To be honest with you, we hate paying for camping. There are so many free campsites in America (with complete privacy).
You should give it a try!
As a matter of fact, these free campsites are yours. Every time you pay federal taxes, you're contributing to these lands.
Become a FREE CAMPING INSIDER and join the 100,000 campers that love to score the best site!
We'll send you the 50 Best Free Campsites in the USA (one per state). Access the list by submitting your email below: