We live in a time where staying connected to technology is a top priority for many people, including RVers.
However, some of the best places to park your RV, whether it's a campground or an epic boondocking site, have limited or no cell phone reception.
Having a cell booster as a part of your RV supplies can help keep you connected to work, school, or social media.
Today, we want to share the best cell boosters on the market in 2022. Let's get started!
What Is an RV Cell Booster?
An RV cell booster amplifies the existing cellular signal broadcast by cellular providers. These devices enable RVers to increase the speed and quality of the connection and avoid dropping calls.
This can be tremendously helpful when you're RVing in remote locations or areas with limited connectivity.
These boosters often connect to an outside antenna or have built-in antennas. An antenna on an outside pole can help improve the connection by allowing the antenna to clear hills, trees, or any other obstacles.
Do RV Cell Boosters Really Work?
RV cell boosters can have an immense impact when it comes to the quality of your cellular connection. These devices can make the difference between a signal that leaves you frustrated and a usable signal.
A quality RV cell booster is a must-have item if you need to stay connected while RVing.
It's important to keep in mind that RV cell boosters will not create a signal. They can only amplify an existing cellular signal.
So if your favorite camping location has zero cellular connection, a cell booster isn't going to be much help. However, cell boosters can do an incredible job improving signals when there's a weak or minimal amount of signal available.
Pro Tip: When camping, safety is key! Before you hit the road with no cell service, read up on The Dangers of Camping Without a Cell Booster!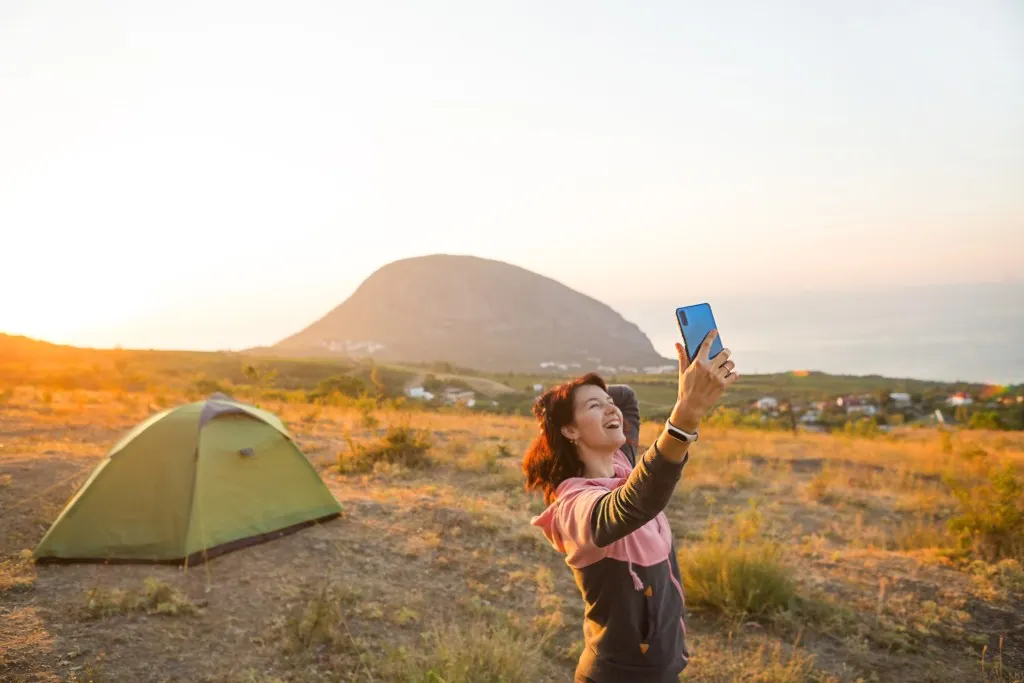 The Best RV Cell Boosters in 2022
Whether it's for work, school, or streaming your favorite show, you want the best when it comes to RV cell boosters. Here are several of the best cell boosters we think you should consider while shopping.
WeBoost is one of the most recognized names in the industry when it comes to cell signal boosters. Whether it's for an RV, semi-truck, or a passenger vehicle, the weBoost Drive 4G-X can improve connections for 4G, LTE, and 3G signals up to 32x. This is a great booster for those who don't stay put long, as you can permanently mount it to your vehicle. So even when you're traveling down the road, it's improving your signal.
Premium results come with a premium price. Coming in at nearly $600, the weBoost Drive 4G-X can be quite the investment.
However, if staying connected while on the road is important to you, it can be worth the investment.
The SuperBars cell phone signal booster supports 3G, 4G, and 5G signals. This device can help improve voice and video and provide faster mobile internet in remote areas.
The SuperBars cell booster works with all carriers, and the SuperBars app allows you to fine-tune your settings to get the best results from the booster.
The unit comes with a 20,000mAh battery that can power the unit for up to 24 hours.
If you're considering this booster, you can expect to pay about $450.
However, the three-year warranty and protection from dust, oil, and water ensure that you can use your booster in practically any environment without worrying about wasting your money.
The Amazboost cell phone booster is compatible with all U.S. carriers and has one of the easiest installations of all cell signal boosters. Installation is a breeze, whether you use the included magnets to temporarily secure the antenna or connect it permanently to your vehicle.
Despite an easy installation, this device still does a fantastic job of keeping you connected while in remote areas and improves data speed and voice quality.

The Amazboost cell signal booster has six antennas attached to the device to boost the signal. It works with trucks, cars, and RVs and can use the DC power adapter in your vehicle.
You even get a portable carrying case to transfer the unit from one vehicle to the next. It costs about $350.
Being in an RV doesn't mean you're constantly on the go. The weBoost Destination RV signal booster is the answer for many RVers who spend most of their time stationary.
The device works with all U.S. and Canadian carriers and is perfect for remote workers and students needing to stay connected.
The Destination RV booster works with any RV and comes with a telescoping directional antenna to help clear any obstacles at your campsite. This provides the maximum amount of coverage and can help you dial in your booster for optimal performance.
As the device is 5G compatible, you won't have to worry about upgrading your booster as technologies advance.
At $650, this is an investment, but you get a cell booster with a quality name and a strong track record for excellence.
The Cel-Fi GO X provides the largest cellular signal boost of any of the boosters on our list. While most other boosters provide a maximum of a 63 dB increase, the Cel-Fi GO X boosts up to 100 dB.
While other boosters will boost multiple carriers at a time, this device narrows in on signals used by specific providers and boosts only one provider at a time. You can easily switch between frequencies if you use multiple carriers.
While this device is typically for residential or stationary setups, you can switch it over to "mobile" mode while in transit.
This ensures that you're fully compliant with all FCC rules and regulations while you're traveling.
If you need the fastest data rates and don't mind the $1,000+ investment, this booster is for you.
This cellular signal booster by ANNTLENT works with all 2G, 3G, and 4G networks for all U.S. carriers and helps create smoother and clearer connections.
The amplifier uses an outdoor antenna to pull the signal into your RV and automatically adjusts the gain and power to provide optimal results.
At $250, the ANNTLENT signal booster is the perfect solution if you want premium results without the premium price.
The weBoost Drive X kit provides everything you need to boost the signal for towers that are 33% farther away than most other boosters can reach.
This booster provides better voice, video streaming, and capabilities for your cellular connection no matter where you're camping. It works with all U.S. networks and is compatible with both 4G and 5G.
The installation is so easy you won't even need any tools. You can set up your booster in minutes once you arrive at your campsite.
You can get up to 50 dB gain from this device, which can be a huge improvement in connectivity and quality. With a $480 price point, you don't have to break the bank to improve your cellular signal massively.
Pro Tip: Cell boosters can be a huge help while boondocking, but Is Boondocking a Safe Camping Option? Find out!
Is an RV Cell Booster Worth It?
As you can see, there's no shortage when it comes to boosters available on the market. These boosters will not only get you the best results but also cause you fewer frustrations while on the road.
They can help you camp in new and exciting locations that were once impossible due to your need for connectivity.
So add one of these RV cell boosters to your shopping cart and start planning your next adventure.
Where will you RV now that you can strengthen the cell signal? Drop a comment below!
Discover the Best Free Camping Across the USA
To be honest with you, we hate paying for camping. There are so many free campsites in America (with complete privacy).
You should give it a try!
As a matter of fact, these free campsites are yours. Every time you pay federal taxes, you're contributing to these lands.
Become a FREE CAMPING INSIDER and join the 100,000 campers that love to score the best site!
We'll send you the 50 Best Free Campsites in the USA (one per state). Access the list by submitting your email below: