When you visit an RV dealership and ask to see travel trailers, you might want to have a more detailed idea of what you're looking for.
Travel trailers are the most diverse group of RVs, and the most affordable, so many beginning campers choose a travel trailer.
A family of six can find a floorplan that meets their needs. A solo traveler seeking to camp in primitive, off-grid locations can find a floorplan too.
But while diverse and less expensive, travel trailers are also some of the most unsafe options.
Want to know more? Let's dive in!
Travel Trailers: What Are They?
Travel trailers are towable campers that attach to a hitch on the bumper of a tow vehicle. Sometimes called "bumper pulls," travel trailers can range in length and weight.
Some are as long as 35 ft or more, while others are much smaller, 18 ft or less.
Their weight also varies, which is why you can pull some travel trailers with an SUV, and others need a heavy-duty truck. Some travel trailers are self-contained, meaning they have a working bathroom inside, but certainly not all.
Pro Tip: Here are the best travel trailer brands.
What Makes Travel Trailers Less Safe Than Other Models?
Because travel trailers are the most sought-after type of RV, manufacturers mass-produce them without much quality inspection.
There are codes and requirements, but travel trailers usually don't last very long because they lack quality.
Let's look at a few more reasons travel trailers are less safe.
Steeper Learning Curve
There's a steep learning curve to conquer when towing a travel trailer. Especially if you've never towed before, it can be dangerous to just hit the road without proper training.
The turning radius is larger, you need to learn the hitching process, and the overall handling of the tow vehicle takes some getting used to.
Dangerous With Wrong Tow Vehicle
One of the scariest moments when towing is when your vehicle sways in heavy winds. Sometimes you can't change this, and there's nothing you're doing wrong.
However, many times, if you've chosen the wrong tow vehicle, you can endanger your life, the lives of your passengers, and the lives of other drivers.
The weight and length of your travel trailer matter. You should only use 80% of your vehicle's towing capacity. The length of your truck bed and axle ratio also make a difference when towing.
Safety is certainly the main factor, but you can ruin the transmission, destroy the brake system, and shorten the overall life of your tow vehicle if you're towing something too long or heavy.
Keep in mind: Here's some insight on choosing the right tow vehicle.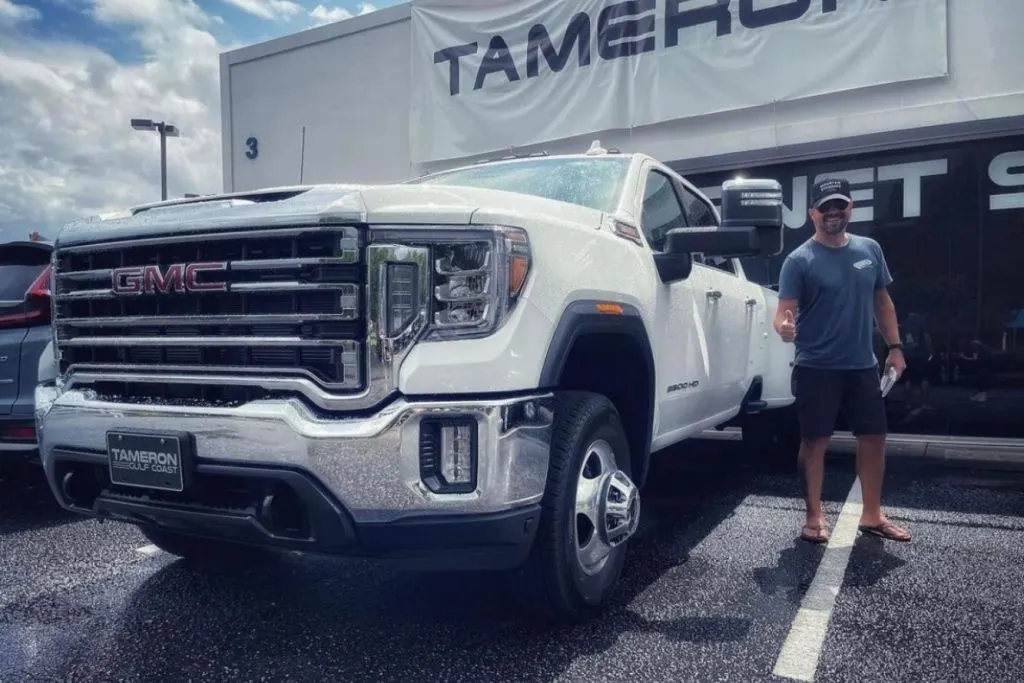 Fewer Safety Features
There aren't many safety features to protect your RV if anything happens while traveling. It's basically a plywood box on a frame.
If you experience a rollover or bumper-to-bumper accident or anything worse, you could total your travel trailer. Travel trailers aren't as safe compared to larger fifth wheels because the actual hitch isn't as safe.
Less Stability With Bumper Towing
Single axle trailer trailers don't have the best stability. And most affordable travel trailers sit on a single axle.
Bumper towing is not only less safe than towing with a fifth wheel hitch, but you also have less control while towing. Swaying is more common with a bumper pull, and rollovers are more common.
Big Question: Should you grease your hitch ball before towing?
Are Travel Trailers Always the Less Safe RV Option?
Travel trailers can certainly be safe if you drive safely and have the correct tow vehicle.
And if a travel trailer is what you can afford, don't let these precautions deter you from choosing a new adventure for your family.
Just consider how a travel trailer can be unsafe and do your part to make sure you're traveling with the appropriate precautions.
How to Drive Your Travel Trailer Safely
So how can you ensure that you're doing your part? Let's look at how to drive your travel trailer safely to protect you and your loved ones while also protecting other drivers sharing the road.
Know Your Vehicle Tow Limit
Knowing the towing capacity of your vehicle is essential. You must know how much your vehicle can safely tow to know what size travel trailer to purchase.
Or you must know the GVWR (gross vehicle weight rating) of your travel trailer to know what kind of tow vehicle to purchase. This ensures that you aren't putting too much stress on your vehicle. You can damage the transmission, brake system, engine, tires, and more by towing over the towing capacity.
It's also good to follow the 80/20 towing rule that says to only tow up to 80% capacity. This leaves room for human error when making those towing capacity calculations.
But it's not just the stress on the vehicle that's a problem. When you tow too much weight, it's much harder to control. Towing a bumper pull is difficult already.
But when you add too much weight behind you, any gust of wind could send you swaying into the other lane or worse.
Stay Focused When Hitching and Unhitching
Sometimes kind, well-meaning neighbors want to say hello as you're hitching and unhitching. Other times your kids may be running around after traveling in a vehicle for several hours.
Don't let distractions get in the way of hitching and unhitching. These are two crucial steps when owning a travel trailer.
It's always a good idea to assign everyone a job during this process. Even younger children can participate. Maybe a 4-year-old can hold down the button on the electric tongue jack to help raise and lower it.
Maybe a teenager can put down and pick up wheel chocks. If everyone has a job, the process goes much smoother, and there are fewer distractions.
Drive Carefully
Sometimes you run into problems you can't control. There's a detour off of the interstate because a bridge is out. The light rainfall turns into a heavy downpour.
But before leaving, do your research to make sure you've planned the safest route, you've noted any weather conditions, and you've plotted out the stops along the way. Pre-planning will help make the drive less stressful, especially for new RVers.
Once you're on the road, drive under the speed limit. Stay in the right lane if traveling on the interstate. Keep your distance from drivers in front of you.
Make sure you have room to turn at intersections. All of these safe driving tips will help protect you and others.
Follow Regular Maintenance Schedules
Take care of your travel trailer. They break down, tear, and malfunction due to poor construction materials. By following a regular maintenance schedule, you can stop problems before they occur and spot them before they become worse.
Check the tire pressure before every trip. Regularly lubricate the slide-outs. Check the seals monthly. Clean the roof a couple of times a year. Owning an RV isn't just s'mores and sunsets.
There's also important maintenance that you need to do.
Should You Avoid Travel Trailers Altogether?
If you can afford to upgrade to a fifth wheel, they're more spacious and safer. However, when you have to stick to a tight budget, there's nothing wrong with purchasing a travel trailer.
As long as you drive safely, use the correct tow vehicle, and take care of your travel trailer, you can enjoy years of adventures.
Have you looked at travel trailers recently? Are you on the hunt for that perfect bumper pull for your family?
Or maybe you're a newly married couple seeking your first cross-country adventure together. There's a travel trailer out there for you.
Discover the Best Free Camping Across the USA
To be honest with you, we hate paying for camping. There are so many free campsites in America (with complete privacy).
You should give it a try!
As a matter of fact, these free campsites are yours. Every time you pay federal taxes, you're contributing to these lands.
Become a FREE CAMPING INSIDER and join the 100,000 campers who love to score the best site!
We'll send you the 50 Best Free Campsites in the USA (one per state). Access the list by submitting your email below: