These RVers Only Spent $76 Bucks On 10 Days Of Camping
Traveling in an RV sounds wonderful until you encounter the sticker shock of overnights at a park or campground. Then you hear about RVers spending next to nothing on travel, such as Long Long Honeymoon camping for 10 days for just $76.
How did they score 10 days of camping for what it costs for a single night at many RV parks? It's actually not as mysterious as it sounds. We'll explain just how they did it.
Let's dive in!
Who Is Long Long Honeymoon?
First, let's find out who the heck is Long Long Honeymoon.
They're Sean and Kristy Michael, a couple who got married, then moved into a 25-foot Airstream trailer for their honeymoon.
World travelers, Sean and Kristy are not full-time RVers. However, they do spend a ton of time traveling in and working from their RV. In fact, Sean and Kristy have taken their Airstream to 49 states and 5 Canadian provinces.
They quickly began blogging and vlogging (video blogging on YouTube) about their travels. Long Long Honeymoon is now one of the oldest and most popular RVing YouTube channels and websites.
How They Did It
How Sean and Kristy managed to spend just $76 for 10 days of camping is actually nothing out of the norm for them. If you follow their Youtube channel, you'll see that they frequently camp overnight at locations that have no hook-ups.
Camping without hook-ups is called dispersed camping or boondocking. Sean and Kristy's rig is set up with a generator and solar panels for power. Plus they have freshwater and wastewater holding tanks, so they are self-sufficient when they want to be.
This means they don't have to go to an RV park or campground that has a power pole, water spigots, and sewage hook-ups all the time. They can take advantage of free campsites and dispersed camping that doesn't provide any sort of hook-ups.
Pro Tip: Here's a map of the 21 best free campsites in America.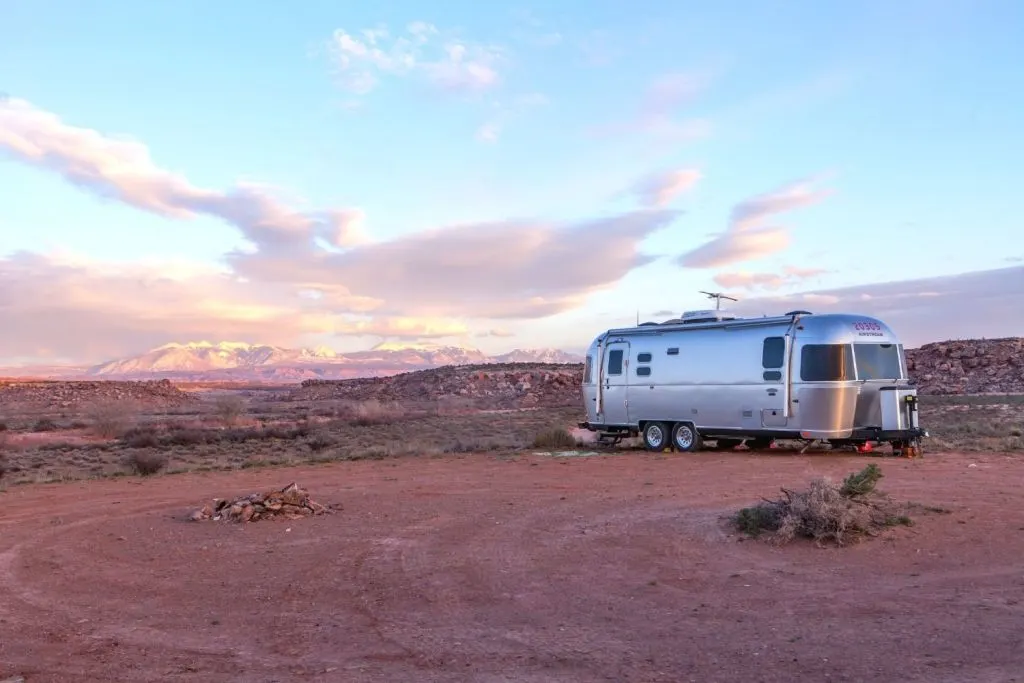 The Campsites
Dispersed Camping – Alpine, Wyoming
About This Location: True to their style, Long Long Honeymoon's first stop on their 10-day tour was dispersed camping on Bureau of Land Management (BLM) property inside the city limits of Alpine, Wyoming.
The area is surrounded by National Forest land, which means there are numerous opportunities for dispersed camping. Most are limited to stays of up to 14 days, which is probably pushing the limits of most RV resources anyway.
Cost: $0 ($0 per night for 4 nights)
Local Landmarks: The really cool thing about where Long Long Honeymoon found free camping in Alpine is that their spot was not only along the Snake River, it was also a short walk away from Melvin Brewing's massive taproom. As we mentioned, they were also surrounded by a National Forest with the Palisades Reservoir nearby.
South Tourist Park – Idaho Falls, Idaho
About This Location: Stop number two is a campground located in a city park in Idaho Falls, Idaho. While it's not free, South Tourist Park does have a couple of amenities that you won't find with dispersed camping.
The campground has campsites where RVs park alongside a wide paved road. The sites have a grassy area with a picnic table, fire ring, grill, and bench. It is situated along the Snake River. There are no hook-ups at the sites, but there are bathrooms, trash cans, and a dump station that has rinse and potable water.
South Tourist Park has a 14-day stay limit. It is open from April through October, weather permitting, according to the City of Idaho Falls.
Cost: $60 ($15 per night for 4 nights for Long Long Honeymoon, although the city raised the rate on October 1, 2021, to $18 per night)
Local Landmarks: Located in the city of Idaho Falls, which has a population of more than 60,000, everything from fast-food restaurants to big box stores to laundromats is nearby. There is also a river walk along the Snake River, which is where stunt performer Evel Knievel famously tried to jump the river. (Spoiler: He didn't make it!)
Idaho Falls is also known as the home of the Museum of Idaho, a zoo, an aquarium, and the Japanese Friendship Garden, as well as a robust downtown area.
Lava Flow Campground (Craters Of The Moon) – Arco, Idaho
About This Location: Stop number three was the Lava Flow Campground at Craters of the Moon National Monument, a developed campground with paved roads and sites among the lava rocks. It is a first-come, first-serve campground without hook-ups.
The campground does have vault toilets and trash cans. There is no dump site, and while there is a water spigot, it is not for filling the freshwater tank on an RV. Each site has a picnic table and a grill. There are 42 sites, about half of which can fit a large RV.
Payment is via credit card only. The campground is open seasonally from April through November. The fee is $8 per night in the shoulder season when no water is available, which is typically the months of April and November. It's not free camping, but is certainly a great deal.
The regular season price is $15 and generally runs from May through October. There is also a separate entrance fee required for the Craters of the Moon National Monument, which is charged prior to entering the campground.
Cost: $16 ($8 per night for 2 nights)
Local Landmarks: Of course, the local landmark is Craters of the Moon National Monument. The area, which surrounds the Lava Flow Campground, is a massive field of lava rocks, small volcanoes called cinder cones, and caves and lava flow tunnels that you can explore along paved paths.
The volcanoes are small compared to what you might think of as a volcano, such as Diamond Head or Mount St. Helens, but the caves range from claustrophobic to cavernous. There are lots of trails that wind through the monument.
What Were The Drawbacks Of These Cheap Campsites?
The biggest drawback of the three campsites that Long Long Honeymoon stayed at during their 10-day trek is that they are all first-come, first-serve. That means if there isn't a site available when you get there, you are out of luck. There are no reservations taken at any of the locations.
Another significant concern for some people may be that there are no hook-ups at any of the campsites. These sites all require that you are self-sufficient, although South Tourist Park and Lava Flow Campground have toilets and trash cans.
Is Camping At Cheap Campsites Worth It?
If you ask us, camping at cheap campsites is absolutely worth it. It may take a little more preparation and self-reliance, but there is something freeing about 10 days of camping for $76. Knowing that you can make it on your own is certainly a confidence booster. This type of camping also usually comes with fewer restrictions than most commercial campgrounds or RV parks.
That's not to mention the cost. It can be very inexpensive or even free, as we've seen here. If you do your homework, there are also a number of free or inexpensive options to dump your wastewater and fill your freshwater tanks along the way. It just takes a bit of planning.
Conclusion
Traveling in an RV can be an expensive endeavor, but it doesn't have to be. If you want to have guaranteed stays booked months in advance, if you want constant hook-ups, or stays that promise luxury, RVing is going to cost a lot of money.
But if you like the idea of hitting the open road, getting off-grid, and taking advantage of the freedoms the United States has to offer, RVing can be a fairly frugal way to travel.
As Long Long Honeymoon showed, they paid just $76 for 10 days of camping, which included a place to dump their wastewater. Extrapolated out, that's a little over $200 per month. And it could be a little bit cheaper depending upon where the campsites are and what you want out of them.
As you can see, it's not overly complicated to find inexpensive RV camping. With a little planning, especially using apps like Campendium (our go-to when searching for camping sites), anyone can find these gems.
Please always remember to follow the golden rule of dispersed camping: leave every site a little bit better than you found it.
Discover the Best Free Camping Across the USA
To be honest with you, we hate paying for camping. There are so many free campsites in America (with complete privacy).
You should give it a try!
As a matter of fact, these free campsites are yours. Every time you pay federal taxes, you're contributing to these lands.
Become a FREE CAMPING INSIDER and join the 100,000 campers that love to score the best site!
We'll send you the 50 Best Free Campsites in the USA (one per state). Access the list by submitting your email below: