Packing for an RV trip can be frustrating and require you to use your Tetris skills.
However, an RV bumper rack can give you more flexibility on where you store items during your adventures.
Today, we want to share an excellent way many RVers expand their storage space. Let's take a look.
What Is an RV Bumper Rack Used For?
An RV bumper rack makes carrying bikes, generators, and other large objects easier. Not all RVs come with hitch receivers to attach cargo racks. However, engineers have designed bumper racks capable of carrying large amounts of weight by distributing the weight across the entire bumper.
It doesn't matter whether you're traveling full-time in an RV or going on a weekend trip; an RV bumper rack can help you carry your cargo. If you run out of storage space, this can be the perfect option to bring a few more essentials on your next camping trip.
Pro Tip: If you don't have a bumper rack and don't know where to put your bicycles you may be wondering Can You Put a Bike Rack on the Front of Your Truck? Find out!
What to Look for When Shopping for an RV Bumper Rack
There are a few things you should consider while you're shopping. Let's look at the essentials, so you get a rack that works for you.
Size
One of the most important things to consider when shopping for a bumper rack is the size. It must not only fit on your RV's bumper but also be the correct dimensions for whatever you want to carry with it. When you're buying a bumper rack, you want to have a general idea of the size of the item you wish to store on the rack while moving.
Many RVers use these racks to store bikes, generators, and fuel. So make sure you have a plan and know the size of your bumper and how much space you're hoping to gain.
You don't want to get a rack that's too big or too small for your intended use.
Material
Bumper racks take a tremendous amount of abuse as your RV rolls down the bumpy highway. To avoid causing an accident and damaging the contents on your rack, get a rack made of the highest quality materials. Aluminum and steel are the two most common materials used in constructing these racks.
Aluminum is incredibly lightweight and durable; however, you're paying for the convenience of it being lightweight. This is also a great option because it requires very little upkeep once installed.
A steel carrier will typically be cheaper, but it's also heavier and requires maintenance to avoid corrosion.
Locking Mechanism
Ensure your rack is locked to your RV and that someone can't just pull a pin and walk away with your entire rack.
Having a bumper rack that locks is a great way to keep your rack attached and not have to worry about losing its contents.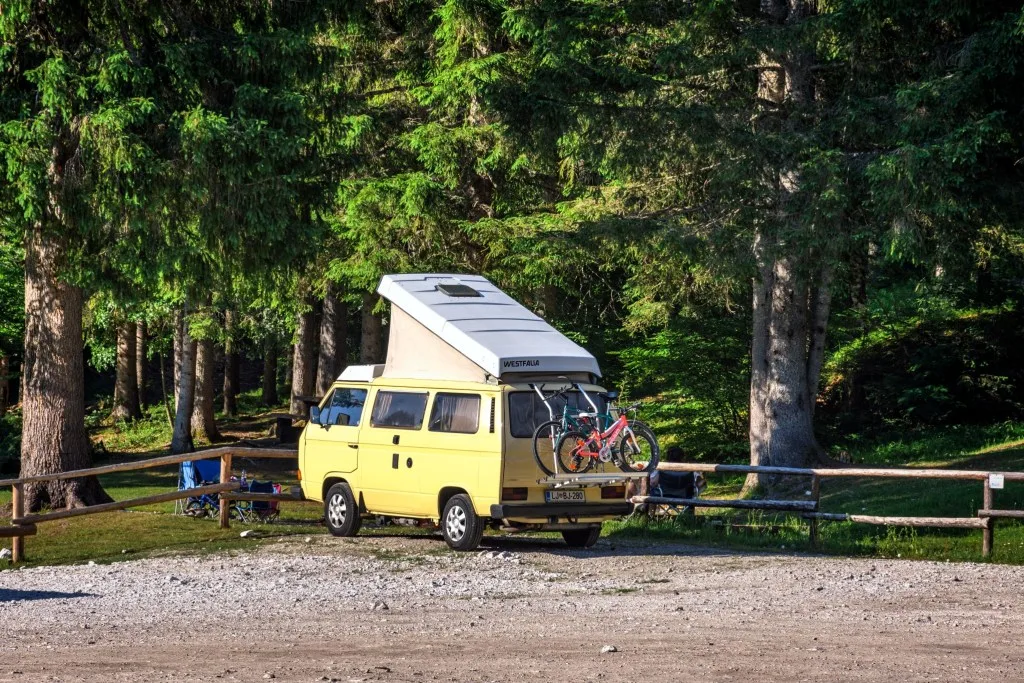 Installing an RV Bumper Rack
Installing an RV bumper rack is extremely easy. These racks typically come with brackets that wrap around the bumper. Four bolts usually hold each bracket in place and keep the rack steady while in transit. Smaller racks may come with one bracket, but larger racks will have two or three attachments on the bumper.
Don't over-tighten the bolts on the brackets. RV bumpers are typically made from thin sheets of metal, which you can crush by over-tightening the bolts.
This can cause permanent damage to your bumper, weaken the structure's integrity, and make it difficult to store your sewer hose.
Do You Need Accessories for Your Bumper Rack?
There are several accessories to consider having on hand. Locks, storage boxes, lockable shelves, and baskets are great to have and help ensure your cargo makes it to your destination.
Keeping your stuff safe is essential, especially when you're away from your RV. If you don't secure your bike, generator, and other belongings, someone can steal them.
So make sure you take the proper security measures to keep your stuff safe.
Pro Tip: Unsure what accessories are right for you? These are 5 RV Accessories to Avoid.
How Much Weight Can an RV Bumper Rack Hold?
An RV bumper rack can typically hold about 200 lbs. However, you should confirm the carrying capacity of your bumper. Overloading your bumper can cause the welds to fail and result in your cargo spilling onto the highway.
Bumper failures will damage bicycles and any other cargo you're carrying. It can also be dangerous for others driving on the road and cause accidents.
So make sure you're not pushing the limits when it comes to carrying cargo on your bumper.
Is Installing an RV Bumper Rack Worth the Money?
Not all RVs have large amounts of storage space. Depending on your camping style, you may need to bring a generator, bicycles, or a cooler. Having a bumper rack can make it easier to carry these items and enhance your camping experience.
If you're looking for a way to improve your camping adventures, an RV bumper rack can be worth the money. If you don't find yourself running out of storage space, you might not see the full benefits.
Add a Bumper Rack to Your Rig
Adding an RV bumper rack to your rig is incredibly easy and can be tremendously beneficial. Taking a bit of extra cargo with you can help you have a better experience while camping and using your RV.
It also helps keep dirt and oil out of your RV from generators and bicycles. A bumper rack is an excellent option if you're constantly dealing with a lack of storage space.
Do you have a bumper rack on your RV? Drop a comment below!
Discover the Best Free Camping Across the USA
To be honest with you, we hate paying for camping. There are so many free campsites in America (with complete privacy).
You should give it a try!
As a matter of fact, these free campsites are yours. Every time you pay federal taxes, you're contributing to these lands.
Become a FREE CAMPING INSIDER and join the 100,000 campers that love to score the best site!
We'll send you the 50 Best Free Campsites in the USA (one per state). Access the list by submitting your email below: