Are you looking for a luxury fifth wheel? Riverstone RV may be your answer. Unfortunately, finding a good manufacturer with many RVs on the market can be challenging.
That's why we're here to help get the facts straight. In this article, we explore the pros and cons of Riverstone RV. And we answer the question, "Is a Riverstone RV worth it?"
Curious? Let's dive in!
What Is Riverstone RV?
Riverstone RV designs and produces luxury fifth wheels and fifth-wheel toy haulers. It's one of the leading fifth wheel brands on the market today. Riverstone has been awarded the "2020 Top RV Debut," "2022 Must-See RV," and "2022 Luxury Fifth Wheel of the Year."
Who Manufactures Riverstone?
Forest River owns and manufactures Riverstone RV in Elkhart, Ind. Riverstone is one of Forest River's many brands and one of its few luxury brands. Forest River was founded in 1996 and has snowballed since. In 2005, Warren Buffet's company Berkshire Hathaway acquired it.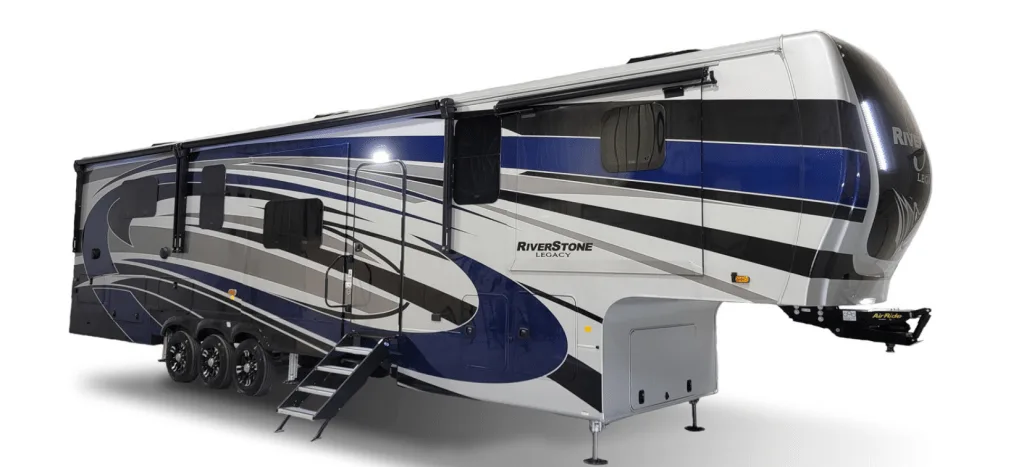 Pro Tip: Explore in style in one of these 5 Best Luxury Motorhomes.
The Benefits of a Riverstone RV
There are numerous benefits of a Riverstone RV. Luxury features like two bathrooms, fireplaces, washer and dryer prep, front kitchen options, and more definitely make the top of the list. And things like dual pane windows come standard on the fifth wheels.
The company also listens to customers and gets creative with floorplans. For example, the Riverstone 442MC has an office desk outside the rear living room. And the living room has a door on it, so you can have someone in the back with the TV on while someone else can work quietly at the desk. This thoughtfulness in design is something that sets Riverstone RV apart.
Other benefits of a Riverstone RV include residential-style appliances and furniture. And the company uses natural wood for the cabinets and doors. The construction is unique in that the walls aren't welded, which allows for movement while traveling down the road.
Overall, Forest River doesn't have the best reputation in the RV industry. But Riverstone RVs are well-built and are stand apart as a quality brand of fifth wheels and fifth wheel toy haulers. The company has invested in quality control.
The Disadvantages of a Riverstone RV
A disadvantage of a Riverstone RV is its size. The shortest Riverstone fifth wheel is 41'2", and the lightest GVWR (gross vehicle weight rating) is 18,555 lbs. That's a big RV to pull. You'll need at least a ¾ ton truck to tow a Riverstone, which for some may mean upgrading. And the bigger the truck, the more cost goes into it.
This leads to another disadvantage of a Riverstone RV for some: its price.
Since it's a luxury brand, the cost of these fifth wheels reflects the premium features. Depending on the model, a new Riverstone will run between $100,000 and $180,000.
While a warranty should cover most issues, we can't stress enough the importance of getting a warranty that will address everything on your RV. Inevitably, things will break within the first year, or perhaps they weren't put together correctly in the factory. An RV moves down the road at high rates of speed. After the first few trips, you'll likely have a sense of any issues. Address problems right away with your RV dealer.
Pro Tip: Forest River doesn't just own Riverstone RVs, in fact, This Huge RV Manufacturer Owns Over 20 Different Brands.
About Riverstone RV Fifth Wheels
Riverstone RV has five fifth-wheel floorplans and two toy hauler floorplans. The models' lengths range from 41'2" to 45' from hitch to rear bumper. And the GVWR ranges from 18,555 to 21,000 lbs.
Riverstone does a great job of adding diversity to its floorplans. It has the option of a rear kitchen, mid-ship kitchen, and front kitchen. And depending on the layout, the master bedroom is either in the front or rear. A rear bedroom is a game-changer for some fifth-wheel owners, particularly if your front end is close to the road.
Each floorplan has a large living room with an entertainment center and an electric fireplace. The kitchens are also large, with ample storage space. And all but one has a kitchen island. In addition, three of the models have a large full bathroom and a half bath.
The interiors of Riverstone RV fifth wheels come loaded with features. There's a central vacuum system, residential vinyl flooring, soft-close drawer glides, a refrigerator with an ice maker, and much more. In addition, on the outside, you'll find things like an electric awning with LED lights and a full docking station.
What's Included in the Riverstone Luxury Package?
The Riverstone luxury package is one of the brand's most popular features that makes it stand out among the competition. And it's mandatory for each of its fifth wheels. To start with, it includes an automatic six-point hydraulic level-up system, an emergency management system, a four-camera observation system, and tire pressure sensors.
The package also includes a King Wi-Fi Max Router and Omni Directional Wi-Fi antenna. There's a 40" LED TV and a Splendid "Astral" stackable washer and dryer in the bedroom.
In the kitchen, you'll find a Fisher & Paykel dishwasher. And over the kitchen island is a large Infiniti light and ceiling fan. There is stained hardwood cabinetry and stiles throughout the rig. In addition, the water heater is on-demand.
The Riverstone luxury package includes 12V heated holding tanks. It also has LP generator prep. And the awning has Weathershield.
Is a Riverstone RV Worth It?
The luxury package alone makes a Riverstone RV worth the investment. After looking closely at owner feedback in the Forest River forums and the overall construction of Riverstone fifth wheels, we think they're worth owning.
They're great for short trips, long-term travel, or full-time RV living. While the floorplans are limited, we respect the thought the company has put into each model, which also helps increase quality assurance.
Have you ever walked through a Riverstone RV? What did you think? Drop a comment below!
Discover the Best Free Camping Across the USA
To be honest with you, we hate paying for camping. There are so many free campsites in America (with complete privacy).
You should give it a try!
As a matter of fact, these free campsites are yours. Every time you pay federal taxes, you're contributing to these lands.
Become a FREE CAMPING INSIDER and join the 100,000 campers that love to score the best site!
We'll send you the 50 Best Free Campsites in the USA (one per state). Access the list by submitting your email below: