Finding a campsite while just passing through can be challenging, especially with the number of RVs on the road today.
From official campgrounds to dispersed camping areas, it's become increasingly difficult to find a place to park overnight, but some less obvious campsites do exist if you know where to look.
One such venue has run under the radar until now – the city park. Let's see why you might want to park overnight here.
Is It Legal to Park Overnight at City Parks?
Many towns have municipal codes that don't allow overnight parking. These codes supersede the wishes of private businesses that otherwise might welcome RVers who need to stop for a night.
Some of these laws came about because local campgrounds became frustrated that RVs weren't frequenting their businesses when free overnight parking was allowed at others in town. If these laws exist where you are, chances are the city parks won't allow parking within their jurisdiction either.
But lots of small communities welcome overnight parking in their city parks. In fact, some cater to RVers by providing water or electrical hookups, and a few even have full campsites available.
They see it as a kind gesture to those traveling through their towns, and they hope that these RVers will frequent some local businesses while they're in the vicinity. The best way to find these benevolent city parks is by searching for campgrounds on websites like Campendium or apps such as Allstays.
Pro Tip: One of our favorite city parks that allows free camping is located in Junction, TX, right off of I-10.
Do City Parks Have Campgrounds?
The bulk of those city parks that do allow overnight camping may have space for your RV but no utilities. Some provide electrical hookups or a water spigot to share, and others may have full hookups at designated campsites.
If that's the case, they may have a caretaker who asks you to register, and there could be a nominal fee. The amenities each park offers can vary widely, with some even providing flush toilets and showers and picnic areas with playgrounds and hiking trails.
Some bigger city parks have integrated campgrounds. As such, these campgrounds typically have full amenities and charge typical campsite fees. You usually have to make a reservation for these city park campgrounds in advance online. It's a little more difficult to secure a site on a first-come, first-served basis.
But remember, in most cases, city parks that allow camping are welcoming you for an overnight stay only. Some parks do allow a two- or three-night stint but don't wear out that welcome.
Pro Tip: If you don't have an RV and want to camp in your car instead, this is How To Camp Out of Your Car, Legally.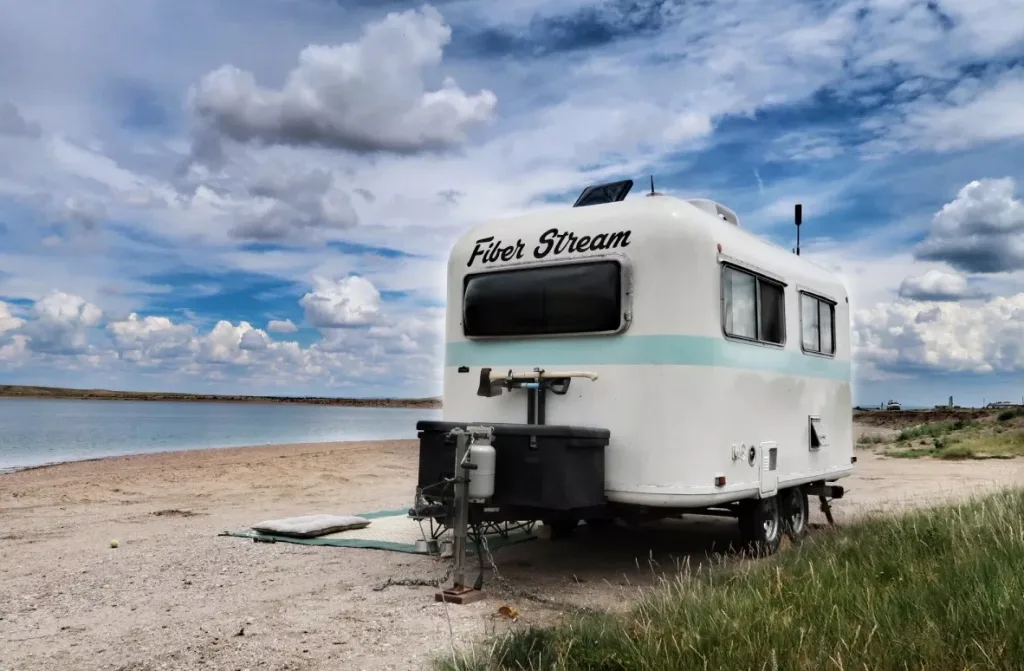 When You Should Find a Different Parking Spot
If you do your due diligence and research the city parks first, you'll save yourself some frustration by weeding out those parks that don't allow overnight parking. But on the chance that a park you come across isn't listed online, be sure to check for signage stating the camping or parking policy.
When in doubt, stop at the local police station to ask. Most parks that let travelers stop for the night post their rules and regulations, but some very small towns may just assume that travelers will stop when they want to.
If a park is overgrown and looks disused, it's probably not open to overnight parking. Parks that have locked restrooms on-site may be closed to camping for the season, or they may allow boondocking. And those parks that are gated are obviously not open for business.
If you are unsure of the camping requirements at a city park, the best policy is always to ask. This might save you from that dreaded knock on the door at 2 a.m. You might be pleasantly surprised by the kindness of strangers who recognize your need to stop for the night and welcome you into their community.
Tips for Being a Respectful Camper in a City Park
If you do find a city park that allows camping, please exercise common courtesy. Here are some rules to keep in mind.
Keep the Noise to a Minimum
Don't turn the city park into your own concert venue. Remember that the neighborhoods around you have granted you a place to camp, and they would appreciate peace and quiet in return. Your camp etiquette will reflect on future RVers.
Don't Spread Out
Treat your city park campsite like you would an overnight parking spot at Cracker Barrel. It's a place to rest, then move on down the road. Don't pull out your grill and lawn chairs and put down roots. And be sure to shop, dine, or fuel up in town before you leave as a "thank you" for the town's kindness.
Clean Up After Yourself
Be very aware of what your campsite looks like when you pull into the park. Then make sure it looks even better when you leave. Don't leave any sign that you've been there. In fact, walk the park and clean up any trash you find, giving the park's maintenance or janitorial crew less to worry about upon your departure.
Arrive Late, Leave Early
If you camp in a park that doesn't have a designated campsite but still allows overnight parking, make an effort to arrive late in the day and leave early the next morning.
This signals to residents that you're just using the park as a rest stop and not a full-fledged campground. They will appreciate your short stay and most likely will continue to support the park's use for RVers in the future.
Pro Tip: Make sure to keep your campsite clean! This is Why RVers Must Leave No Trace.
How to Check If Your City Park Allows Overnight Parking
When you're not sure about a city park's camping availability, search relevant websites for information on the park rules. This could be the official town website, but you might also check campground databases like Campendium and apps like RV Parky, iOverlander, and Allstays.
When in doubt about the status of a specific park, stop at the local police station to ask. If municipal offices are open when you arrive in town, that can be a second resource, as well. Even well-established businesses in town may be able to give you guidance about the city park.
The Best City Parks With Overnight Parking
Several city parks have a terrific track record of allowing RVers to camp overnight. As a sample, here are three of the most popular.
Emma Long Metropolitan Park, Austin, Texas
Emma Long Park sits on the shores of Lake Austin and offers a multitude of activities, including boating, fishing, and swimming. It has both primitive and developed campsites and ranges from $10 to $25 per night.
Riverside Park, Douglas, Wyoming
Located on the banks of the North Platte River, Riverside Park has free campsites available with a shower house and flush toilets. There is also potable water. Reservations are first-come, first-served.
Winslow Park and Campground, Freeport, Maine
Winslow Park is a reservation-only campground with over 100 campsites located both inland and on the waterfront. You'll find two shower houses onsite. Campers can enjoy a swim beach, as well as boating. Campsites cost between $14 and $35.
City Parks Are Great
City parks are an economical way to camp as you travel across the country, and many remain a secret to the traveling masses. With a bit of research, you can take advantage of staying in small community parks, as well as large, multi-use metropolitan ones. And with any luck, you might find more availability in these lesser-known campgrounds.
Have you ever camped at a city park? Drop a comment below!
Discover the Best Free Camping Across the USA
To be honest with you, we hate paying for camping. There are so many free campsites in America (with complete privacy).
You should give it a try!
As a matter of fact, these free campsites are yours. Every time you pay federal taxes, you're contributing to these lands.
Become a FREE CAMPING INSIDER and join the 100,000 campers that love to score the best site!
We'll send you the 50 Best Free Campsites in the USA (one per state). Access the list by submitting your email below: